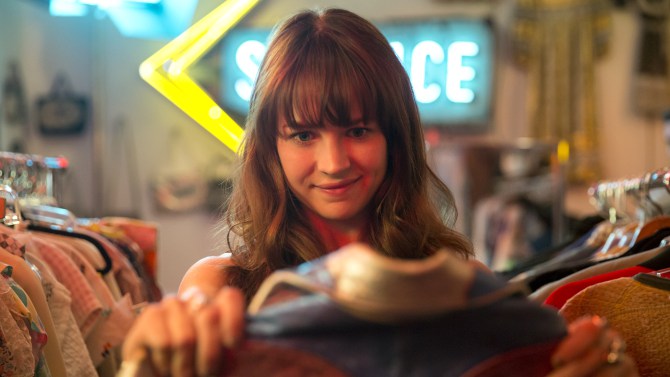 If you're like me, you spent the past year eagerly anticipating the release of Netflix's Girlboss. When the series came out in April, I binged it in about a day. Over a month later, I'm still reeling from the emotional impact of the show.
Girlboss has a little something for everyone: There's drama, there's humor, and most importantly, there is a lot of fantastic fashion inspo. Overall, it's a fun little series about finding your passion and following your gut even when the cards are against you.
In case you didn't know, the series is loosely based on Sophia Amoruso's bestselling memoir #Girlboss. I never read the book, but after watching the show, I am adding it to my summer reading list.
While Girlboss is based on Sophia Amoruso's real life, it's Brit Robertson who makes Sophia's story come to life on-screen.
The show follows Brit's Sophia as she tries to navigate the business world, opening up an eBay store. Though it appears as easy as posting clothes on a website, Sophia soon finds out it's going to take a lot more than a few mouse clicks to run a successful business.
Sophia is not exactly the most likable character ever, but she's completely herself. She marches to the beat of her own drum and she's funny and feisty. Plus, like I said, the girl has got some serious style.
Girlboss Outfit 1: Long Ass Pants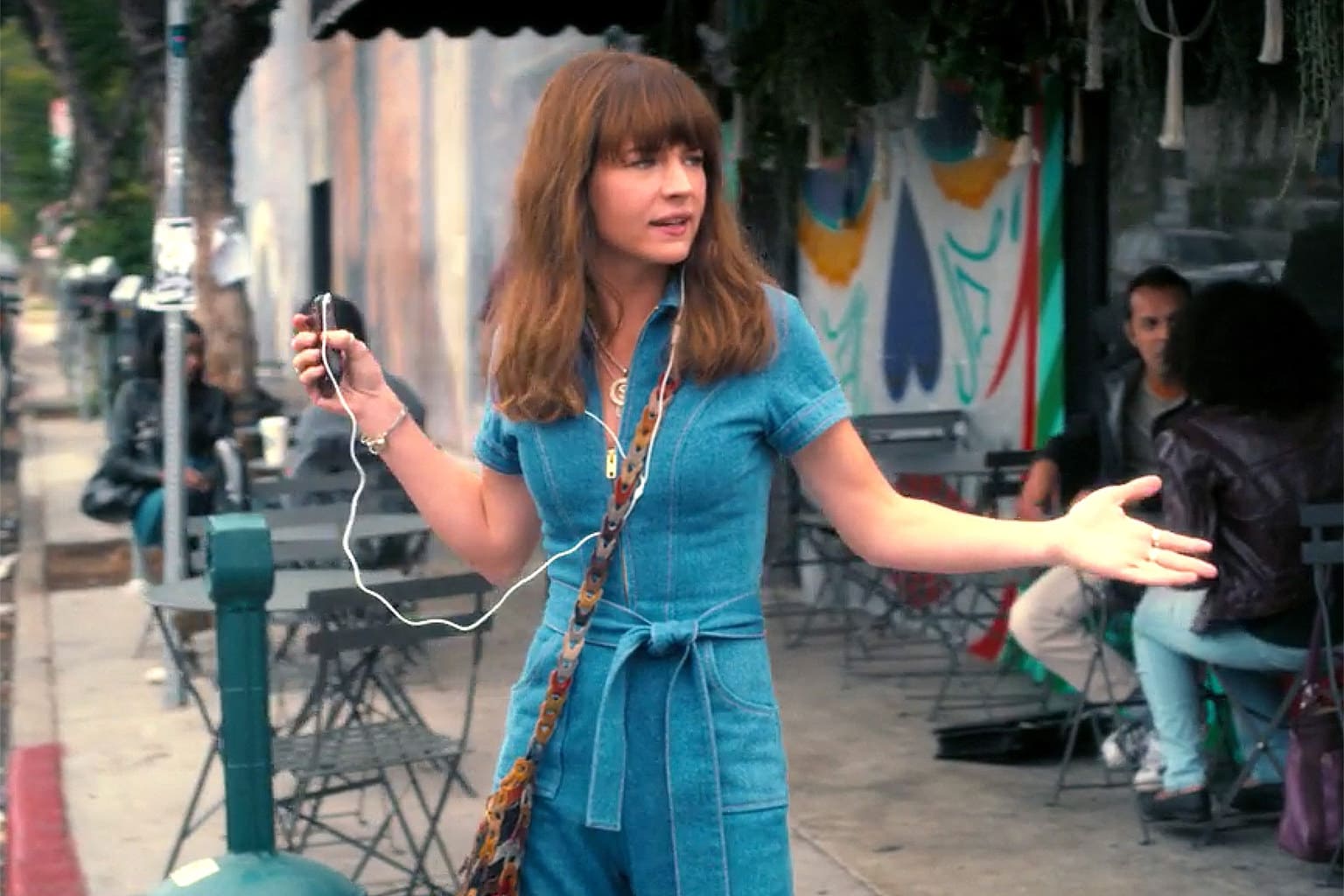 Though the show is set around the mid-2000s, Sophia's style is all '70s. One such retro look is this awesome short-sleeve denim jumpsuit — so throwback cool!
To get Sophia's vibe, be bold in this ruffled strapless jumpsuit. Pair it with some long, stacked necklaces to glam it up.
For an additional hit of '70s style, throw on some chunky platform sandals. Chunky shoes are a huge staple in Sophia's wardrobe and they've made quite the comeback in recent seasons.
To mimic Sophia's look, tie everything together with this fringed crossbody bag. It's bohemian enough to fit in with Sophia's lifestyle, but it polishes the look off in a very sophisticated way.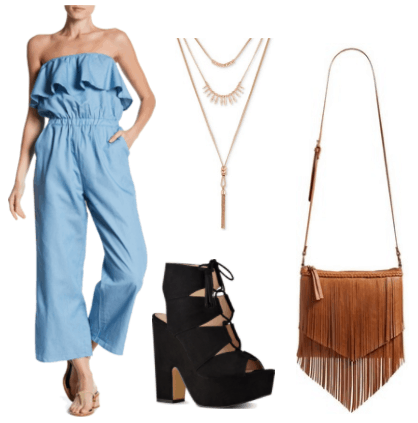 Products:  Jumpsuit – Nordstrom Rack, Shoes – Nine West, Necklaces – Macy's, Bag – Nordstrom
Girlboss Outfit 2: "Sophia"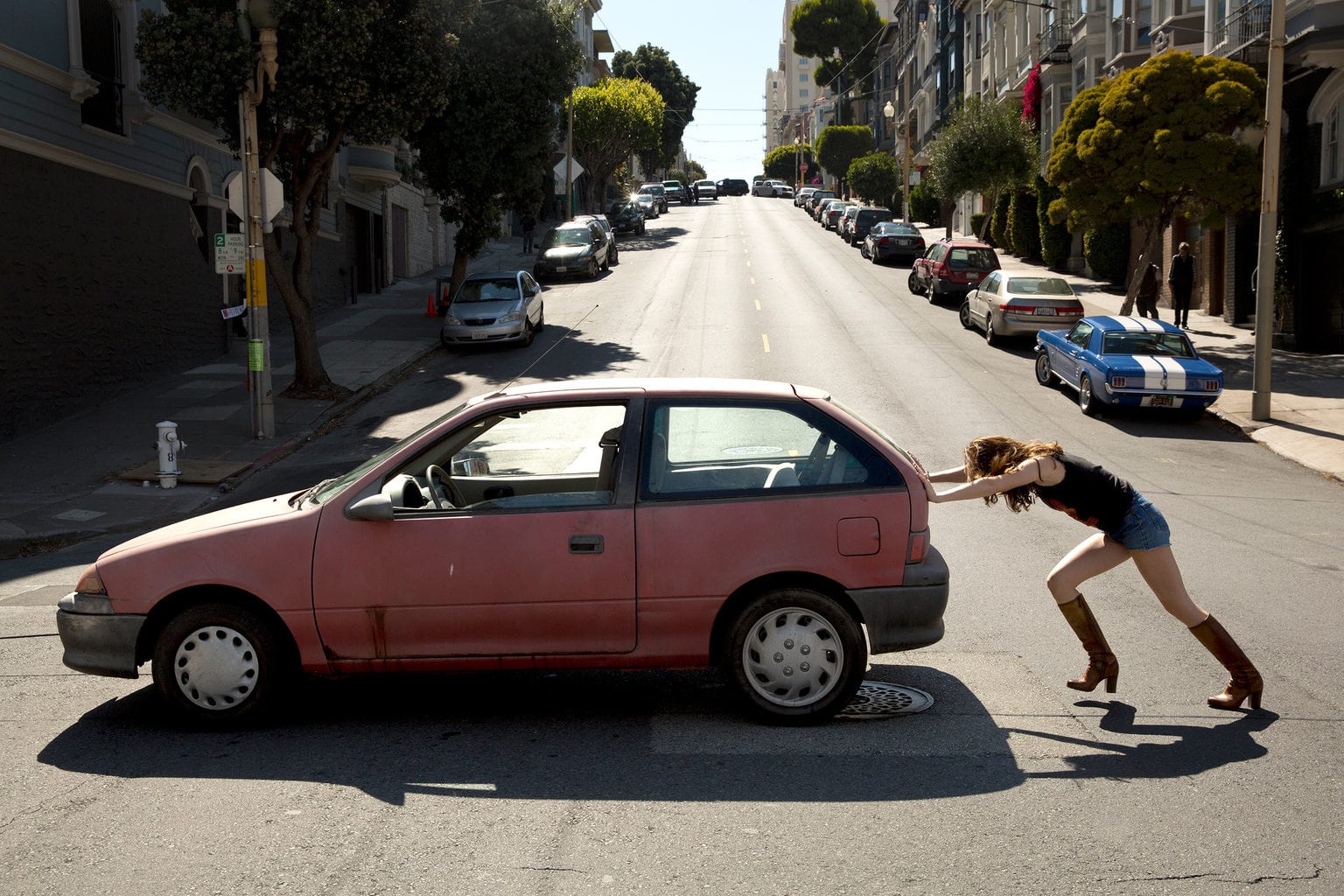 Sophia is an obvious fashionista. This still from the pilot episode proves just that: It could be a quirky ad for those knee-high cognac boots she's wearing. Topping off those boots with short-shorts and a simple black tank, it's evident that Sophia can make even car trouble look good.
While you (hopefully) won't be pushing cars up hills, you can steal Sophia's style from this shot. Pair the same knee-high cognac boots with some denim shorts of your choosing. Keep things simply-yet-spunky with a laced-up tank.
Finish the look off with a few glam extras. Mix a gold pendant necklace and some large gold hoops for a look straight from an Urban Outfitters ad.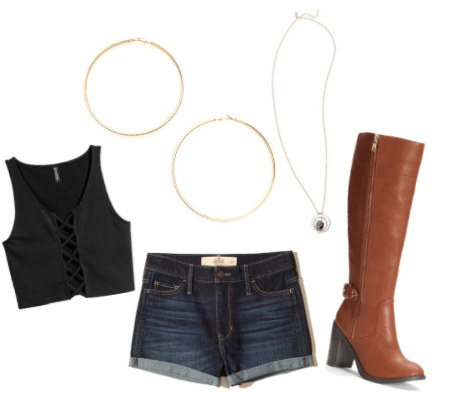 Products: Shorts – Hollister, Boots – Kohl's, Necklace – Nordstorm, Earrings – Go Jane, Top – H&M
Girlboss Outfit 3: "Sophia" Yet Again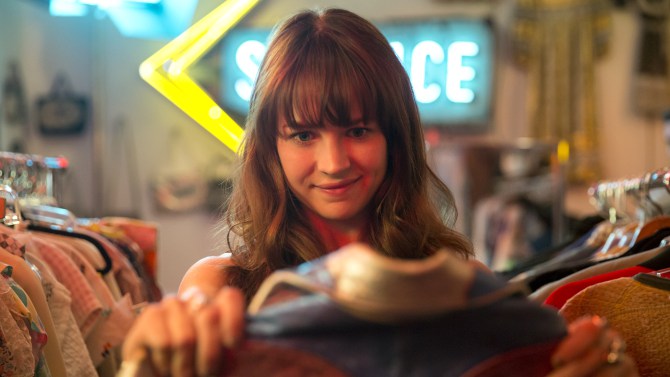 Here, our hero is down on her luck. Sophia is broke and is about to become homeless unless she can come up with some serious cash.
Luckily, fashion saves the day. The very jacket Sophia has on inspires her to try her hand at reselling thrifted clothing on eBay. Thus, Nasty Gal is born.
For your next night out, make like Sophia and rock this '70s, retro-inspired look. Take a note from our girl and try red flared pants: Sophia only rocks flared pants throughout the series, and she'd love these velvet ones.
We aren't done yet: Next, throw on some faux-suede floral embroidered booties that Sophia would kill for. Ditch the basic black button-up top and dance the night away in this cool fringed one. Finish things off with a statement jacket, like this shiny gold bomber.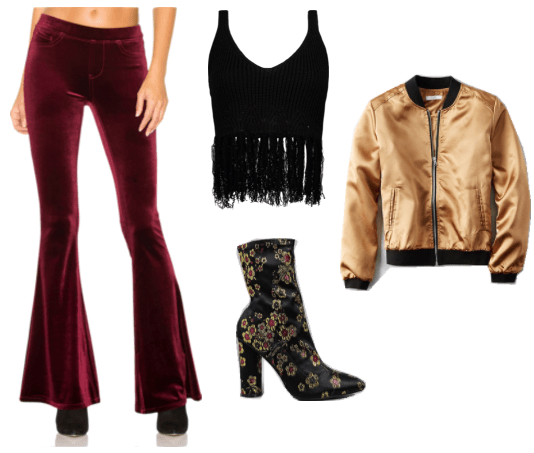 Products: Pants – Revolve, Shoes – Forever 21, Jacket – American Eagle, Top – Boohoo
What do you think?
Have you seen Girlboss? Do you love it or loathe it? Who's your favorite character and most importantly, which of Sophia's looks would you like to see next in Part 2? Let me know in the comments!