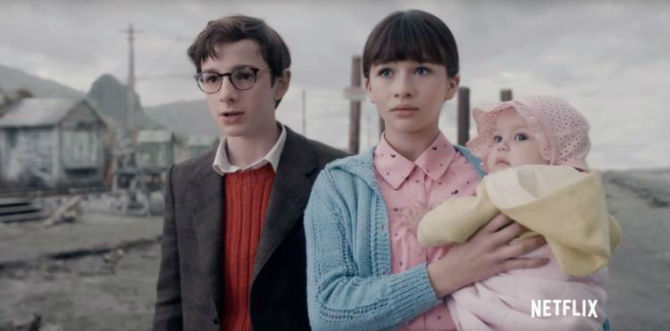 Okay, you've had a whole two weeks, you have to be finished with A Series of Unfortunate Events now. Honestly, most people I know finished it the very first day, and who can blame them?
This show, an adaptation of the popular children's book series that everybody devoured almost as quickly as Harry Potter as a kid, has been one of the most anticipated new series since its announcement, and did not let us down in the slightest. All anyone really wants in a screen adaptation is to see exactly what they were picturing in their head when they read the original book, and this show definitely delivered.
Because the plot is so simple— three children lose their parents in a terrible fire and are sent to live with one dreadful guardian after another while attempting to elude the clutches of Count Olaf, a murderous actor who is after their fortune— it is so important to get everything else right, like the dry humor and the Tim Burton-esque surrealism. The fact that Netflix managed to do this so flawlessly just proves they should honestly be in charge of all book-to-movie adaptations for the rest of eternity.
One of the interesting things about the series is that, even when reading the books, I was never entirely sure what era it was supposed to be taking place in. Netflix's series continues this intentional confusion by dressing its three heroes in modern attire while making most of their surroundings a little more old-fashioned. Lucky for us, this makes finding clothes inspired by the Baudelaire's easy!
Violet Baudelaire
"To those who hadn't been around Violet long, nothing would have seemed unusual, but those who knew her well knew that when she tied her hair up in a ribbon to keep it out of her eyes, it meant that the gears and levers of her inventing brain were whirring at top speed."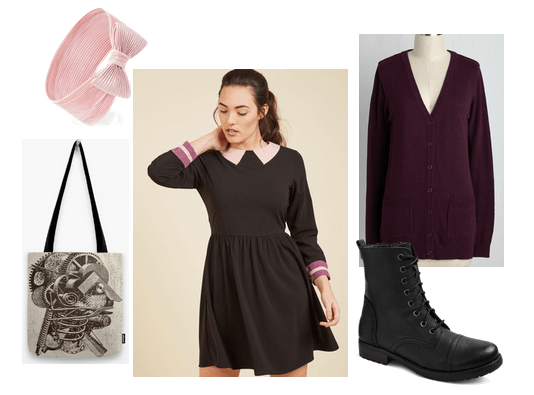 Product Info: Headband- Forever 21, Bag- Society 6, Dress- ModCloth, Sweater- ModCloth, Boots- Target
Sorry to be so non-subtle, but I had to pick purple as the central color for a Violet-inspired outfit. Because the show updates all of the Baudelaire's vintage garb to a more modern take, Violet can often be seen in a prim collared A-line dress and cozy sweater.
To replicate this look with a color palette that's a little more, well, violet, try a black collared dress with purple accent cuffs paired with a plum cardigan. Violet is also known for her signature hair ribbon, which she uses to tie back her hair when she is inventing, so keep your own in check with a bow headband.
Although Violet is a sweet little girl, she is also smart, strong, and resourceful, so finish the look with black combat boots (because nothing says "don't mess with me" like combat boots). Finally, throw all your stuff in a tote bag that definitely depicts what the inside of Violet's head looks like.
Klaus Baudelaire
"When you read as many books as Klaus Baudelaire, you are going to learn a great deal of information that might not become useful for a long time."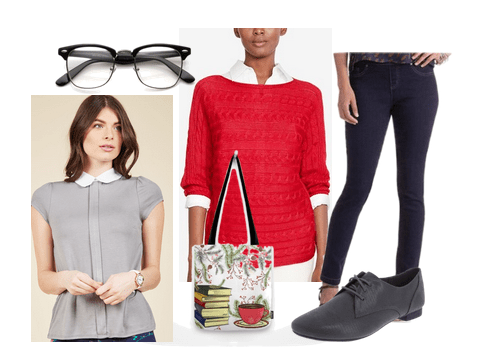 Product Info: Glasses- Jet, Blouse- ModCloth, Sweater- Macy's, Tote Bag- Society 6, Jeans- Walmart, Shoes- Payless
Klaus Baudelaire is the resident bibliophile of the trio, and often helps his family out of the various unfortunate events they find themselves in by remembering information from the countless books he has read.
Getting inspired by Klaus' style means, yep, you guessed it, MENSWEAR! This look is simple, chic, and sophisticated (Klaus cares way more about what he puts in his head than what he puts on his body). Layer a simple gray blouse under a bright red sweater, then pair these with dark wash skinny jeans and dark gray oxfords. You can carry all of your own books with this bibliophile-worthy tote bag, and finish the getup with chic glasses.
Sunny Baudelaire
"She was an infant, and very small for her age, scarcely larger than a boot. What she lacked in size, however, she made up for with the size and sharpness of her four teeth."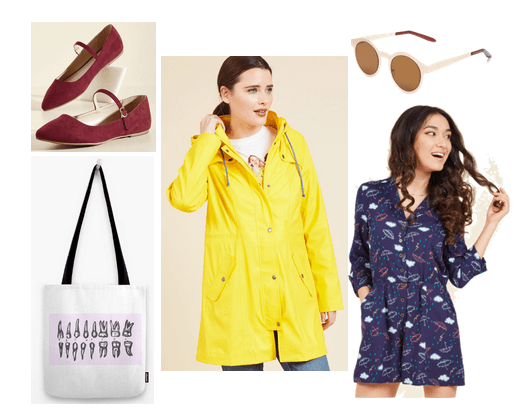 Product Info: Shoes- ModCloth, Tote Bag- Society 6, Raincoat- ModCloth, Sunglasses- Forever 21, Romper- ModCloth
Sunny Baudelaire, the youngest, likes to bite things. I always liked the idea that of the three children, the baby was the one who used physical strength to get out of tough situations. Of course, Sunny is just as intelligent and precocious as her other two siblings, and is very good at noticing important information before anyone else.
This outfit is based upon that cute little yellow raincoat she wears in the first episode of the series, which would look adorable when paired with a quirky romper, like this umbrella print one. Finish the ensemble with burgundy Mary-Janes for an updated take on the primary color palette, then accessorize with trendy sunglasses and a tote bag that references Sunny's favorite activity (biting).
What do you think?
Have you binge-watched your way through A Series of Unfortunate Events yet? Whose style do you like best? Let me know in the comments!