Welcome to the latest edition of Looks from Books, which aims to prove that you can look smart, while still being book-smart, too. Fashion inspiration can be found between the pages of your favorite stories, on well-designed book covers, and in your favorite characters… if you read closely enough.
This week, we're taking inspiration from another childhood favorite that's been making the news recently for its impending Netflix adaptation: Lemony Snicket's A Series of Unfortunate Events!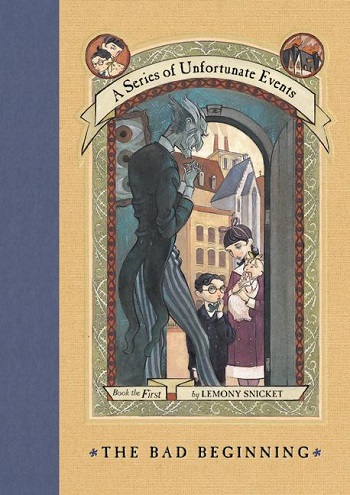 A Series of Unfortunate Events: The Bad Beginning cover via Amazon
Inside Cover
A Series of Unfortunate Events is a children's mock-gothic book series written by Lemony Snicket (the nom de plume of Daniel Handler). The first book in the series, The Bad Beginning, was published in 1999.
The story follows the three Baudelaire orphans – Violet, the inventor; Klaus, the bookworm; and Sunny, the biter – after they are orphaned by a fire, suspected to be caused by arson, and are sent to live with their strange relative, a distant cousin named Count Olaf. While avoiding the scheming machinations of Olaf to steal their inheritance, the orphans must contend with more and more strange relatives (who usually end up falling prey to their twisted pursuer) as they track down the secrets of their family and who, exactly, killed their parents.
The series totaled up to 13 titles, each containing 13 chapters, up until its final installment, The End, which contained 14, with the final chapter serving as an effective epilogue to the series. The series was known for its many subversions of typical standard book formats, particularly in regards to children's fiction. For example, one book included a page completely filled with the word "ever," while another including two pages that were printed completely black.
A Fashionable Literacy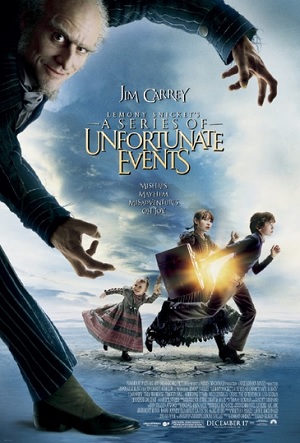 A poster for the 2004 film adaptation || Photo via IMDB
There is already a notable film adaptation of the first three novels in the series, starring Jim Carrey as the conniving Count Olaf and Jude Law as the voice of Lemony Snicket. The notable Scottish actor Billy Connolly played the orphans' Uncle Monty and iconic actress Meryl Streep was cast as the anxiety-ridden Aunt Josephine.
While the film hit the market accompanied by a video game, movie soundtrack, and board game, as well as options for a sequel, Nickelodeon Movies and Paramount Pictures ultimately decided not to pursue the franchise further. (How is this for a throwback: as of December 17th, the film will officially be ten years old!)
Recent development news that has been making the rounds on social media is that Netflix has acquired the rights to the books, with the intention of producing another one of the streaming service's original series. TV Paramount, the television division of the producer of the 2004 film, is on board for the series as well.
How to Add The Baudelaires to Your Wardrobe
By integrating key elements of the series into your own wardrobe, you, too, can have a look that's fit for meeting new relatives and adventures to far-off places! (I hear the world is quiet there.)
The Dante Dedication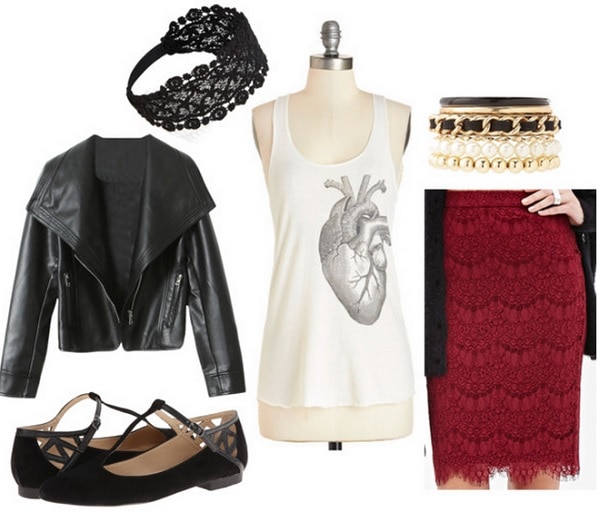 Product Information: Headband – Forever 21, Shirt – Modcloth, Bangles – Charlotte Russe, Skirt – Forever21, Flats – 6PM, Jacket – BlackFive.
An easily recognizable mainstay throughout the series is one of the first things you see when you open the book: the dedication made in each installment to a mystery woman named "Beatrice," in a myriad of macabre and somber ways. While much has been made of the mystery woman in speculation – including the dedications of famed poet Dante, which were directed to a woman he loved, unrequited, also named Beatrice – the answer to her identity is cleverly disguised, with various hints dispersed throughout the series.
Channel the tones with which Snicket dedicates his novels to his dearly departed Beatrice by creating a look that is as dark in tone and romantic in spirit as all those brief references imply, complete with lace, layering textures, and moody colors. A scalloped lace skirt, cutout flats, and a crochet headband are all flirty pieces, while a wide-collar leather jacket, mixed media bangles, and a graphic heart tee provide an edgy counterpoint.
The Adult Adversaries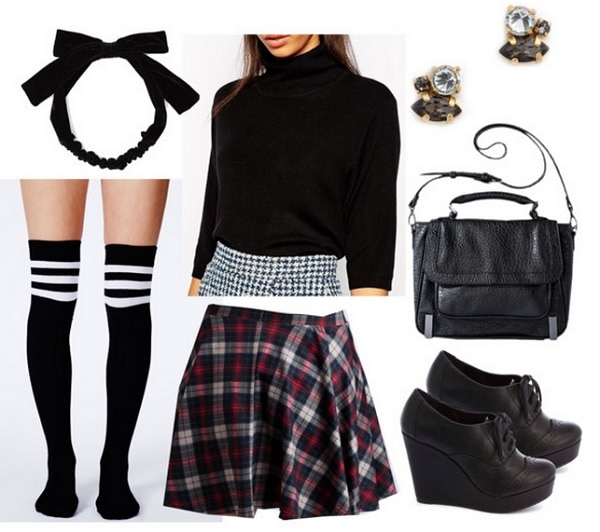 Product Information: Headband – NastyGal, Shirt – Asos, Earrings – ShopBop, Bag – Target, Shoes – Charlotte Russe, Skirt – Ruche, Socks – MissGuided.
One of the prevailing theories about the dark tone and grim tidings of the Series of Unfortunate Events books is that they appropriately depict and translate the pressure, uncertainty, terror, and menace of the "Adult World" for their juvenile readers. It's a dark and scary place out there, especially for a kid, and that's why the novels so perfectly depict children as independent, autonomous beings who are intelligent and free-thinking, with bumbling adults unable to appropriately protect or care for them.
Integrate this element of social commentary into your own outfit by remixing childlike pieces with trendier silhouettes and stylized design for an ensemble that draws its power from just acting like a kid. A plaid skirt and thigh-high varsity socks are new takes on schoolyard staples, while cluster earrings and oxford wedges are updated versions of old classics. A leather messenger bag and cropped turtleneck ground the look in a darker aesthetic, while a velvet ribbon headband has ties to Violet's signature accessory.
The Poe Pattern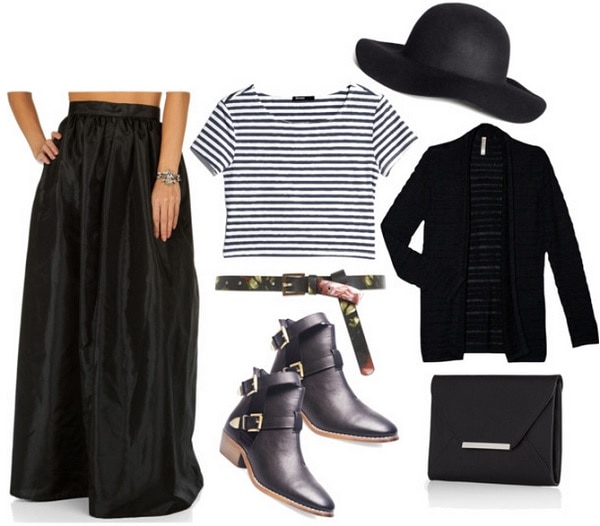 Product Information: Maxi – Windsor, Shirt – Mango, Hat – H&M, Cardigan – BackCountry, Clutch – Express, Boots – WetSeal, Belt – NewLook.
One of the reasons these novels were lauded as such inventive works of fiction for children were their distinctly dark and sinister tone. They got this, at least partially, from their author's affinity for the works of a similarly dark author: Edgar Allen Poe. Several characters actually got their names from the iconically grim Poe, most notably the executor of the orphan's estate, Mr. Poe.
The series' self-referentially mock-gothic style – a phrase which here means "dark and gloomy in a way that makes you think the author knew he was making things dark and gloomy" – isn't so much a satire of Poe's prose, as some might claim it to be, but more of a love note.
Bring the theatricality, inventiveness, and dynamics of Poe's works into your own look with an outfit that makes a statement with flowy fabrics, dark shades, and exaggerated silhouettes. A full maxi skirt, large floppy hat, and envelope clutch contrast nicely against a pared-down open-front cardigan and striped crop top. Buckle booties and a skinny belt reign in the look.
What Do You Think?
Have you ever read any of the books in the A Series of Unfortunate Events series? Have you seen the Jim Carrey movie adaptation? Are you excited about the Netflix news involving its development? What do you think of the outfits and styling tips? Let me know in the comments below!