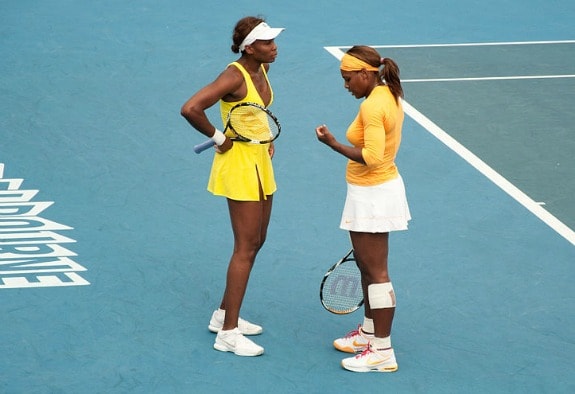 Venus & Serena Williams | Photo via Wikimedia Commons
Last week, we counted down the Top 10 Most Stylish Male Athletes. I love a man who takes pride in his appearance, even when his good looks, talent, and well – contracts and endorsements worth millions — make having a stylish ensemble the last thing a typical person would focus on. It's really cool to just have an awesome sense of fashion for the sake of genuine interest, you know?
This week, however, I thought it would be fun to count down the Top 10 Most Stylish Female Athletes. These ladies are all strong, beautiful, classy, comfortable in their own skin, and make great role models both in their fields and on the red carpet. Let's dive right in!
10. Michelle Wie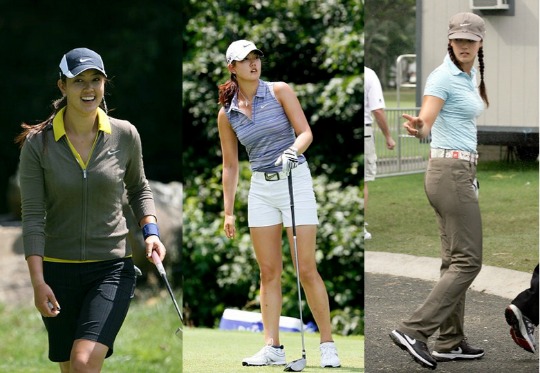 Photo Credits: 1. Wikimedia Commons 2. Wikimedia Commons 3. Pacific Coast News
Michelle Wie stunned the world when she qualified for the USGA Amateur Championship at the age of ten. Before she turned 16, Michelle went pro and has held her own, even when competing in male events. Now, with dozens of endorsements and golf accolades under her belt, it doesn't look like the Big Wiesy is going to slow down any time soon.
Standing at 6'1″, Michelle is known for her preppy style both on and off the golf course. As a Nike spokesperson, Michelle rocks a straightforward, sporty look that's unique to celebrities and pretty much any girl her age. Wie completely owns her head-to-toe Nike ensemble. You can tell that her main concern is having a great day on the fairway, and her clothes are an afterthought — but she still manages to always look chic and confident!
9. Gabby Douglas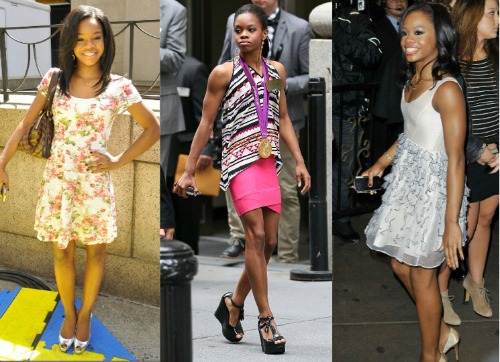 Photo Credits: Pacific Coast News
We all fell in love with Gabby Douglas and the rest of USA's "Fierce Five" last summer, when the girls placed first as a team and Gabby won the gold medal for individual gymnastics. Now, with BET awards, dozens of magazine covers, endorsement deals, and a bestselling book under her belt, it seems like people can't get enough of Gabby and her sweet, girly style.
Gabby is a fan of prints and patterns, girly dresses, high heels, ruffles, and pretty, shimmery make-up. We all remember the Fierce Five's signature messy buns during the Olympics last year, but lately Gabby has swapped that look out for more polished ponytails and sleek layers framing her pretty face. Gabby is only 17 years old, and her style reflects that — in a good way! She always manages to look young and fresh, but still classy and appropriate for whatever event she's attending.
8. Venus Williams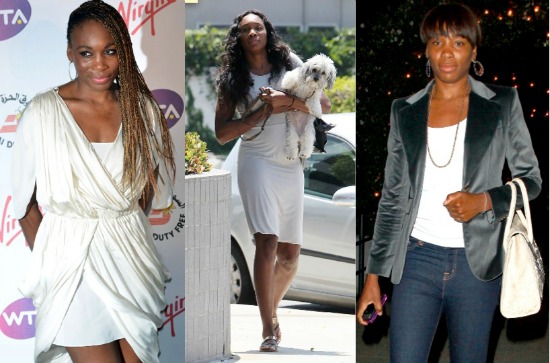 Photo Credits: Pacific Coast News
Venus Williams is a legend in women's sports not just for her athletic prowess, but also for her brave fight advocating gender equality in prize money for tennis tournaments, most notably Wimbledon. In 2006, Prime Minister Tony Blair publicly supported Williams' thought-out and articulate arguments on the issue, and in 2007, she became the first woman to benefit from Wimbledon's newly adopted "equal prize money" policy for winners. That's one badass babe!
2007 was a huge year for Venus. Not only did she win Wimbledon, but she also earned an associate's degree in fashion design from the Art Institute of Fort Lauderdale. Her fundamental understanding of fashion is easily apparent in her day-to-day ensembles. Venus's style is sleek and practical, but she peppers each outfit with a healthy dose of glamour for a well-rounded, relatable look we can all appreciate.
7. Skylar Diggins
skylar - game 2 thunder grizzlies
If you haven't heard of Skylar Diggins yet, brace yourself--this gorgeous guard was the star of Notre Dame's women's basketball team, and now plays for the Tulsa Shock as the third pick in this year's WNBA draft. Skylar's so new to the pro-world that we couldn't even license any pictures of her, although the above video does showcase her one-of-a-kind style.
Skylar was a star way before she went pro, though — hip-hop heavy weights like Lil Wayne, Waka Flocka Flame, and the Odd Future boys have all professed their love for her, she was one of the first females to sign with Jay-Z's Roc Nation sports agency, and many sports commentators believe that she has the star power to completely change the perception and excitement surrounding the entire WNBA.
I love Skylar Diggins because she has the ability to infuse every outfit--even her basketball uniform--with girly glamour. She's said in interviews that her favorite pre-game rituals are to paint her fingernails and pluck her eyebrows. At red carpet events, Skylar's known to wear body-con dresses, chandelier earrings, glamorous eye make-up, and spiky stilettos. A basketball star who also loves beauty products and fashion is my kind of woman. Ladies, keep your eye out for Skylar — we've got a future superstar on our hands!
6. Hope Solo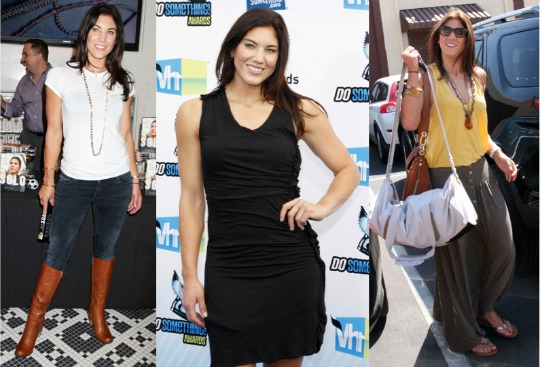 Photo Credits: Pacific Coast News
Everyone's favorite naughty goalkeeper is, without a doubt, Hope Solo. From being partnered with Maks on Dancing With The Stars, admitting to being drunk at her 2008 appearance on the Today Show, to winning the gold medal twice with USA's women's soccer team, there's never a dull moment in the life of Hope Solo.
Hope's girl-next-door style is what lands her the number six spot on our list. I love Hope because she dresses like the fun, athletic girl who lives in your hall and offers you workout tips. Her all-American style includes tons of denim, LBDs, riding boots, oversized bags, large sunglasses, and funky sandals. Her look is simple and classic, but never boring.
5. Lindsay Vonn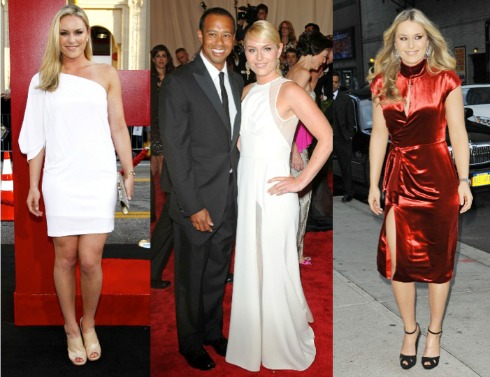 Photo Credits: Pacific Coast News
Champion skier Lindsay Vonn has been at the top of her athletic game for over a decade now, but has caught the attention of gossip magazines and entertainment television lately because of her romance with bad boy golfer Tiger Woods. I'll be honest, a few months ago, I couldn't pick Lindsay out of a line-up…but the more I see her on E! News, the more I realize how stunning, tasteful, and chic she is!
With classic features and a bangin' body, Lindsay Vonn could pretty much wear a potato sack and still look beautiful. However, she blows the competition out of the water by showing up for red carpet events in high-end designer dresses, girly earrings, and tall stiletto heels. She loves dresses of all lengths cut close to her figure, and keeps her perfect blonde hair in simple hair-dos that help accent her face.
4. Maria Sharapova
Photo Credits: Pacific Coast News
Maria Sharapova of Russia has been a mainstay both in the tennis and fashion worlds for nearly a decade. The number of titles she possesses is rivaled only by the number of endorsement deals to her name. Maria is the face of Tag Heuer, Tiffany, Cole Haan, and Nike, and has even started various clothing lines in both athletic wear and fashion. She designs purses and shoes for Cole Haan, and her signature pair of ballet flats are one of Cole Haan's all-time best sellers!
Lace, sequins, tulle, and chiffon are the cornerstones of Maria Sharapova's style. Her delicate, girly style paired with her stunning good looks, pointy high heel shoes, and flawless jewelry and make-up would have you mistaking her for a Victoria's Secret model.
3. Alex Morgan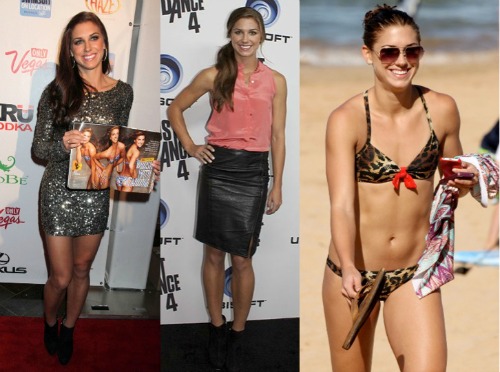 Photo Credits: 1. Pacific Coast News 2. Wikimedia Commons 3. Pacific Coast News
When Alex Morgan isn't too busy scoring soccer goals for Team USA, you can find her doing other typical activities that young people enjoy — shopping, enjoying nightlife, and attending fashion week with the Kardashians. Wait, what?
This Olympic gold medalist is known for her fashion-forward, artsy style. From the crazy wasp-nest hairstyle she rocked on the catwalk to her enviable handbag collection, Alex Morgan is great at looking young, urban, and on-trend. She's been spotted in lens-less turquoise glasses, zebra striped jackets, leopard print shoes, and (as pictured above left) sequined dresses. Her daring style in the fashion world and on the soccer field makes her one of the most relevant female athletes today.
2. Danica Patrick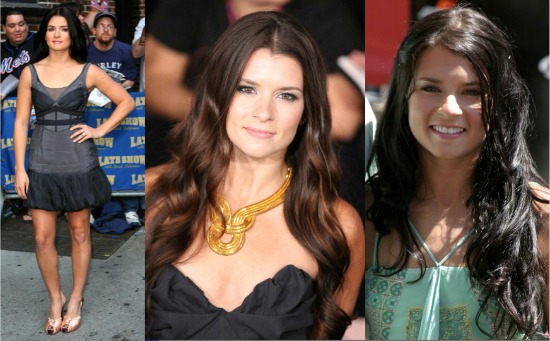 Photo Credits: Pacific Coast News
NASCAR driver Danica Patrick is fearless. As the first woman to ever win the Sprint Cup Series pole, she posted the fastest qualifying lap for the Daytona 500 since 1990. There's no women's league when it comes to race car driving, so Danica competes solely with males. Although she's yet to win a major race, I have high hopes for my girl Danica's future.
Danica Patrick is the spokeswoman for several fashion houses, and it's no wonder why. Her feminine style contrasts with her gritty line of work, which makes it all the more interesting. Danica is usually seen wearing mid-length dresses, statement jewelry, high heels, and her signature long brown hair is always wavy and cascading for red carpet events. Her gorgeous hair is almost always the focal point of her look, so she keeps her ensemble balanced by only rocking one or two eye-catching extras at a time.
1. Serena Williams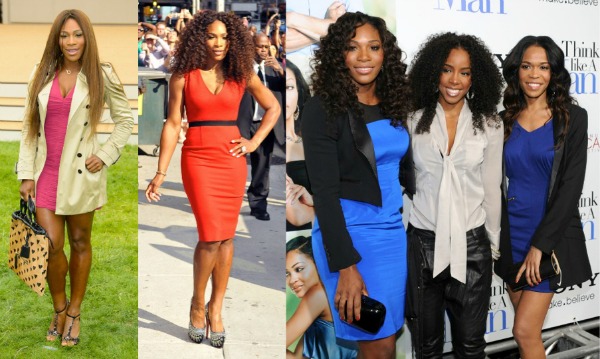 Photo Credits: Pacific Coast News
Serena Williams will certainly go down in history as one of the greatest tennis players of all time, but her bold fashion choices earn her just as much attention as her athletics do. Venus might be the one with a degree in fashion, but Serena is the sister with the most pizazz. She's known for wearing day-glo bright tennis outfits on the court. Serena once showed up for an important tennis match wearing a specially-designed denim skirt and knee-length athletic boots, and rocked a black Lyrca catsuit to 2002's US Open!
When it comes to Serena's red carpet looks, every single one of her outfits oozes with high-fashion glamour. Serena's style is very sexy and very feminine. Her dresses are always form-fitting, and hug her curves in the right places. Serena's hair is always perfectly styled, usually in long waves down her back. And, most notably, Serena never leaves the house without a stunning pair of high heels and the latest "it" bag. Her over-the-top glamour and penchant for haute couture lands her the number one spot on our countdown.
Thoughts?
Who are your favorite female athletes? Who do you think has the best style? Do you watch many women's sports? Did we leave off someone you love? Leave a comment and join in the conversation!