This post may contain affiliate links, which means we may receive a commission if you purchase through our links. Please
read our full disclosure here
.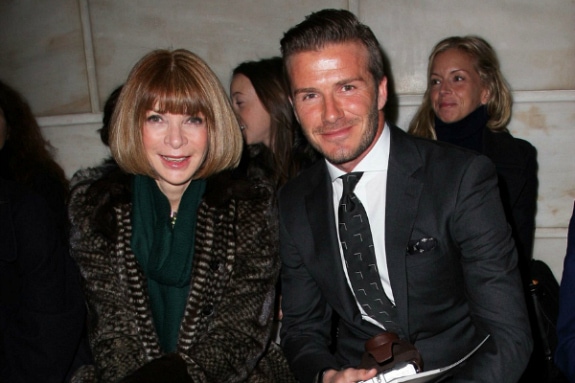 Anna Wintour and David Beckham | Photo via Pacific Coast News
When hot guys athletes and fashion collide, it's a beautiful thing. Just as the world is fascinated with an athlete's life on and off the court, their ensembles both at press conferences and on the street seem to stir great excitement as well.
While it's easier for guys — especially talented and successful ones — to get away with not putting much effort into their appearance, I'd like to give a shout out to a handful of athletes who go above and beyond the norm, and leave the house every day rocking a distinctive style.
Today, I'm counting down the top 10 most stylish male athletes. After you finish reading the list, be sure to leave a comment and let us know whose style you like, and who we might have left off!
Ladies, get ready for some major, giddy, Tiger Beat girl talk. Let's jump right in:
10. Mike Comrie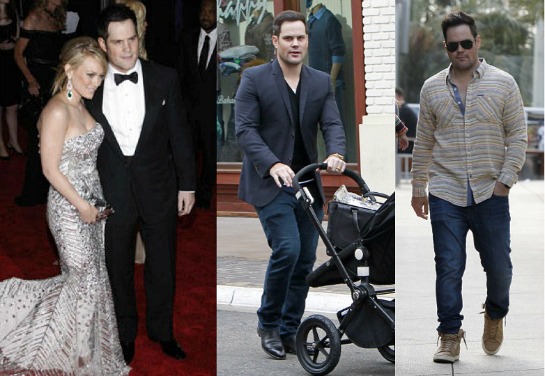 Photo Credits | 1. ELLE 2. Pacific Coast News 3. Pacific Coast News
I'll admit it — I had no idea who Mike Comrie was until he married Hilary Duff. (I mean, Oklahoma isn't exactly know for its great hockey following). But, since he stepped into the spotlight as the Duffster's main man, I can't get enough of his rugged, boy-next-door style.
Classic cut jeans, blazers, and fitted t-shirts all define former NHL player Mike Comrie's style. He kind of reminds me of the cute and quiet guy who sits in the back of your English class, who always holds the door for you and offers you a Scantron on test day when you've forgotten yours. Sure, his style is simple, but its timelessness and relatable feel earned him a spot on our list.
9. Cristiano Ronaldo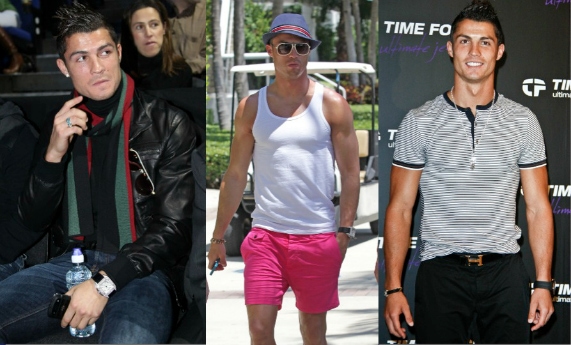 Photo Credits | Pacific Coast News
This Portuguese fútbol player has always been know for his sharp looks, but today we're giving him a shout out for his style. Cristiano Ronaldo's style reflects sophisticated European style, mashed up with a little bit of an Ibiza-chic raver vibe.
From fedoras to scarves, blingy jewelry to perfectly-coiffed hair, Cristiano Ronaldo looks like he's ready for a hot night on the town everywhere he goes.
8. Derek Jeter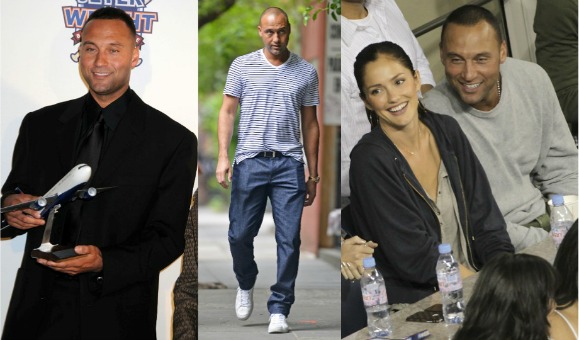 Photo Credits | Pacific Coast News
Derek Jeter, a Yankee shortstop legend, can usually be seen in one of two distinctive styles – either in a perfect-fitting designer suit or in carefree casuals.
His two looks sharply contrast with each other, which gives Derek Jeter the look of a guy that both works and plays hard. His ability to wear monotone suits one day and baggy jeans and a loose long-sleeved tee the next always keeps us guessing – and hungry for more!
7. Dwyane Wade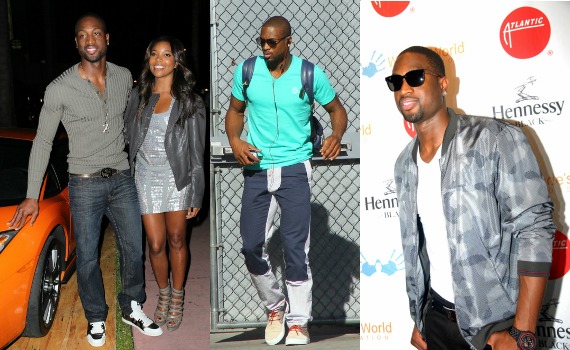 Photo Credits | 1. Pacific Coast News 2. Pacific Coast News 3. PR Photos
Of all professional athletes in American leagues, NBA players seem to be the most interested in fashion. Dwyane Wade is a guard for the Miami Heat and three-time NBA championship winner, but still has time to throw on interesting accessories, like leopard print shoes or thick-framed glasses with almost every outfit he wears.
Dwyane is known to sit front row at many high-profile fashion shows in both New York and Paris, and has several endorsement deals with both athletics and fashion companies, so it's no wonder his wardrobe is so amazing!
6. Ryan Lochte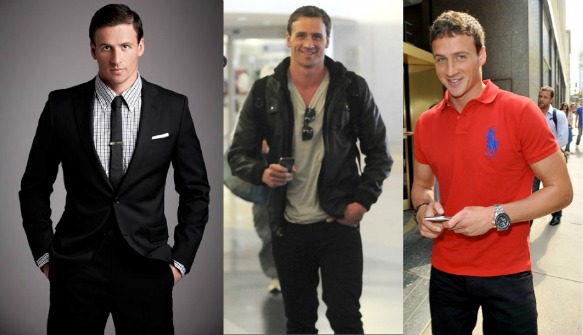 Photo Credits: 1. ELLE 2. Pacific Coast News 3. Pacific Coast News
Jeah! You girls knew this one was coming. From his impeccable shoe collection to that infamous USA grill, Ryan Lochte has made a splash (pun intended) in the fashion world as well as in the swimming lanes.
Ryan's all-American look somehow strikes a balance between being classy and eccentric. He loves polos and always rocks them in day-glo brights. He also wears classic suits, but adorns them with pocket squares, tie clips, or patterned shirts. He's a fan of a simple v-neck and jeans — but he always pairs those staples with a loud pair of sneakers.
5. Kobe Bryant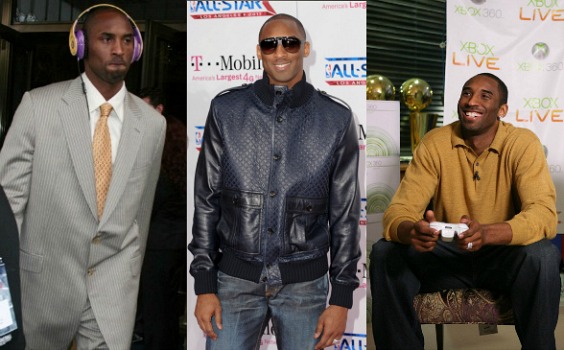 Photo Credits | 1. Pacific Coast News 2. PR Photos 3. Flickr
Kobe Bryant is a legend on the court, and his press-conference and red carpet attire matches that level of mystique.
Kobe's custom suits look professional and dashing, and his tailored jeans, button-downs, sweaters, jackets, and more help him command attention at any event he attends. (However, standing at 6'6″, it's not like he needs too much help in that department.) Kobe's a leader and his trendsetting ways truly transcend athletics.
4. Tom Brady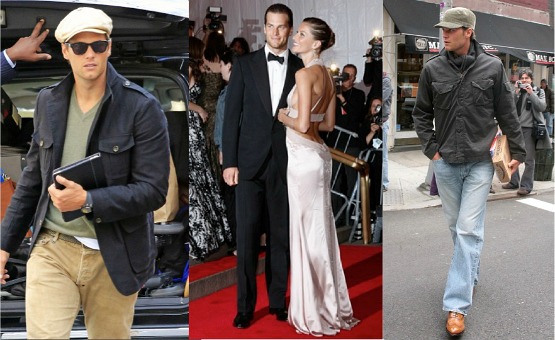 Photo Credits | 1. Pacific Coast News 2. ELLE 3. Pacific Coast News
Sure, we all love Tom Brady. We love his inspirational draft story. We love his poise on and off the field. We all both love and hate his supermodel wife and perpetual arm candy, Gisele Bündchen.
But aside from some major football prowess, the other thing that Tom Brady brings to the table is his preppy style that almost looks like he walked straight out of a J.Crew catalog. Muted colors, khaki pants, cool jackets, and slick hats all make Tom Brady look put-together, refined, and a step above his competition.
3. Johnny Weir
Photo Credits | Pacific Coast News
Champion figure skater Johnny Weir is known perhaps more for his eccentric fashion sense than his on-ice routines. A staple at high-profile fashion events, Johnny Weir's been known to walk the runway for various designers and sit front-row during many fashion week shows.
To steal some of Johnny Weir's style, don't be afraid to rock anything over-the-top. Fur, sequins, pointed shoes, shoulder pads, large handbags, and neon colors are all in Johnny's wheelhouse.
2. Russell Westbrook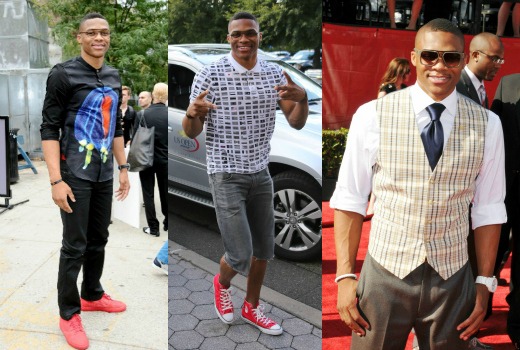 Photo Credits | Pacific Coast News
Perhaps I'm biased, being from Oklahoma and all, but I personally think Russell Westbrook is one of the most exciting and fresh athletes with style in the news today. Others seem to agree, too –he's stolen headlines with his memorable press conference attire, and has several athletic and fashion endorsements that prove his sartorial viability.
I'd call Russell's style a mashup between urban hip-hop and geek. He sort of looks like Steve Urkel and the Fresh Prince's love child! Loud, mismatched patterns, bright colors, bold kicks, and lens-free glasses are all RussWest's signatures. I can't wait to see what he has in store for us in the future — both on the court and on the runway.
1. David Beckham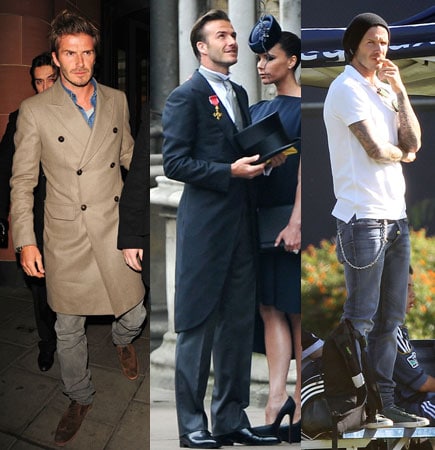 Photo Credits | 1. Pacific Coast News 2. ELLE 3. Pacific Coast News
From his dapper suits to casual beanies, David Beckham is perhaps the most classic example of the perfect collision of fashion and sports. David Beckham manages to look manly and rugged, yet fashionable and refined all at the same time.
The king of endorsements, Becks lends his name to Adidas, H&M, Armani, and many more. Plus, with a wife like Victoria Beckham, you could pretty much get away with a t-shirt and baseball cap and still look uber chic.
Agree? Disagree? Tell us your rankings!
Do you watch sports? Which are your favorite? What athlete's style do you admire the most? Did we leave out anyone that you love? Leave a comment and add to the conversation!