I ran into Nathan outside a coffee shop near the downtown WVU campus. Nathan dresses for success but manages to stay comfortable during the hustle and bustle of the day. You will love how he is a practical consumer too; be sure to check his advice out for students wanting to improve their style!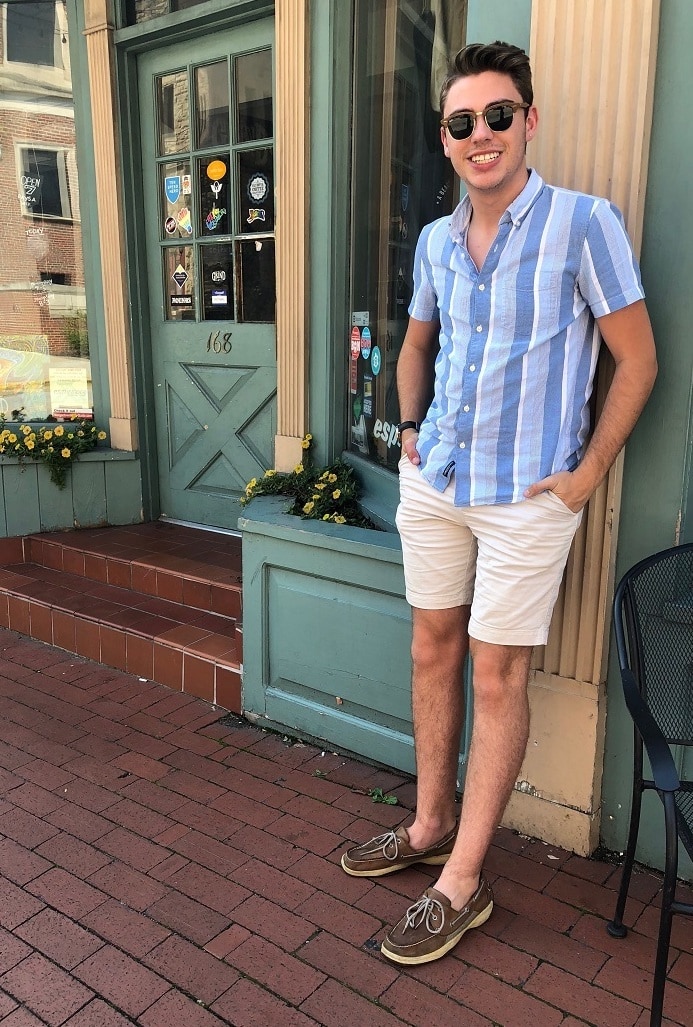 Nathan 101
Name: Nathan
School: West Virginia University
Major: Interior Design
Year: Sophomore
Hometown: Cross Lanes, WV
Let's Talk Fashion
Who or what inspires your style? "I would say a lot of my inspiration comes from experience rather than trends. I follow a lot of people on Instagram like Tan France, whose overall aesthetic reflects my own."
Where do you like to shop? "I like to shop at American Eagle, Nordstrom Rack, Macy's, and my go-to place would probably be T.J. Maxx."
How would you describe your style? "I would say business casual. I like a comfortable but put-together look."
Why did you choose this particular outfit? "The shorts I've had for about a year; they are overall super comfortable. The shirt is a soft material that is also very breathable, perfect for a warm fall day like today. My Sperrys are perfect for everyday wear. I chose to accessorize with a watch which has gold accents; I paired it with my rings that belonged to my Papaw."
What fashion advice would you give to other students looking to improve their style? "Shop at places like T.J. Maxx and consignment shops to find the brands that you want to wear. You can be a college student with a college budget and still achieve the look you want. It is important to feel comfortable in what you wear."
What are your favorite trends right now? "I really like the French tuck trend; Tan France does this a lot… [it's] one of his signature things. Other trends that I support would be vertical stripes, denim on denim, and layered outfits for fall."
Do you have any favorite fashion designers? If so, who? "I really like Ralph Lauren and Tommy Hilfiger. In the past, I have been a big fan of Vineyard Vines."
What do you do for fun – do you have any unique hobbies or interests? "I like to go on road trips and hikes with friends. I am [very into] films and musicals. Overall, I am a very social person and tend to find unique things to stay busy. In my free time, [as an interior design major], I like designing floor plans."
If you could raid anyone's closet who would it be and why? "I think it would be combination of Tan France and Harry Styles. I feel that both people really encompass my style."
Elements of Nathan's Outfit
1. Striped Button-Up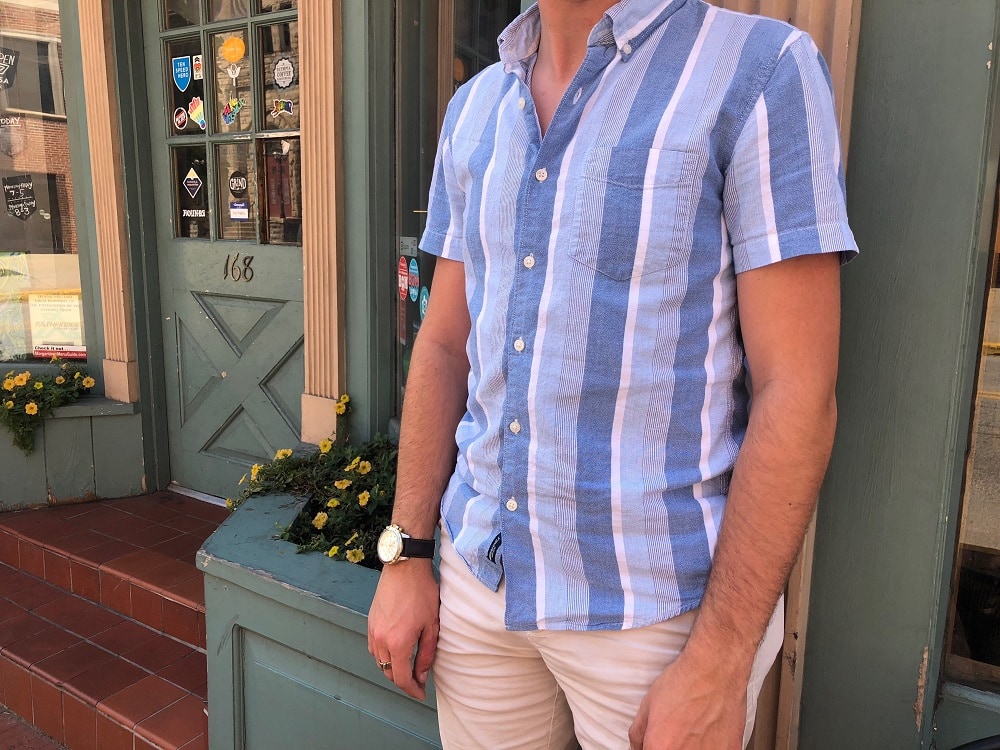 Nathan mentioned being a fan of vertical stripes and this button-up from American Eagle is a fun take on the trend. The shirt's variation of hues and line thickness is aesthetically unique. Nathan paired his button-up with khaki shorts. This ensemble is fantastic for a variety of occasions like heading to class, business-casual professional events, and exploring nearby towns on the weekend.
2. Accessories on Accessories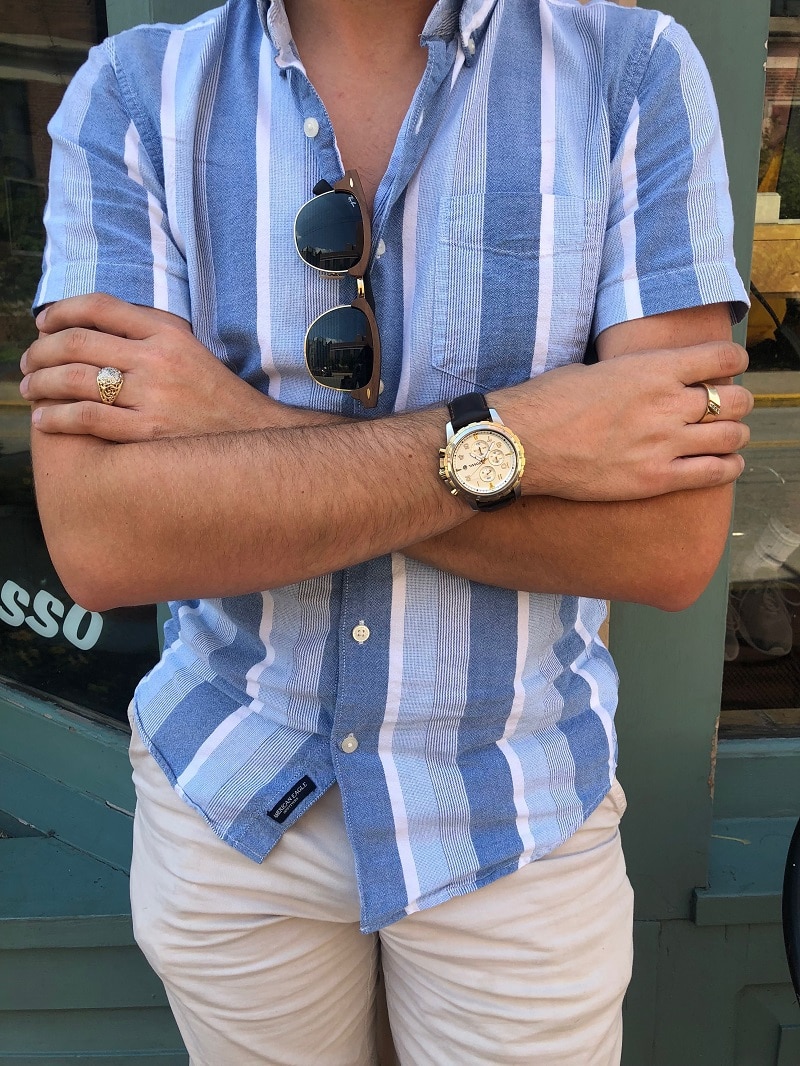 Nathan did not hold back on his accessories and it's clear he was strategic in crafting this outfit. His watch with gold accents pairs well with his blue and khaki look. The rings, which he wore to complement the watch, were given to him by his Papaw. Lastly, a classic and stylish pair of Ray-Bans fight off the harsh sun on a warm autumn day.
3. Sperry's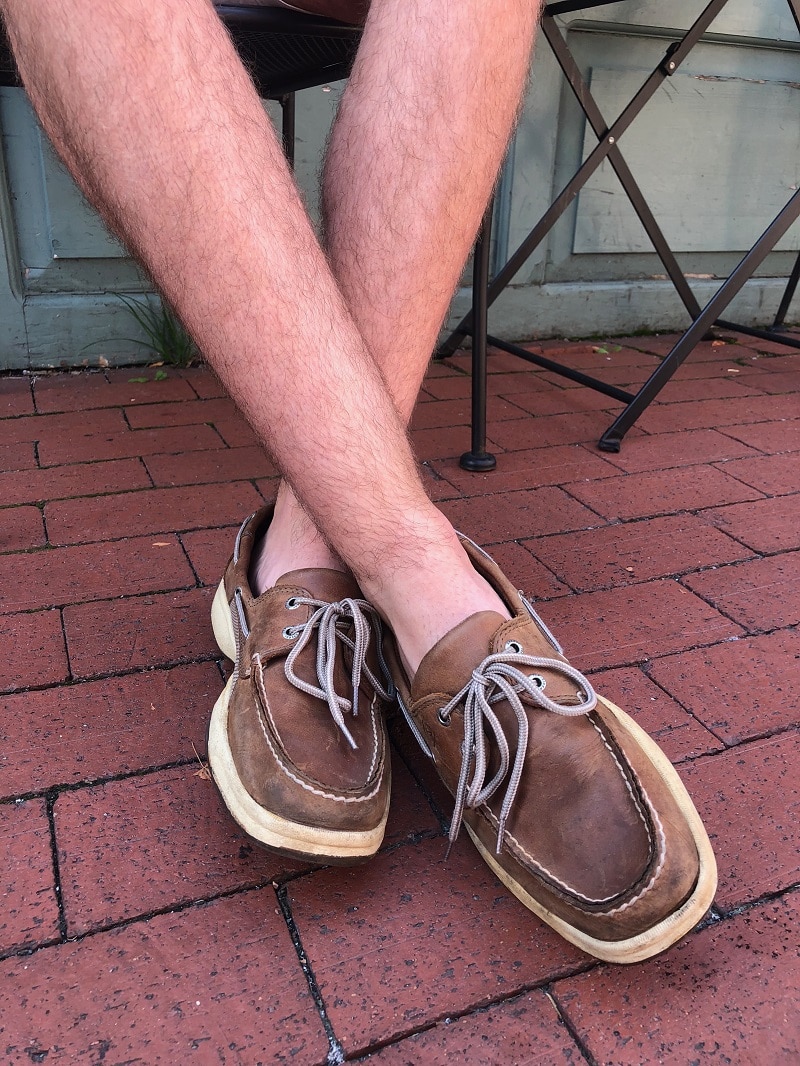 Nathan went on about the comfort and confidence that he finds in his Sperry's. On the spread out campus at West Virginia University, students have to seek sensible shoes to get from class to class. These are also a comfortable shoe for weather that is stuck between summer and fall, when it is cool in the mornings yet still warm by afternoon.
What do you think of Nathan's blue and brown look?
Do you love his preppy style? How do you feel about his boat shoes? Comment below!