When Adedamola is on campus, he always puts his best ankle boot forward. We chatted about his experiences traveling across the globe and how designers influence his sense of style. It became clear to me after my time spent with Adedamola that he doesn't follow trends; he is the trend.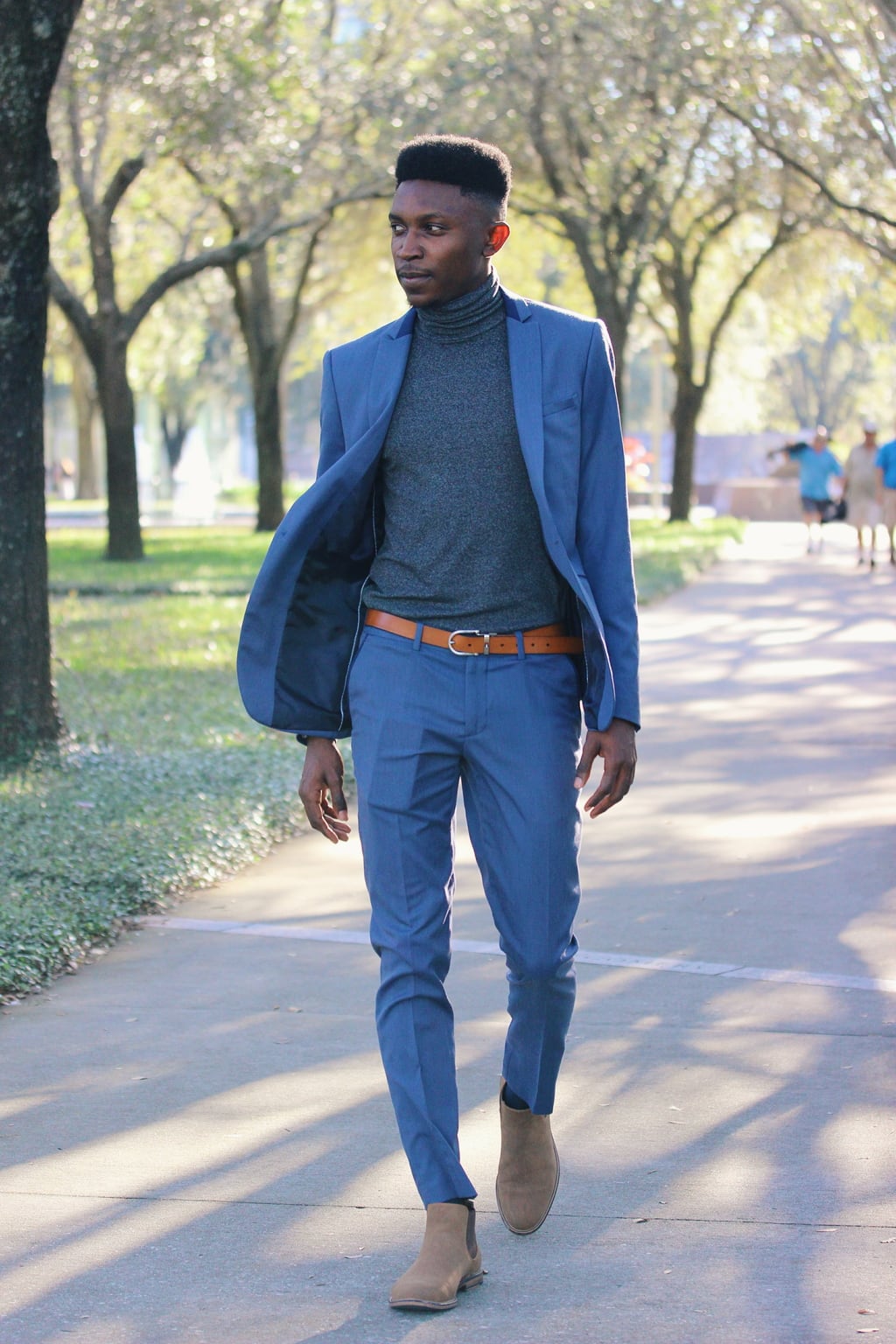 Adedamola 101
Name: Adedamola
School: University of South Florida
Year: Grad Student
Major: Architecture
Hometown: Lagos, Nigeria
Let's Talk Fashion
Who or what inspires your style? "A$AP Rocky. He has a really unique [sense of style]. He is very different and that kinda just inspires me to wanna be different from everyone else. Also Scott Disick, Kit Harington, Dave Chappelle, and Jay Pharoah."
Where do you like to shop? "I usually shop a lot of designers. So I'm more of a Gucci and Louis Vuitton person. I've started to move to lower brands like Zara, J. Crew, Steve Madden, Topman, and a bunch of other brands."
How would you describe your sense of style? "Very unique. I would say [that most] people my age wanna [wear trends and brands such as] off-white, Margiela, biker jeans, [and] ripped tees. But I prefer to be more classy and present myself… I want people to see me at a very high standard and not just like a regular college person."
Why did you choose this particular outfit? "I don't think I've ever worn a turtleneck with a two-piece suit before. I usually wear [a] white button up, but today I decided to try a turtleneck and it came out really nice."
What fashion advice would you give to other students looking to improve their style? "Be yourself. Don't force it. Let it come naturally. I've tried different styles throughout my life in college and high school. I was once a biker jeans and ripped tees [person], and that didn't work out for me. I kinda just discovered myself."
What are your favorite trends right now? "I'm not really into trends. I kinda just set trends for myself. I see that denim jackets are coming back into style and I would say that's the only thing I'm trying to incorporate into my dressing… just denim jackets."
Do you have any favorite fashion designers? "I'm into women's fashion too and I would say right now [the women's designers I am] into would be Christian Siriano [and] Elie Saab."
What do you do for fun – do you have any unique hobbies or interests? "I'm doing my masters for architecture so I don't have much time. But in my free time I cook, and I have a bunch of cookbooks, and on random days I decide to make whatever… so cooking!"
If you could raid anyone's closet, who would it be, and why? "A$AP Rocky because [he's] always very stylish. I've never seen him not look good. He always looks awesome."
Elements of Adedamola's Outfit
1. Two-Piece Blazer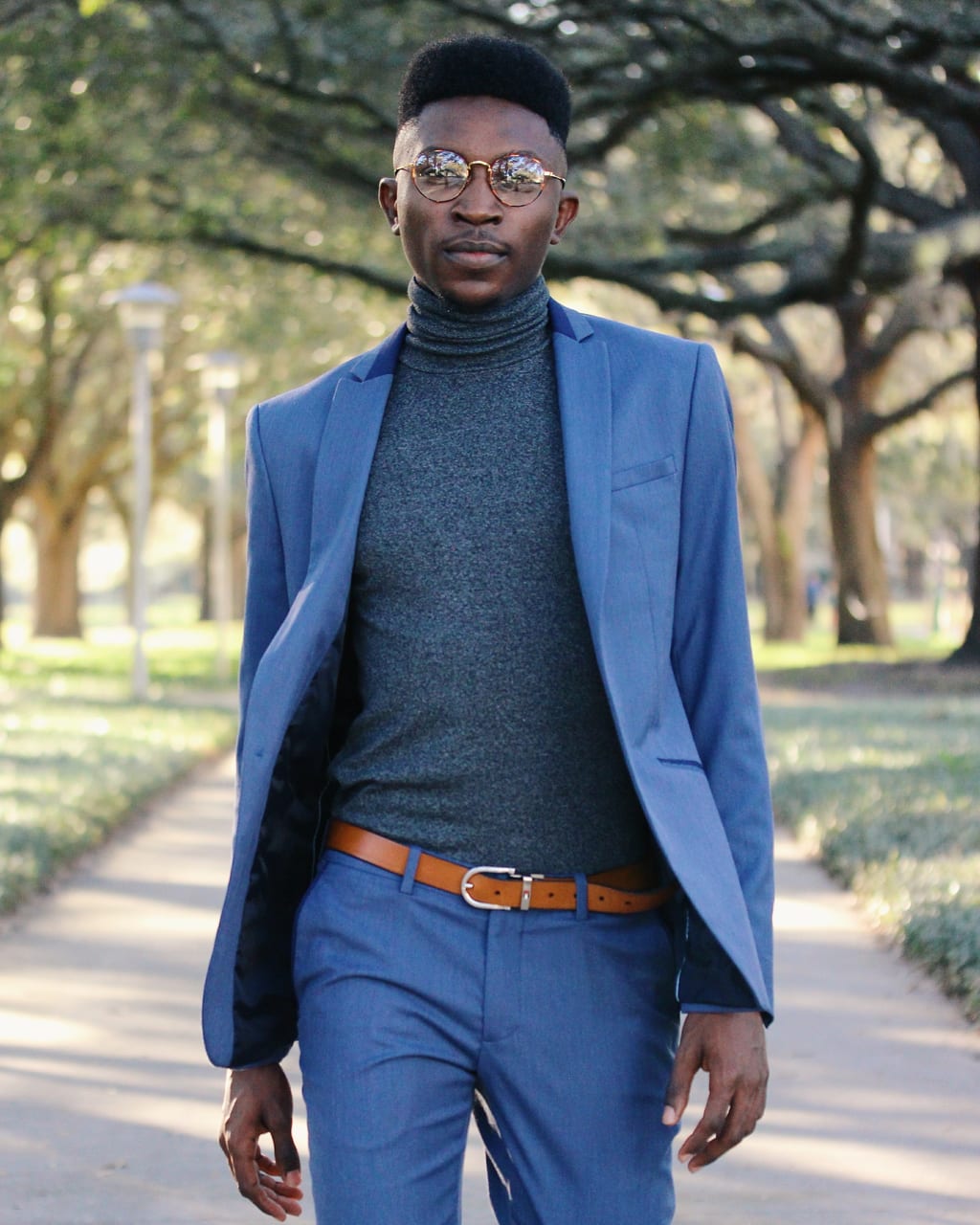 ​​​​Zara is one of those stores that holds secret treasures. Who knew that they carried such stylish men's suits? Adedamola's slim-fitting suit is definitely a winner here. The fit isn't too tight, yet it shows off his slim build.
2. Gray Turtleneck ​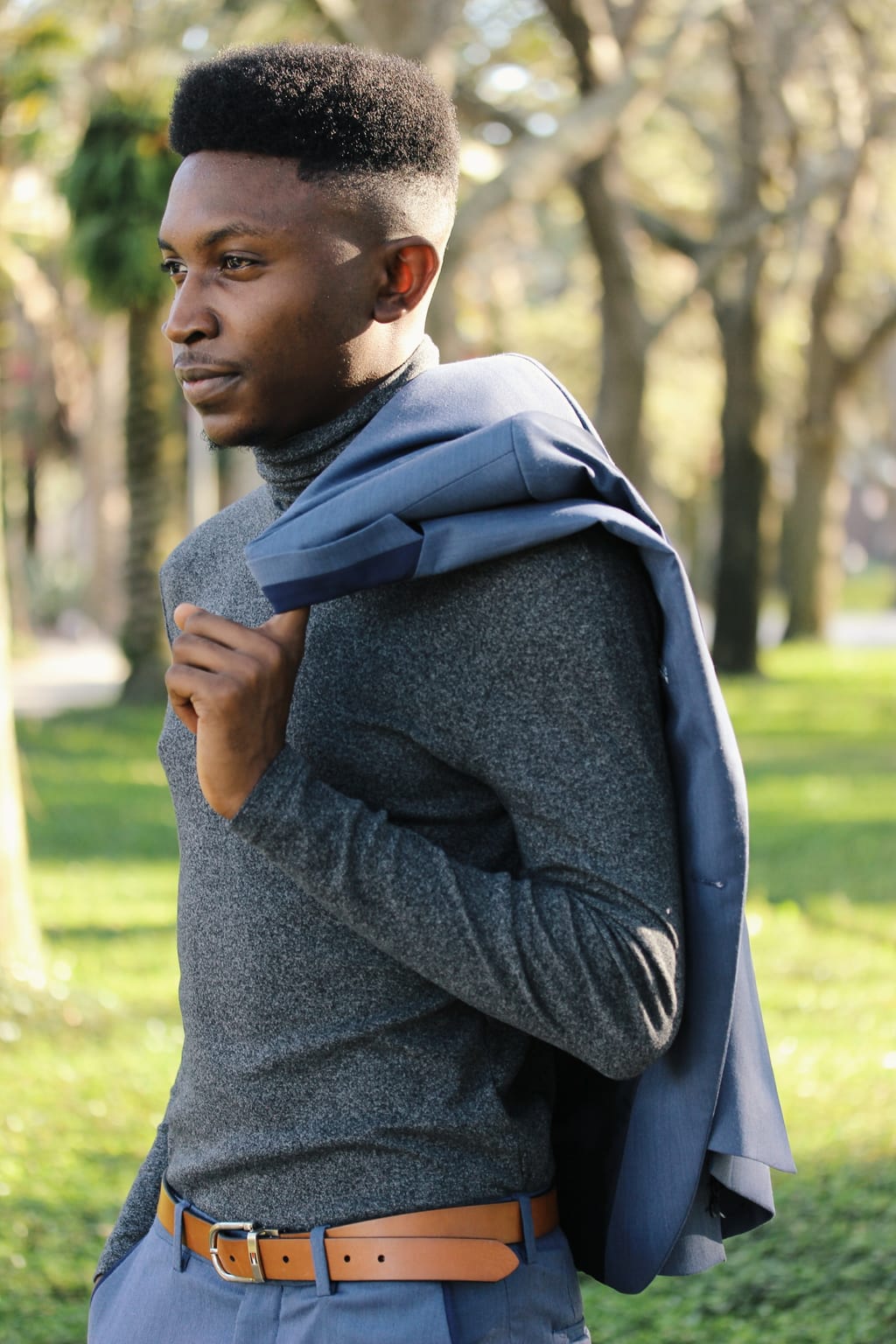 ​I love that Adedamola chose a gray turtleneck from Topman instead of a black or white button-up, which would be a more traditional choice. Gray is a great color to use when you need to break up a large amount of another color, such as his blue suit here.
3. Socks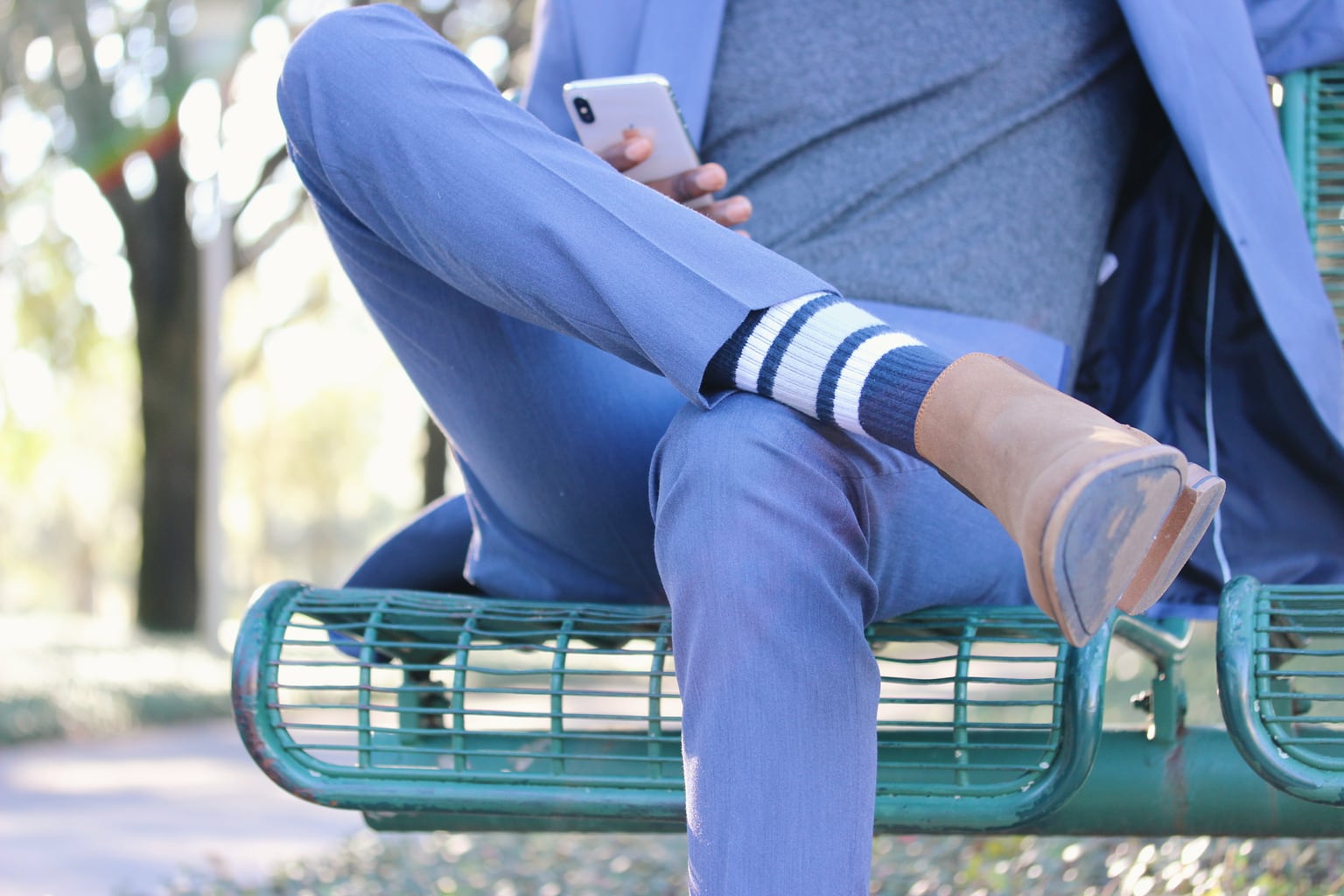 ​Socks are a fantastic way to add a bit of personality to your outfit. A fun pair of socks can surprisingly tell you a lot about a person's style. These Perry Ellis socks are classic yet stylish, a true example of Adedamola's fashion taste.
4. Ankle Boots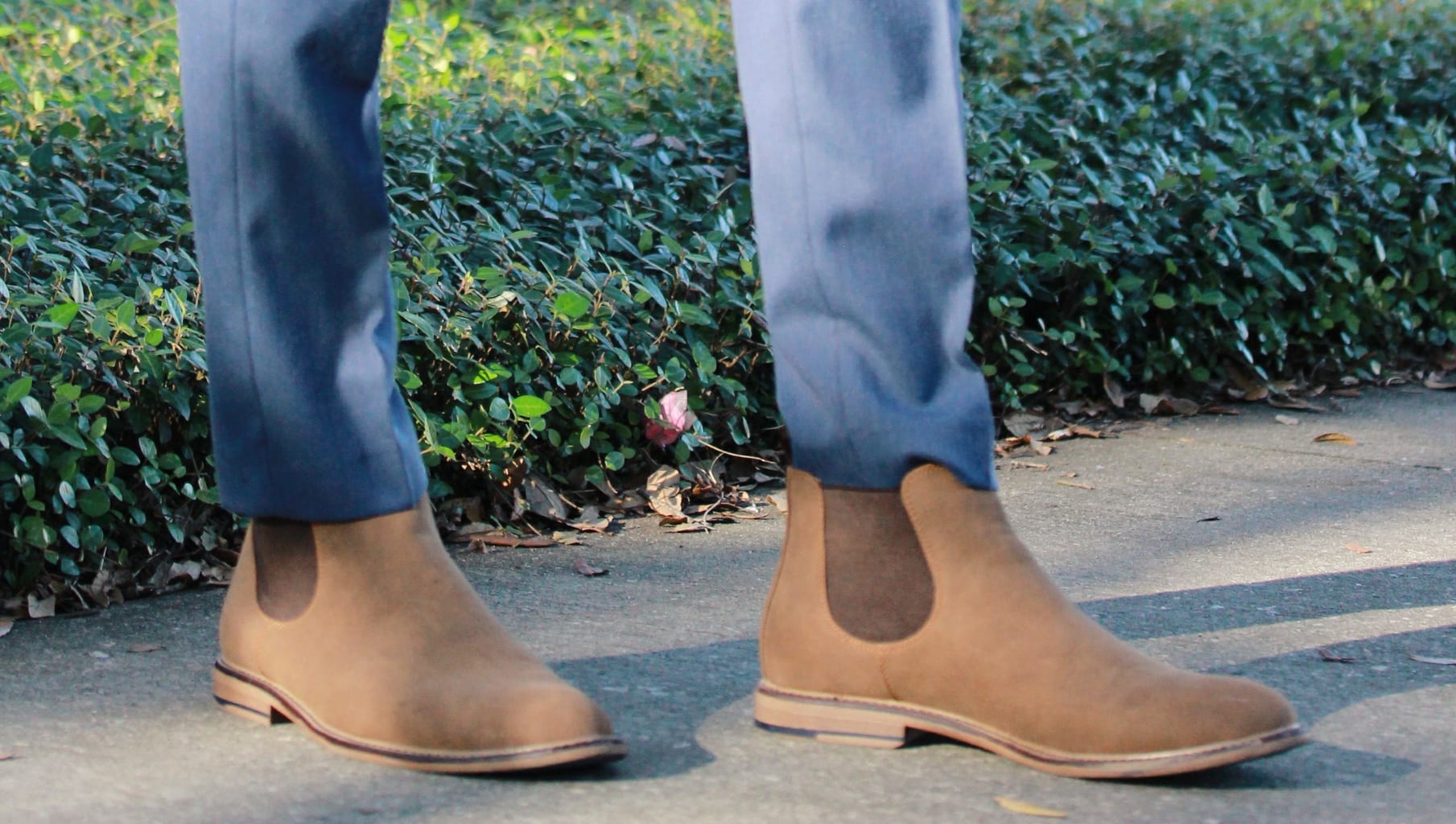 Adedamola decided to pair his outfit with Steve Madden ankle boots. Notice that he managed to color coordinate with his belt here. Now that's attention to detail!
What do you think of this look?
Are you inspired by Adedamola's classy schooltime look? What do you think of turtlenecks? Let us know below!