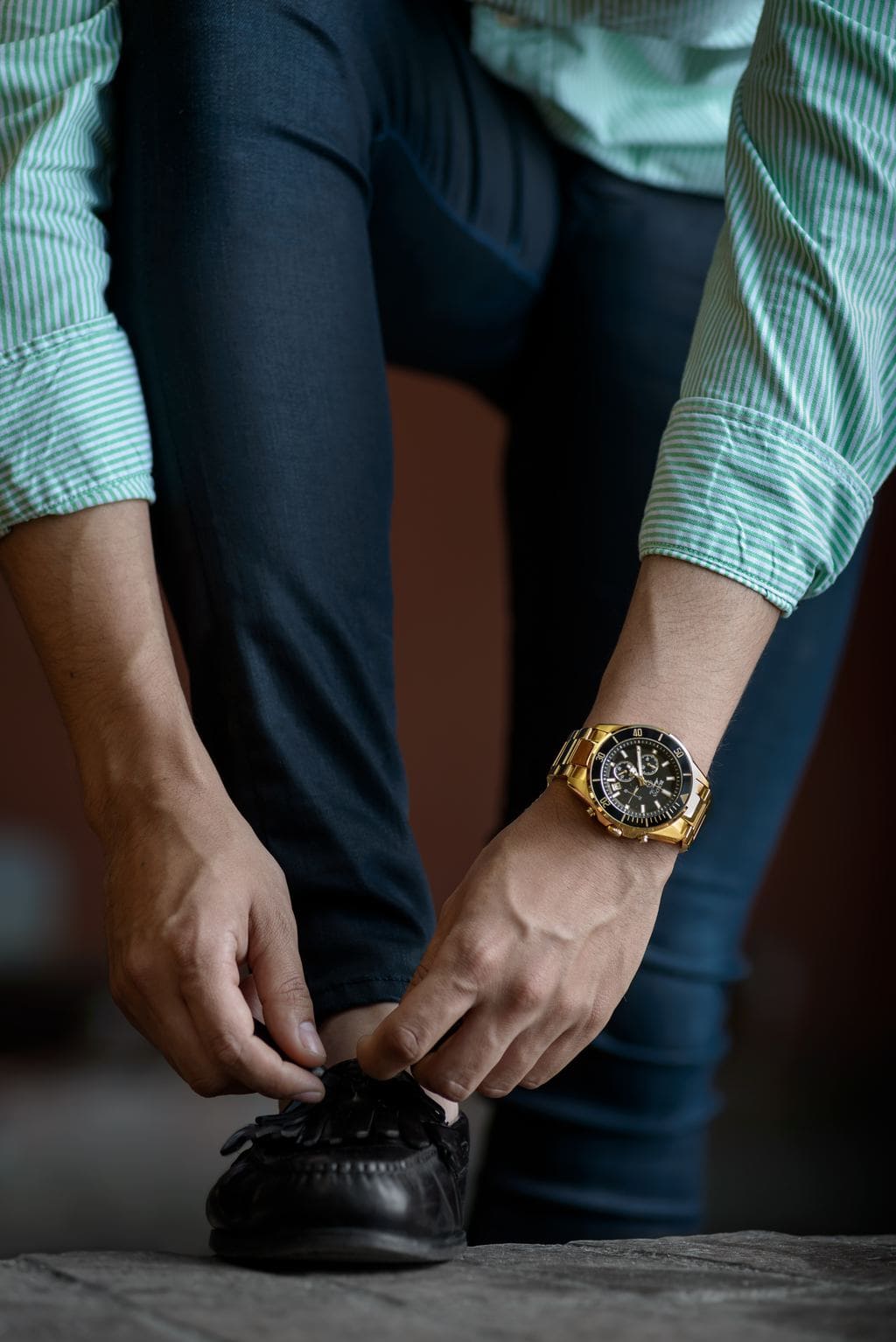 Hello, there.
Sorry to be the one to break the bad news to you, but if you've been sent this article, somebody's not happy about your current wardrobe choices.
Before I go on, take a moment of reflection; look back on the outfits you've worn this past week and guess what may have caused offense.
You might, for instance, have alarmed your benefactress with your Bono-like habit of wearing sunglasses indoors. Perhaps you still have a thing for saggy pants and deep V-neck tanks. (Didn't you hear Jersey Shore ended 5 years ago?) Or, in the worst-case scenario, you've been spotted out and about in a pair of lime green Crocs.
Yes, slip-ups can happen to anyone. I'm not judging you for having committed some form of crime against fashion, nor am I negating that some styles are just prone to subjective distaste. But the fact of the matter rests that, in having been sent this article, somebody has determined that you are, indeed, in need of a style guide.
To keep you from ever committing another sartorial faux pas that merits such a reaction from your fellow peers, here are my four pillars of gentlemanly fashion. Read them and weep, boys.
Define your style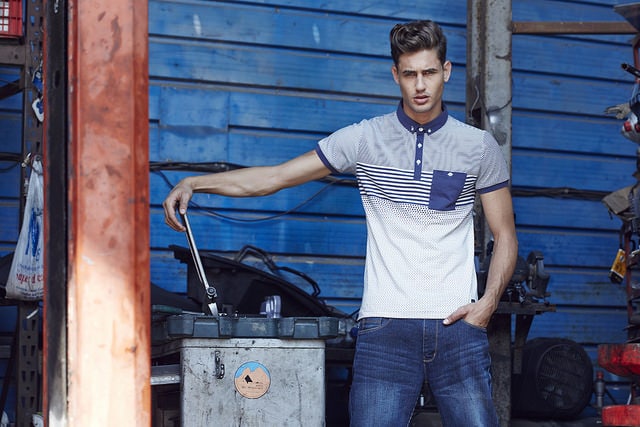 Labels, while problematic outside the world of fashion, can help limit your spending sprees and facilitate easy shopping.
When you don't know what your sense of style is, you're vulnerable. Your wardrobe is left to the mercy of out-of-touch fashion designers and leaders in the publishing industry who bounce on questionable street-style trends.
Instead of being forced to buy clothes that retailers think you want, make up your own rules. Close yourself off to everything that's out there and find the link between your favorite garments. Then, keep scrolling to see which basic men's style group you fit into.
If you like Lacoste, Sperry, and L.L. Bean, you are… preppy/old school.
Whether you're in a frat or not, you can't get enough of the nautical, clean-cut style that's characterized prep schools and Ivy League education for decades.
What to wear: Prep staples include argyle and crewneck sweaters, chinos, navy blazers, button-down shirts, polo shirts, and boat shoes. The Idle Man's "How To Sport The Preppy Style Like A Pro" manual and FashionBean's "How To Pull Off Men's Preppy Style
" are essential readings.
Style guide: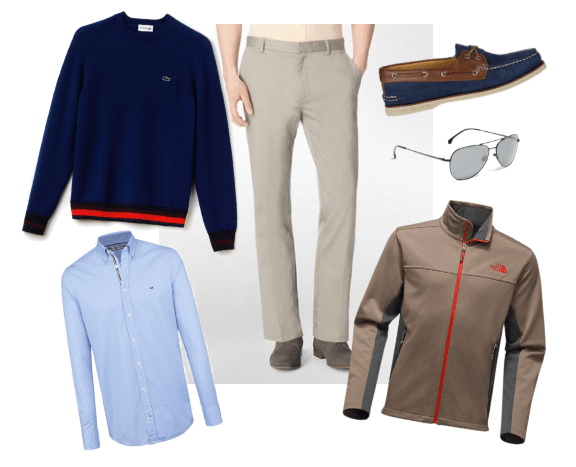 Products: Cotton twill pants – Calvin Klein, Jersey sweater – Lacoste, Boat shoe – Sperry, Aviator sunglasses – Brooks Brothers, Slim fit shirt – Tommy Hilfiger, Relaxed fit jacket – The North Face
If you like H&M, Adidas, and Supreme, you are… urban/sporty.
Like hip-hop artists and NYC trendsetters, you're into the high-fashion street-style look popularized in glossies and on Instagram.
What to wear: Modern urban essentials are colorful apparel, caps, skinny jeans, sneaker, and hoodies. Read Hypebeast's "The Best Street Style on Instagram This Week
" and MFM's "10 Urban Items To Add To Your Street Style" for major inspiration.
Style guide: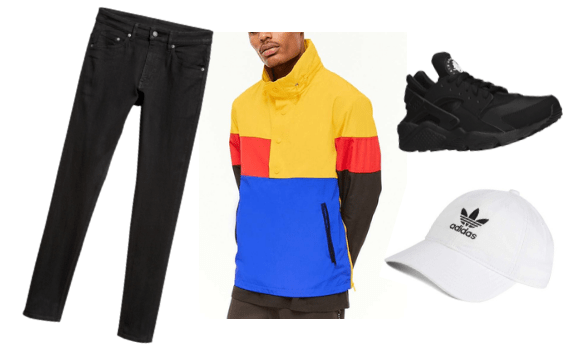 Products: Super skinny jeans – H&M, Hooded anorak – Forever 21, Nike running shoe – Footlocker, Adidas hat – Dick's Sporting Goods
If you like Hot Topic, Pacsun, and Vans, you are… eclectic/fanboy.
Your style probably hasn't evolved much since middle school and that's O.K. Popular shows like The Big Bang Theory have changed the way we view fandom-inspired fashion for the better.
What to wear: Geek chic staples include cardigans, graphic T-shirts, corduroy pants, suspenders, ties, and glasses. I recommend reading JoS. A Bank's "Geek Chic Style for Men" and The Telegraph's "Men's style: How to be a chic geek" for helpful style tips.
Style guide: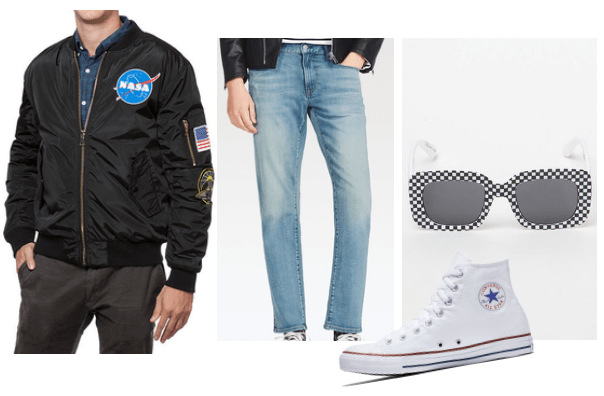 Products: NASA insulated jacket – Think Geek, Slim-fit jeans – Uniqlo, Checkered sunglasses – Pacsun, Converse All-Star – Nike
If you like Express, Levi's, and Gap, you are… casual/classic.
You're the fastest to get dressed and the first one done shopping. You, my friend, are the comfort-based fashionisto.
What to wear: The casual dresser dons a lot of cotton T-shirts, blue jeans, hoodie jackets, and canvas sneakers. Guides to mastering this style can be found in The Idle Man's "Your Guide To Casual Dressing" and RMRS' "Casual Dressing for the Man in His Twenties."
Style guide: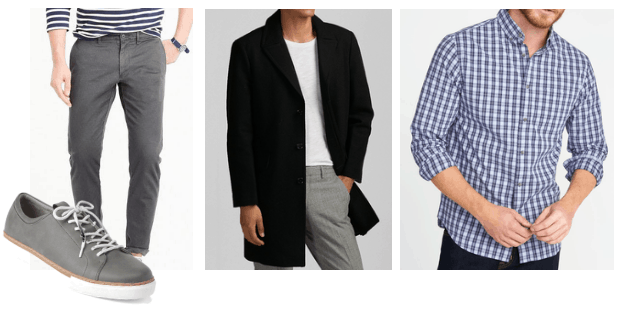 Products: Grey sneakers – Gap, Stretch chino – J.Crew, Wool topcoat – Express, Classic shirt – Old Navy
Know where to look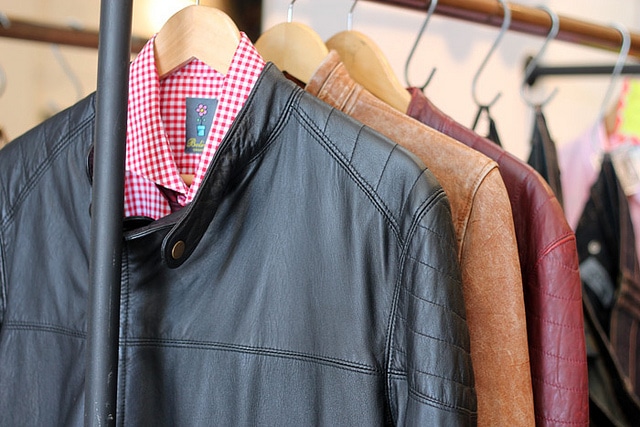 Now that you've pinpointed your sense of style, it's time to get down to the nitty-gritty and start shopping.
A good rule of thumb is to browse high-end stores, vintage clothing shops, and traditional retailers. Unlike their competition (fast-fashion chains like Forever 21), these places have merchandise that will last more than one season without falling apart. Plus, because men's fashion doesn't undergo as many dramatic changes as women's, you're likely to keep your higher-priced purchases for a long time.
Find your next favorite clothing store:
Create a capsule wardrobe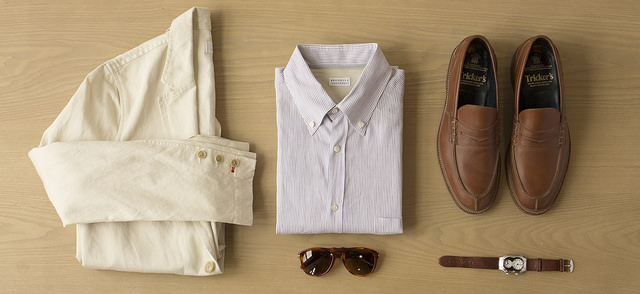 To borrow minimalist fashion writer Courtney Carver's understanding of the term, a capsule wardrobe is a collection of key pieces that typically amount to 33 items or less (including accessories and shoes).
Capsule wardrobes have been used by the likes of successful businessmen and leaders, including Mark Zuckerberg, Barack Obama, and the late Steve Jobs. They are a proven way to reduce your closet and are especially useful to people who want a no-stress wardrobe.
"What if I'm not a minimalist?"
Building a capsule wardrobe means that you are forsaking fast fashion and trendy purchases for high-quality investments, not that you've left behind your personal style to take up minimalism.
By cleansing your closet of clothes you're not too keen on, or clothes that don't fit your new aesthetic, you make way for a small but versatile pile of pieces. Your new selection of clothes should now be timeless.
Read up on it:
Be picky about your shoes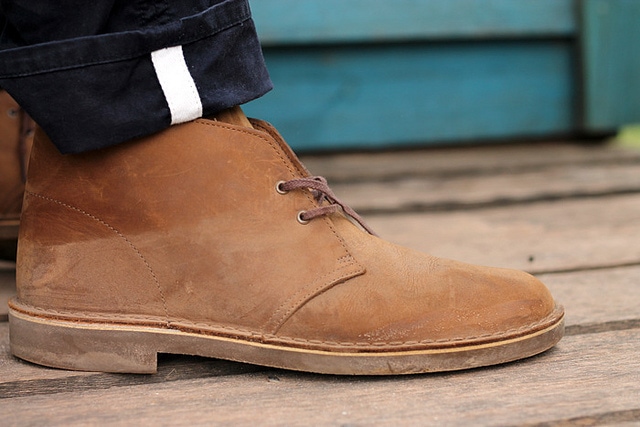 You know what they say about big feet, right?
Well, if the women in your life are already peeking at your shoes because of that age-old anecdote (which, by the way, is completely unsubstantiated), you better make it worth their while. Invest in sturdy, attractive-looking footwear to sway attention in your favor.
"What constitutes acceptable footwear for guys?"
Traditional business attire calls for leather black Oxfords and black/brown loafers, but you can also wear driving moccasins, canvas sneakers, and boots of the non-cowboy variety in your day-to-day life.
Note that accepted men's shoe styles do not include slide-on sandals, flip-flops, or the aforementioned pair of lime green Crocs. Neither should you ever, on pain of being sent straight to an alternative universe where Cousin Eddie (from National Lampoon's Vacation) directs GQ, opt for horrifically gaudy white dress shoes.
Shoe guide: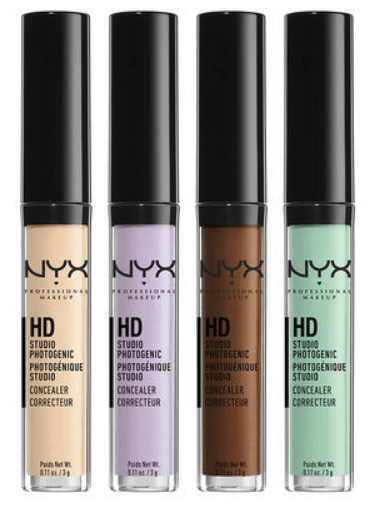 Products: Brown Oxford – DSW, Suede moccasin – Nordstrom, Black loafer – Steve Madden, Striped sneakers – Kohl's, Snow boot – DSW, Black sneaker – Nordstrom, Birkenstock – Zappos
Thoughts?
Want more fashion tips and CF men's clothing guides? Leave a comment below.