If you consider shopping to be your cardio, think of thrift store shopping as that killer gym workout that leaves you sweating and satisfied by the end.
That's because shopping exclusively in resale stores — much like high-intensity aerobic exercises designed to get your blood pumping and your body moving — can be physically taxing and oh-so rewarding.
Sure, you're not sprinting in place (unless there's a major sale going on and you've spotted a fantastic J.Crew cashmere sweater at the same time as a rival shopper) or lifting five-pound weights (except when you're balancing six jeans on one hand and seven long-sleeved blouses on the other), but the effort put into thrifting is equal to the major savings you encounter adding up final shopping cart items.
Savings up to 99% off retail prices, to be precise.
Want resale to be your new retail? Follow my tips to master thrift store shopping and never go back to full price again.
Also, if you prefer to shop online, be sure to see our guide to the best ONLINE thrift stores to shop right now.
Scour the area
For first-time shoppers, the process of buying thrift will feel like it never ends. Done right, it never has to. 
(Meaning you'll always go back to restores to find designer goods at slashed prices, not that you'll be trapped in a nightmarish microcosm à la The Terminal.)
To find the best stores in your area, simply ask for friendly recommendations and use Google or Facebook as a resource. Keywords you can use are: thrift store, antique store, secondhand store, used clothing store, charity store, and consignment store. You can also locate charity shops via TheThriftShopper.com.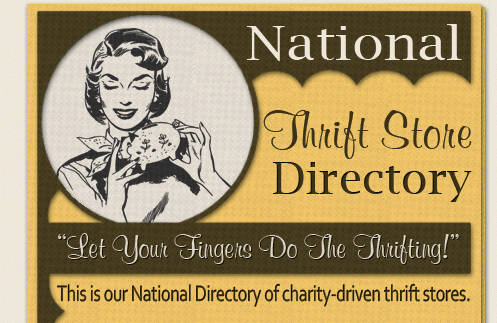 It will also do you good to know that all resale stores were not created equal. For instance, consignment stores are generally for-profit businesses that buy a consignor's used high-quality items and resell them for a higher price whereas charity thrift stores like Goodwill and The Salvation Army receive donated items that are sold to benefit the organization's charitable purpose.
For this reason, thrift stores have a reputation for being disorganized while consignment stores are pricier and selective. But because both have a constant turnover rate, you're bound to find unique merchandise and deals wherever you go!
Buy quality, not quantity
When confronted with extreme price reductions and a huge variety of dirt-cheap clothing, it's tempting to grab anything that's in your size just because a) it fits and b) it's inexpensive.
But even in the best of deals, you're just collecting clothes that may not fit your aesthetic or practical needs. Instead of amassing a collection of secondhand apparel you'll never wear, stick to purchases that reflect your personal style and which you envision wearing the very next day.
Know when to negotiate pricing
If you have any particularly stylish friends, ask if you can tag along on their shopping excursions. That way, you'll have both an easy ride to the shops they frequent and an insider source of knowledge of each store's return policies, best deals, and targeted audience.
More importantly, you'll get a good handle on how they haggle for lower prices. My dad, for instance, is an excellent bargain shopper. Whenever he sees an item that is lightly damaged (i.e., a small tear or hole in the fabric), he asks politely if they can discount the item.
Another trick is to ask for a group discount when you're shopping at a high-end vintage store with friends. It may not be as successful as asking for a discount on damaged goods, but it's always worth a shot.
Learn special discount days
Some thrift stores have "day of the week" sales and events where you fill a shopping bag for a predetermined price; others have special holiday savings and customer value programs. Look out for all of these special savings opportunities on the stores' website, social media accounts, or in-store signage.
And don't forget student discounts! Most Goodwill stores offer 10% off your purchase when you flash them your student I.D. As for the remaining thrift stores, simply ask your cashier whether they offer the student discount or not. While you're at it, ask them for a loyalty card!
Sell your clothes back
Remember what I said about consignment stores buying used clothing from consignors to sell for profit? Well, here's where you fit into the equation.
You (a consignor, NOT a donator) + your gently-used clothes + resale shop (e.g., Plato's Closet or Buffalo Exchange) = $$$
By selling your once-loved treasures to thrift stores, you get more closet space and more cash to spend on the college essentials. (Or, if you're like me, more clothes!)  Plus, unlike resale apps that rely on you to list the product yourself, selling to thrift stores requires very little prep work and an immediate payoff. Cha-ching!
More Thrifting Tips:
Want to up your thrift store shopping skills even further? We've written a lot on this subject, so be sure to check out the following posts for even more tips:
Thoughts?
Do you enjoy thrifting? What are your usual haunts? What tips would you recommend to first-time thrift store shoppers?
Comment below!