This post may contain affiliate links, which means we may receive a commission if you purchase through our links. Please
read our full disclosure here
.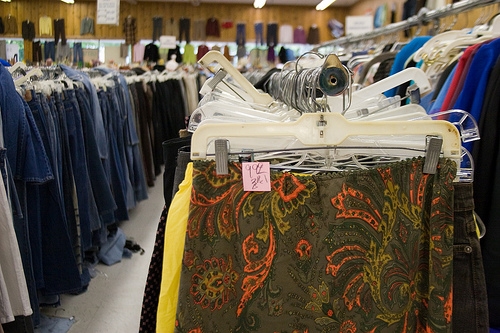 I attend Oregon State University in Corvallis, Oregon. Many people say that Corvallis is the quintessential college town: a little bit of urban, plenty of rural, and many local businesses that have been around for decades. Corvallis isn't even 1% the size the New York City. We don't have a Target, a Walmart, or a mall. This, as my fellow small-town girls know, makes shopping a challenge.
In Corvallis, if you're a fashionista craving a shopping trip, you hit the the racks at consignment shops, discount stores, and the Goodwill. Many people think, "Goodwill? Ew, gross!" But with the right skills and some good hand sanitizer, thrifting is the most budget friendly way to shop.
Below, I'll share my tips for thrift shopping in a small college town. Whether you go to school in a tiny town, too, or just want to be more frugal, these tips will help you save money and look fabulous.
Thrifty Tips
1. Patience. This is the number one virtue for thrifters! You have to be in the mood. Going through rack after rack takes time and energy, so grab a coffee before you go and be ready to scavenge for the best finds.
2. Know what you're looking for. Be aware of what you're looking to add to your wardrobe. Don't buy 5 tees if your shirt drawer is already full. Make a mental (or physical) list of items you'd like to add to your wardrobe and keep your eyes peeled. Doing this will help you keep your focus and avoid blowing money on the nonessentials.
3. Know your brands. There's only one Goodwill in Corvallis, but when I'm home in Portland, my friend and I head to the Goodwill in the more affluent part of town. There, we've found items from brands like Kate Spade, Coach, and Lucky Brand Jeans. If you're not thrifting in an affluent area, brands to look for that are often cheap at thrift stores include J. Crew, Nordstrom, Lucky Brand, American Eagle, Pendleton, higher-end Target clothes, and more.
4. Know your trends. Thrift stores are great for trendy pieces because people usually discard trendy items once they feel the trend has passed. And as we all know, things from the past often come back into style, like penny loafers. So if you want to try a trend, try to find it at a thrift store first.
5. Assess the value. The best way to assess value is to first ask: Do I love this piece? Can I live without it? Next, ask: Is it well made? Are there any stains or holes? Finally, ask: Is the price worth it? If you really want the piece, but you feel the price is too high, you could try and haggle.
6. Try it on. You have to try it on. Hear me? Someone gave it away for a reason, right? Many garments could be defective, stretched out, or weirdly shaped. Also, sizes vary from brand to brand (my best friend is anywhere from a size 6 to a 10 when trying on jeans at Goodwill). Suck it up and try it on. Since waiting for a dressing room is a pain, and you often have to get a sales associate to unlock one for you, I like to wear something easy to try things on with, like leggings, a tank top, and shoes that easily slip on and off.
7. DIY potential? Do you have any skills like sewing or embroidery, or are you a master with the glue gun? Be inspired to change things you buy and make them your own!
Stores to Look For in Your College Town:
While not every college town will have the same variety of stores, if yours doesn't have a mall, it may have one of these fabulously thrifty stores:
Discount Stores: TJ Maxx, Marshall's, Ross
Thrift Stores: The Goodwill, Value Village, The Salvation Army
Consignment Shops: Search "consignment" or "vintage" on Yelp
Example Thrifted Finds from My Closet
To show you the kinds of items you can find at thrift stores, below, I'll show you two of my own favorite thrifted finds from a few of my most recent shopping trips, as well as a couple sample outfits.
1. Camel-Colored Wool Blazer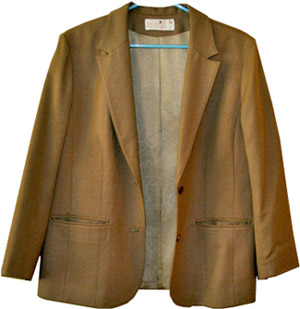 Camel Colored Pendleton Wool Blazer
Thrift Store Price – $9.99 at the Goodwill in Corvallis, OR
Original Retail Price – approx. $180-$250
Outfit Inspiration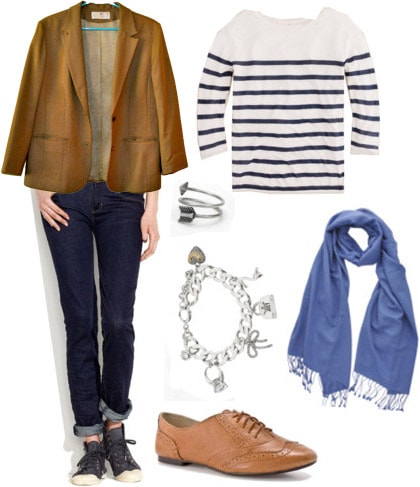 (Shirt, Jeans, Scarf, Oxfords, Charm Bracelet, Ring)
A camel-colored blazer like this one is a fabulous find because it can be worn so many different ways. Here, I paired it with a basic striped shirt, some simple cuffed jeans, and trendy oxfords in a matching shade. Finish the look off with some choice accessories like a colorful scarf and unique ring.
2. Faux Frye Boots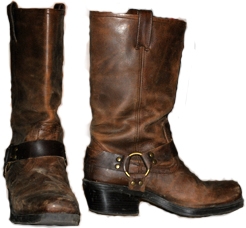 Mossimo (Target) Faux Frye Boots
Thrift Store Price – $29 at the Goodwill in Beaverton, OR
Original Retail Price – $49.99
Outfit Inspiration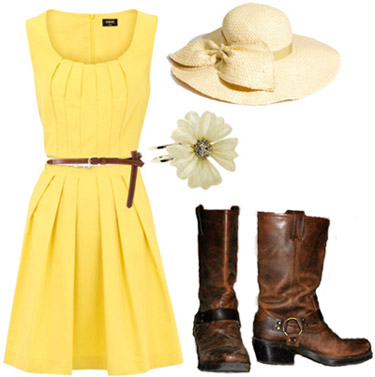 These faux Frye boots were already a great deal, offered for just $49 at Target (compare that to $200+ for the Frye version). However, that deal got even sweeter when I found the same boots marked down to just $29 at Goodwill! It's not uncommon to find gently-used Target or other chain store items like these for a fraction of the original price.
Here, I paired the boots with an adorable summery yellow dress and added fun accessories like a flower hair pin and sun hat for a perfectly warm-weather-appropriate look. You could also wear these boots into fall with your favorite pair of skinnies.
Thoughts?
Does the size of your college town require you to thrift? How do you get by, fashion-wise, living in a small town? Care to share any thrilling finds? Leave a comment!