This post may contain affiliate links, which means we may receive a commission if you purchase through our links. Please
read our full disclosure here
.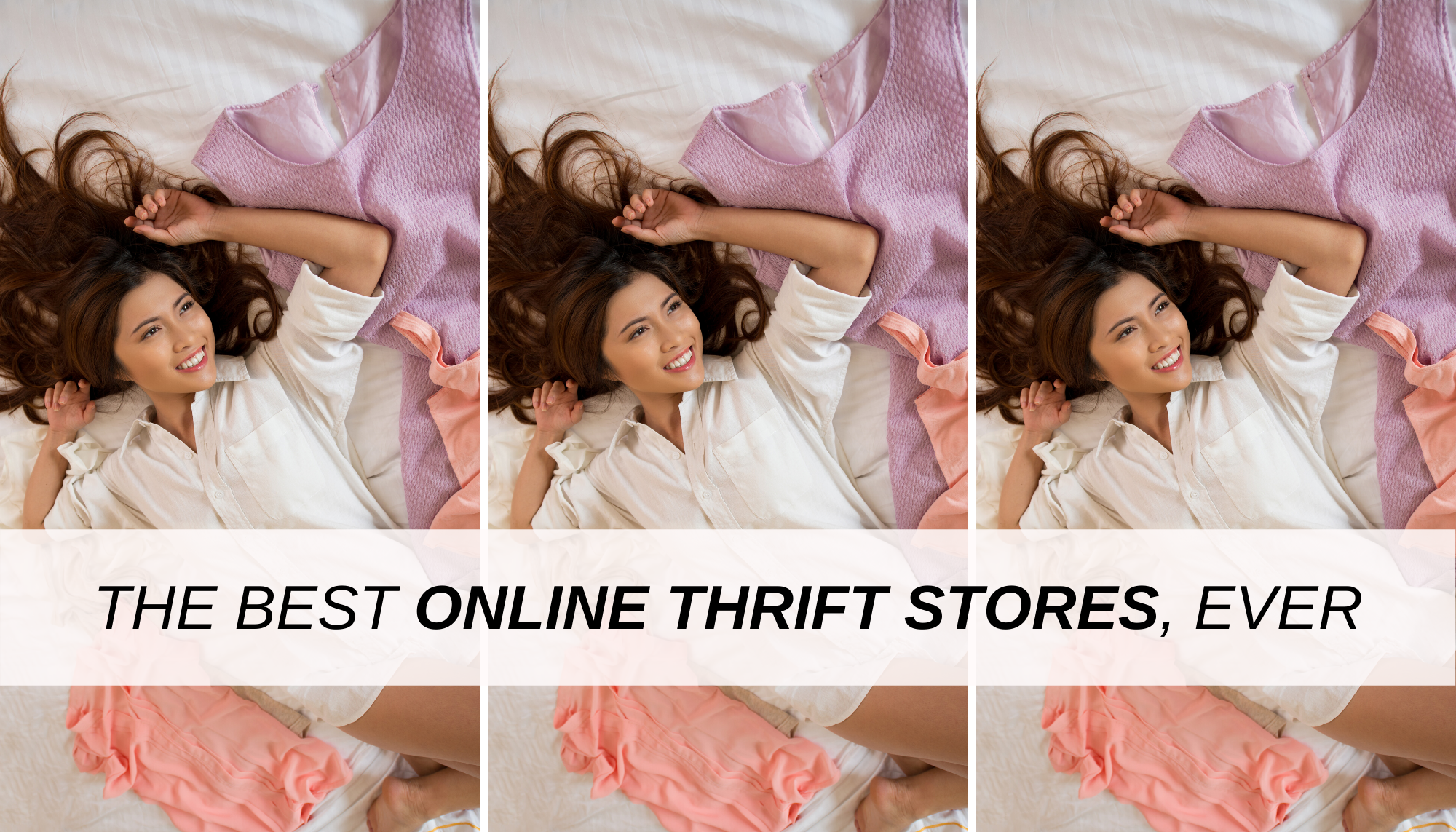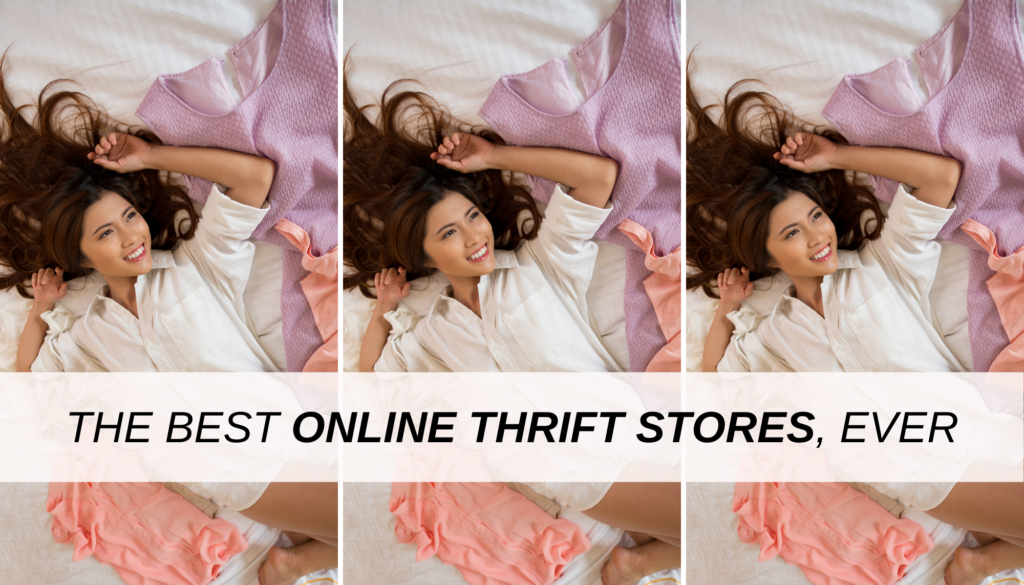 I, like many of you, am ADDICTED to online shopping. Nothing makes my day better than getting a package of cute clothes delivered to my door. However, money is a little tight so I can't always afford to be buying new pieces… and that's where online thrift stores come in.
Online thrifting is one of the best kept secrets to scoring super cute brand-name clothes for cheap. You can also snag incredible vintage finds from the comfort of your own home.
I love online thrifting so much, I'm going to share the love and expose some of the best online thrift stores to find clothes second hand without leaving your house.
Best Online Thrift Stores for Name Brand Finds…
I've already written about where to sell some of your old pieces, but a lot of these websites can also be used to find clothes from your favorite stores for a fraction of the price.
By using keywords related to the brand or item you're looking for, shopping for specific items has never been easier.
Poshmark and Depop
These two apps are my go-to for finding discounts on my favorite pieces. Now I never buy anything online without looking up the item first – a lot of clothes listed on these sites are unworn and still have their tags, so it'll be just like new!
Both Poshmark and Depop have filters to refine your searches so you're not bombarded with a ton of pieces that aren't your size. Depop also has an "Explore" page similar to Instagram so you can discover new items and new shops to follow.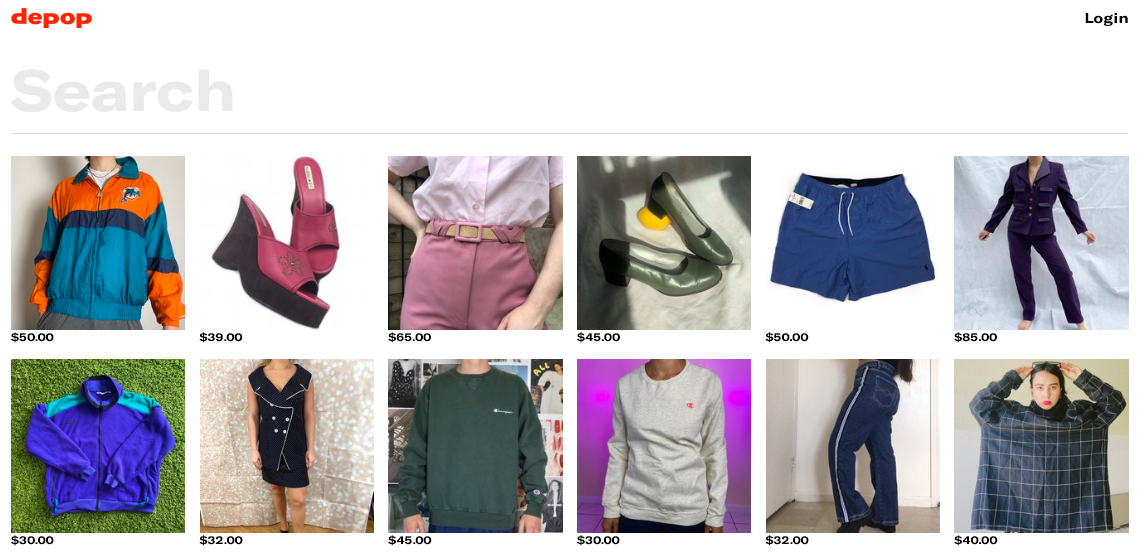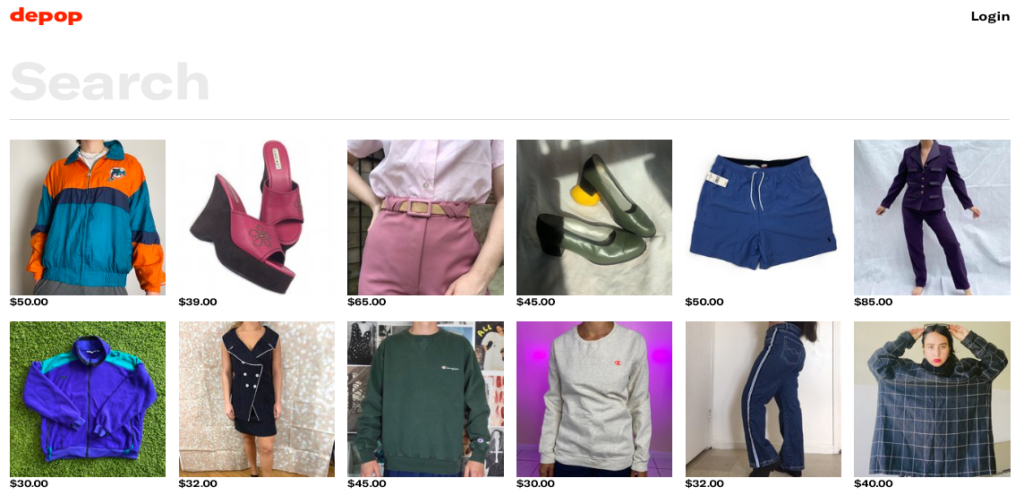 These apps work best when you have a specific piece in mind.
Sometimes it can be overwhelming when you don't know what you're looking for, but the search and filter functions help you to narrow items by brand, size, color, and condition in order to find exactly what you're looking for.
ThredUp and Mercari
Similarly to Poshmark and Depop, ThredUp and Mercari are reseller apps for clothing items. These apps allow you to search items from a variety of brands and save your searches for later.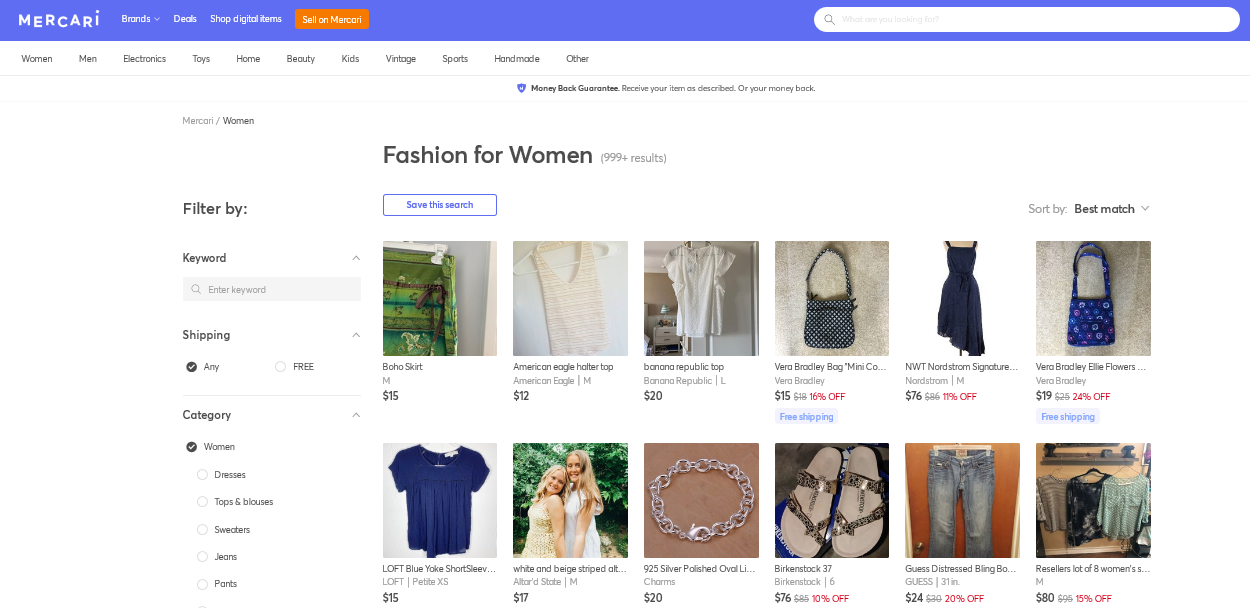 Mercari is great for both selling and buying because it displays items that have already sold, so you know exactly how much money similar items will be selling for.
This is a great tool for sellers or for buyers who want to set a price point or splurge on a piece.


I highly recommend these apps for finding those rare items you're searching for. They have a smaller customer base than the more popular Poshmark and Depop, which means you can find some hidden gems or some pieces that aren't listed on other apps.
The goal of thrifting is to find the best pieces that no one else has claimed yet, and these apps are the best place to start!
TheRealReal and LePrix
Dreaming of Gucci belts or YSL bags? Well, we might not be able to afford the ones in stores, but that doesn't mean we can't save up for equally amazing pre-loved ones on TheRealReal and LePrix!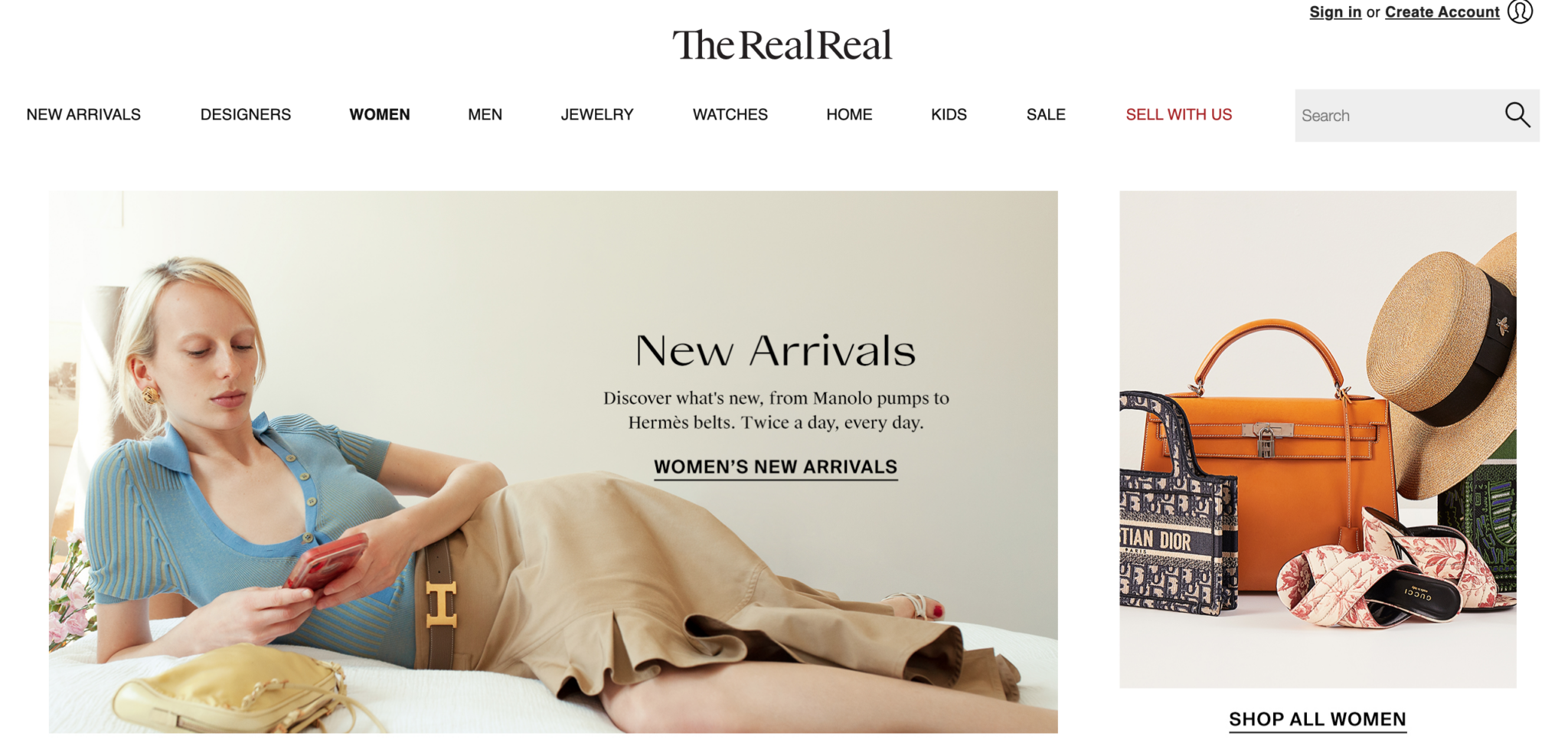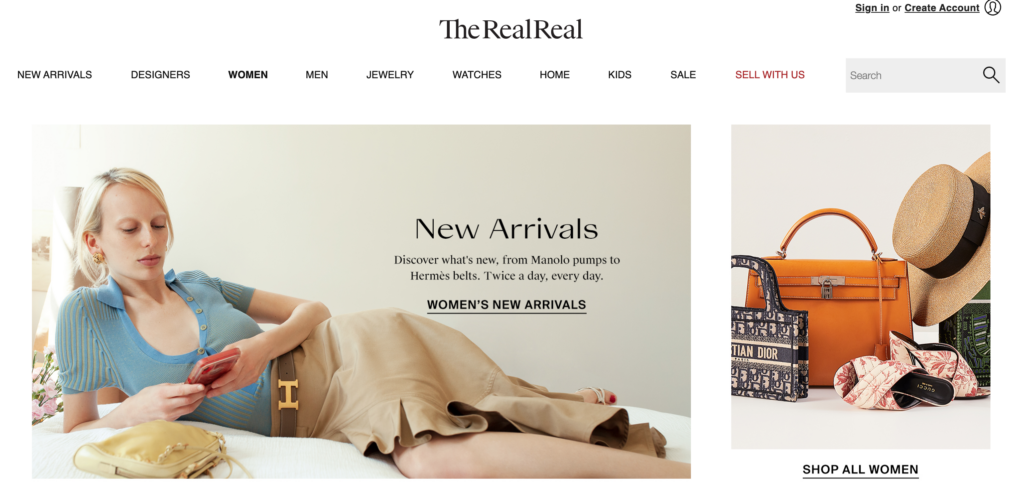 Both of these online thrift stores work on a consignment basis, so they're great places to find vintage luxury pieces. They have an amazing selection of luxury brands and you're bound to find the best quality second-hand items here.
Both of these stores have authenticity policies to ensure that each item sold on the website is well-preserved and in good condition before it is posted, so you know you're getting the real deal.
Best Online Thrift Stores for Cool Girl Vintage Finds
Sometimes, the best clothing finds happen when you open yourself up to different items, different brands, and styles outside of the norm!
Facebook
One of the goldmines for online thrifting is Facebook, believe it or not! You have a dig a little bit further than Facebook Marketplace to find the best clothes, though.
Especially since quarantine started, a number of online thrifting Facebook Groups have emerged to sell clothes at thrift store prices right from the Facebook app.
By searching terms like "Online Thrift" and "Quarantine Closet" in the Facebook groups, you can find a number of groups that conduct "live thrifts" where you can shop real time from the selections of items that other users post.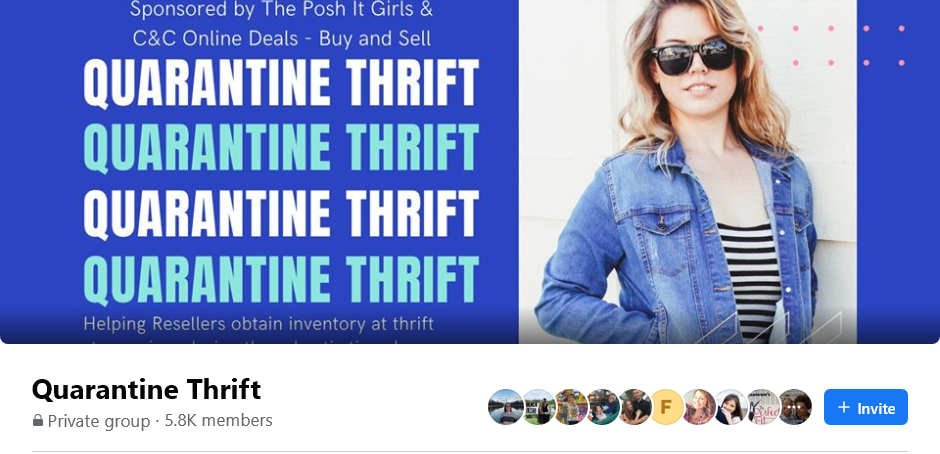 This is my go-to place to get unique items because you truly never know what you're going to get!
Some people will post name brand items for a huge discount, and others will post irresistible vintage items that you wouldn't be able to find on any of the online thrifting apps.
Etsy and eBay
The other clothing apps (Poshmark, Depop, ThredUp, and Mercari) are all usually brand-based. This means that items are sorted by their brand, and in order to make a good listing and sell items, people will have to know what brand their clothing is.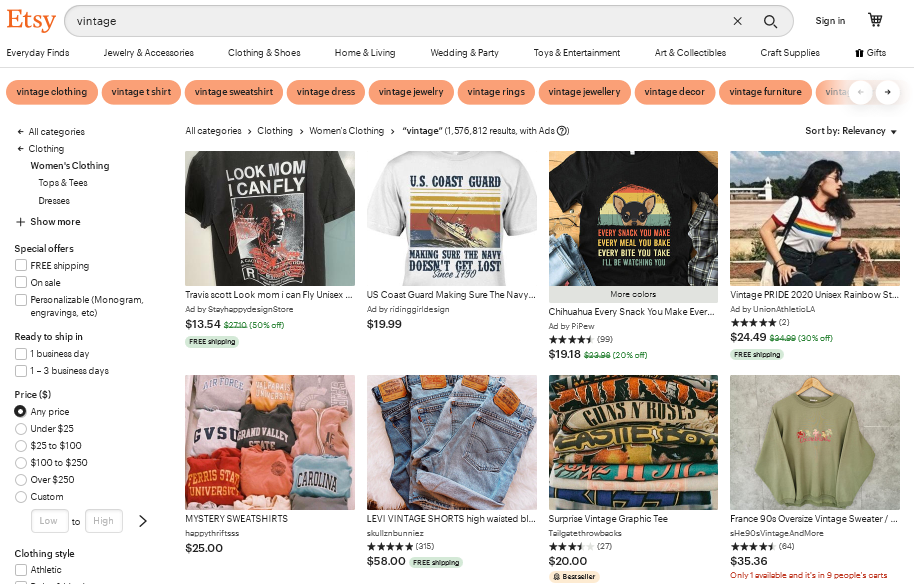 Websites like Etsy or eBay are more description-based.
While these sites also allow you to list the brand under the product information, success on these sites relies on the user's ability to describe the item well.
That means that when you search for items, instead of searching "Doc Martens boots," a search like "black combat boots" will give you the same results and even show you items better than what you were looking for!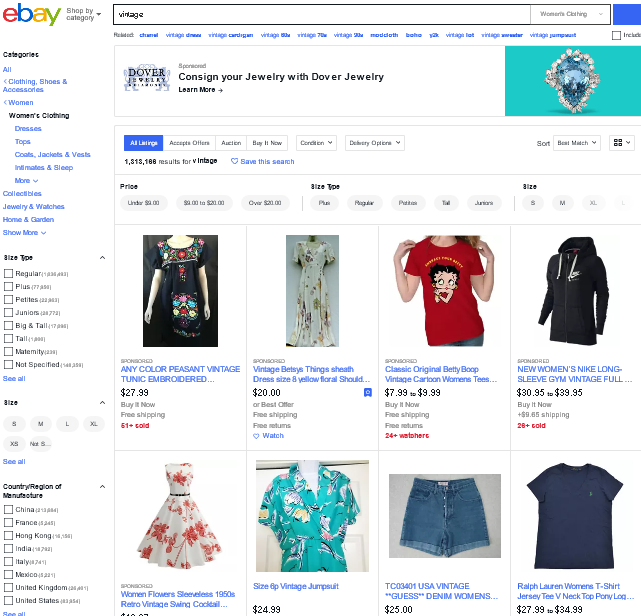 Searching for items by their appearance instead of their brand name makes online thrifting a lot more like shopping at a thrift store. You put the appearance of the item first and you may even find cool items you weren't looking for, but love anyway!
This is truly the cool girl's best strategy to finding amazing clothes online.
ASOS Marketplace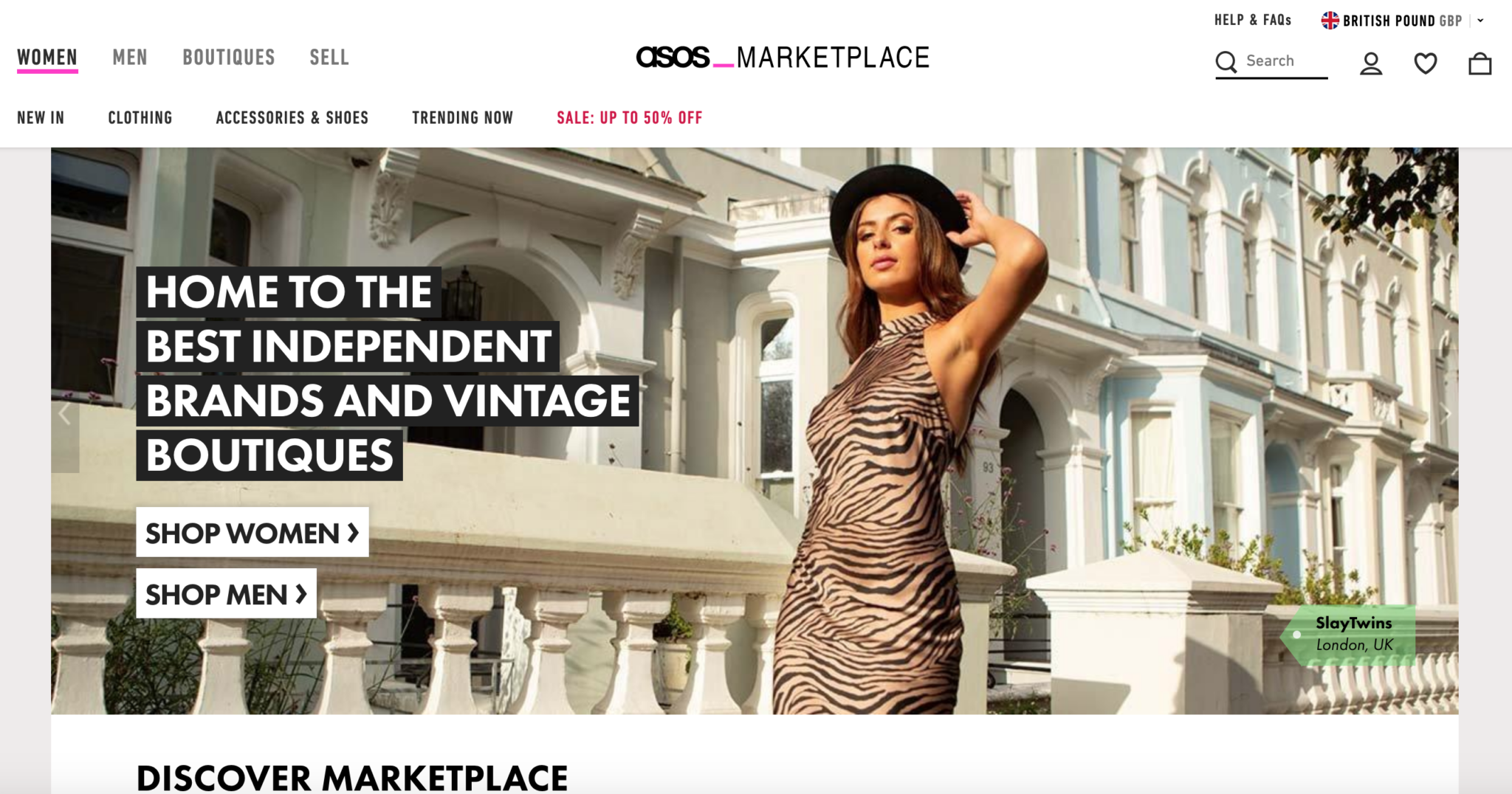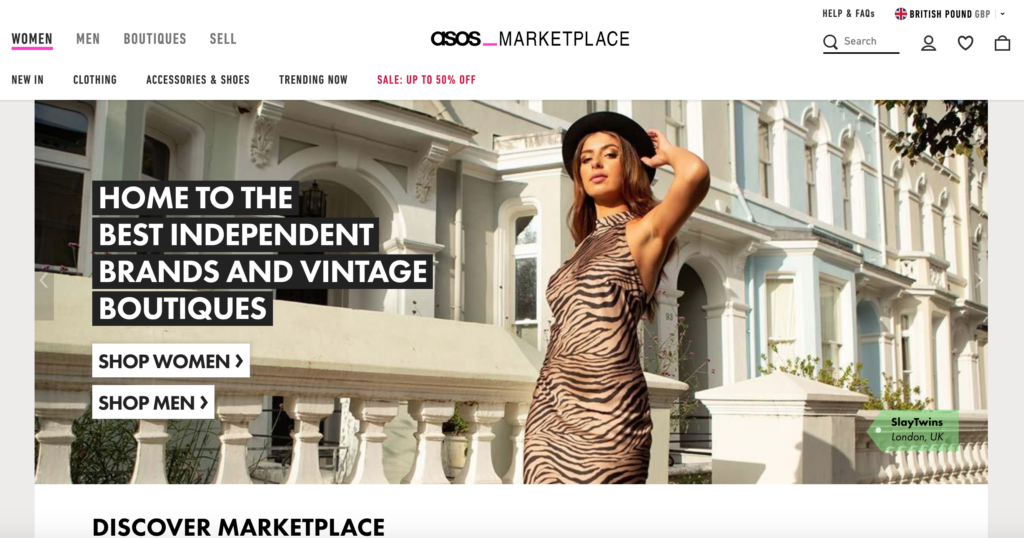 Probably one of the first online thrift stores, ASOS Marketplace (an offshoot of ASOS) is dedicated to buying and selling second-hand clothing.
Here, you can find vintage items and brands (think Tommy Hilfiger, FILA) that are making a comeback and currently trending again in the fashion world.
Other than vintage pieces, the site also features countless independent sellers that carry vintage-inspired wares. You are guaranteed to find pieces that are unique and special at ASOS Marketplace.
Pro Tips for Online Thrift Store Shopping
Bundles
One popular way of selling clothes online is to create "bundles."
If you like multiple pieces of clothing that have been listed by the same user, buy them both so you can make the best use of the standard shipping price and get more for your money.
Some sellers even create "themed bundles," where they give you multiple pieces of clothing they think you'll love based on your style.
This often involves sending the seller inspiration photos and describing your ideal look, and the outcome is awesome! Themed bundles are like having a personal shopper or stylist right from your home.
Turn On Notifications
When sellers have live thrifts in Facebook Groups, there's usually a lot of other users also looking at their clothing. To stay on the ball and grab up the items first, turn on post notifications for the group so you never miss a post!
Also, save searches that you use a lot on apps like Mercari.
If you're always looking to find "vintage band tees," save that search so the app will show you all of the new items listed under that description as soon as they're posted.
Doing this saves you time and ensures you can grab items you'll love before they're sold out!
Keep An Open Mind
Most of the time it's best to have a specific item in mind when you online thrift, so that it's easier to search for and find and you don't end up breaking the bank. But it's also important to remember not to get stuck on one specific brand, product, or color.
You might stumble on to an item that's different than what you were looking for, but even cooler as well!
By giving new brands or new styles a try, you can broaden your horizons or try out a new style for a low cost.
What's your favorite online thrift store?
See our list of the best stores for cheap clothes for more store recommendations!
What are your tips for online thrifting? Which items do you like to buy second hand?
Let me know in the comments!