Our next WVU streetwear specialist, Caleb, is going to blow you away with his desire for bold looks. I met him while at model casting for a fashion show. Caleb could be the next big thing; from the moment he enters a room, all eyes are immediately on him.
Caleb's attire is carefully crafted, allowing each garment to tell its own story without overpowering the entire look, creating a balanced style from head to toe.
You won't want to miss this ensemble of his!
Caleb 101
Name: Caleb
School: West Virginia University
Year: Freshman
Major: Nursing
Hometown: Charleston, WV
Let's Talk Fashion
Who or what inspires your style? "I'm definitely inspired by street fashion along with a lot of high fashion brands like Versace and Chanel. Some people that truly inspire [me are] the fashion icon Naomi Campbell along with Gianni Versace and the late Karl Lagerfeld."
Where do you like to shop? "I love stores that provide fashionable, yet affordable clothes like ASOS, Urban Outfitters, H&M, Forever 21, and online [resale] stores like Poshmark."
How would you describe your sense of style? "I'd say my style is comfortable, yet chic. When I get dressed, I like to look the best I can because I use clothes as a defense mechanism as well as a confidence booster. But of course, comfort is my most important interest."
Why did you choose this particular outfit? "I chose this outfit today because it embodies glamour and fashion which are two things I love, but also it's not too flashy to wear to class."
What fashion advice would you give to other students looking to improve their style? "Don't be scared to be different and unique! Making your own style makes you more confident and brings a lot of different attention. Don't be afraid to go shopping; no matter your size, height, looks or personality — live it up!"
What are your favorite trends right now? "My favorite trends right now would have to be… [the] tighter the clothes the better, or anything that glistens in the sun. Oh! And course how '90s fashion is coming back."
Do you have any favorite fashion designers? "I will forever always be in love with icons like Gianni Versace, Karl Lagerfeld, and Alexander McQueen. However, more recently, I am really into Donna Karen, Julien MacDonald, and Valentino."
Elements of Caleb's Outfit
1. Print Button-Up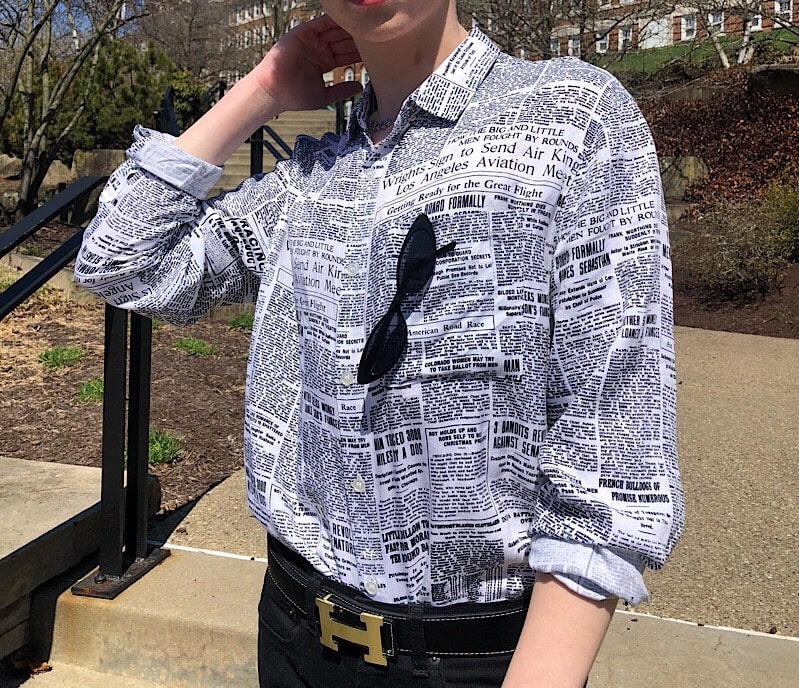 Caleb's soft button-up shirt from Forever 21 features newspaper print and it has proven to be quite the conversation piece! Caleb carefully arranged his ensemble, ensuring that the rest of his clothing doesn't take away from his statement top.
2. Tiny Sunglasses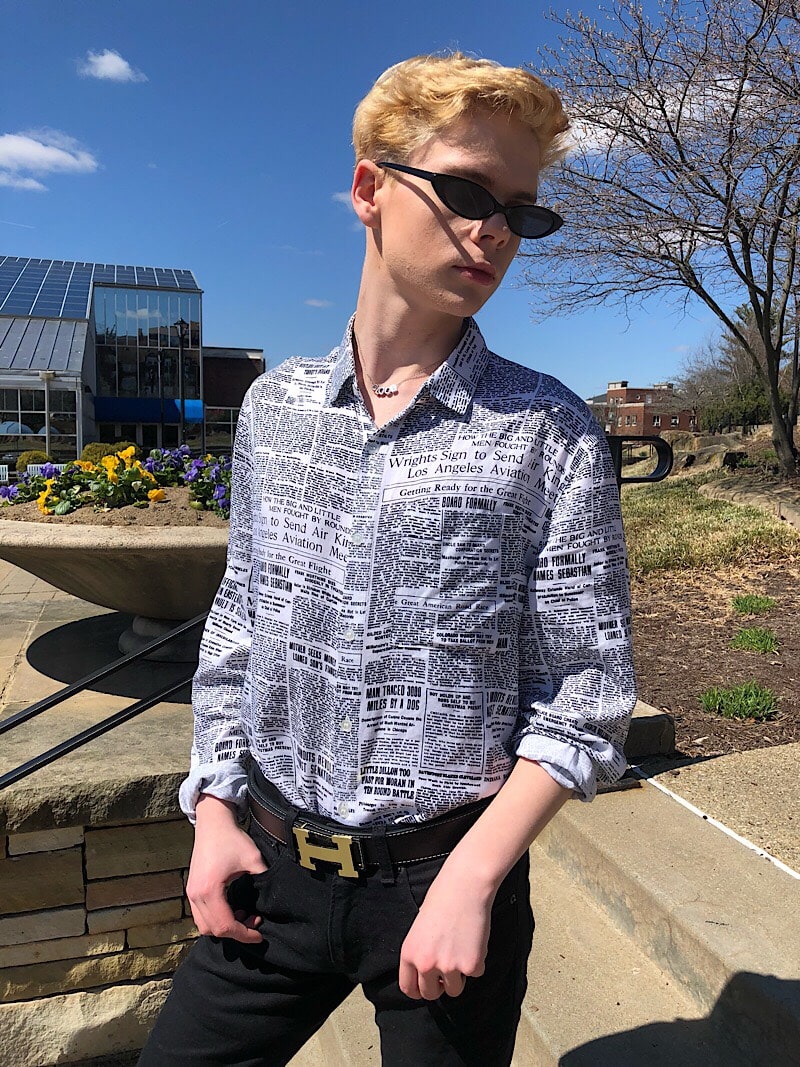 My jaw dropped to the floor when Caleb told me his sunglasses were from Target. I love how they frame his face, taking his entire look to the next level. Caleb's attire is a perfect example of how statement accessories can really bring out the personality in an outfit. Which, for him, is the purpose of every epic streetwear look.
What do you think of Caleb's look?
Are you obsessed with his newspaper print shirt? Do you wear futuristic sunglasses too? Comment below and let us know!