You have to meet West Virginia University student Kevin. He's majoring in fashion and it shows!
A Morgantown native, Kevin owns the streets of WVU's campus, rocking streetwear like an off-duty model. I am obsessed with his wardrobe and wait anxiously to see what he will wear to class each week.
Iconic is the only word I have to properly describe him. He's not afraid to take risks, and more importantly, he dresses for himself. Kevin's style and stellar personality allow him to capture everyone's attention when he walks in a room. Everyone will be feeling a little more bold after getting to know WVU's master of street style.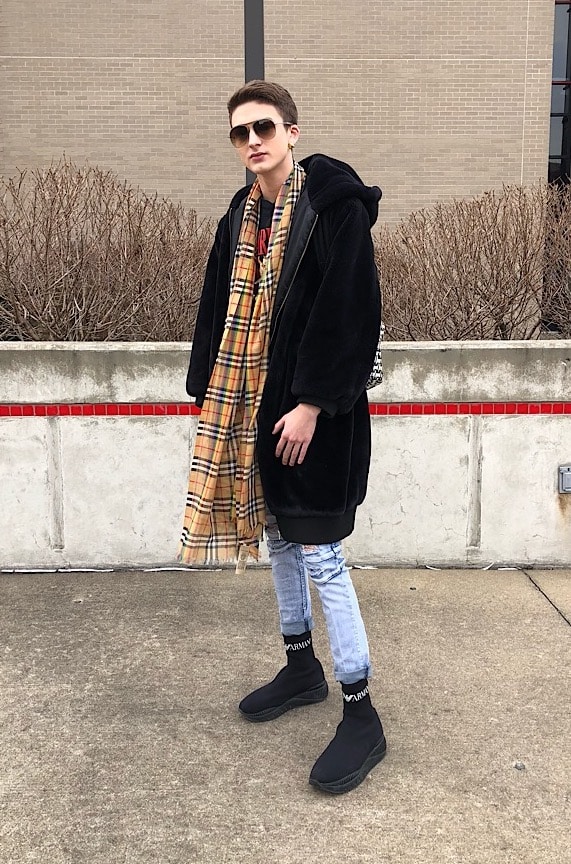 Kevin 101
Name: Kevin
School: West Virginia University
Year: Sophomore
Major: Fashion, Dress, and Merchandising
Hometown: Morgantown, WV
Let's Talk Fashion
Who or what inspires your style? "I feel as though it's a collective inspo from a lot of designers in the late 2000s and early 2010s. I do tend to have a habit of partaking in 'hype beast' culture."
Where do you like to shop? "I shop [at] various different retailers. I'm not entirely picky but I enjoy the finer products. I shop at T.J. Maxx, Nordstrom, Saks, and numerous online stores that include sites like StockX and Farfetch. I also enjoy the occasional local retailers."
How would describe your sense of style? "I like to stay looking classy as much as possible, but I love giving it a twist of streetwear and things that demand attention."
Why did you choose this particular outfit? "I wore this outfit because it was a cool and breezy day so I figured what better excuse to wear my new rainbow scarf as it blows in the wind? I also decided to wear my big fuzzy coat because it matched my sock-shoes quite well… and because I was wearing pretty extravagant things on the outside, I figured I'd wear a simple PacSun look underneath the coat and scarf."
Do you have any favorite trends? "Simplicity is my favorite trend right now. It started a couple years ago and it has been carried on for a while now, mostly in streetwear."
What fashion advice would you give to other students looking to improve their style? "Honestly, the best way to improve [your] fashion sense is by creating an image for yourself. Dress in a way that portrays yourself the way that you want to be portrayed."
Do you have any favorite fashion designers? "My attention right now is very focused on Virgil Abloh. He just became creative director at [Louis Vuitton] after creating his personal brand Off-white. But typically my favorite designer is Donatella Versace."
What do you do for fun? Do you have any unique hobbies or interests? "Like most college kids, I love going out with friends on the weekends and traveling with loved ones. I also have a slight obsession with planes. I even am working on obtaining my private pilot's license!"
If you could raid anyone's closet, who would it be? "I would love to raid Virgil Abloh's closet or Frank Ocean's. My first choice is Virgil because he creates so much individualized limited edition articles that would never be seen anywhere else, and if it would be seen elsewhere, the value would be incredible! Frank [Ocean] I chose because his style is so unique and I'm sure his custom pieces are to die for."
Elements of Kevin's Outfit
1. Show Me the SHOES!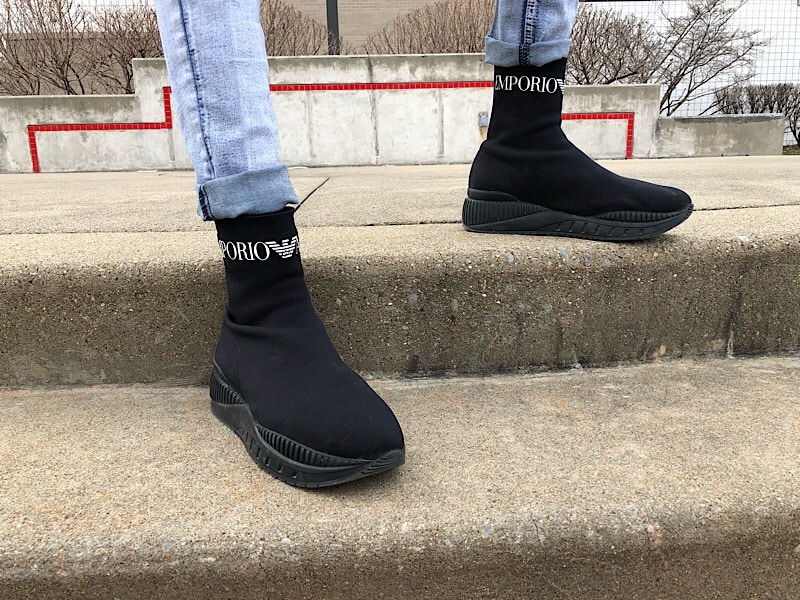 I kind of geeked out seeing Kevin's Emporio Armani sneakers! Not only are they a high-end product, but they are insanely cool. I love the fresh look of the sneakers which also look like socks. These sneakers make a real statement.
2. Edgy Jeans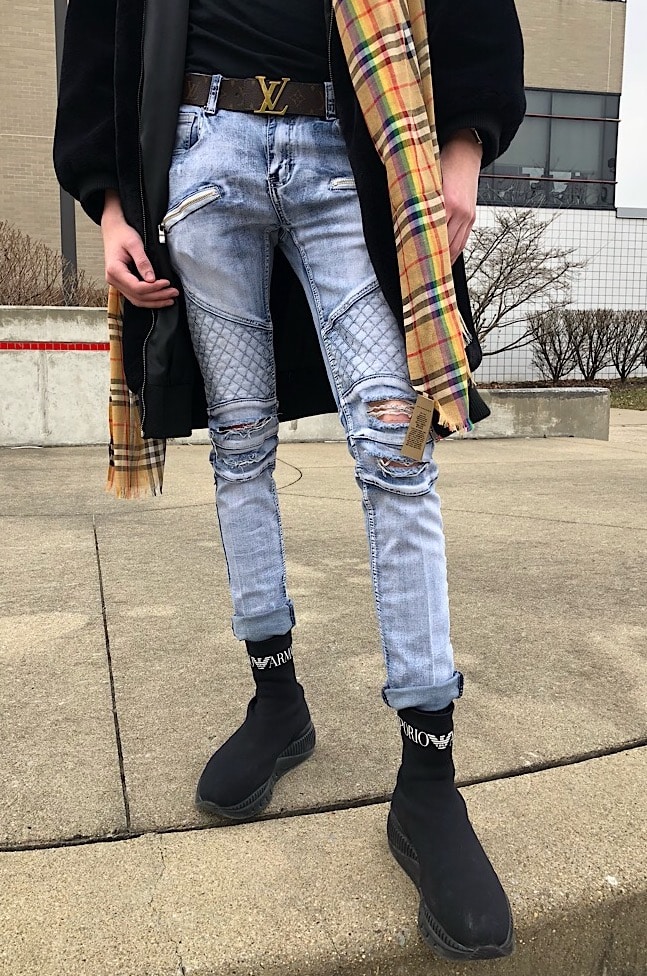 These jeans from PacSun are so different. From the quilted stitching to distressed holes, these light-wash jeans are styled to a T. Kevin chose to cuff them above the ankle to show off his unique footwear.
When you break down his outfit, he is wearing basic elements but each piece has a streetwear twist, which is how puts his signature stamp on all of his ensembles.
3. Scarf + Scarface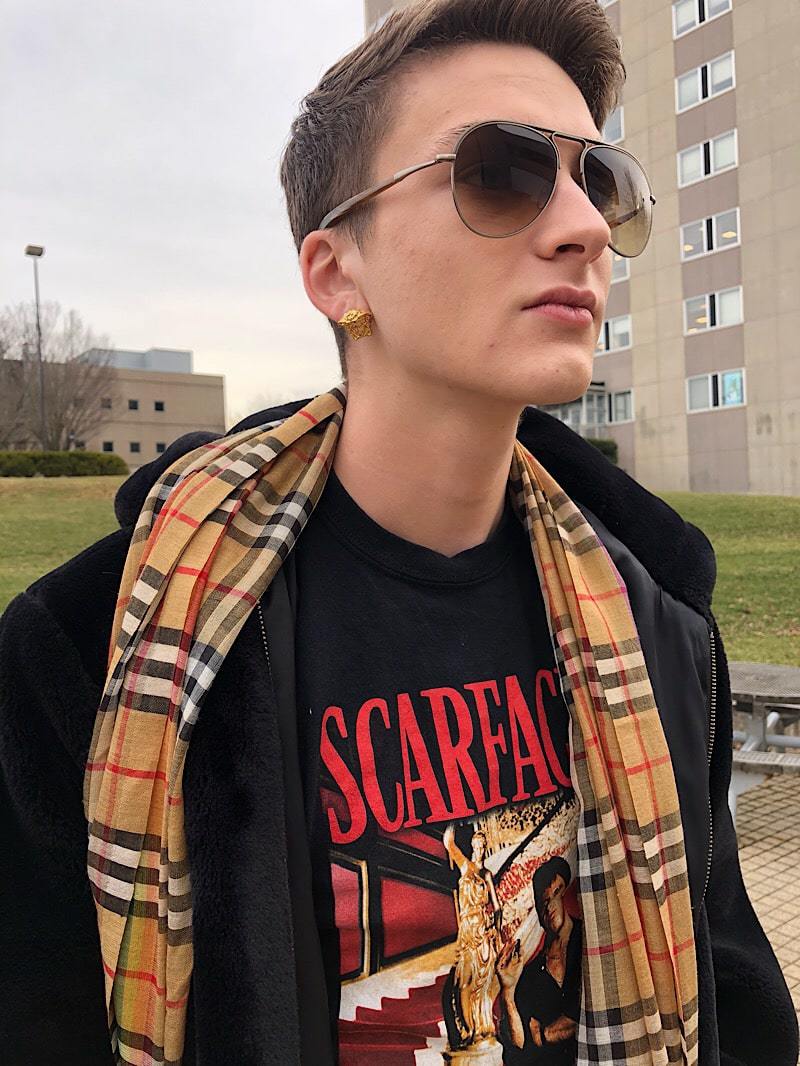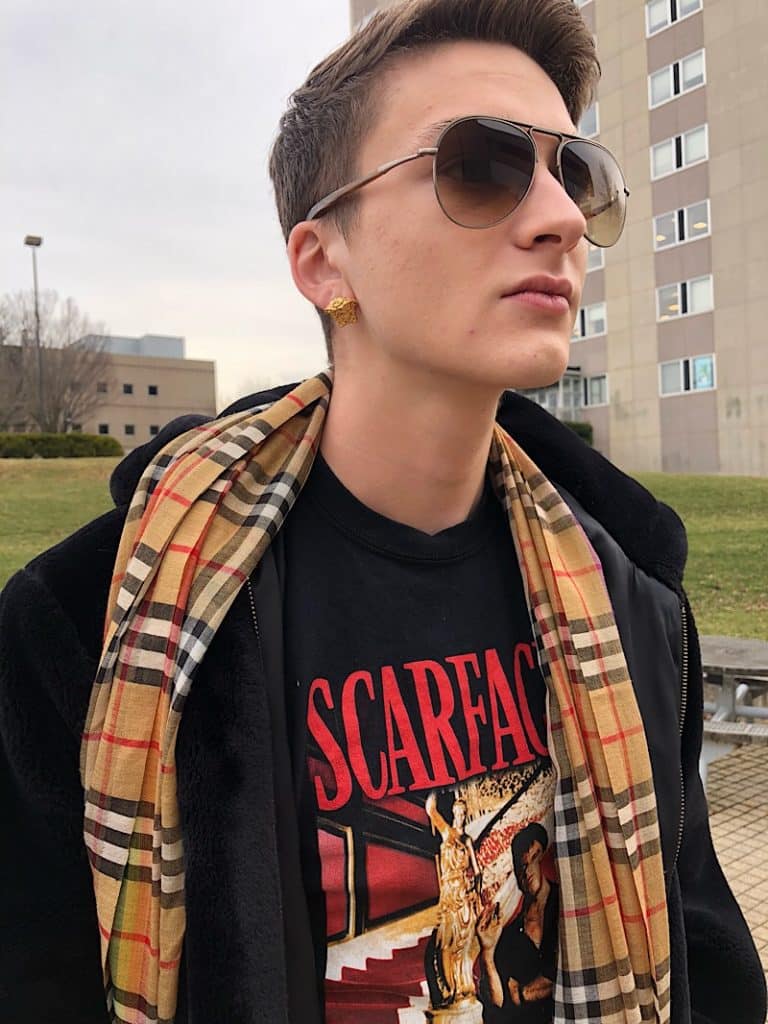 Most of Kevin's look is tucked beneath his beautiful oversized winter coat. His vintage wool silk scarf from Burberry is the piece that steals the entire show! You can see the classic Burberry checkered pattern from a distance but it isn't until you get closer that the rainbow stripe catches your eye. Being a lightweight scarf, it brings movement to the overall ensemble, especially on windy days here in Morgantown.
When he moved the scarf to the side I was surprised, as I didn't even notice his Scarface graphic tee! His outfit was so strategically coordinated, delivering style from every angle and grabbing attention from anyone and everyone.
What do you think of Kevin's outfit?
Do you love what he has paired together? What do you think of his trendy jeans and shoes? Let us know what you think below!