Welcome to the latest edition of Looks from Books, which aims to prove that you can look smart, while still being book-smart, too. Fashion inspiration can be found between the pages of your favorite stories, on well-designed book covers, and in your favorite characters… if you read closely enough.
This week, we're taking inspiration from one of our childhood sci-fi classics that's set to get its own big screen adaptation: Madeline L'Engle's A Wrinkle in Time!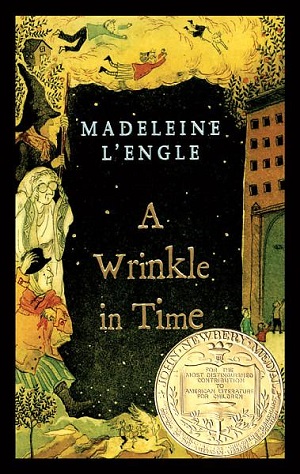 A Wrinkle in Time book cover || Amazon
Inside Cover
A Wrinkle in Time is a children's work of science fiction and fantasy, written by Madeleine L'Engle and published in 1962.
The story follows Meg Murry, a twelve-year-old girl, who spends most of her days questioning the disappearance of her father and protecting her genius brother, Charles Wallace, at school. After the mysterious introduction of three fantastical figures named Mrs. Who, Mrs. Which, and Mrs. Whatsit, Meg, Charles Wallace, and a schoolmate of Meg's named Calvin O'Keefe, join them on a great search for their missing parent… and they might just save a world or two along the way.
The novel won a Newberry Medal, a Lewis Carroll Shelf award, and more, and has been in constant publication since its first printing. The first among the four novels that comprise the "Time Quartet" series, the novel was followed by A Wind in the Door, Many Waters, and A Swiftly Tilting Planet.
A Fashionable Literacy
While there have been past attempts at adapting A Wrinkle in Time – most recently in a 2003 TV movie on ABC – none have effectively managed to capture the essence of the novel. That may be changing, however: Disney has recently tasked Frozen director Jennifer Lee to adapt the classic children's story for the big screen. The novel was one of Lee's favorites growing up, and executives at the juggernaut media company were blown away by her take on the project, particularly her emphasis on the "strong female-driven narrative," similar to that of the blockbuster fairy tale she helped direct.
The emphasis is well-placed, as the novel is credited as an innovation in the scope of science fiction at the time of its production due to its strong female heroine, something that was nearly unheard of at the time. It's thanks to Meg Murry and her enduring popularity that we've become acquainted with other science-fiction heroines like Tris Prior and Katniss Everdeen.
How to Add Meg Murry to Your Wardrobe
By integrating key elements of the novel into your own outfits, you, too, can have a look that is out of this world!
Whatsit and Who?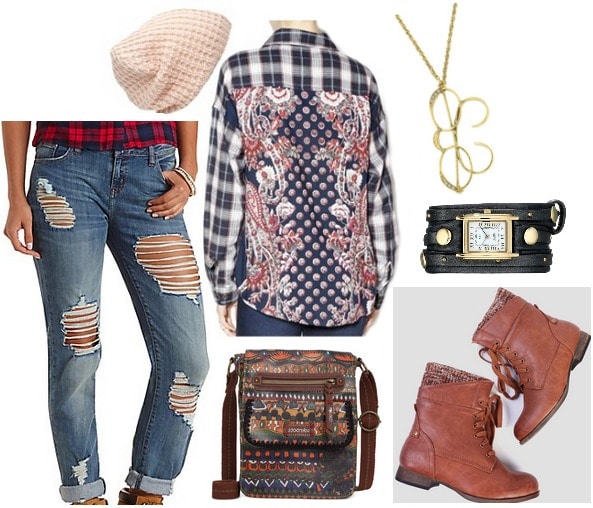 Product Information: Jeans – Charlotte Russe, Hat – Forever21, Shirt – Shoptiques, Necklace – 1928, Watch – Amazon, Shoes – Ruche, Bag – Macy's.
The novel starts with the borrowed words, "It was a dark and stormy night," and soon enough afterwards, Meg and Charles Wallace are interrupted in the kitchen during a thunderstorm by the disheveled appearance of a flustered Mrs. Whatsit, a scatterbrained neighbor who lives in the woods behind their house with her friends Mrs. Who and Mrs. Which. Accused of stealing the constable's wife's sheets as they hung out to dry – which they totally did – the trio of women may come off as a bit out-of-this-world… probably because they are other-earthly.
Integrate these interplanetary beings and their curious various personal histories with a look that is seemingly built up of odds and ends, but doesn't sacrifice any interest on the part of adventure, either. A mixed-media blouse and patterned purse bring out the conflicting points of view, while destroyed denim and a wrap bracelet lay on the layers. Combat boots and a beanie warm it up a little, while a glasses-icon necklace ties to the actual accessories of Mrs. Who.
Camazotz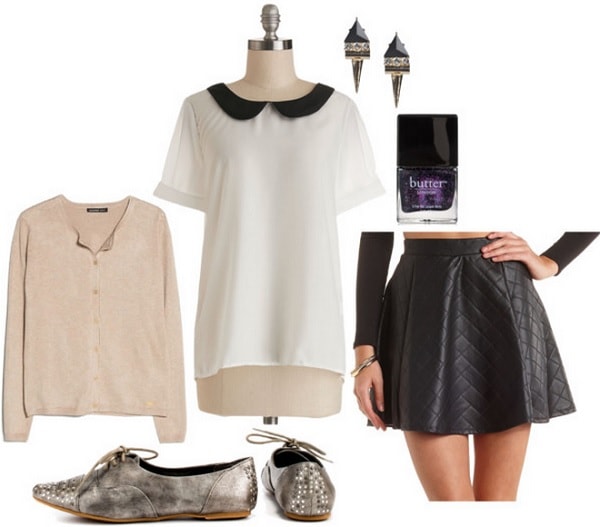 Product Information: Cardigan – Mango, Shoes – Heels, Blouse – Modcloth, Earrings – Boohoo, Nail Polish – Butter London, Skirt – Charlotte Russe.
The main villain at the heart of the novel is "The Black Thing," which swallows planets whole, and serves as the personification of evil the Murry children must face. If artists and great philosophers are credited with fighting against the creeping darkness on Earth, then it makes sense that those already under its oppressive will take the form of mechanical idyllic, doll-like people, living on a dreary and regulated world named Camazotz. Home to the mysterious being named "IT," our group must travel through the "Black Thing" to Camazotz in the hopes of finding the Murrys' father.
Channel this juxtaposition of idyllic sameness and inherent darkness with an outfit that mixes retro silhouettes, neutral colors, and edgy accents. A Peter Pan blouse and shrunken cardigan ground the look in neutrals, while a quilted leather skater skirt edges out the main silhouette. Studded oxfords, a mutlichrome nail polish, and spike earrings add a strong darker angle.
There is Such a Thing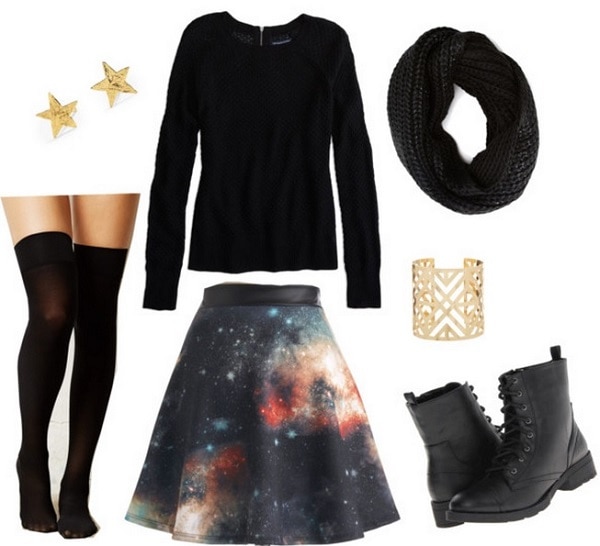 Product Information: Socks – Anthropologie, Earrings – Piperlime, Shirt – American Eagle, Scarf – Forever 21, Cuff – Accessorize, Boots – 6PM, Skirt – Modcloth.
One of the subjects of interest in the book – and one of the only reasons our group of adventurers are able to traverse such large portions of the Universe so quickly – is the idea of a "tesseract." In the book, a tesseract – or the act of "tessering" – is defined as a means of folding time and space inwards to each other (Get it? A wrinkle in time!), but the word has real applications as well, and is present in the field of quantum physics as a fourth-dimension phenomenon. Unfortunately, the space-travel concept remains only real in fiction.
Integrate this concept into your own look by creating a sporty-futuristic outfit for yourself that mixes space-age accents with dark basics for an ensemble that brings "out of this world" down to earth. A black zipper top, opaque socks, and black combat boots ground the look in dark basics, while a galaxy print skater skirt and star earrings are a literal translation of the science fiction angle. A geometric metal cuff and infinity scarf bring a more varied degree to the fourth-dimensional concept.
What Do You Think?
Have you ever read A Wrinkle in Time, or any of the other books in the "Time Quartet" series? Have you read any other science fiction with a leading female protagonist? Are you excited for the impending adaptation? What do you think of the outfits and styling tips? Let me know in the comments below!