Fun fact: I owned (and I think still own somewhere) all thirteen Series of Unfortunate Events books. They were by far my favorite series growing up, right next to Harry Potter. So when I heard that Netflix was making it into a series, you can just about imagine my excitement. There may have been screaming.
However that is not what we're featuring today. Not yet, anyway. The Netflix series just premiered, so we're featuring that next week once we've watched it all. Today, I want to talk about the 2004 movie that was made with Jim Carrey. While yes, it was technically a disappointment, I honestly loved it and still enjoy it thoroughly.
Know Your Geek: About a Series of Unfortunate Events
If you weren't fortunate enough to read A Series of Unfortunate Events (see what I did there?) let me sum it up for you. The series follows the Baudelaire orphans, Violet (fourteen), Klaus (twelve), and Sunny (baby). Their parents are killed in a mysterious fire, and throughout the thirteen books they are placed under the care of different "relatives." All the while, they are stalked by their first caretaker, the villainous Count Olaf, who wants nothing more than to lay claim to the Baudelaire fortune.
The series as a whole is quite dark, and very candid about death — and I think this is part of why it's so popular. It so casually portrays themes that are not usually featured in children's books, and it does so without dumbing them down. The children are the intelligent characters, while the adults know nothing.
In the spirit of this, and in prep for the new series, I'm going to pay tribute to the Baudelaires.
Violet
Violet is the eldest of the Baudelaire children, at fourteen years old when the series begins. She is resourceful, and is a very handy inventor. Her quick-thinking and mechanical prowess has helped she and her siblings escape many a scrape.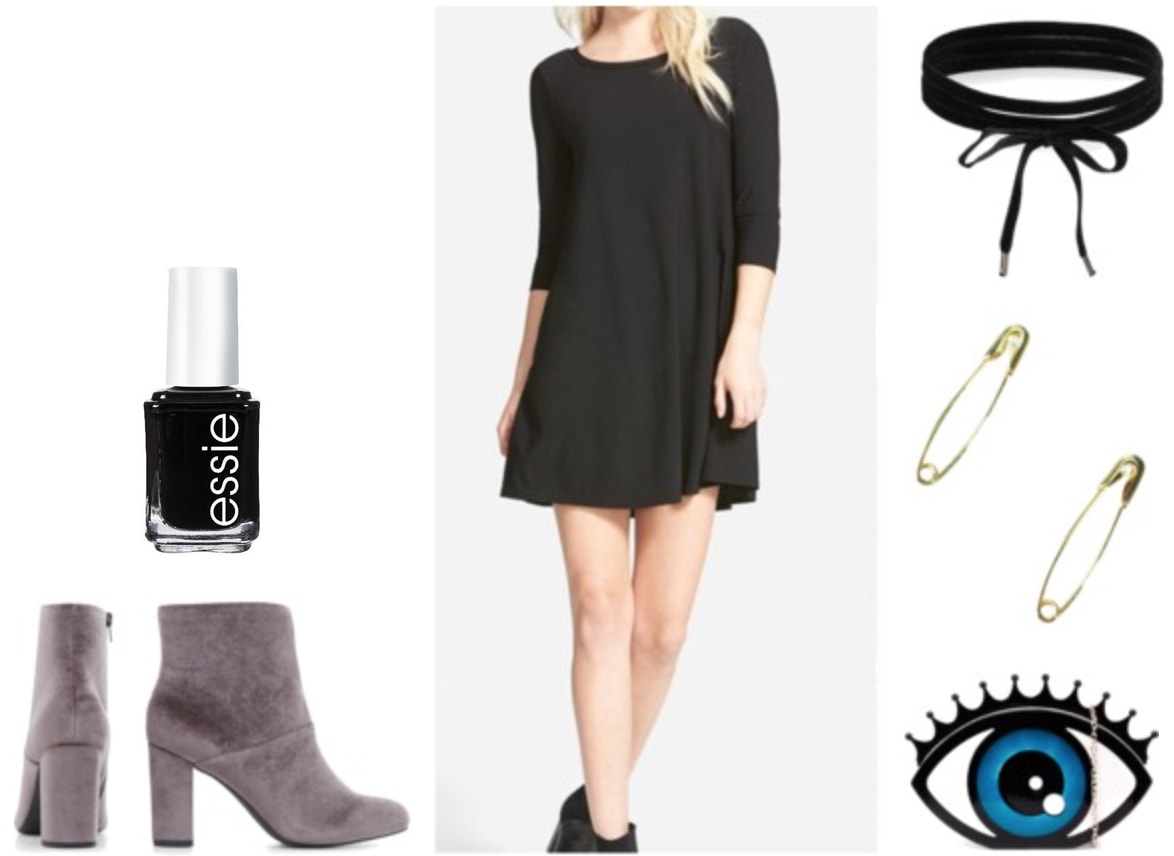 Products: Dress – Nordstrom | Booties – New Look | Bag – Style Tread | Choker – Boohoo | Earrings – Dolls Kill | Nail Polish – Essie
Violet's style in the film is very Victorian in nature. She wears a black and grey dress that features lots of ribbons and puffy sleeves. That to me is a bit much for daily wear, so instead I swapped it for a flowy black dress. She also wears button-up boots in the film, so I replaced those with some grey suede booties.
When she needs to think up an invention, Violet ties her hair back with a ribbon. I chose to represent this with a trendy shoestring choker. Put on some safety pin hook earrings as a nod to her love of inventing, darken your nails with black polish, and carry all you need in a bag with a very peculiar shape.
Klaus
Klaus Baudelaire is the middle child, at twelve years old when the series begins. He is described as the bookworm of the group, being highly intelligent and receptive to everything he reads. Klaus often reminds the adults that yes, he does know what those big words mean and to please stop babying him.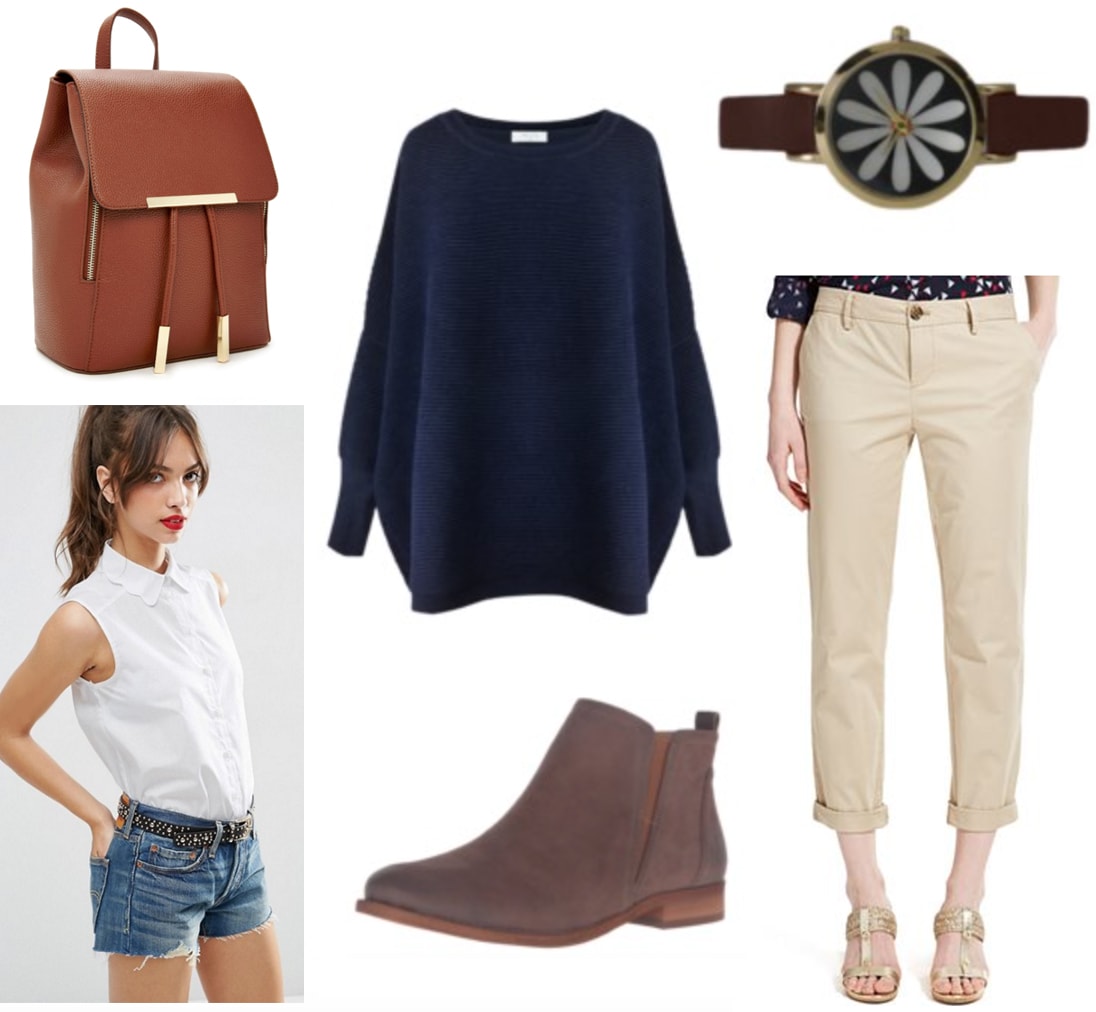 Products: Pants – Macy's | Top – ASOS | Sweater – SilkFred | Boots – Amazon | Watch – JCPenney | Backpack – Forever 21
Out of his siblings, Klaus, IMO, has the best style. Steal it by wearing some brown or tan chinos with a white button-down top. Throw a blue sweater over that to keep warm and put on some brown boots or booties. A black watch helps pull the whole thing together, and be sure to carry all the books you can read in a sturdy knapsack.
Sunny
Sunny is the youngest, and quite literally the baby of the Baudelaire clan. But don't let her fool you: Sunny is a force to be reckoned with. She is snarky even without words, and has an affinity for biting everything.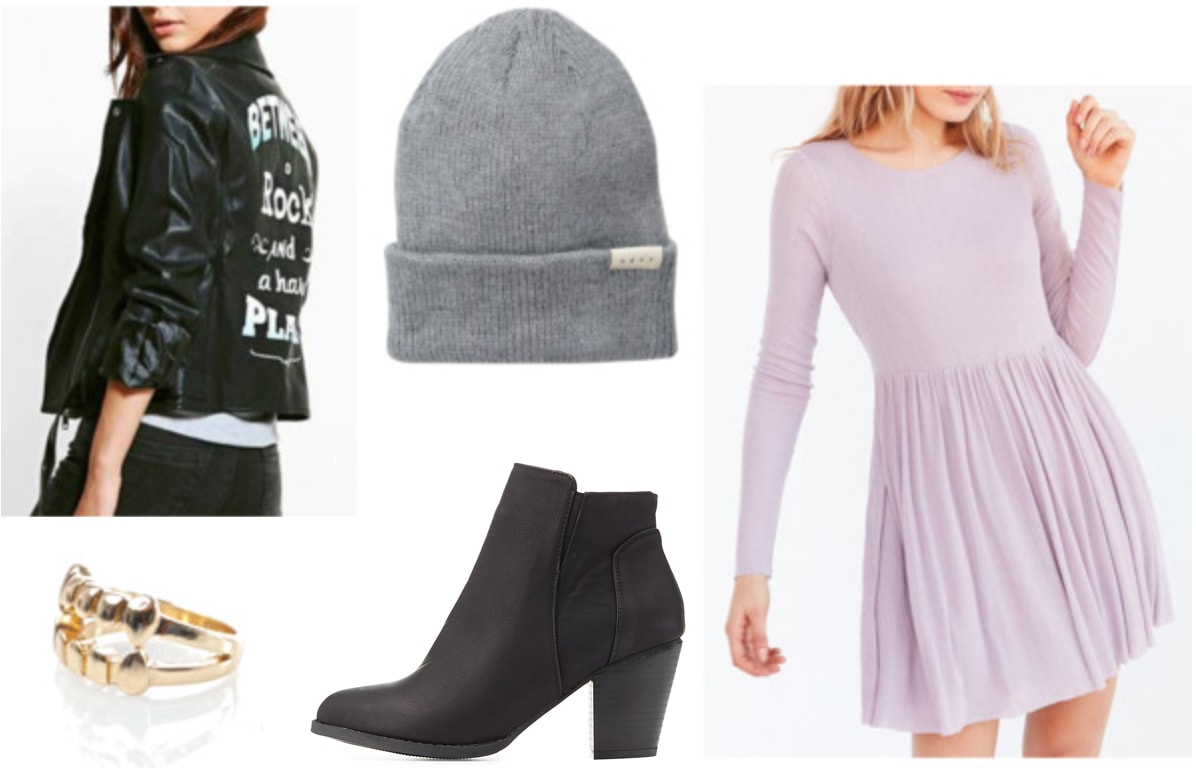 Products: Dress – Urban Outfitters | Jacket – Boohoo | Boots – Charlotte Russe | Beanie – Amazon | Ring – Dolls Kill
For Sunny, I knew I wanted to do something both soft and hard, because while Sunny is a baby, she is not to be trifled with. Do this by pairing a periwinkle dress with a black moto jacket. Throw on a grey beanie and some black booties, and finish the outfit with some tooth-inspired jewelry as a nod to Sunny's favorite pastime.
What do you think? Which look was your favorite? Let me know in the comments!