This post may contain affiliate links, which means we may receive a commission if you purchase through our links. Please
read our full disclosure here
.
One of the biggest trends the past few seasons has been the romper, and it's going to be as hot as ever this summer.
Rompers are a great form of casual wear; they are comfortable and flattering, and can be pulled off effortlessly by anyone. However, it is important to remember that rompers are still a trend. This means that they are in style now, but may go out of style within a few seasons. Because of this, it may not be cost-effective of you to purchase many different rompers.
That's where I come in. Below, I've created five completely different ways to wear the same navy blue romper. This way, you can rock different looks without having to buy more than one romper. It's a fabulous AND budget-friendly way to get in on this trend. Read on to check out the looks!
1. Preppy Menswear
With the form-fitting blazer, vintage-inspired oxfords, and chic boater hat, this look will give you an air of carefree confidence. The classic look is inspired by menswear, but the feminine touches as well as the girly romper will leave you looking cute as a dainty button.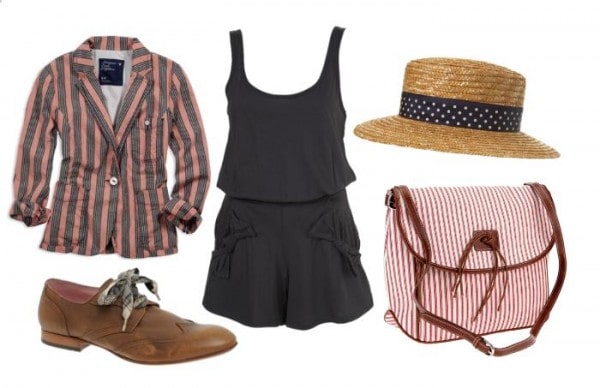 Blazer- American Eagle, Shoes- ASOS, Hat- Miss Selfridge, Bag- Urban Outfitters
2. Bold Bohemian
This look features bold colors with a tribal vibe. The beaded necklace adds embellishment to the romper's neckline, while the materials and colors of the other accessories add interest to the look.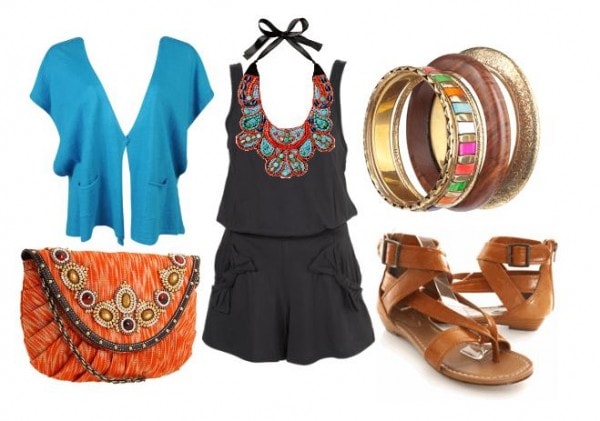 Cardigan- Forever 21, Bag- Zappos, Necklace- Fred Flare, Bracelets- Oxfam, Shoes- AMI Clubwear
3. Sporty Casual
This look is the most casual of the five. Rather than looking like sloppy athletic wear, however, the coordinated colors and quirky details (especially the Beatles sweatshirt!) make this outfit a pleasant version of leisure clothes.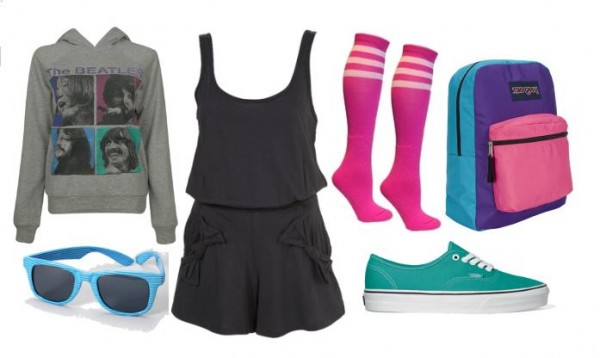 Hoodie- Forever 21, Sunglasses- Fred Flare, Socks- The Sock Boutique, Backpack- Tilly's, Sneakers- Vans
4. Metallic Glamour
Every aspect of this outfit screams "Diva!", from the metallic details to the oversized hat and sunglasses. You will be sure to stand out in the crowd when you wear this… in a good way, of course!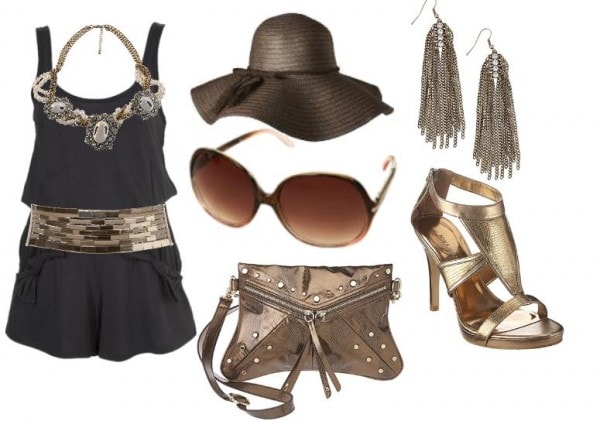 Necklace- Forever 21, Belt- Miss Selfridge, Hat- Gap, Sunglasses- Topshop, Bag- Nine West, Earrings- Urban Outfitters, Shoes- Nine West
5. Feminine Florals
Soft pastel colors and delicate floral details make this outfit very girly, a perfect look to combine with a more boyish romper. Everything about this look is very dainty and adorable. I especially love the shoes!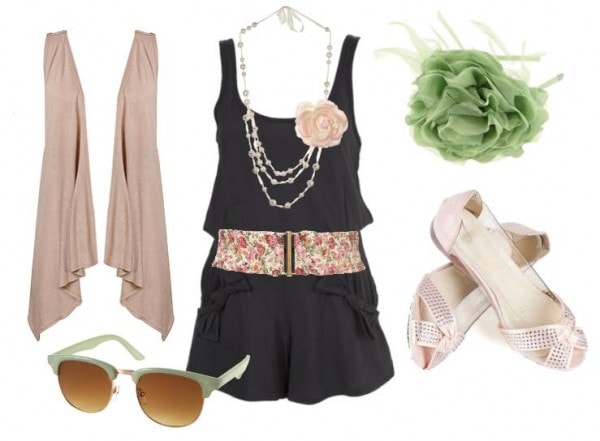 Vest- Forever 21, Sunglasses- Topshop, Necklace- Miss Selfridge, Belt- Miss Selfridge, Headband- Nordstrom, Shoes- Yes Style
Thoughts?
Are you a fan of the romper? What is your favorite way to wear your romper? Let us know in a comment!