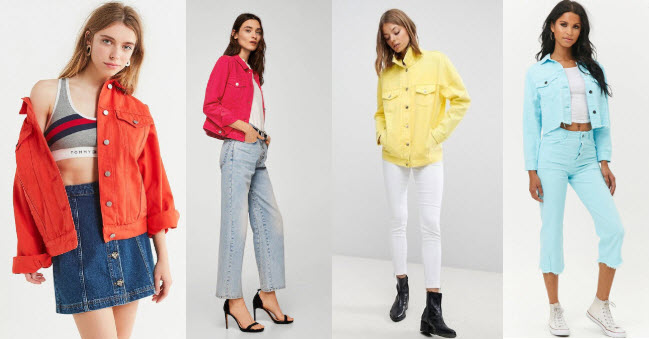 Products L-R: Urban Outfitters, Mango, ASOS, & Forever 21.
Denim jackets have been around for decades, and they're total fashion classics. There's nothing like a cute denim jacket, however if you want a little update to this timeless piece, a colored denim jacket is on another level. Colored denim jackets can be found everywhere this season, in shades ranging from baby blue to fuchsia.
Here are two ways you can style your colored denim jacket this spring for class and a night out.
How to Style a Peach Denim Jacket – Outfit for Class: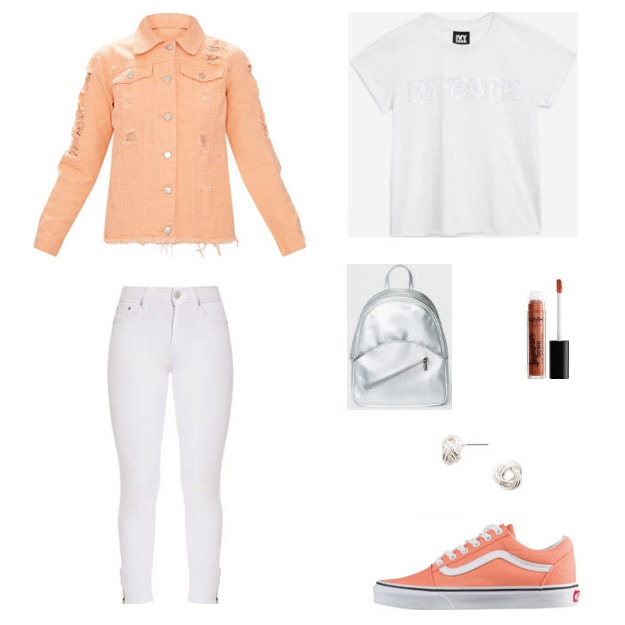 Products: Denim jacket – Pretty Little Thing, T-shirt – Ivy Park, Jeans – Pretty Little Thing, Sneakers – Vans, Backpack – Target, Earrings – Forever 21, Lipgloss – NYX
Two words, PEACH VANS! The color peach is so beautiful and such an underrated color — it's especially perfect for the summer season as it just screams warm weather. The peach denim jacket from Pretty Little Thing is a little lighter than the Vans, however it still goes well alongside them.
Due to peach being such a light color, I prefer to combine this outfit with silver accessories. The white Ivy Park shirt has the words outlined in silver and it matches the metallic silver Target backpack. Finish with a summer staple, white jeans.
How to Style a Peach Denim Jacket – Outfit for Going Out: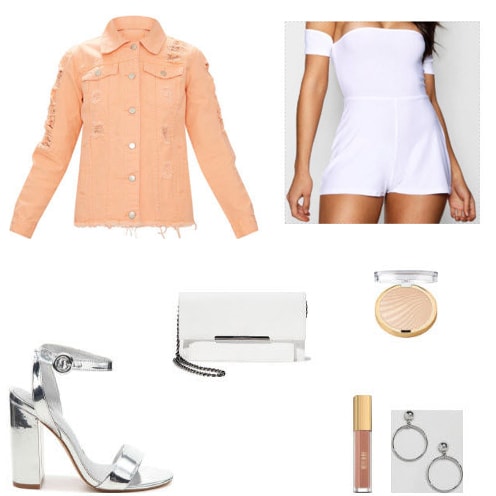 Products: Denim jacket – Pretty Little Thing, Clutch – Steve Madden, Heels – DSW, Romper – Boohoo, Earrings – ASOS, Highlight – Milani, Purse – Boohoo, Lipstick – Milani.
Romper season is in full effect! We love rompers because they are so versatile, can be dressed up or dressed down, and they have many different styles to choose from. This all white bandeau romper is very comfortable and has stretchy material that's perfect if you're going dancing.
Again, we're pairing the peach with white and silver. DSW has the perfect metallic silver ankle strap heels for hopping around town. The chunky heel also helps for walking. Steve Madden's mini white clutch is the ideal size for stowing your essentials (lipstick, cards, cell phone) and rushing out the door.
To finish the look, adding a little bit of makeup goes a long way. Milani Cosmetics has the cutest highlight for a "Summer Glow" (that's the name of the highlight color). They also have the best matte lipsticks (the color above is Adorable).
Colored denim jackets are hot or hmm?
What's your take on Pretty Little Thing's peach denim jacket? How do you feel about colored denim jackets in general? Comment and let CF know!