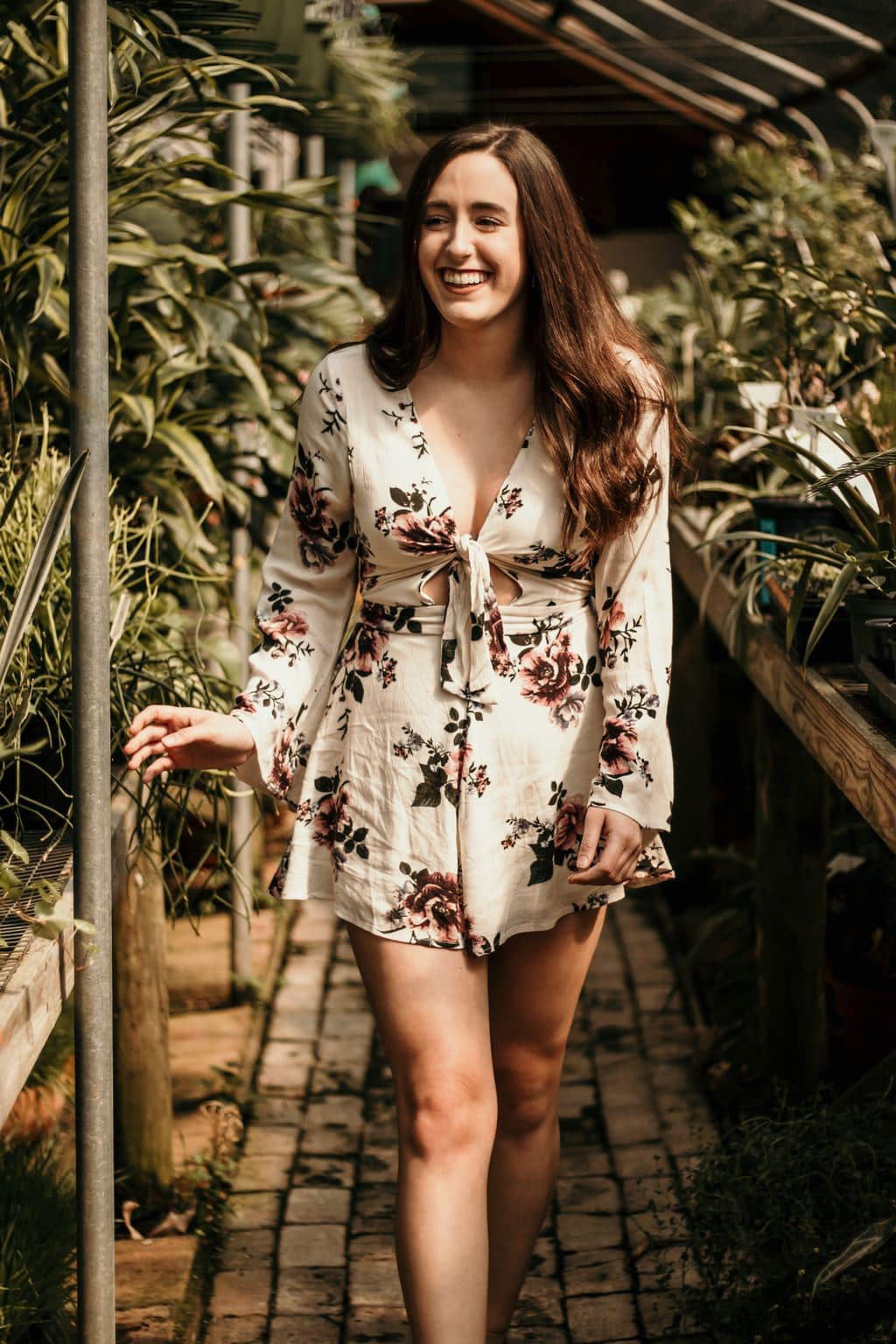 Welcome to the latest edition of Ask CF! Every two weeks, we select a reader fashion question and answer it here on the site. Do you have a specific fashion question for us? Scroll to the bottom of this post to learn how to send it our way!
Ask CF Question
Hi CF!
I need some fashion inspo re: cute, unique, feminine rompers for spring. With the weather warming up, I can't wait to add a few new faves to my closet!
Thanks!
– Romperstiltskin
Our Response
Dear Romperstiltskin,
First of all, great nickname! Secondly, as the days are just starting to get warmer, it's the perfect time to go looking for cute romper styles — this year in particular, it seems, as brands seem to be especially enthused about embracing the romper's practical-yet-carefree aesthetic.
For inspiration regarding some fun and feminine romper styles, as well as how to wear them, just keep scrolling!
Romper Outfit #1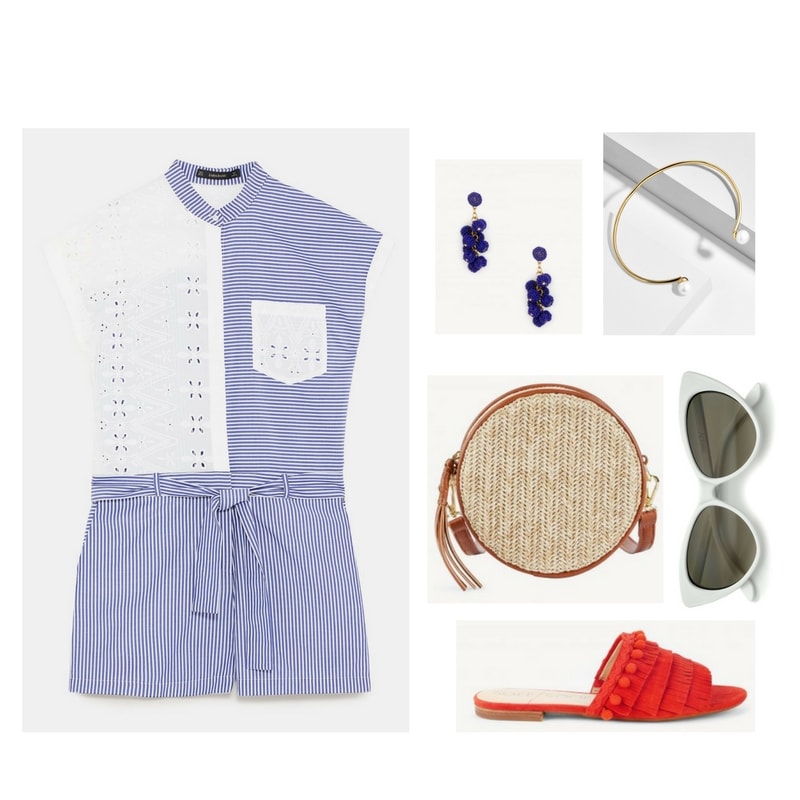 Products: Romper – Zara, Earrings – Sole Society, Bracelet – Baublebar, Bag – Sole Society, Sunglasses – ZeroUV, Sandals – Sole Society
This breezy and quirky outfit is great for hot spring and summer days, and is easy to simply throw on and go! To get it, start off by putting on a unique stripe-and-eyelet romper with a flattering self-tie waist.
Next, slip into a pair of bright coral-red sandals, whose warm color provides the perfect contrast for the romper's cooler tones. Retro-inspired cat-eye sunnies (especially in white!) are super trendy this season, so put on a pair to shield your eyes from the sun.
Beaded drop earrings and a pearl cuff bracelet are the perfect way to accessorize this look without distracting from the romper, while a woven bag provides the perfect finishing touch.
Romper Outfit #2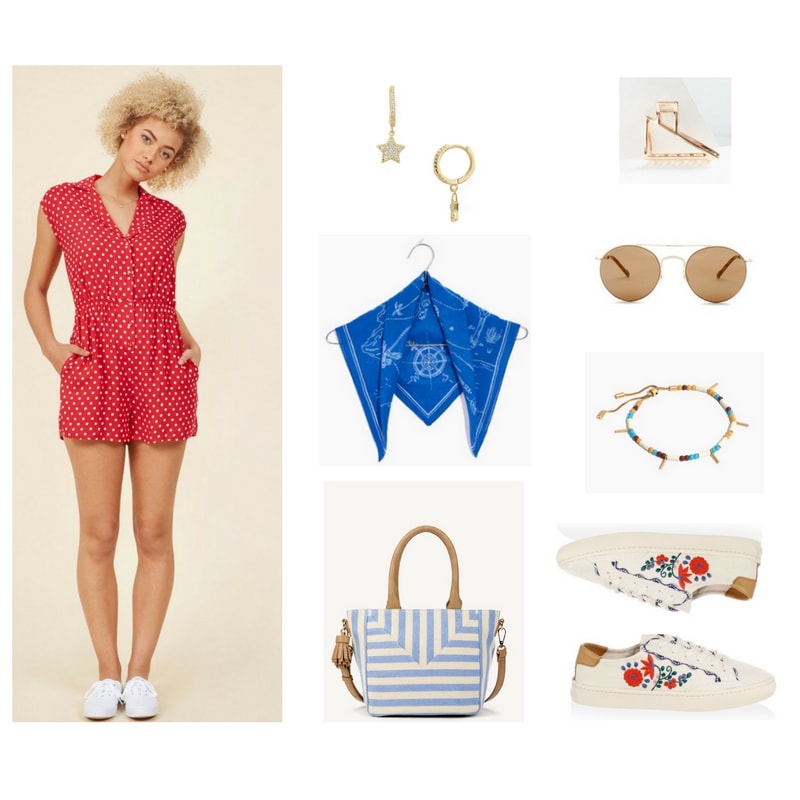 Products: Romper – Modcloth, Earrings – Bloomingdale's, Bandana – Madewell, Bag – Sole Society, Hair Clip – Urban Outfitters, Sunglasses – Nordstrom Rack, Bracelet – Madewell, Sneakers – Saks (more sizes here)
If it's a whimsical look you're after, then this red-and-white polka-dot romper is for you! In keeping with its vintage vibes, tie a bandana around your neck, and add a pair of round aviator sunglasses.
Pick up a preppy striped bag, and put on a pair of beautiful embroidered sneakers for a dose of sophistication.
Delicate jewelry — like these pretty star-drop hoops and this cute beaded bracelet — is an easy way to accessorize the outfit. Lastly, pull your hair back in a ponytail, half-ponytail, or bun using an of-the-moment gold claw clip.
Romper Outfit #3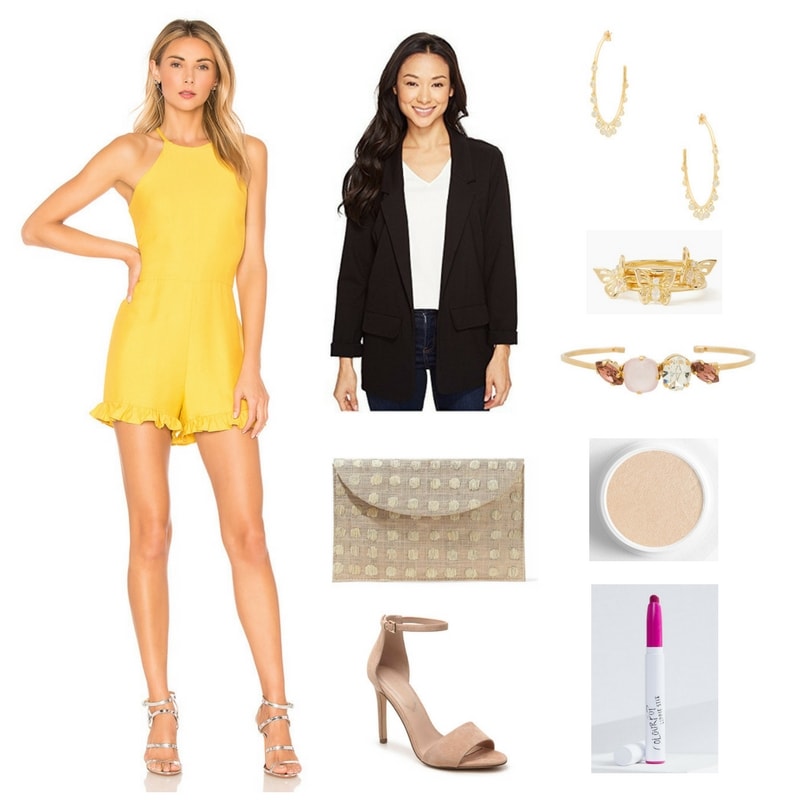 Products: Romper – Revolve, Blazer – Zappos, Clutch – The Outnet, Heeled Sandals – DSW, Earrings – Revolve, Ring Set – Kate Spade, Bracelet – Revolve, Highlighter – Colourpop, Lipstick – Colourpop
Though they might not be the first thing to come to mind when you think of the word "dressy," rompers are actually a great alternative to your standard going-out dress/skirt ensemble. Not only are they super-comfortable to wear, but they are also more easily dressed down for day, so you get twice the wear out of them!
For this look, I decided to pair a drool-worthy Gen-Z Yellow romper with a timeless black boyfriend blazer that can also be worn with a wide variety of other pieces as well. Next, I added a simple pair of beige stiletto ankle-strap sandals, as well as a chic woven polka-dot clutch.
Large gold hoops with dangling stones give off a slightly boho vibe — as does this adorable butterfly ring set. A sparkly cuff bracelet is in keeping with the romper's elegant look; lastly, if you want to stand out in a memorable yet classy way, add a swipe of vibrant fuchsia lipstick and some glowy pale gold highlighter to complete the outfit.
I hope that these outfits have provided you with lots of inspiration regarding cute romper styles and how to wear them. Thanks for your question!
Do you have a fashion question? Send it to us!
Is there something in your closet that you want to wear but have no idea how to style? Do you need advice on what to wear to an upcoming event? Do you have a specific fashion conundrum?
If you have a fashion-related question that you would like to see answered in this column, simply email it to askcf @ collegefashion.net, and one day you might see your question answered right here on the site!
What do you think?
Where do you like to shop for pretty and unique rompers? How do you plan on wearing rompers this Spring? Would you wear a romper on a night out?
Let me know in the comments!