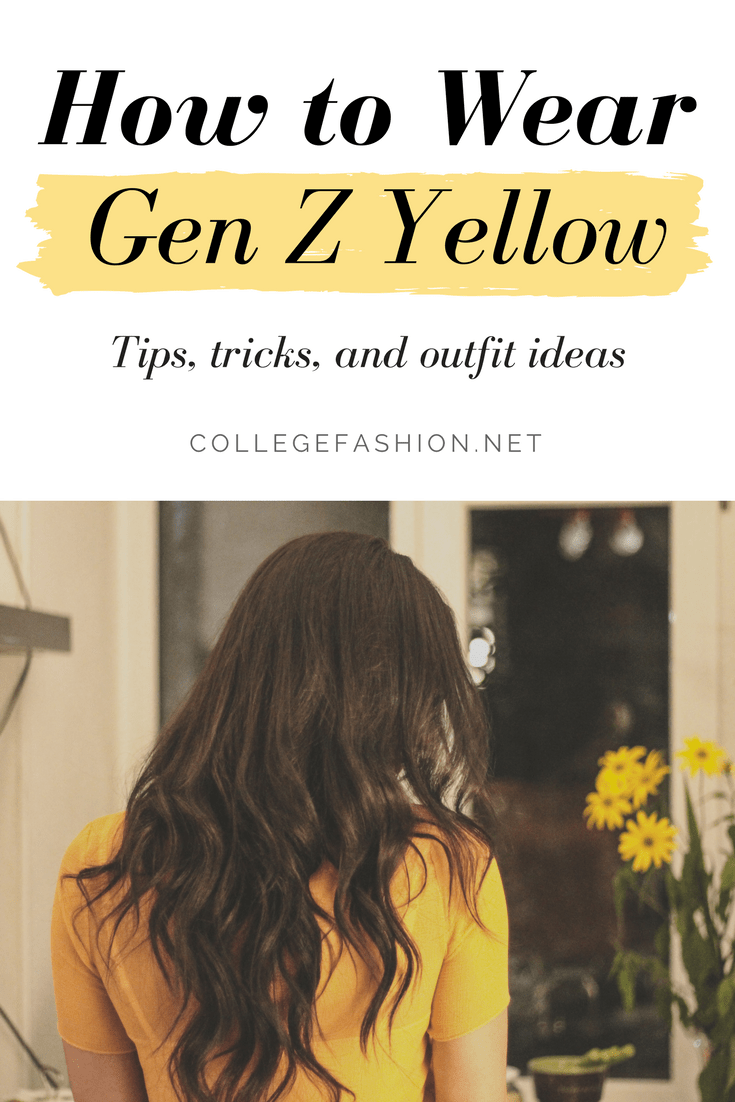 By now, you've probably heard all about Millennial Pink, one of fashion's most popular colors at the moment. But, according to Refinery 29, Man Repeller, Bustle, and many more, Gen Z Yellow is the next big color trend on the horizon.
According to Erika Woelfel, a color expert at Behr Paint:
Gen-Z is growing up — or, as they might say, "glowing up." In contrast to Millennials' nostalgic pink, yellow represents vitality and ambition, traits we're seeing in this upcoming generation of tastemakers.
Furthermore, she adds, "These shades can add a strong sense of energy and positivity to your spaces."
This sense of optimism and vitality also transfers seamlessly to the fashion world, with designers and celebrities alike embracing Gen Z Yellow's lighthearted whimsicality.
Interested in incorporating the hue into your everyday wardrobe? Keep scrolling to see my takes on how to wear it!
Gen Z Yellow Outfit #1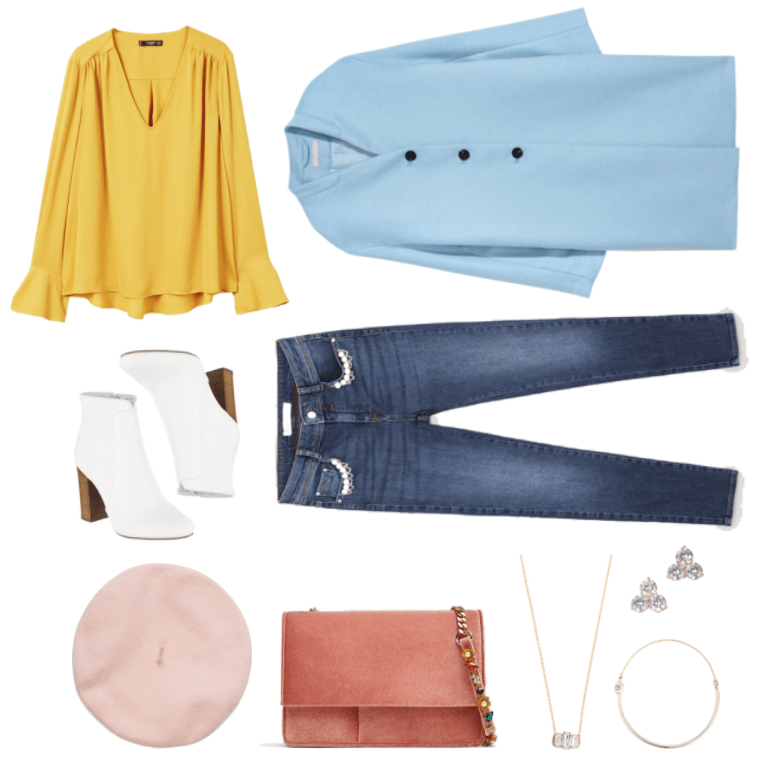 Products: Blouse – Mango, Ankle Boots – Nordstrom, Beret – Simons, Coat – H&M, Jeans – Zara, Bag – Zara, Necklace – Shopbop, Earrings – Shopbop, Bracelet – Sole Society
If you're looking to introduce Gen Z Yellow into your wardrobe, it's a good idea to start with a something simple in style, such as the blouse shown here, which can be worn in a myriad of ways. Here, in keeping with the color's fun, carefree vibe, I've styled the blouse with other upbeat pieces.
A pair of jeans with pearl and chain details might be considered edgy on its own, but, when worn with the blouse and a baby blue coat, those details read more feminine than grungy.
Because we aren't willing to say goodbye to Millennial Pink just yet (or ever, in my case!), give a nod to the still-trendy shade by putting on a classic soft pink beret.
White footwear is one style that is still going strong, so put on a pair of 1970s-esque white ankle boots with a statement-making stacked wooden heel for a nice change from the usual black.
Accessorize with a salmon-pink bag with a gorgeous bejeweled strap. Lastly, add some subtle jewelry, like these classic trio stud earrings, modern gold bracelet, and sophisticated baguette necklace to complete this upbeat yet elegant look!
Gen Z Yellow Outfit #2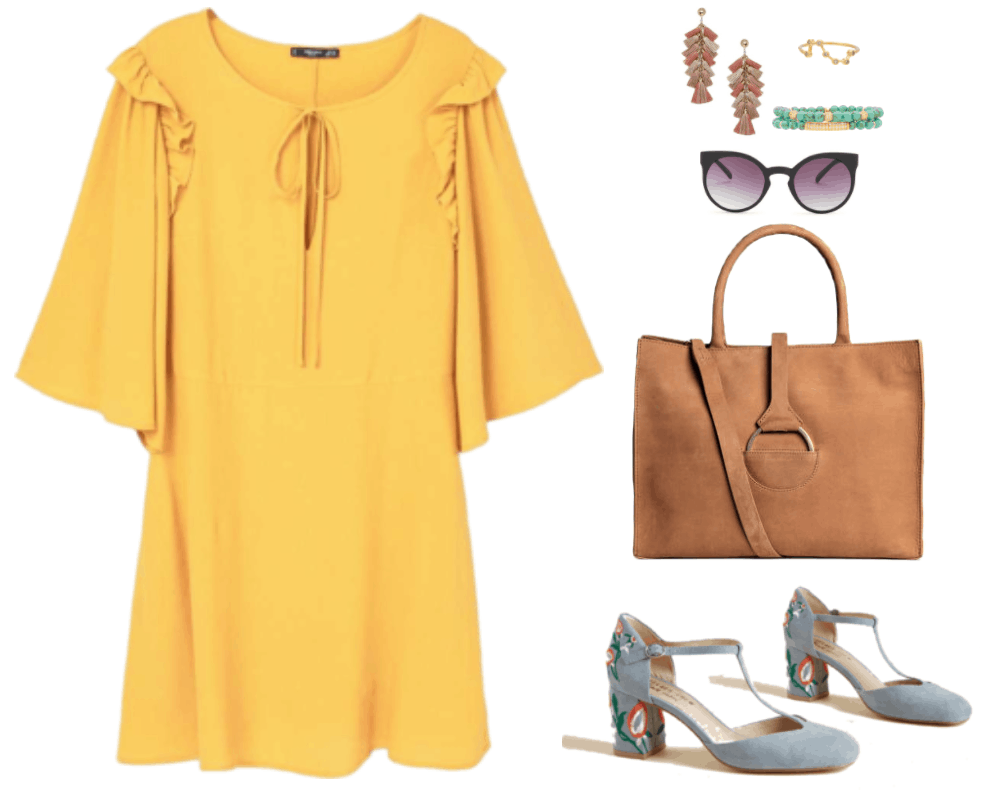 Products: Dress – Mango, Earrings – Nordstrom, Ring – Revolve, Bracelet Set – Revolve, Sunglasses – Nordstrom Rack, Bag – H&M, Heels – Modcloth
Although in many places it's so cold that it feels like Winter will never end, I couldn't help but be inspired by Gen Z Yellow's sunny and optimistic hue to create a boho spring/summer look. (This would also be great for spring break!)
To start, throw on a breezy Gen Z Yellow flared-sleeve dress. Next, grab a classic bag with an interesting metal-ring fastener.
Turquoise goes great with any shade of yellow, so incorporate it into your look by putting on a pretty turquoise bracelet set with embellished gold accent beads for a little something extra.
For an extra carefree vibe, put on a pair of tassel earrings; I especially love the coral and dusty-pink shades of this pair.
A lovely constellation ring adds the perfect extra dose of hippie-chic, while quirky embroidered t-strap heels finish off the ensemble.
Gen Z Yellow Outfit #3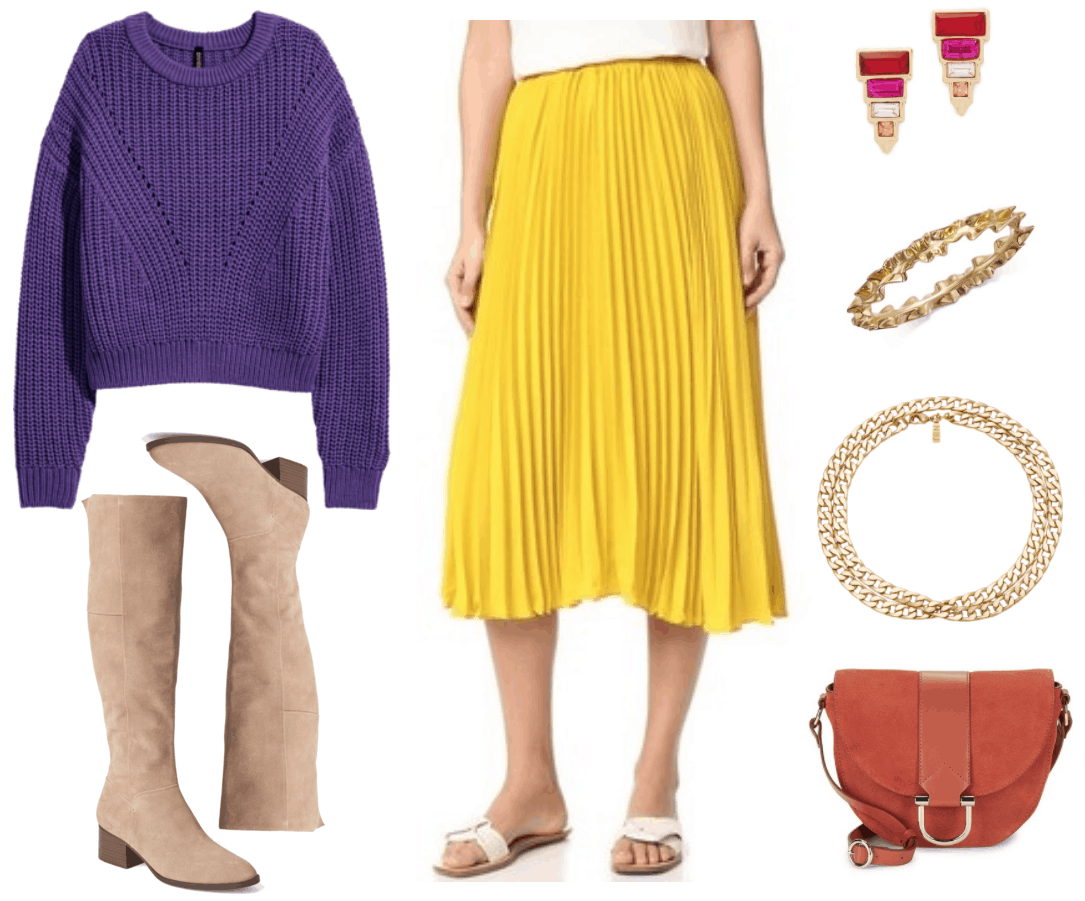 Products: Sweater – H&M, Knee-High Boots – Gap, Skirt – Shopbop, Earrings – Shopbop, Bracelet – Macy's, Necklace – Revolve, Bag – Lord & Taylor
This bold and colorful look is not for the faint of heart, but if you're ready to fully embrace the Gen Z Yellow trend, it's definitely something that you should try!
First, put on a sweater in Pantone's 2018 color of the year, Ultra Violet, which happens to perfectly complement the Gen Z Yellow midi skirt. Then, put on a pair of knee-high boots in a soft neutral beige that won't interfere with the brightness of the rest of the look.
The dark orange shade of this saddle bag works unexpectedly well with the rest of the colors in the ensemble, while multi-colored stud earrings add a little extra pop.
A gold ruffled bangle and a thick chain necklace (wrapped around your neck twice, as shown here, to balance the proportions of the clothes) add some contrast between delicate and tough, and are the perfect ways to round out this fun look.
What do you think?
Are you on board with the Gen Z Yellow trend, or do you prefer Millennial Pink? (Or do you like both equally?) Do you plan on wearing Gen Z Yellow this year? If so, how?
Let me know in the comments!