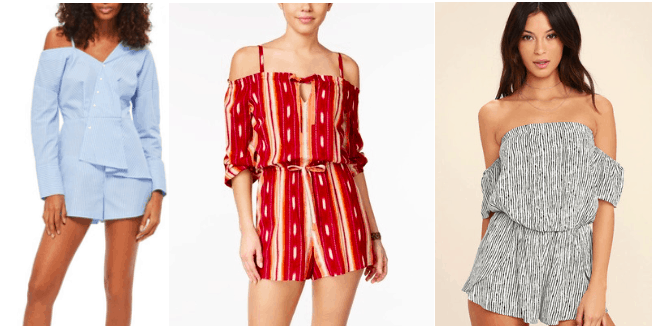 A romper is one of the most comfortable, easy summer staple pieces around — and something we'll miss once cold weather arrives!
A Romper can literally be the statement piece in your look, as it's the focal point of the whole outfit. You can dress one up or down to get you from class to night.
How to Style an Off the Shoulder Romper for Class
Products: Romper – Forever 21, Shoes – Billabong, Necklace – H&M, Tote – Roxy, Blush – Sephora
To style a romper for daytime, the key is to not overcrowd it. This striped off-shoulder romper from Forever 21 already has a lot of personality to it, so you don't need tons of accessories.
For class, let's keep it simple by adding a triple-strand necklace and basic black tote bag. Simple black sandals finish the look while letting the romper remain the focus.
How to Style an Off the Shoulder Romper for a Night Out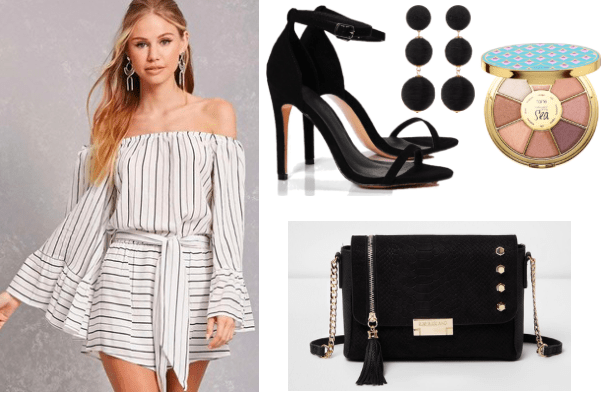 Products: Romper – Forever 21, Shoes – Boohoo, Earrings – Nordstrom Rack, Purse – River Island, Palette – Sephora
For a night out we definitely want to elevate this look, but the same rule of thumb will follow us into the night. You don't want to overcrowd the look, so choose your accessories wisely.
These heels from Boohoo are perfect for pairing with our romper, as they're simple but striking. For jewelry, trade your necklaces for a statement earring. For hair, I recommend a bun – either low or high – to really show off those earrings, and your shoulders. Finish with a chain strap bag with tassel detailing.
How do you style off-the-shoulder rompers?
Have you been wearing this fashion trend this summer? If so, what are your best tips for styling it from day to night? Tell me in the comments.