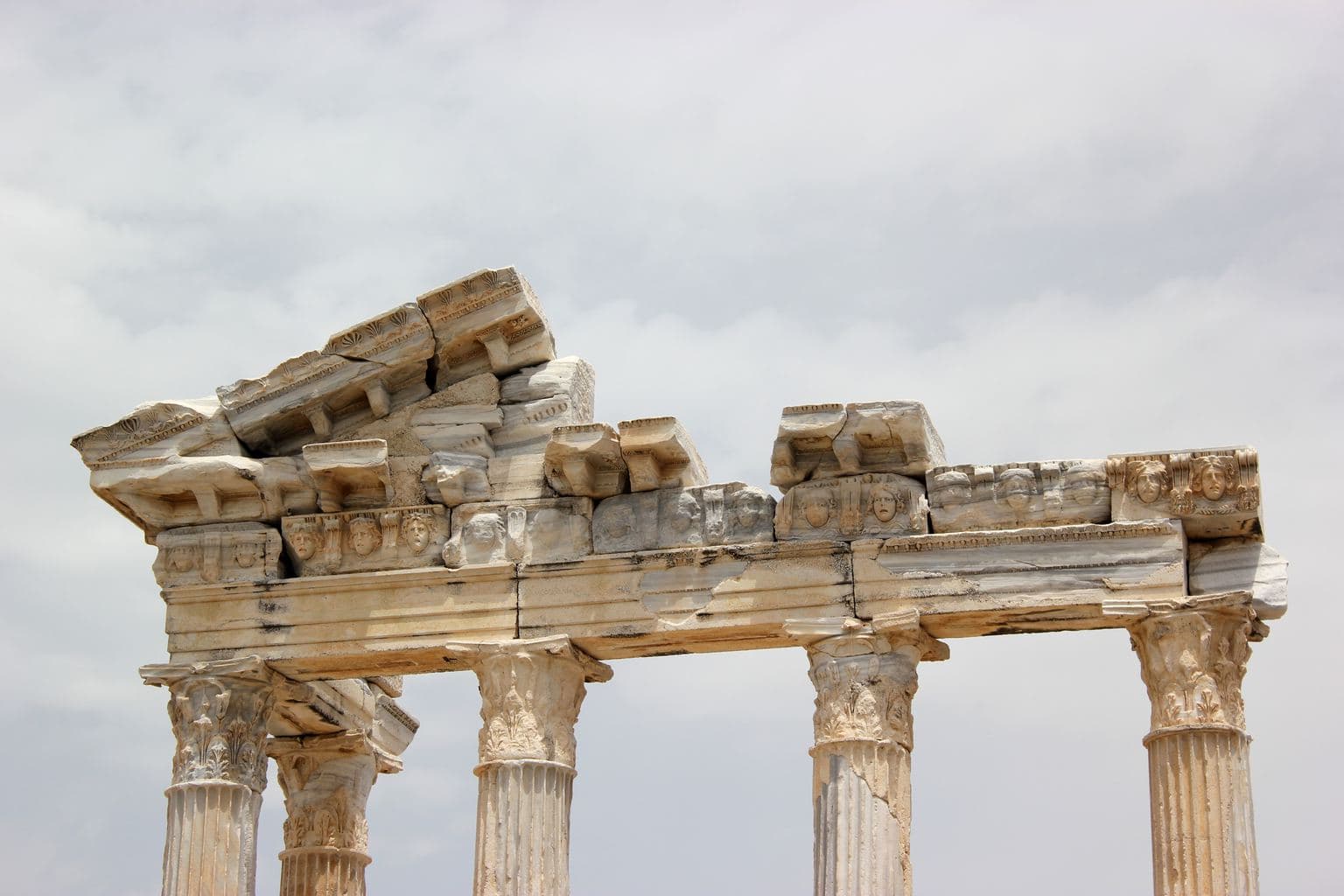 I've loved Greek mythology ever since I was a little girl. All those handsome men and beautiful women, embroiled in drama after drama of love, passion, and vengeance, from heaven to Earth to hell and back — what's not to love?
This week, I thought it'd be fun to put together some outfits inspired by three of the classic Greek goddesses of Mount Olympus. As you'll see, each outfit reflects the goddesses' different personalities and stories, with one common thread: they'll all make you look like you walked straight out of heaven.
Inspired by Aphrodite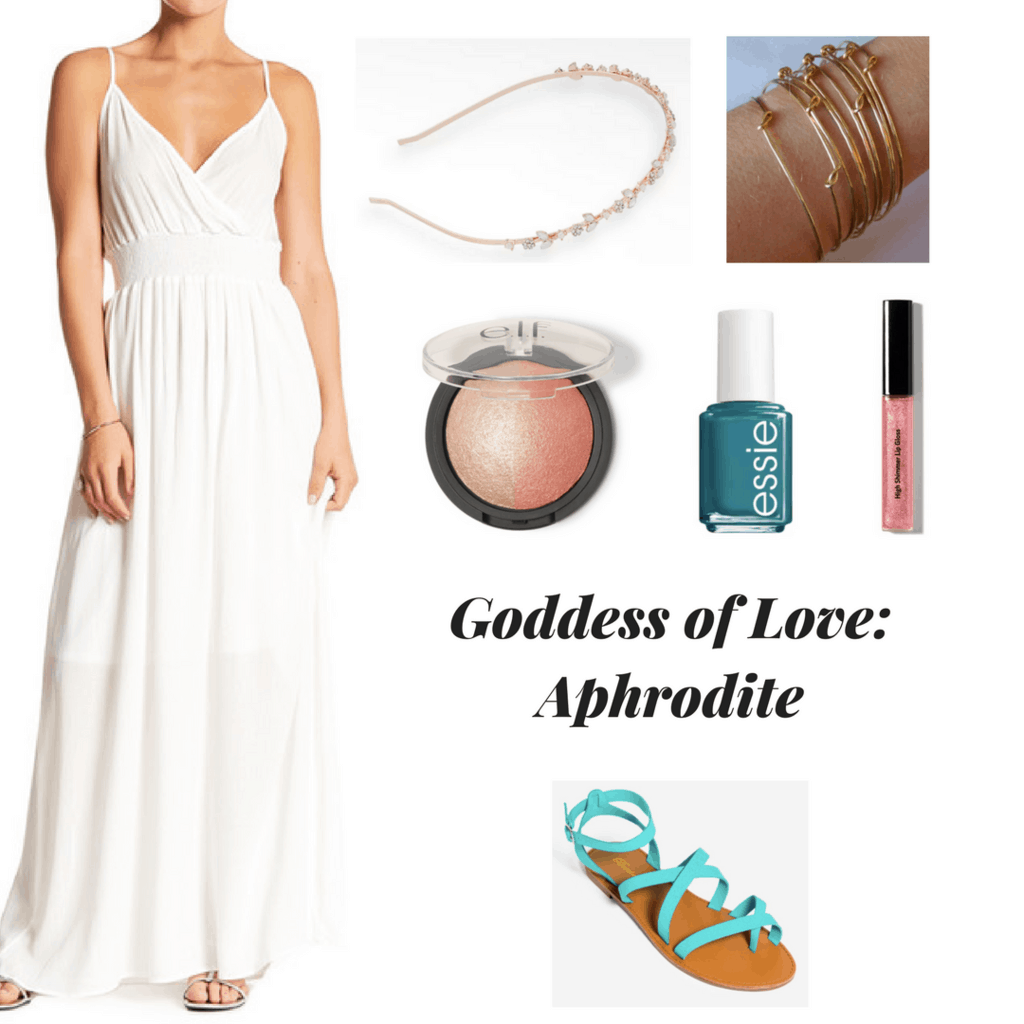 Products: Dress – Nordstrom Rack ($30), Headband – Kohl's ($9), Bangles – Etsy ($25), Highlighter/Blush – ELF ($4), Nail Polish – Essie ($9), Lip Gloss – Bobbi Brown ($28), Sandals – A'gaci ($15)
Outfit Cost: $120
Aphrodite is the goddess of love and beauty. She's known for being drop-dead gorgeous and a little self-centered, so I thought a regal maxi dress with a killer plunging neckline and would be perfect. Meanwhile, the turquoise accents in this outfit represent the legend that Aphrodite was born from the sea.
The flower headband and gold bangles convey both romance and confidence (Aphrodite did not let people push her around), while a highlighter/blush combo and lip gloss with a little bit of luster will give you a dewy, sun-kissed look, like you just got back from a romantic walk on the beach.
Inspired by Athena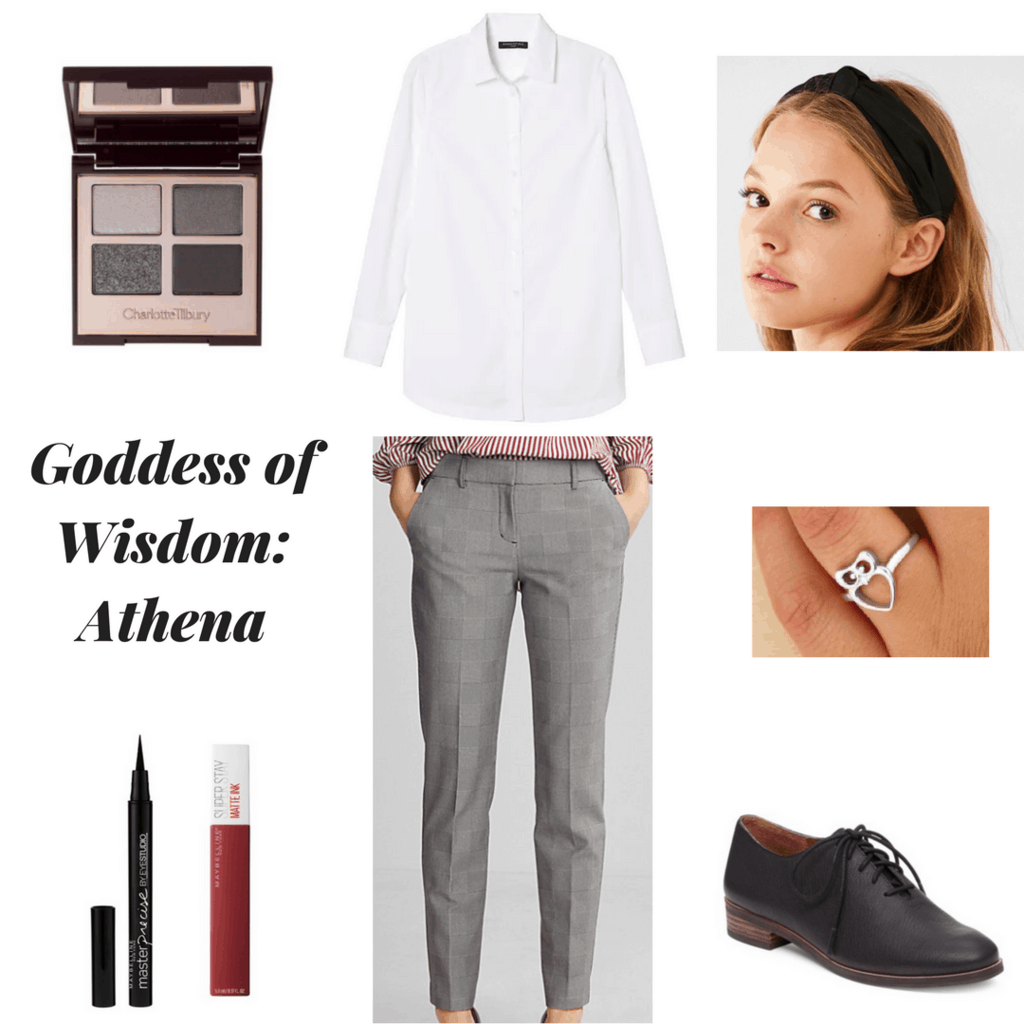 Products: Shirt – Banana Republic ($42), Pants – Express ($50), Ring – Etsy ($19), Oxfords – Saks Off 5th ($35), Headband – Urban Outfitters ($14), Eyeshadow Palette – Charlotte Tilbury ($53), Liquid Eyeliner – Maybelline ($7), Lip Stain – Maybelline ($8)
Outfit Cost: $228
Athena is your no-nonsense goddess; she resides over the realms of wisdom, culture, civilization, and military strategy. This outfit is simple but elegant, with a silhouette that is both tailored and casual. The white tunic button-down and gray plaid cropped pants keep the look down-to-earth and practical, allowing us more flexibility with the accessories.
Lace-up black Oxford flats convey strength, while a top-knot headband adds another goddess-y detail. I chose the owl ring because Athena is frequently portrayed with an owl — a symbol of wisdom — in paintings and statues. Finish off the outfit with a tough-girl vibe using liquid eyeliner, smoky eyeshadow, and red lips.
Inspired by Artemis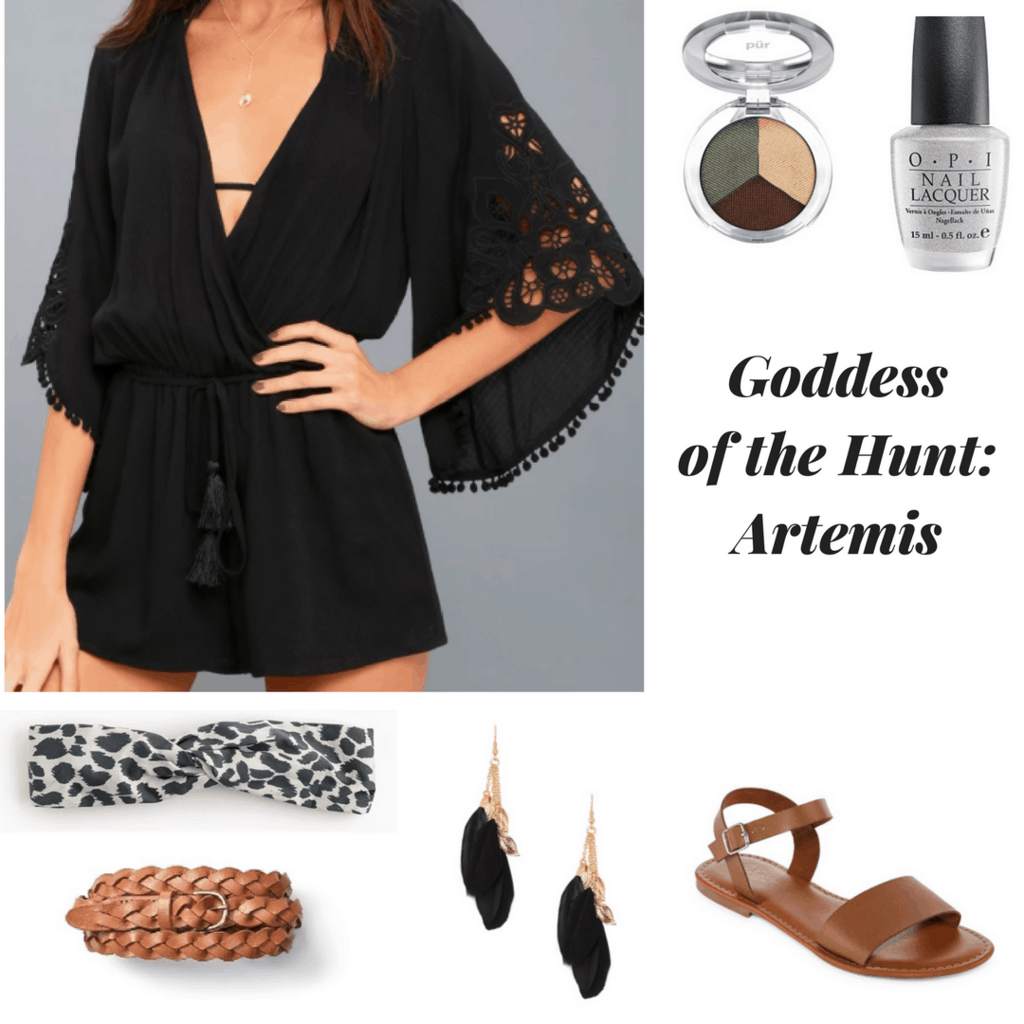 Products: Romper – Lulus ($66), Eyeshadow – Pur Cosmetics ($10), Nail Polish – OPI ($11), Headwrap – J.Crew ($19), Belt – Gap ($18), Earrings – Forever 21 ($5), Sandals – JCPenney ($14)
Outfit Cost: $143
Artemis is primarily known as the goddess of the moon and the hunt — the black and brown tones in this outfit represent each domain, respectively. Lay the foundation for the classic goddess look with a boho-chic romper, then throw in hippie accessories like the braided belt and minimalist sandals to show that you're in touch with nature.
Meanwhile, feather earrings and a leopard-print headwrap reflect Artemis's frequent association with the animals of the forest. For this look, you'll want to keep your makeup and nails in neutral, earthy colors to complete the outfit.
Which goddess are you?
If you wanted to feel especially regal and majestic, which goddess look would you pick? Did my interpretations make sense to you? If you were to create your own goddess look, what would you change? Maybe you would even take your inspiration from a different goddess — like Hera, Zeus' wife and the queen of Mount Olympus? Let us know by leaving a comment!
(By the way, if you this post made you curious about Greek mythology, check out this informative Wikipedia page about the twelve Olympian gods and goddesses.)
Editor's note: This post was originally published in 2018; it was completely updated and revamped in 2018 by Sharon with new photos, outfit sets, and information.