This post will show you how to copy Dua Lipa's style and outfits.
2021 is Dua Lipa's year. But frankly, it's been years now that she's been dropping banger after banger.
Her music is contagious and you'll be hard to find someone who doesn't love Dua Lipa's songs. (And if you do, send them my way because I will make sure they do.)
Even her music released during quarantine was uplifting, literally making everyone get up and dance. From starting viral TikTok trends to releasing chart-topping songs to her killer appearance on Saturday Night Live, Dua Lipa is taking over the world. She's slowly taking her rightful throne as a Queen of Pop.
But even back in her early days, Dua Lipa was already a Queen of style.
This woman has been serving us fashion inspiration for years now like it's her job. From her day to day style to her concerts and not to mention the jaw dropping outfits in all of her music videos, she serves look after look.
Dua Lipa's Style 101
Dua Lipa's style mixes modern trends with recurring nodes to the '70s and '90s and a recent love for some '60s pieces. Few people have been so influential in bringing back the '70s, in particular. Here are some things to keep in mind about her style:
Colors: She loves infusing her outfits with color and isn't afraid to stand out. Think bold shades of cobalt blue, yellow, red, and even hot pink à la her TIME cover.
Sequins and sparkles: Whether she's out with friends or killing it on stage, a pop queen knows sparkles are a girl's best friend. She loves anything sequined or embellished, particularly if it's a statement piece.
Less is more: When it comes to putting her outfits together, she doesn't layer too much, and rather goes for standout pieces that speak for themselves.
Play with different time periods: Why not dress like a '90s girl one day and a '60s princess the next? It's 2021 and we have so many decades worth of style to reference, so have fun with it and go where your mood takes you.
If you want to make 2021 your year then trust me, you have to channel your inner Dua Lipa. Here are a few outfits to inspire you to step up your wardrobe game, all based on Dua Lipa's style:
Cute and Casual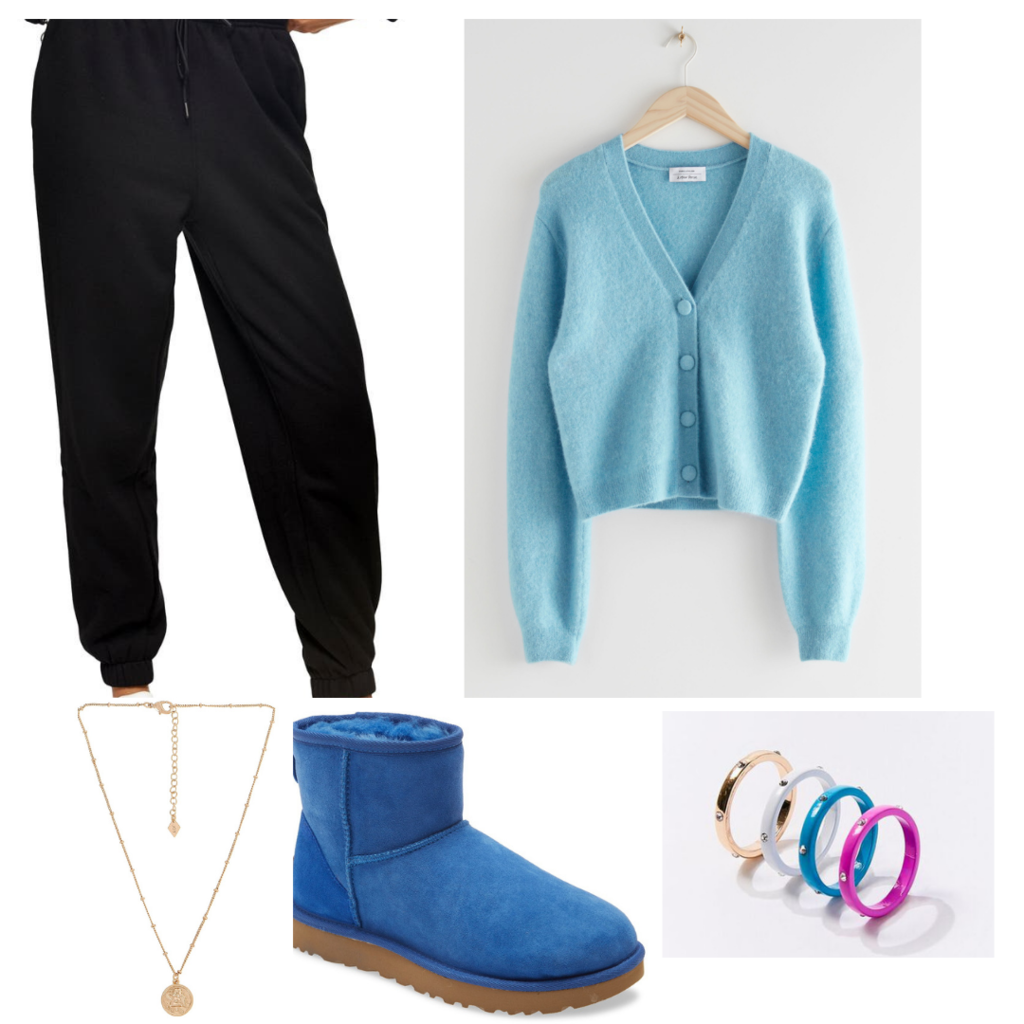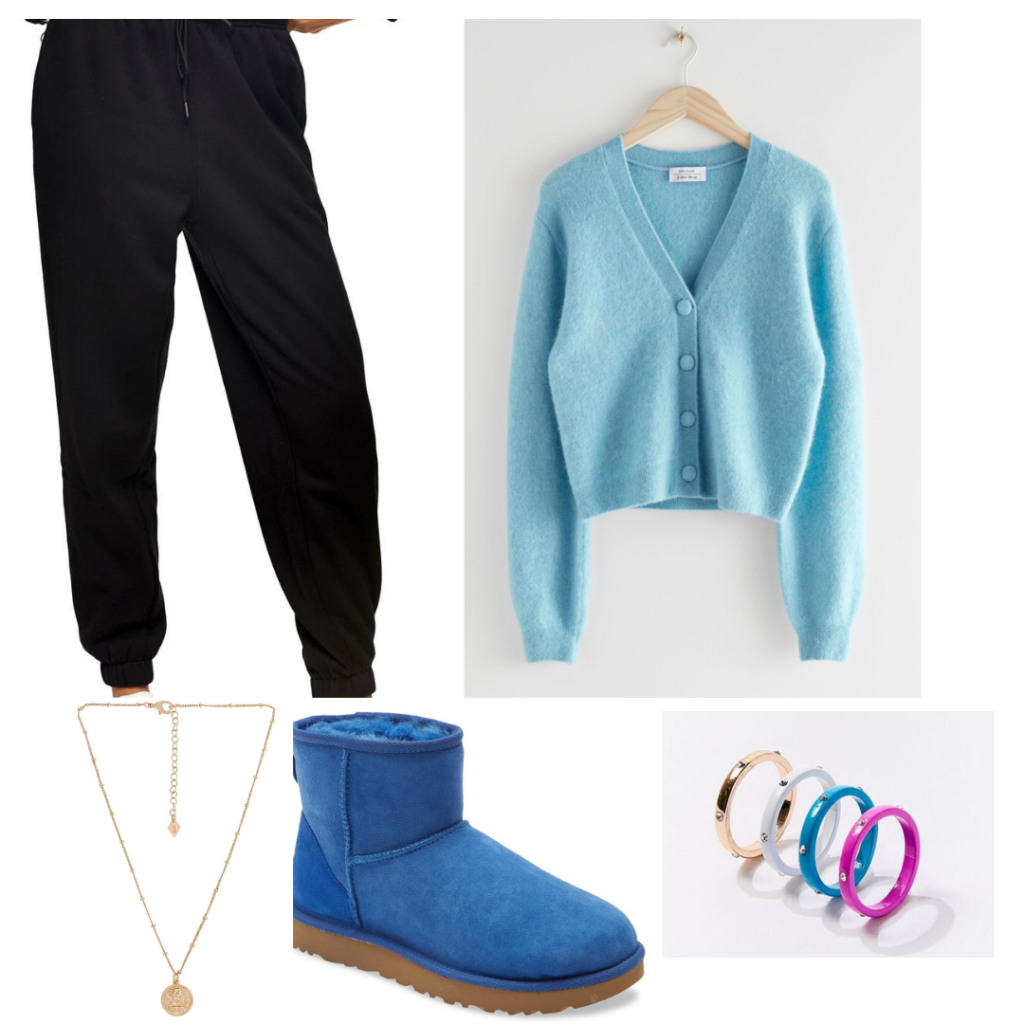 Products: Sweatpants, Cardigan, Necklace, Boots, Rings
Even pop stars need to take a chill day here and there, but, of course, they do it in style.
Dua Lipa loves having fun with her outfits, and isn't that what fashion is all about? In this look, she's rocking an oversized colorblock sweater with some bone-print joggers for a cozy at-home look.
Sweatpants can instantly become a cute outfit you can wear anywhere if you pair them with a cute cardigan, and make sure it's colorful. I love this cropped blue one from & Other Stories. (Stories is on our list of the best places to buy sweaters. btw.)
Don't forget a cute necklace, accessorizing is a must. You can also try on some enamel rings that are all the rage. the more colorful, the better!
Finish your look off with some Uggs, 2021's shoe of the year. With everything you wear when dressing like Dua Lipa, make sure it's something playful.
School Girl Inspiration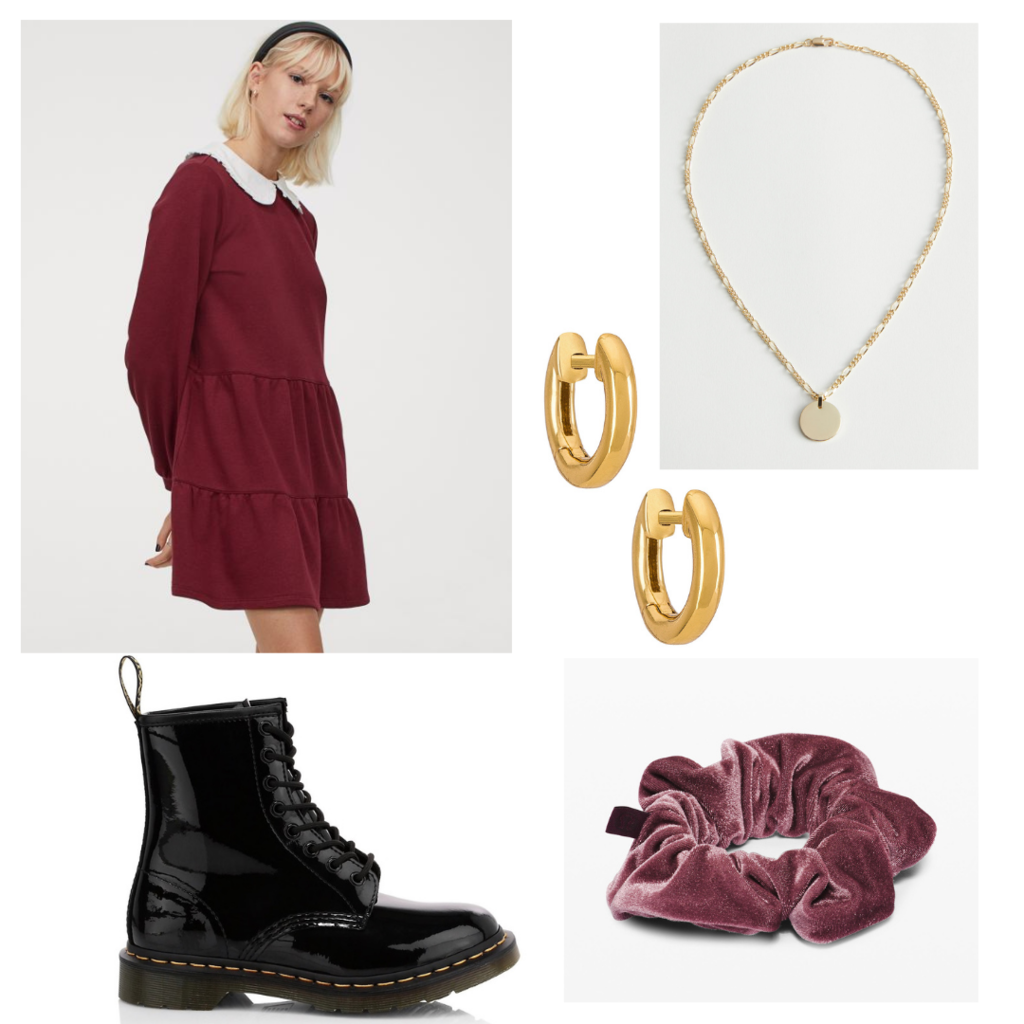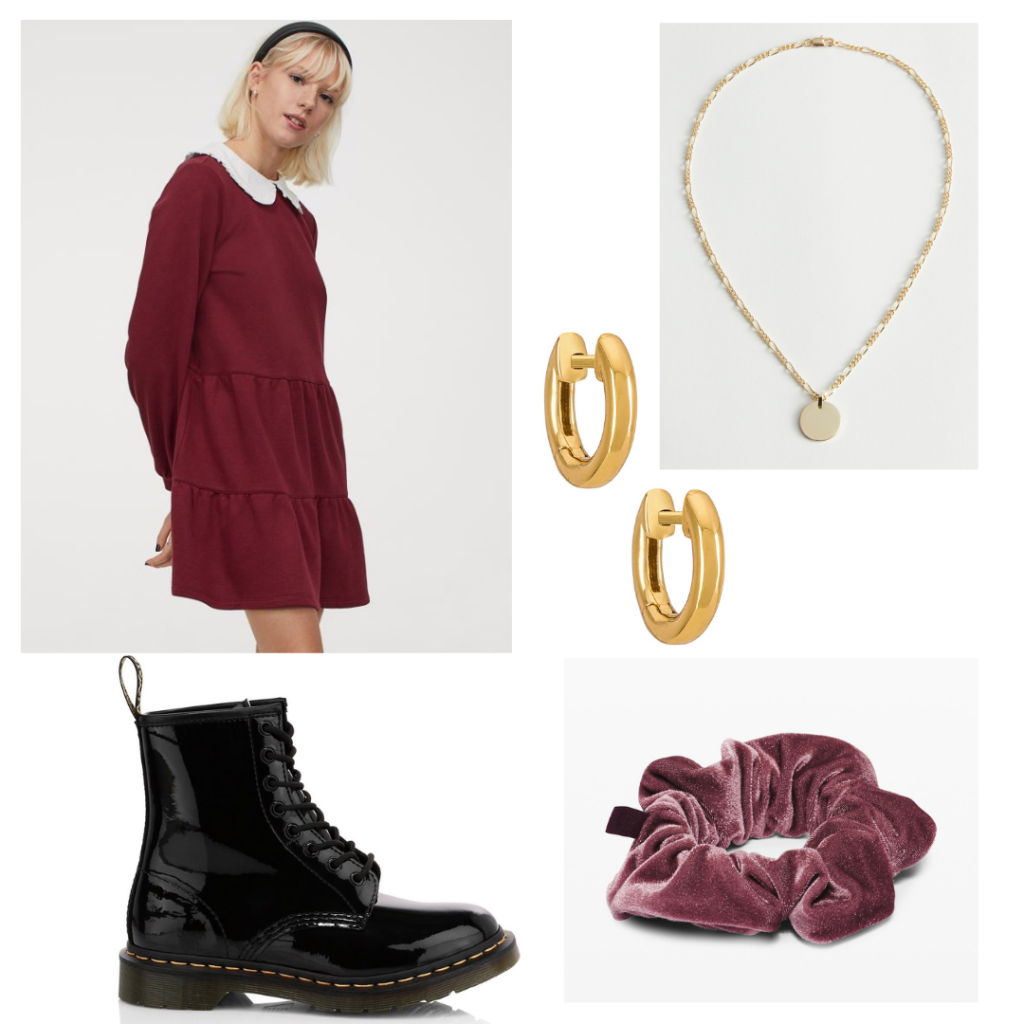 Products: Dress, Necklace, Earrings, Boots, Scrunchies
The Queen's Gambit was just the beginning of the new '60s takeover in fashion. And if it's Dua Lipa-approved, it's sure to be huge in 2021.
Color coordinate a cute '60s inspired dress, preferably with a standout collar, with your scrunchie. I love this velvet one for the '90s vibes. Balance the cute dress with some edgy combat boots, a staple in all of our closets.
As usual don't forget to accessorize with a necklace and some earrings. These chunky gold ones are very Dua Lipa.
Dinner Outfit
This is probably one of my favorite outfits she's ever worn — I'm all for the full leather look. Dua Lipa is a badass, and she knows it, so she dresses like it and so should you.
To get her look here, pair a leather mini skirt with a deep toned leather jacket that you wear as a top for this sleek, edgy outfit.
Don't forget to put on some classy heels and some simple earrings for an easy yet deadly ensemble.
Night Out Look
While most of us reserve our sequins for New Years, why should we? Celebrate having a great day with your friends in some sparkly bottoms inspired by Dua Lipa's style. While she rocks paillette shorts in the look above, these sparkle pants are far more wearable for a variety of events.
Match your sequin pants with a white button down that you can tie á-la Dua Lipa. Add some cute on trend jewelry and of course a splash of color to finish off your look. These blue strappy heels are perfect for adding a pop of color to all your outfits this summer.
What do you love most about Dua Lipa's style?
Dua Lipa is constantly taking risks, she is un apologetically herself in her fashion choices, and she is clearly having fun with her style.
But more than that, she is comfortable in what she wears.
So take this as a sign to buy that outfit you've had in your shopping cart for a while thinking it's too out there. You know what? It probably is, but that's great! Be yourself and embrace the pieces you like the best. If you take one piece of advice from Dua Lipa it should be: you don't have to dress safely.
What outfit are you most excited to steal? What would you love to see Dua Lipa wear? Which one of her looks is your personal favorite? Let us know in the comments!