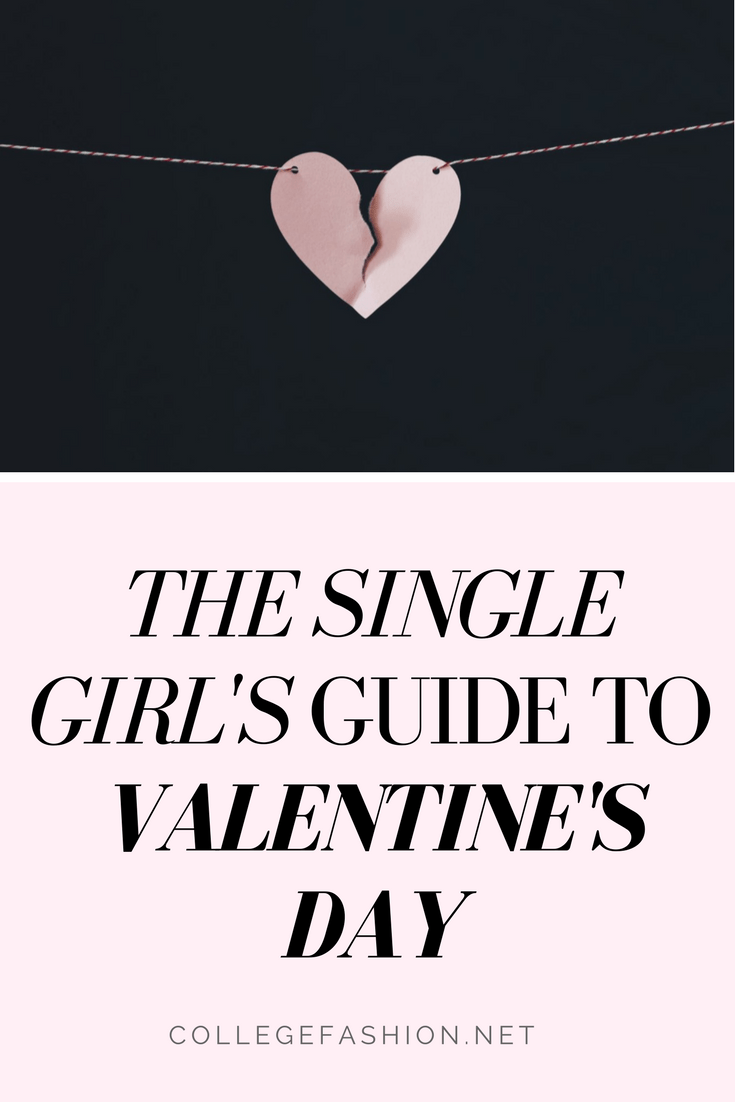 Two days ago, an elegant bouquet of freshly-cut tulips was delivered outside my door. From 12 to 4 p.m. (AKA thesis procrastination time), the package took on a life of its own, intriguing my neighbors and stirring rumors of secret admirers and rekindled romances while I struggled to stay off of Instagram at the library.
"Is it an early Valentine's gift?," a friend of mine asked, having eyed it on her way up the apartment complex. "Do you have someone new in your life?"
Yeah…right.
You see, this February 14, I'll be celebrating the day sans S.O.
That's right: Celebrating Valentine's Day alone. Not struggling to come up with a last-minute date or stuffing myself with chocolate truffles while I stalk happy couples on social media. Just rejoicing in my unattached, so-official-it's-on-Facebook relationship status and treating myself to a fantastic day of "me time."
Care to join me? Keep reading for my top 7 tips (& alternatives) on how to take charge of your happily uncoupled life this Valentine's Day.
P.S. The source of my mysterious flower bouquet, while not romantic in nature, is still pretty cool. Check out my last post to discover who it was. (Hint: it starts with the letter "H.")
1. Take a group fitness class
Release your anger over everything that's wrong with modern society — anti-vaxxers, Lady Doritos, the crass commercialization of Valentine's Day — with a kickboxing class. As you work out your frustrations in a healthy manner, feel your core tighten and the endorphins begin to kick in. HI-YAH!
Alternative: Sign up for a R.A.D. women's self defense class. 
2. Sign up for a single's subscription service
It's 2018 — of course there's a subscription box for singles.
SingleSwag, "the original, fastest-growing subscription box for single women!," caters exclusively to single ladies in need of #treatyourself magic. Monthly swag items (e.g., Wine2Go, "You're a Gem" makeup pouch, and brownie brittle) are meant to inspire and empower its young customers, who can choose between a SinglesSwag box and the more affordable SinglesSwag Petite.
I haven't tried it yet, but what's not to love about a company that donates a portion of all proceeds to the Breast Cancer Research Foundation?
Alternative: Splurge on that designer bag you've been eyeing since Christmas.
3. Stream Anti-Valentine's Day movies
Might I suggest choosing from a list of pre-approved singles hits?
Alternative: Watch a Sappy-with-a-capital-S chick flick and cry because your future S.O. will never be as hardcore romantic as Ryan Gosling.
4. Pen a card for a total stranger
On a day where you might feel like the world is plotting against you and your lack of a serious romantic relationship, remember that there are always others who are worse off.
Therefore, make it your goal to influence someone's happiness this Valentine's Day. You can easily send a sick child an e-Valentine, participate in Letters of Love, mail a care package to a deployed U.S. troop, donate newborn essentials for a family in need, or even buy yummy Ecuadorian chocolate.
Alternative: Call your parents for no other reason than to tell them you love them.
5. Volunteer at your local animal shelter
So, your faith in humanity crumbles a little every time you have a cringe-worthy Tinder date. But you know who won't let you down and gossip about your hookup to mutual friends?
Puppies!
Alternative: Facetime your family pet.
6. Treat yourself to an at-home spa day
Whip out the cutesy animal moisturizing sheet masks, the aromatherapy candles, the DIY hair mask, and the glass (or two) of Chardonnay — you're in for a day of a easy rejuvenation.*
*For best results, take a break from social media while you're pampering yourself.
Alternative: Get a head start on next week's school assignments.
7. Celebrate Galentine's Day
If you don't want to be alone on V-Day, that's totally understandable. Instead of staying indoors by your lonesome, spend the day with your favorite ladies doing what ladies do best: eating waffles and exchanging gifts. For more on this amazing holiday, see our ultimate guide to Galentine's Day!
Alternative: Watch a whole season's worth of 'Parks and Recreation'.
Thoughts?
What are your plans for Valentine's Day? Do they involve any of the items listed above? Do you have any Valentine's suggestions for your single girlfriends?
Leave a comment below!