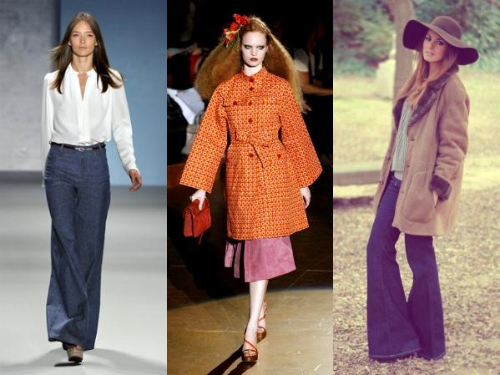 1. Derek Lam Spring 2011 RTW 2. Marc Jacobs Spring 2011 RTW 3. Zina via Lookbook
In case you hadn't heard, everything from the seventies is in this spring. Ever since multiple designers featured looks influenced by the '70s in their Spring 2011 RTW collections, the trend has slowly been gaining popularity.
Now that '70s-inspired pieces have made their way into stores, expect to see lots of wide-leg pants, peasant blouses and platform sandals this season.
Need some inspiration to truly channel this look? Check out these three fashion-forward '70s-inspired outfits for inspiration:
Outfit #1: That '70s Show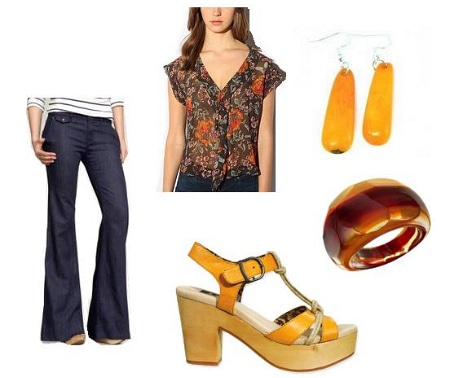 Jeans, Top, Earrings, Ring, Sandals
This outfit is a simple, yet fun way to try out the '70s trend. Pair some wide leg trouser jeans with a lightweight floral blouse. Add some bright yellow platform sandals for a comfortable and fashionable look. Finally, throw on some '70s inspired jewelry, like this glass ring and these bright orange earrings.
Outfit #2: Boho Betty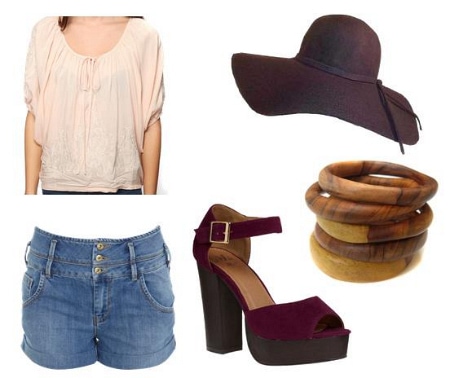 Blouse, Shorts, Hat, Bangles, Sandals
This ensemble will be perfect for that warm weather that is really just around the corner. (I promise!) Try out a flowy peasant blouse and tuck it into some high-waisted shorts. Add some chunky sandals and layer on the eco-friendly wooden bangles. For a finishing touch, add an oversized floppy hat and bask in the sun's rays. Just don't forget the SPF!
Outfit #3: Feelin' Groovy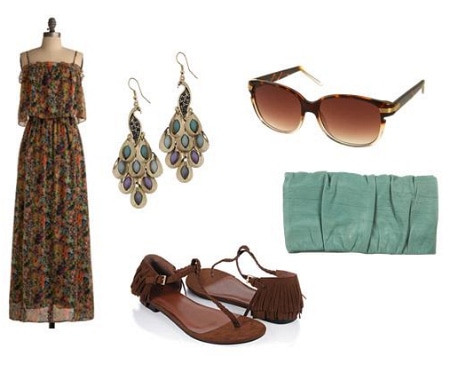 Dress, Earrings, Sunglasses, Clutch, Sandals
For this look, pair a gorgeous printed maxi dress with some comfy fringed sandals. Accessorize with a pair of fun peacock-shaped earrings and a matching blue clutch. Slip on some '70s-esque sunglasses and you'll be ready to groove along to some classic rock.
What do you think?
Do you like the '70s trend? Which pieces from this era would you wear? Which of the outfits is your favorite? Be sure to leave a comment and let me know your thoughts!