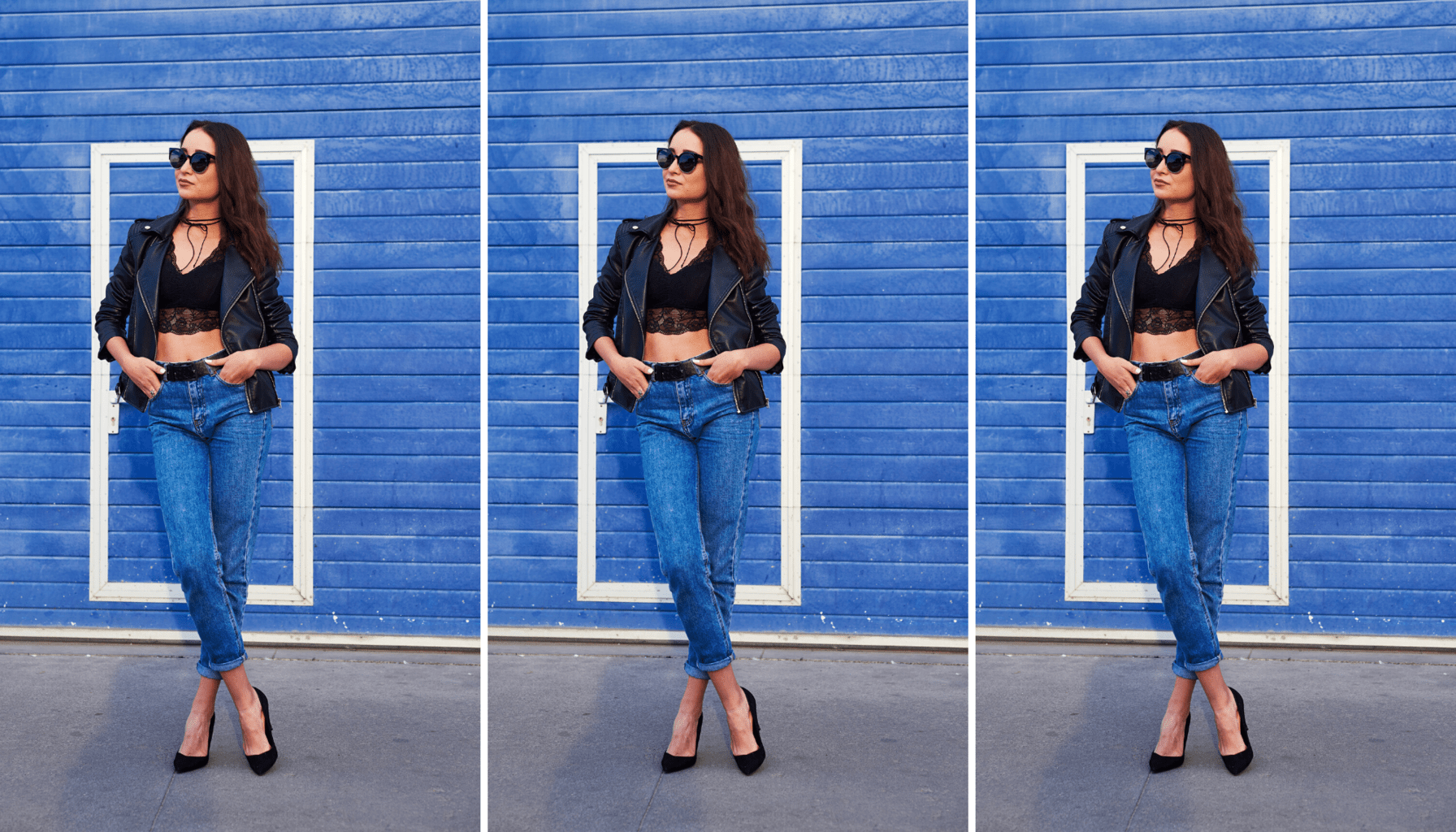 Fun fact: I haven't bought a pair of low-rise jeans since 2010.
Don't get me wrong; a low-slung pant will always scream crazysexycool to me, but the effortless femininity of a high waist has ruled my heart for the last five years.
A staple in every great modern (and vintage!) wardrobe, the high-waisted jean is a timeless piece that every sartorially obsessed college student should own. However, here at College Fashion, we understand how difficult it can be to find the perfect pair– especially when you're inundated with lots of options.
So, down below is a compilation of tip, tricks, and techniques that'll guarantee you the best pair of high-waisted jeans.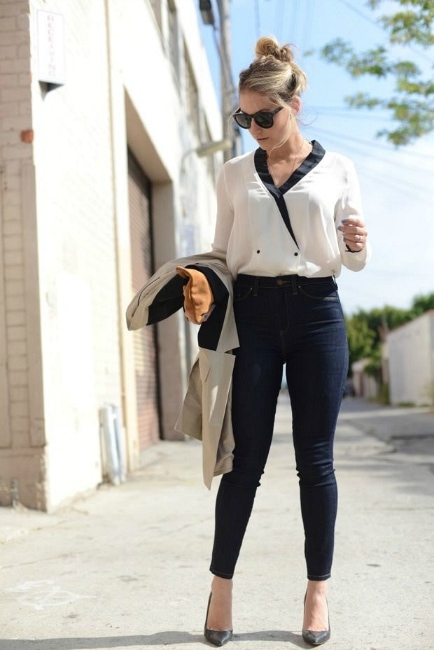 The Lingo
Proper denim terminology can often be a confusing jumble of rises and runs, inseams and ripped seams, and various fits and cuts that come together to create the perfect pair. Here's a quick rundown of words and phrases you need to know before you go out shopping.
Leg Opening
The leg opening of a pair of jeans is exactly what it sounds like– the width of the bottom hem. The most common denim leg openings are wide, flare, boot-cut, straight, and skinny.
Currently, the reigning champion of high-waisted denim is most definitely the skinny jean. But recently, the flare jean has seen an impressive resurgence among fashion trendsetters.
Inseam
The inseam of a pant is essentially the inside (inside/inseam) length of the leg. It is measured from the crotch to the hem of the jeans. Many brand offer jeans with various inseams to accommodate shorter and taller girls.
Rise
Rise is, by far, the single most important factor in pair of high-waisted jeans. It's what gives them a high waist! Simply put– the rise in a pair of pants is how far up your torso they sit. It is measured from the center seam of the crotch to the top of the front waistband.
There are three main rises manufactured by denim brands: low, mid, and high:
Low-rise jeans typically have between a 5-7" rise. These jeans usually sit 3-5 inches below the navel.
Mid-rise jeans have a 7 1/2-10″ rise and customarily fall 1-3″ below your belly button
High-rise jeans generally sit right at or above the navel. The rise can run anywhere between 10 1/2-12 1/12″. For a true high-waisted fit that hits at the smallest part of your waist (and is the most flattering), almost all brands have a "super high-rise" that is guaranteed to have at least a 12″ rise.
The Style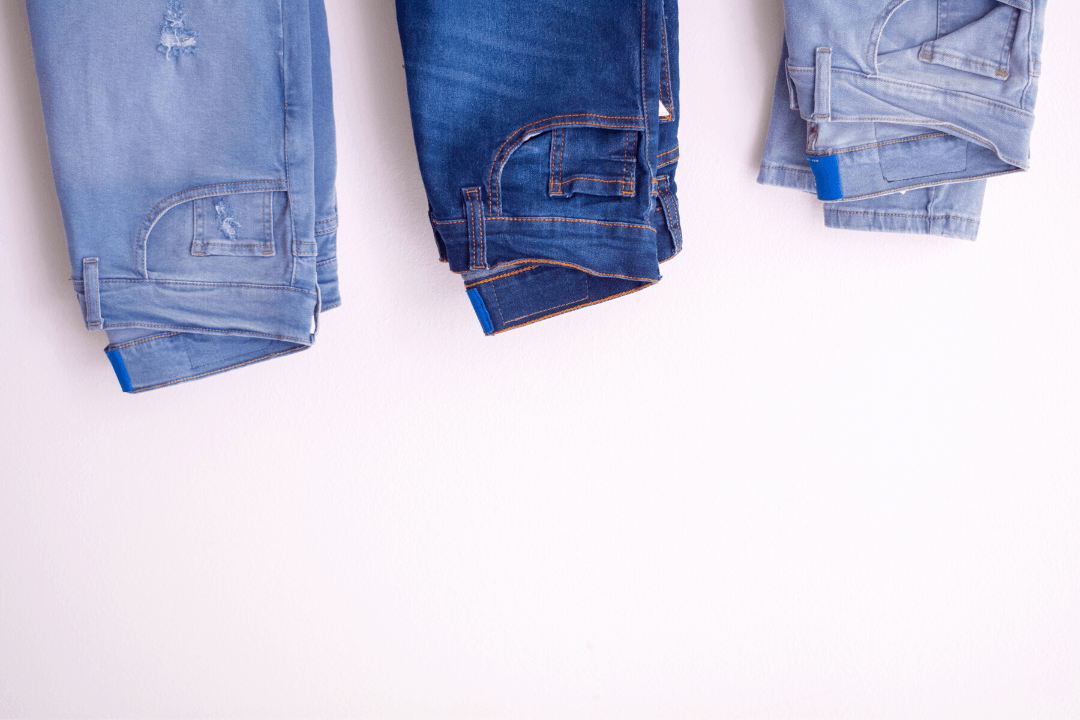 Even though a basic high-rise skinny is on everybody's back-to-school shopping list, there are several other high-waisted styles you should check out.
Skinny
A high-rise skinny jean is a classic pant that evokes both Tumblr hipster and Audrey Hepburn. This style, particularly in a dark wash, is universally flattering because it cinches you in at the smallest part of your waist.
Girlfriend
We've all heard of boyfriend jeans, but have you tried on a pair of girlfriend jeans yet? These high-rise (commonly sitting just under the belly button), cropped jeans are great for tall, curvy girls. The shorter inseam highlights the length of your legs and the rise hugs your curves in all the right places.
Mom
Let's be real, mom jeans are nothing but high-waisted boyfriend jeans. These loose-fitting, high-rise jeans are perfectly on-trend for Fall 2015. Despite being a little difficult to wear, when worn properly, these jeans can make quite the statement. Mom jeans look best on girls with style and confidence to spare.
Flare
As previously noted, flare jeans have recently come back into style after the Fall 2015 runways featured many '70s-inspired designs. The extreme width of the leg make this style a tad intimidating, but surprisingly, it is flattering on pretty much every body type. So throw on a peasant blouse, get yourself some Farrah Fawcett waves, and prepare yourself for a different kind of #ThrowbackThursday.
The Buy
In order to give our lovely College Fashion readers a head start on their high-rise denim search, we've gathered a few of the best high-waisted options from around the web. Enjoy!
Further reading: Our list of the best fitting jeans brands out there.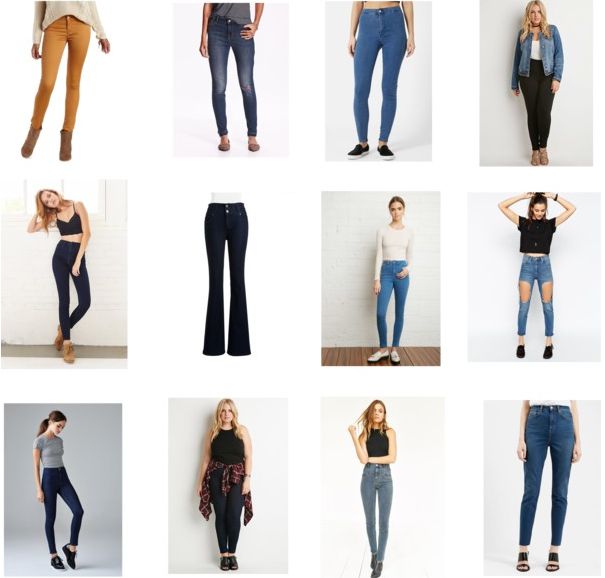 Top: Charlotte Russe, Old Navy, Topshop, Forever 21+ | Middle: Urban Outfitters, Lord & Taylor, Forever 21, ASOS | Bottom: Forever 21, Forever 21+, Urban Outfitters, Topshop
For more info on high-waisted jeans for your specific body type, check out this immensely detailed post from our friends at Refinery29.
What do you think?
Do you own any high-waisted jeans? What's your favorite brand? Any particular style that you love? Let us know in the comments!