This post may contain affiliate links, which means we may receive a commission if you purchase through our links. Please
read our full disclosure here
.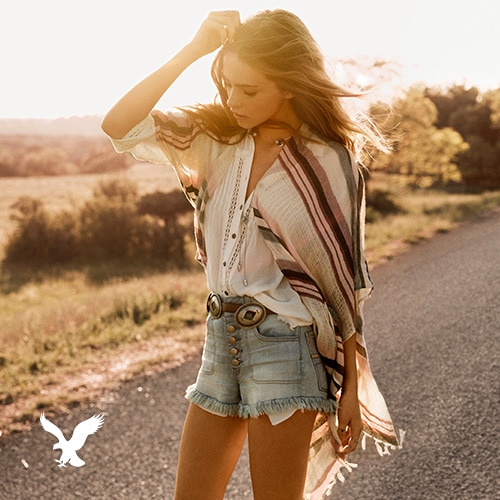 Thank you American Eagle Outfitters for sponsoring this post. While this was a sponsored opportunity from American Eagle Outfitters, all content and opinions expressed here are my own.
With back to school coming up, new jeans top every girl's shopping list. This week, we've partnered with American Eagle Outfitters to share the five hottest denim trends you'll want to snag for back to school.
1. The Classic Skinny
If you only buy one denim style on this list, the classic skinny should be it. This jean works with any fashion aesthetic, from preppy to edgy, and looks great with every last item you own.
For the most versatility, opt for a dark wash with minimal detailing (like the middle style, above). You also can't go wrong with classic white – it's especially good if you have a preppy style. Light washes are trendy right now, so they're also a fun choice.
2. The Distressed Skinny
Distressed skinny jeans are having a huge fashion moment right now; they're sprinkled across every fashion girl's Instagram feed. If you want to look cutting-edge for back to campus, this is the style to buy.
The hottest trends in distressed denim are knee rips on black or white skinny jeans (styles 1 and 2 above). If you want to go all out, ultra-distressed styles like the one on the right are sure to turn heads and show off your edgy style.
3. The Boyfriend
Or as we like it call it, the official denim style of brunch. The boyfriend jean has been popular for a while, and we love it for college as it's a stylistic step up from sweats that's still ultra comfy.
A little distressing is a good thing when it comes to the boyfriend jean. You can't go wrong with a classic wash like the center option above, but we love the white style at right for the warmer months.
4. The '70s Throwback
All things 1970s-inspired are trendy this year. As huge fans of Boogie Nights, Three's Company, and Almost Famous, yeah, we're pretty excited about this.
Our favorite way to rock the '70s trend is with a good boho flare jean, as shown above. High-waisted styles like the one on the left are unexpected and fun, while dark washes, like the middle style above, are classic enough to wear for years to come.
5. The Vintage Cutoff
Let's face it: As much as we may want to wear our fall wardrobes on September 1st, warm weather usually sticks around until October. Fashion adjustments are therefore needed.
Enter denim cutoffs. Rock them with warm-weather staples in the early semester and with jackets, scarves, and ankle booties once it cools down a little. You can even add tights underneath to wear them into November. Perfection.
What's on your fall denim wish list?
Which styles are you going to rock this fall? Which one of these is your favorite? Are you going to try the '70s trend? Let us know by leaving a comment!