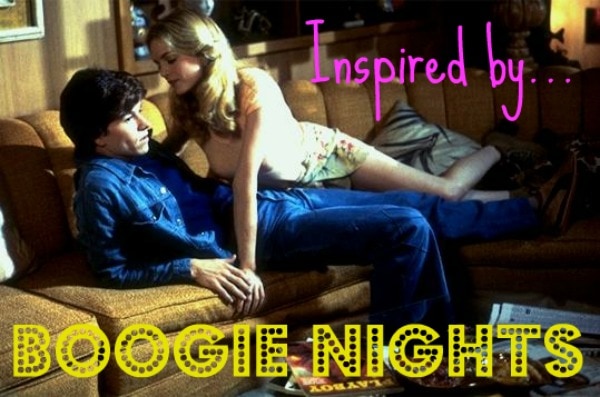 My favorite fashion era is definitely the 1970s. I love everything about '70s style – the platform shoes, the earthiness carried over from hippie counterculture, the glam of disco, and the voluptuous hairdos. I'm also passionate about the art of film. The combination of these two subjects inspired me to write about one of my all-time favorite movies…Boogie Nights.
About the Film
Boogie Nights tells the tale of an ordinary boy with, um, an extraordinary gift, who is discovered at a night club and becomes a mega adult film star during the golden age of porn. Yes, I realize that this doesn't exactly sound very CF-friendly, but you'll have to see the film to get the true concept behind it. (Just don't watch it with your parents!) The movie is more focused on the characters' personal journeys and the surrogate family they create for each other than on their unorthodox professions.
With a killer soundtrack, an amazing all-star cast featuring Mark Wahlberg, Heather Graham, Julianne Moore, Burt Reynolds, Phillip Seymour Hoffman, William H. Macy, Don Cheadle, and John C. Reilly, and visionary direction from P.T. Anderson, it's a flick that's definitely worth watching.
The cast battles through drugs, discos, and debauchery all while looking perfectly '70s glam. Read on and get inspired!
"Boogie Nights" Style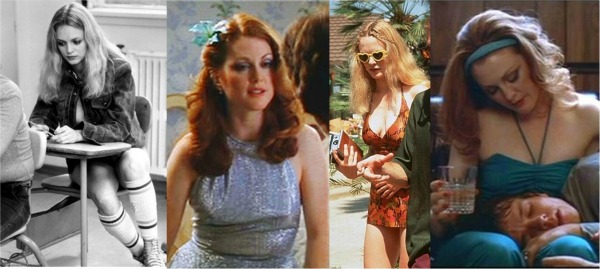 The two leading ladies of the story, Rollergirl (Heather Graham) and Amber Waves (Julianne Moore) use glitz, teased hair, and colorful makeup to achieve a look that's part disco glam and part So-Cal casual. Bright colors such as turquoise and pink appear in most of their looks, and they frequently wear trendy '70s pieces such as halter necks, peasant tops, high-waisted shorts, and jumpsuits.
Amber Waves, played by Julianne Moore, is the more glamorous of the two. Her ensembles often feature silk scarves, sequins, and hair teased at the crown. To steal her look, go for a brightly colored sundress paired with your tallest platform sandals, deep colored eyeshadow, and a bright rep lip.
Rollergirl, played by Heather Graham, is younger than Amber and has a more casual style. She's often seen in jumpers and a crocheted vest, and even rocks lolita sunglasses in one scene. Rollergirl's signature pieces are her rollerskates, which she NEVER takes off — even when um, "acting" in her films. Although rollerskates are pretty impractical for everyday wear, I love the idea of picking a signature item and featuring it every day. Blair Waldorf has her headbands, Elizabeth Taylor had her diamonds, why not pick out something that's unique to you?
Outfit Inspiration
No fashion post would be complete without a few fun outfits for inspiration. Here's a few to get you started!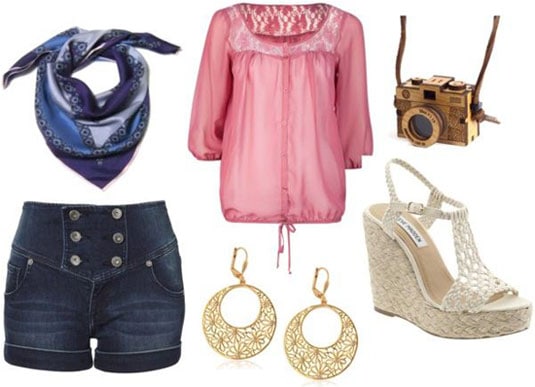 Shorts, Earrings, Sandals, Blouse, Scarf, Necklace
This fun, playful look will be so much fun to rock once the warm spring weather hits! Start with a structured pair of denim shorts, and add a flowy peasant top. Get some '70s style with hoop earrings and a pretty silk scarf. Finish the look with a pair of strappy espadrilles and a camera necklace — taking Polaroids was was one of Rollergirl's hobbies!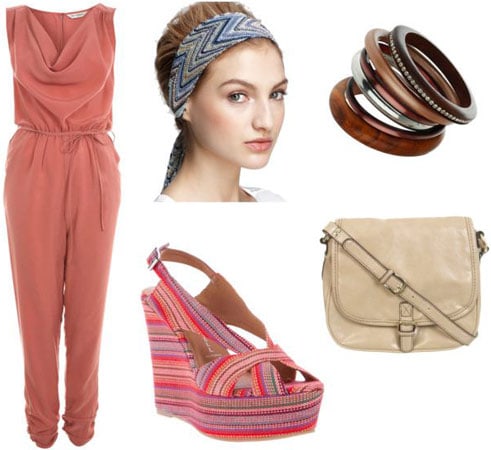 Jumpsuit, Wedges, Headscarf, Bangles, Purse
This look is bold, but could easily be toned down by substituting a simple romper for the jumpsuit. That being said, this suit is something I could definitely see Amber Waves rocking while lounging by the pool at Jack Horner's house. Give the look some added '70s flair with a cross-body bag, perfect wedges, a stack of bangle bracelets, and a Missoni headwrap. So chic!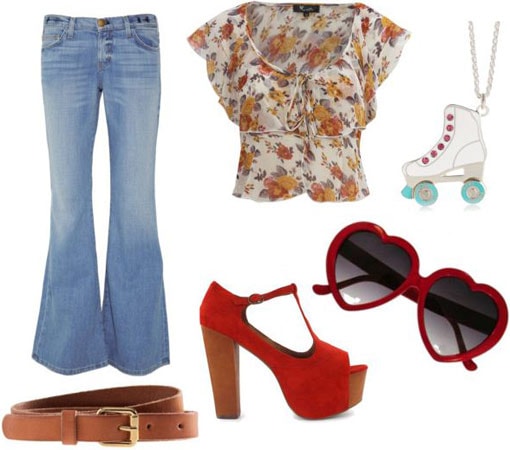 Bellbottoms, Blouse, Necklace, Sunglasses, Shoes, Belt
This look is playful and fun, like Rollergirl! Dig up your favorite pair of flared jeans from high school and update them with a floral cropped top (if you dare!) and trusty black belt. Platform sandals will make your legs look miles long. Finish the look with a pair of Lolita sunglasses and a rollerskate necklace.
Thoughts?
Have you seen Boogie Nights? Who was your favorite character? What other movies do you draw fashion inspiration from? Any films you'd like to see CF cover? Leave a comment and tell us what you think!!