EDIT: We've just learned that this skirt sold out today. While it may come back into stock at Wet Seal (and will likely be available offline at your Wet Seal store), for now it's not available – we seriously apologize! If you want this skirt, we recommend you keep checking Wet Seal's website or your local store.
Some similarly-styled alternatives: Papaya Clothing's Simple Blue Mini Skirt or Rose Pattern Mini Skirt – both $9.99 each, Forever 21's Rose Print Skirt – $8.80, and Urban Outfitters' Urban Renewal Blossom Skirt – $39.
This week's Fabulous Find is from Wet Seal, a store that I used to shop at when I was in middle school and wanted nothing more than to wear neon tube tops and light-wash denim mini skirts. (I know, I know.)
So when I think of this store, I'll be honest – I don't think of the most high-fashion, chic clothing around… However, that doesn't stop me from going in there and having a look around whenever I'm in the mall. And I am not ashamed to say that I've actually found some really cute things there, for literally rock-bottom (my favorite) prices!
This adorable floral mini skirt is a great example – it's on sale online for just $8.99! Definitely a steal, and definitely very versatile and right on trend for spring.
The Skirt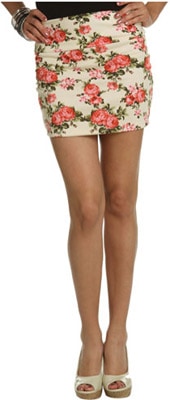 Floral Pull Over Skirt – $8.99 at Wet Seal
Outfit Inspiration
Here are three different ways to wear this girly and fun summer mini!
1. Rocker Casual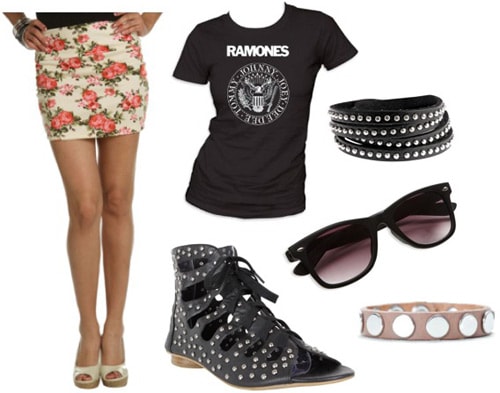 Skirt, Tee, Sandals, Black Bracelet, Nude Bracelet, Wayfarers
This is the perfect example of how to take a pretty, feminine piece and make it completely badass. For this first look, which is obviously very casual, I chose to pair the skirt with a classic band tee (who doesn't love the Ramones?) and some killer studded lace-up sandals. For accessories, I chose a few studded bracelets in basic colors and a classic pair of – you guessed it – black wayfarers. I love this look for any casual occasion, whether it's a party during the day or a laid-back night out!
2. Pink & Pretty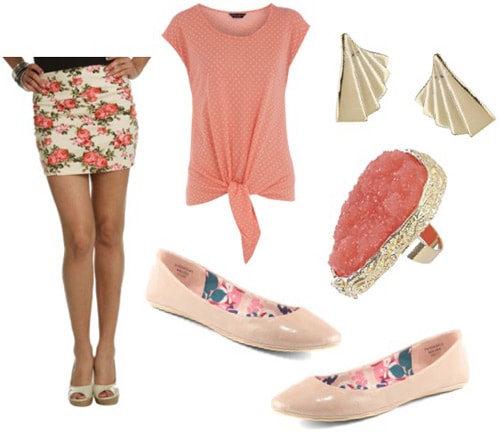 Skirt, Tee, Flats, Earrings, Ring
This look is ultra pink, and ultra adorable – perfect for you girly-girls out there. Here, I paired the floral skirt with a cute, subtly dotted coral tee that features a tie at the bottom for a slim fit. A few gold accessories such as the fan shaped earrings and the pretty coral ring keep the look polished, as do a pair of light pink flats. This outfit is cute and trendy while still managing to be polished – it'd be perfect for a nice lunch or even just running some errands.
3. Summer Dressy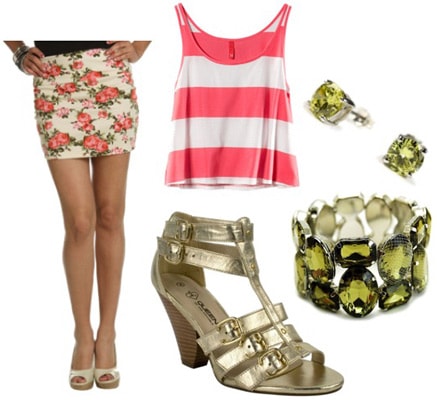 Skirt, Tank, Heels, Bracelet, Earrings
This look is a bit more dressy… at least by summer's standards! Although this striped, cropped tank is still pretty casual, the gold heels and sparkly emerald accessories definitely amp up the outfit and give it a more dressed up feel. This look would be great for a fun dinner out on a hot summer night!
Your thoughts?
So what do you guys think- would you wear this skirt? Have you ever shopped at Wet Seal? If so, have you found anything amazing there? Let me know what ya'll think!