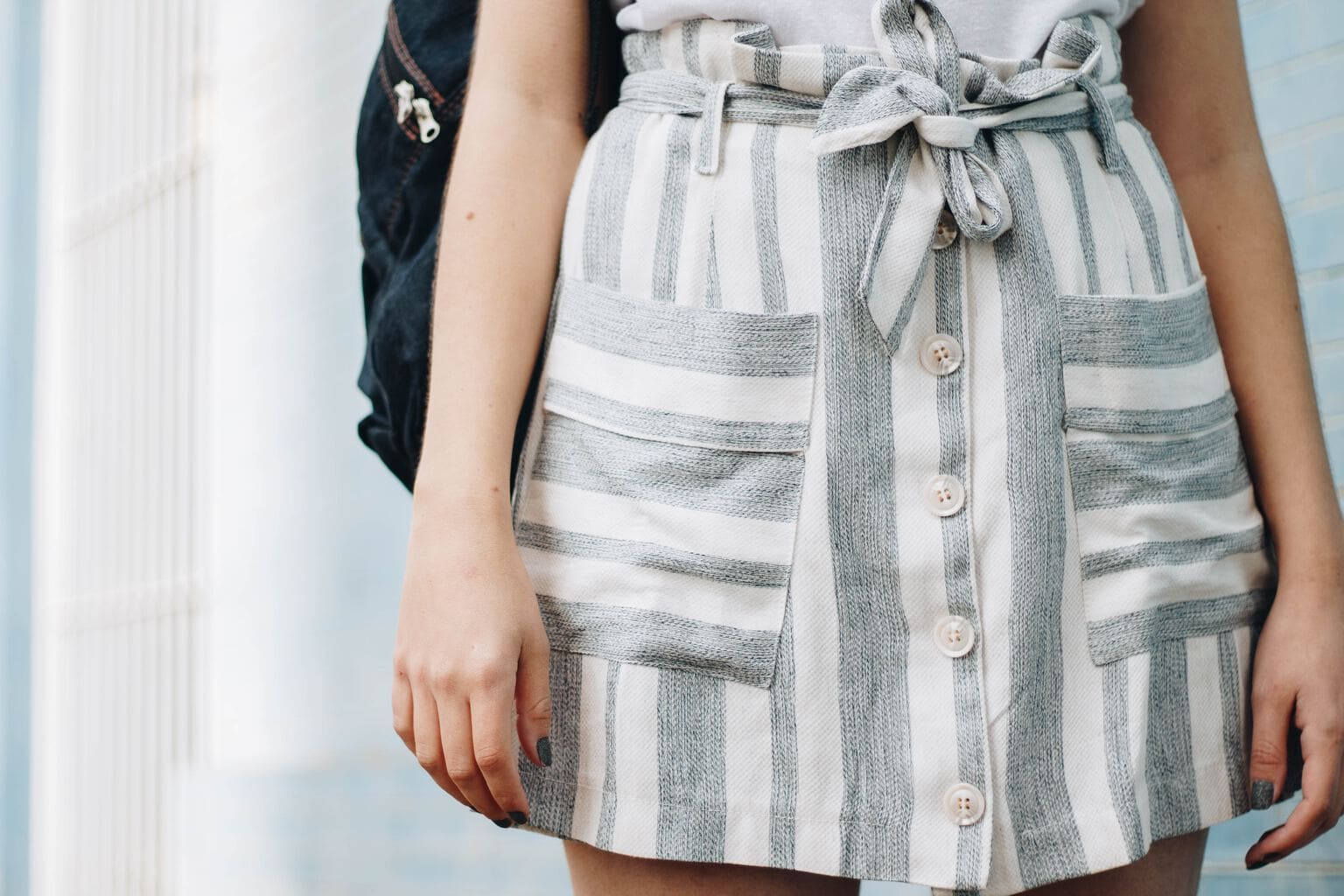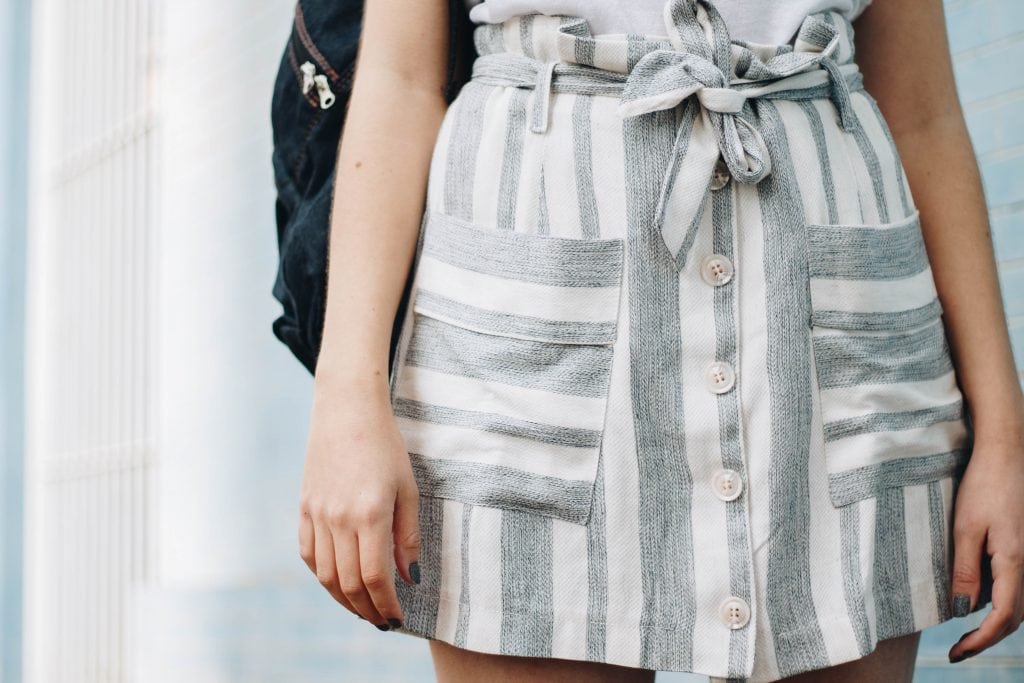 Summer is around the corner, and with it comes skirt season! But, if you're slightly dreading this most wonderful time of year, don't worry–you're not alone! Lots of people aren't sure how to style different types of skirts.
So, I've decided to put together this simple and handy guide to wearing mini, midi, and maxi skirts. I've also provided a few outfit ideas for each skirt style.
Now, you'll never fret over wearing a skirt again!
(Note: This article is meant to act as a more general guide, not a hard-and-fast set of rules to obey. Every fashion rule has its exceptions, after all!)
Style 101: Mini Skirts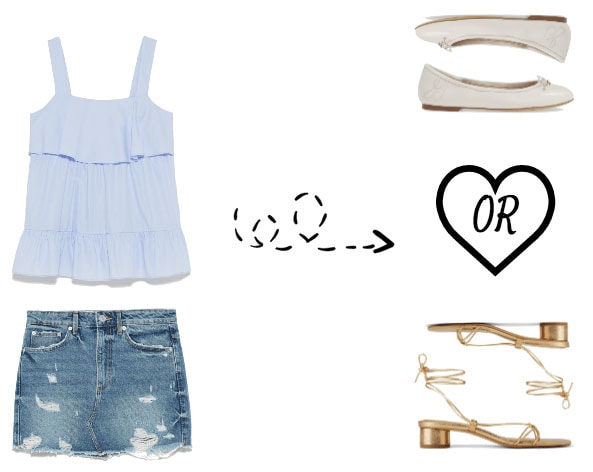 Products: Top – Zara, Mini Skirt – Zara, Flats – Nordstrom, Heeled Sandals – Zara
As far as skirts go, minis are some of the easiest to style. They tend to come in either fitted or A-line shapes (such as the denim one featured here). Moreover, because of their leg-lengthening properties, you don't really have to think about what kind of tops to pair with them, or whether to tuck your top in or leave it out.
I'd recommend avoiding cropped and/or very tight tops and going for something a little longer and looser, since you're already showing a lot of leg.
But, whatever you do, there should be least three inches of your skirt visible beneath your top! You don't want to look like you forgot to put on bottoms, unless that's specifically a look you're going for.
To avoid throwing off the proportions of your look, it's also generally a good idea to avoid wearing heels that are higher than two inches. (Although if you choose to go with wedges, you can afford to go a little higher than that.) So, kitten heels or ballet flats, such as the pairs featured above, make great footwear choices for mini skirt ensembles. (But loafers and sneakers would work quite nicely with many mini skirt styles as well!)
Style 101: Midi Skirts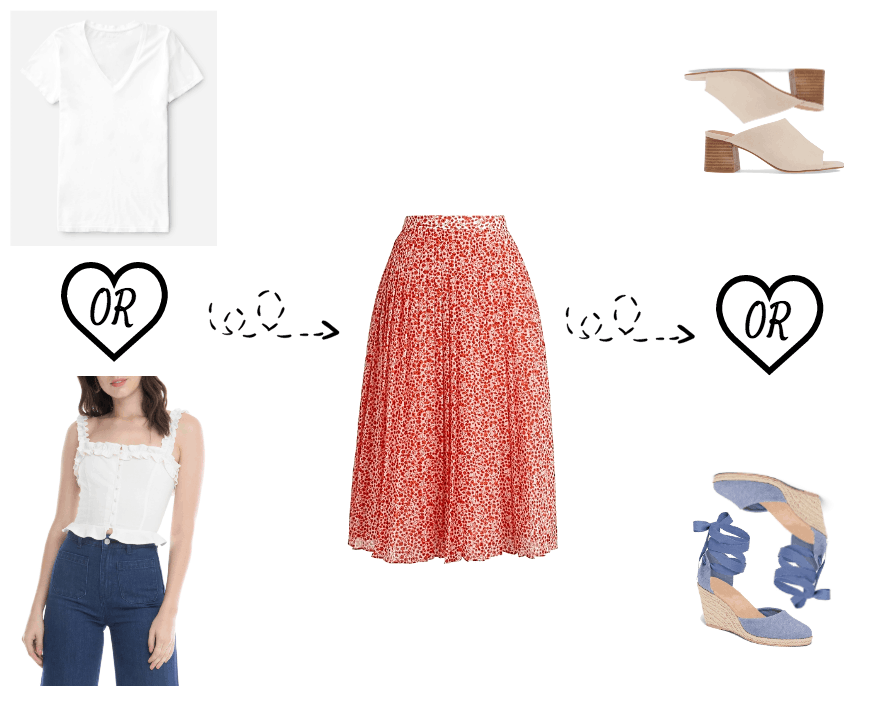 Products: T-Shirt – Everlane, Cropped Top – Nordstrom, Midi Skirt – J.Crew Factory, Heeled Slides – Nordstrom, Espadrille Wedges – Old Navy
Now it's time to talk about midi skirts, AKA the most difficult skirt length to pull off. Midi skirts come in all sorts of styles, from fitted pencil skirts to poofier, fancier skirts. They range in length from just below the knee to about mid-calf.
For the purposes of this article, I'm going to focus on A-line midi skirts, as they're one of the most common and easy-to-wear styles out there.
One thing that I've heard people say about midi skirts is that they're better suited to taller people. However, this is absolutely not the case, as midi skirts can be worn by people of any height! If you're really concerned about looking shorter in a midi skirt, though, try a pair of higher heels or wedges.
For a more comfortable and universally flattering option, a pair of mid-height heels or wedges works beautifully.
Now for tops! Wearing a fitted t-shirt or top tucked into a midi skirt is a great way to balance everything out. It's also a good way to avoid cutting off your body in an awkward place.
However, if you want to avoid the hassle of tucking in tops altogether, feel free to try out a slightly cropped top whose bottom reaches the very top of the skirt's waistline, or falls up to an inch below it.
Style 101: Maxi Skirts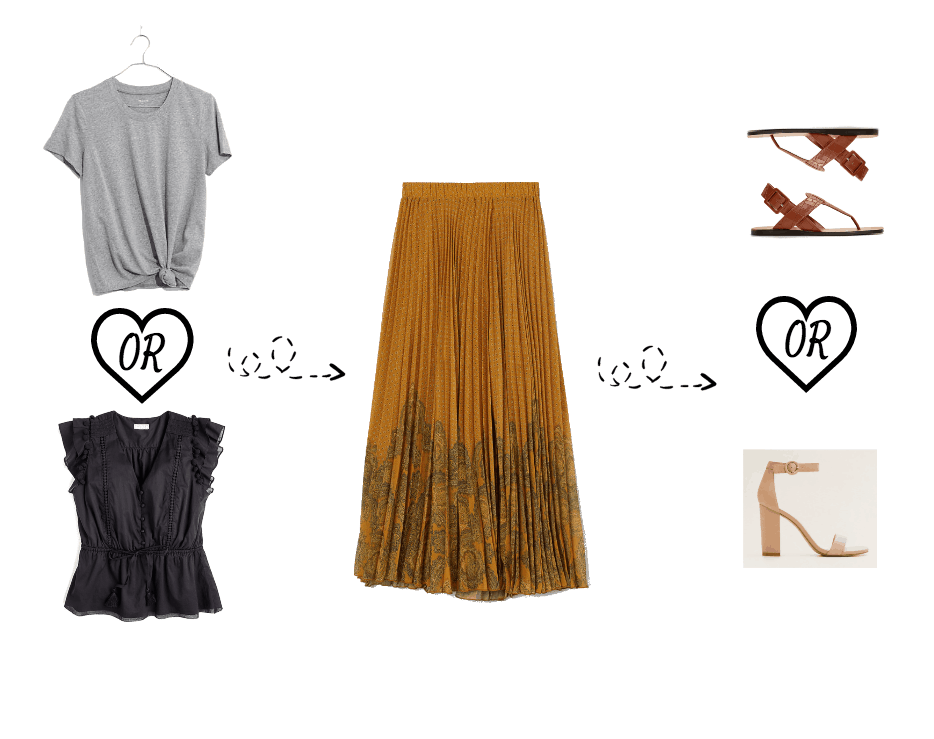 Products: T-Shirt – Madewell, Blouse – J.Crew, Maxi Skirt – H&M, Flat Sandals – Mango, Heeled Sandals – Mango
Last but not least, we're going to focus on maxi skirts. Maxi skirts range in length from a couple of inches above the ankle to floor-length. And, their silhouettes range from fitted to very formal ballgown styles.
With maxi skirts, you have a bit more freedom to play around with different top styles than you do with midi skirts. However, because you still want to maintain some shape, it's a good idea to either wear a fitted top or a cropped top like the one described in the Midi Skirts section.
For a more casual look, you can get away with wearing a looser t-shirt. But, if you do, it's a good idea to either tuck it in or to knot it at the bottom to add some shape and visual interest.
For more formal occasions, a blouse that either cinches or ties at the waist–like the black one shown here–is a pretty option as well.
Finally, when it comes to shoes, you can get away with pretty much any style when wearing a maxi skirt. For Summer, though, flat or heeled sandals are always classic choices, as are wedges of any kind.
What do you think?
Which skirt style is your favorite: mini, midi or maxi? Did you find this guide helpful? Do you have any further questions about styling mini/midi/maxi skirts? (If you do, I'll do my best to answer them in the comments!)
Let me know in the comments!