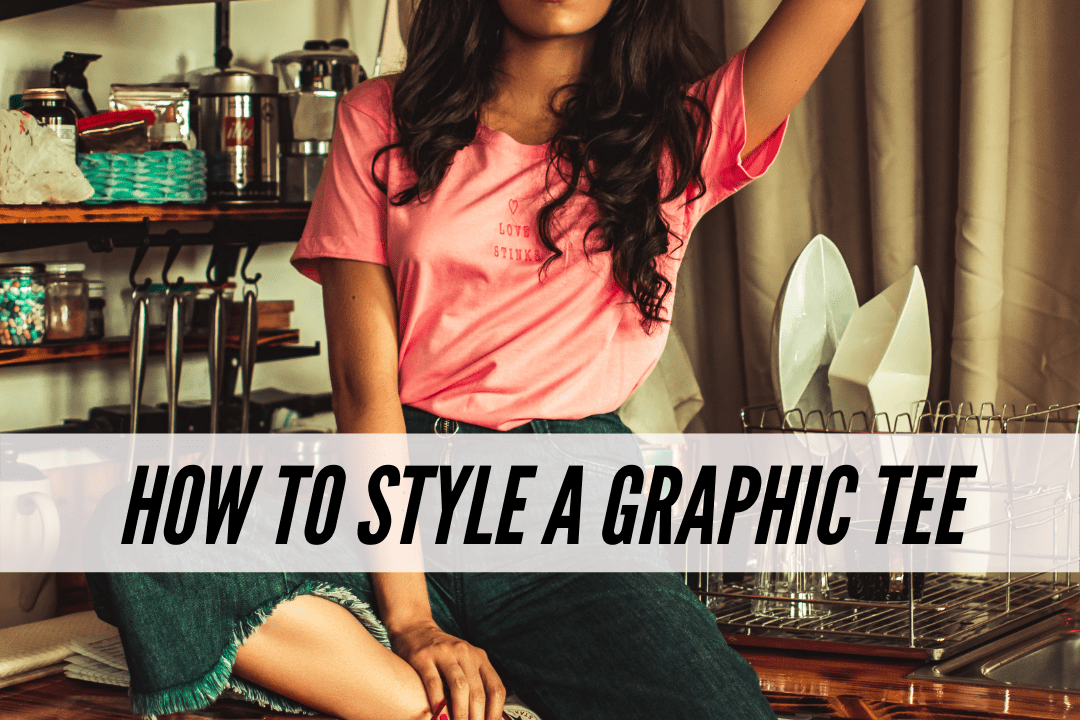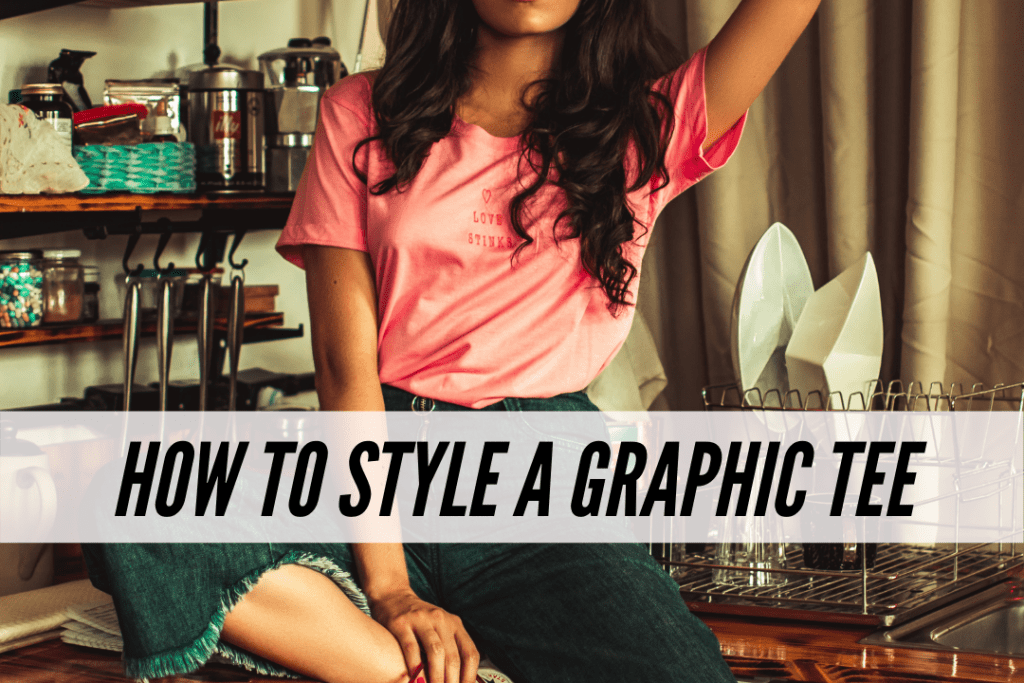 This post will show you how to wear a graphic tee the fashion girl way.
With many of us going back to our college campuses or apartments, we now have the struggle of trying to make the most of a limited wardrobe. For me, it's been a fun challenge to try and make the clothes I have do the most.
Graphic t-shirts have been a staple in my closet for years. They're my favorite to wear because they're a great way to show off my personality, music taste, and interests all while looking stylish! But sometimes, they can be difficult to style in outfits.
To help you out, I've put together 10 ways to style a graphic tee so that you'll be able to make chic outfits out of everyday basics.
Below, I'll show you how to wear a graphic tee, with plenty of style tips and outfits to help you rock this staple piece.
How to Wear Graphic Tees
There are so many ways to wear a graphic tee in an outfit – that's why I love my graphic tees so much! They show off your style while adding some interest to your outfit.
One great way to style a graphic tee is to tie it in the front. Whether you wrap the bottom of the shirt around itself or you have enough material to tie two ends together, it's a great way to accentuate your waist.
Another way to wear a graphic tee is the classic French Tuck, as popularized by Queer Eye. This method works best for tucking the shirt into some trousers, jeans, or even a skirt.
I love French Tucking my shirts because it lets me nail that casual-chic look while showing off the bottom half of my outfit.
A creative way to wear graphic tees that's often overlooked is to layer them under your outfits. Now that we're going into fall, the need to stay warm may make wearing some of our favorite outfits a bit more difficult.
By layering a graphic tee under a dress, overalls, or tank top, we can add a bit more coverage and make the outfit more unique!
If you're lacking inspiration on how to style graphic tees, don't forget to try out an oversized t-shirt! Paired with biker shorts or some high boots or stockings, oversized t-shirts can be a comfortable and unexpected look.
10 Cute Outfit Ideas
1. Go Baggy On Baggy with a Big Tee & Wide Leg Jeans
For a 2000s vibe, rock a baggy graphic tee with wide-leg jeans and chunky combat boots. Add a patterned mini bag for interest, and finish off the look with gold jewelry and rectangle sunglasses.
2. Rock a Cropped Graphic Tee with Leather Pants and a Cardigan
Cropped graphic tees are back in a big way, and I love this cute outfit idea incorporating a baby tee. Just pair your shirt with wide-leg leather pants (another hot trend), then add a colorful cardigan. This one looks so big and fluffy! Finish the look with combat boots and cool jewelry.
3. Mix Bold Colors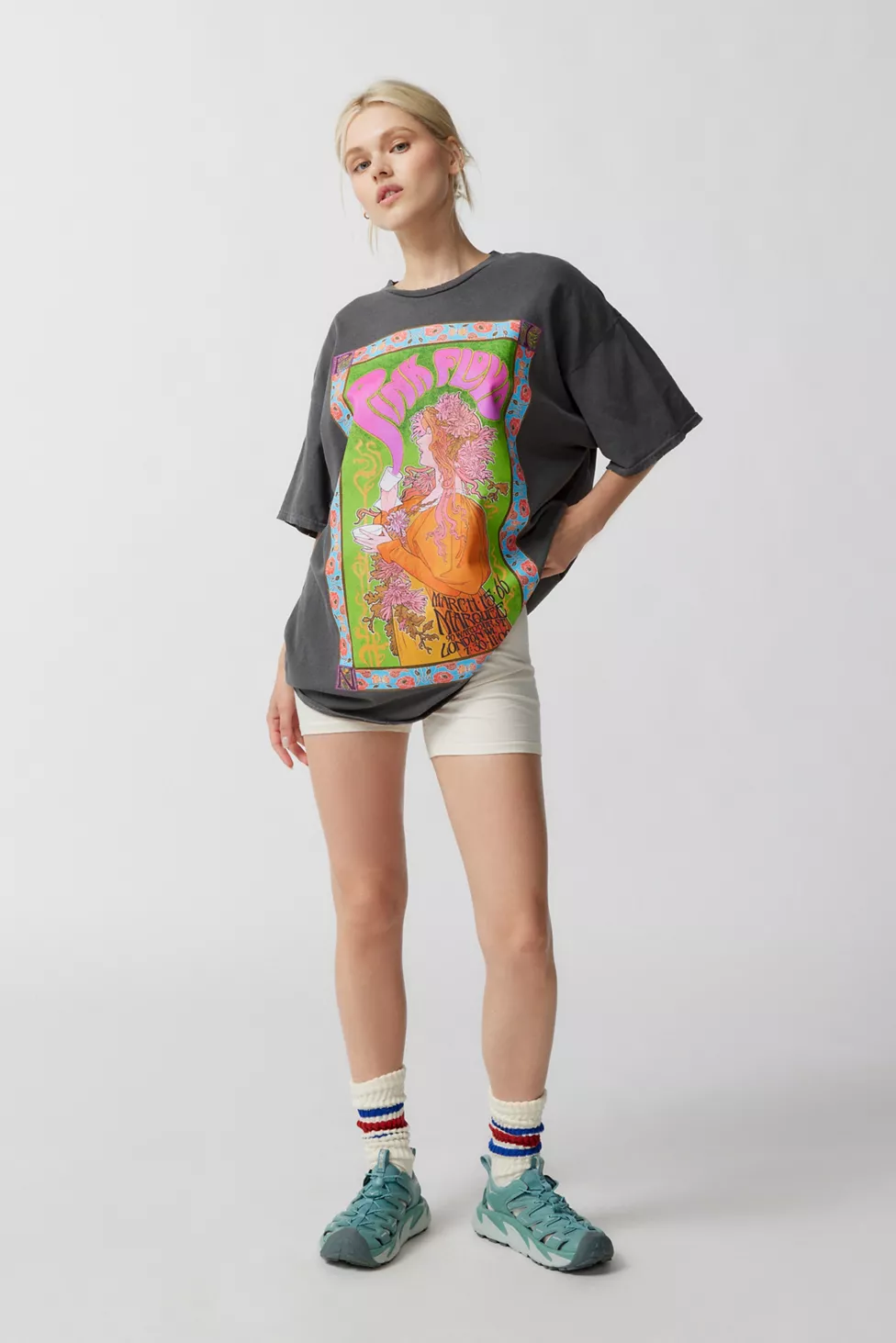 I love the idea of going bold with your graphic tee outfit. This cute look mixes bold colors for an outfit that really stands out from the rest. (Bright colors are trending this year, too, so go as crazy as you want with your color combo!)
To get this look, mix a colorful graphic tee with colorful flares. I'm obsessed with these dark red ones! Then just add simple sneakers like Air Force 1s (or cool boots as seen in the pic) and grab a mini bag. You're good to go.
4. Layer a Big Tee Over a Tennis Skirt
I love this creative graphic tee outfit — it's girly but also insanely cool. It's definitely going to turn some heads (and look amazing on your IG feed).
For this look, layer a big graphic tee over a trendy tennis skirt (these are everywhere right now). Then, add low top Vans sneakers and a mini bag, then pull your hair up with a claw clip.
5. Wear a Baggy Graphic Tee as a Dress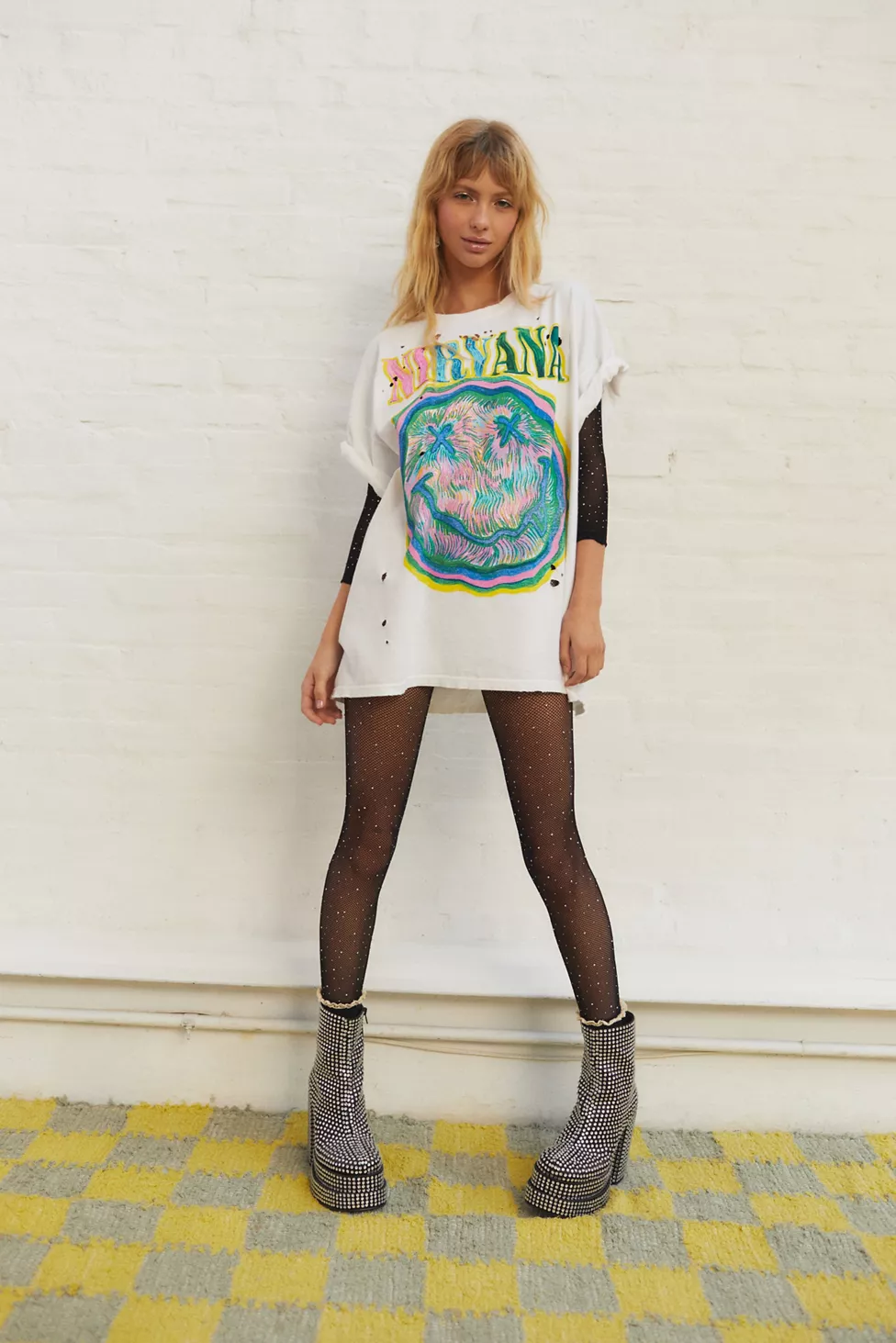 This is a classic styling idea for graphic tees, but I feel like I don't see it as often these days!
I love the look of a huge graphic tee worn as a dress with tights and combat boots. It's so edgy and unexpected, and it gives off cool girl vibes. Even better if you can get a colorful graphic tee, like this Nirvana one from Urban.
6. Colorful Casual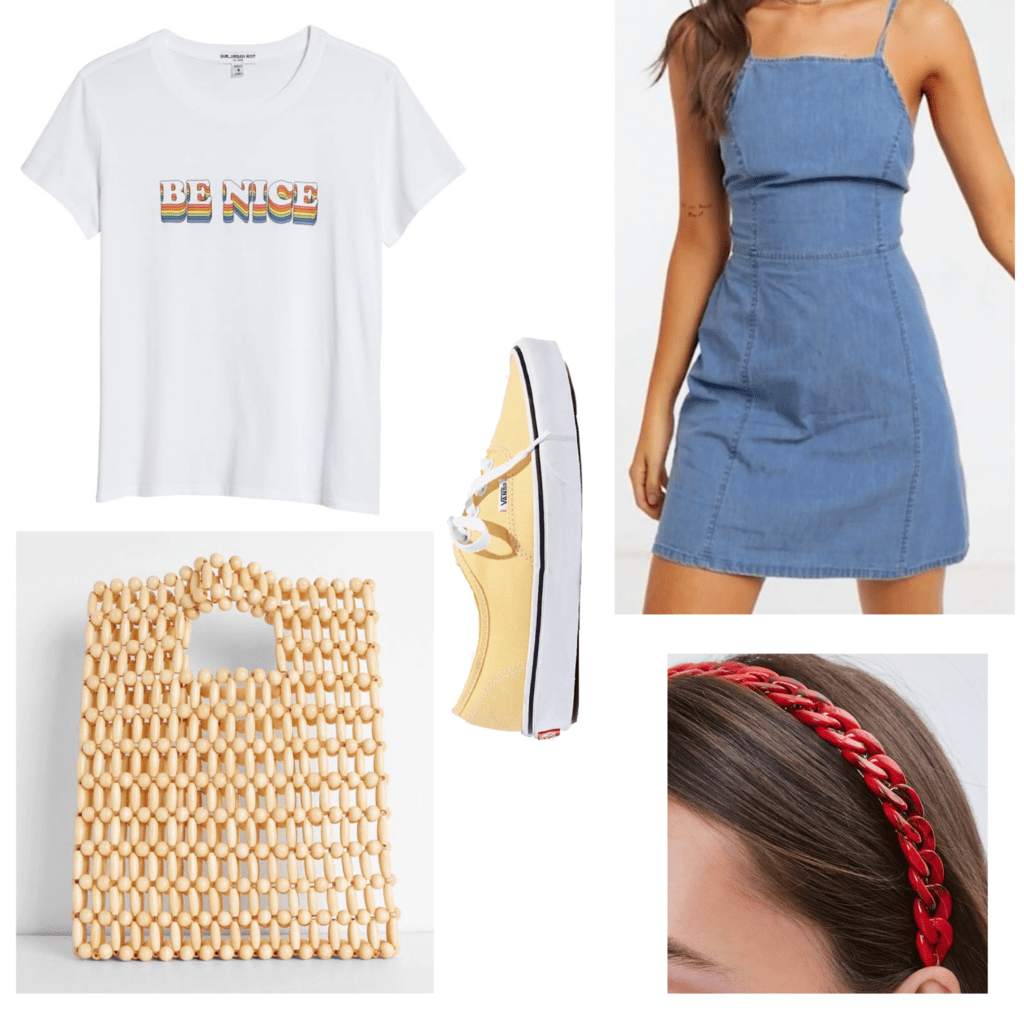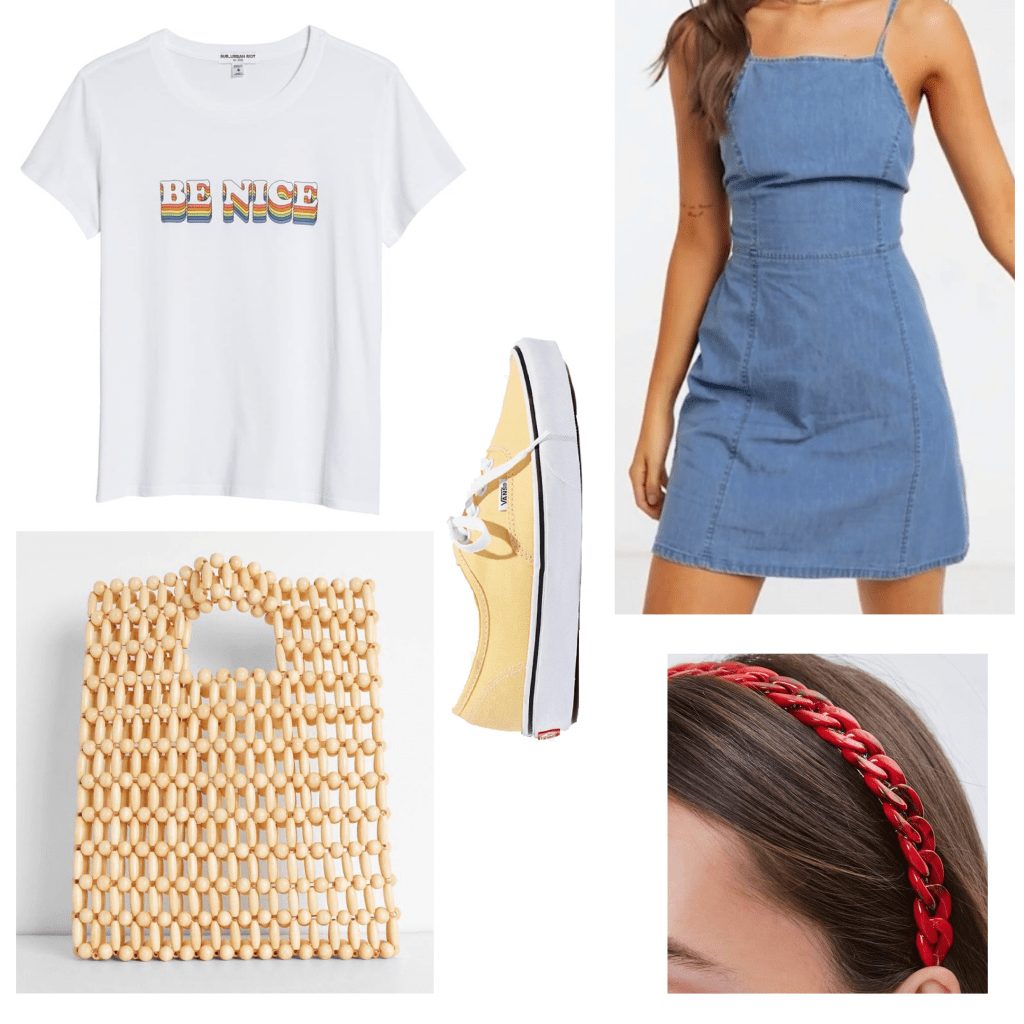 Products:
For the perfect summer-to-fall look, let's take advantage of the warm temperatures and break out a cute dress one more time. This is a great way to experiment with layering graphic tees!
This denim dress is perfect because it can be worn under or over the t-shirt (depending on if you want the graphics to show), and it looks great either way! To bring out the colors in the tee, throw on some baby yellow canvas sneakers.
For accessories, this bold red headband adds a childlike sense of whimsy to the look, and this beaded bag will have you ready to head straight to the farmers market. 
7. Everyday Monochrome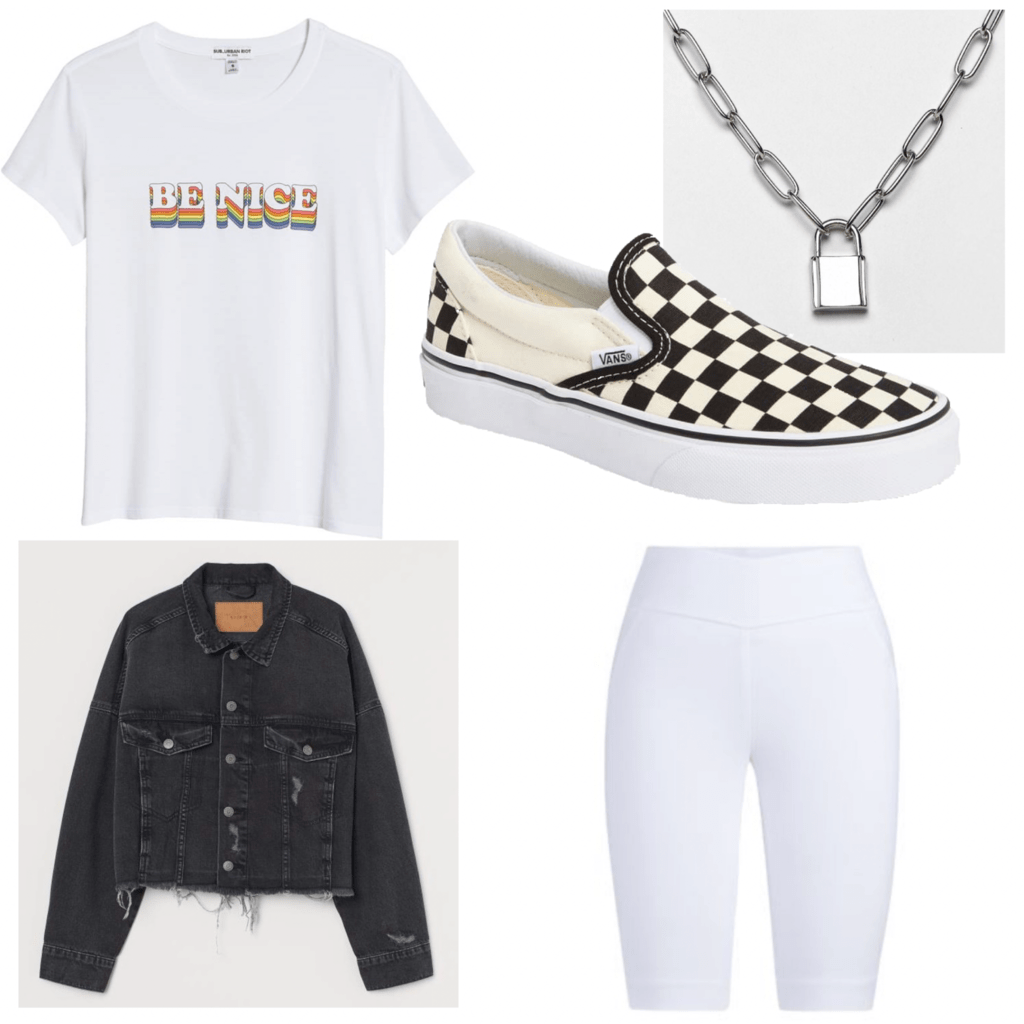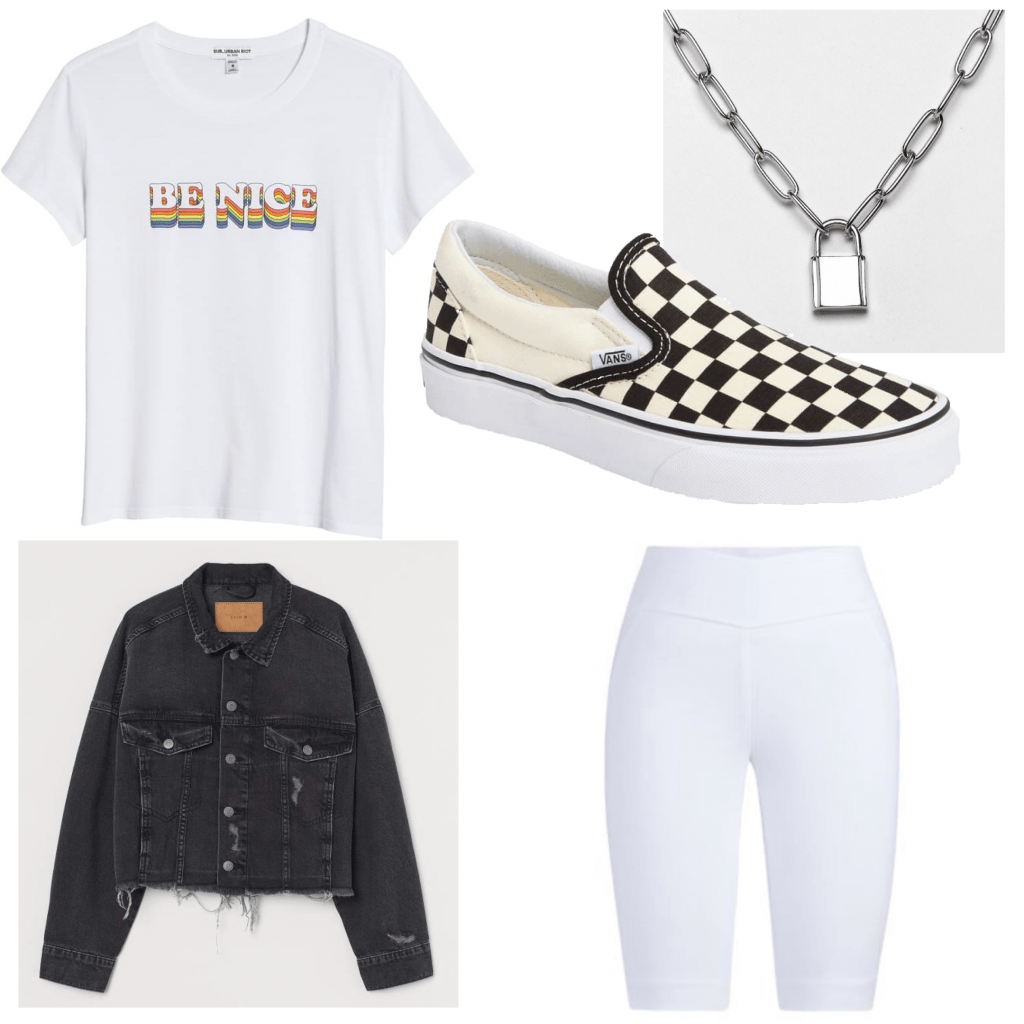 Products:
When you want to throw on something casual but stylish, graphic tees are the way to go.
Pair this graphic tee with some white biker shorts for a sleek, monochrome look. Add a classic pair of checkered Vans for a grunge vibe that will keep you comfy on your feet all day long.
An oversized black denim jacket is the perfect layering piece, and adds interest to the silhouette of the all white ensemble. Finally, a silver lock-style necklace is a great edgy yet subtle accessory to finish this look.
8. Business Chic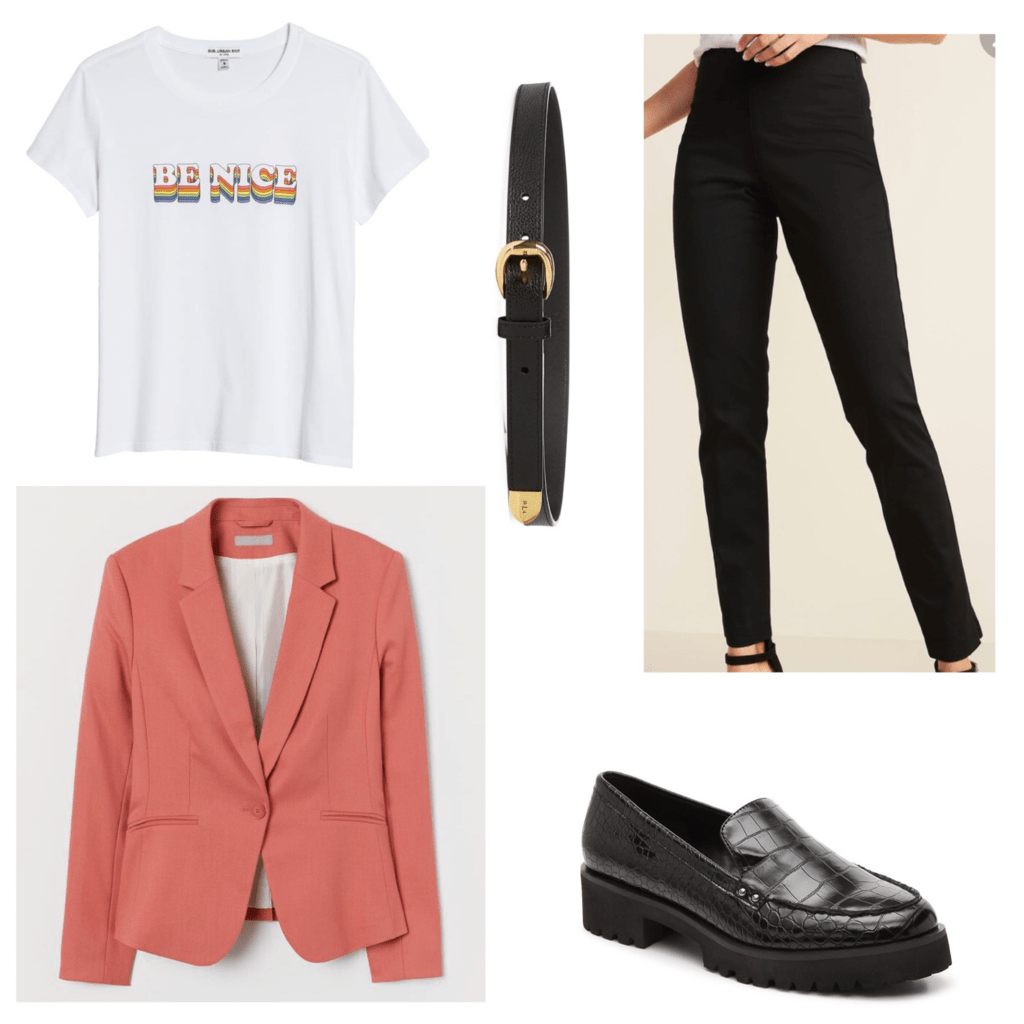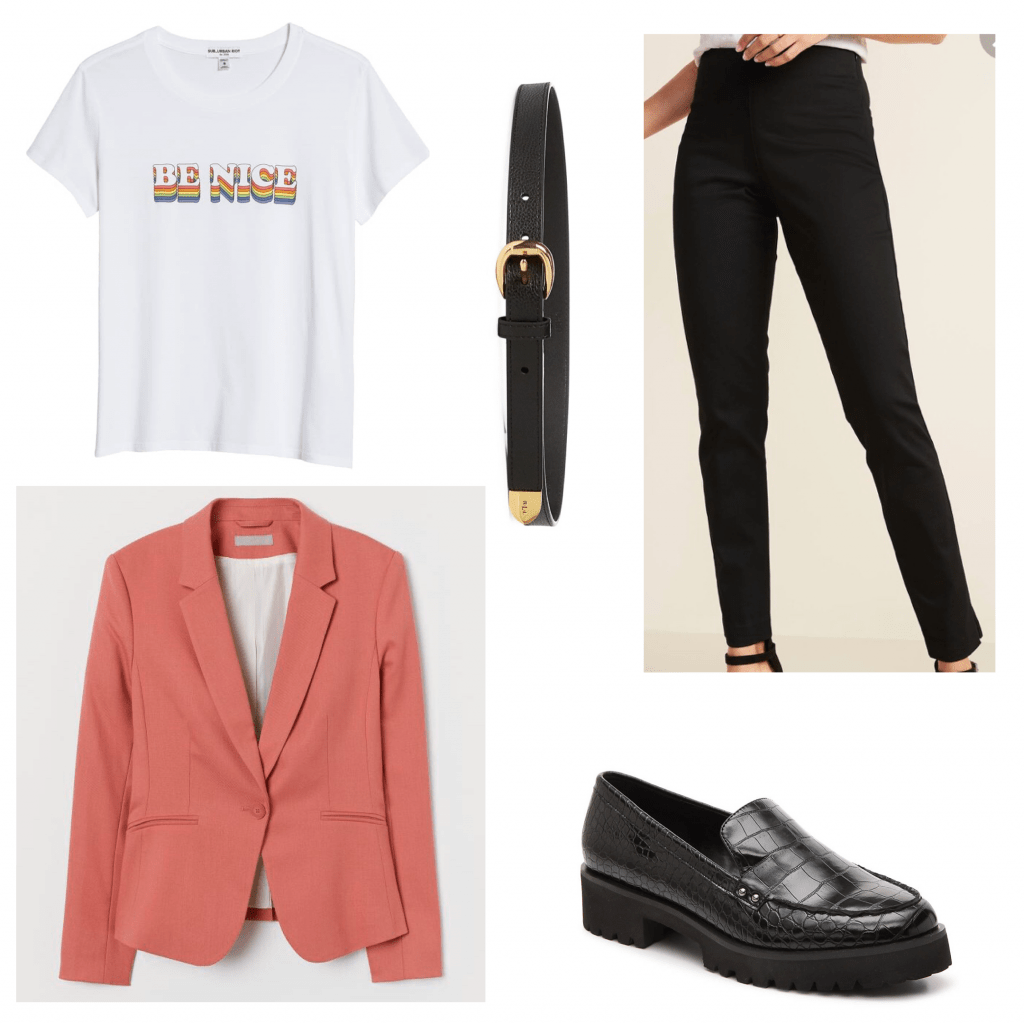 Products:
This look is perfect for a casual Zoom meeting or office setting; it would even be a great outfit to rock out to dinner.
Start by pairing your tee with a colorful salmon blazer that matches the graphic. Black cigarette pants elongate the legs and will tone down the colors of the outfit so you're good to go for the office.
Black textured loafers and a black leather belt add that extra bit of chic-ness to the ensemble, and will make you look super put together!
9. Comfortable & Edgy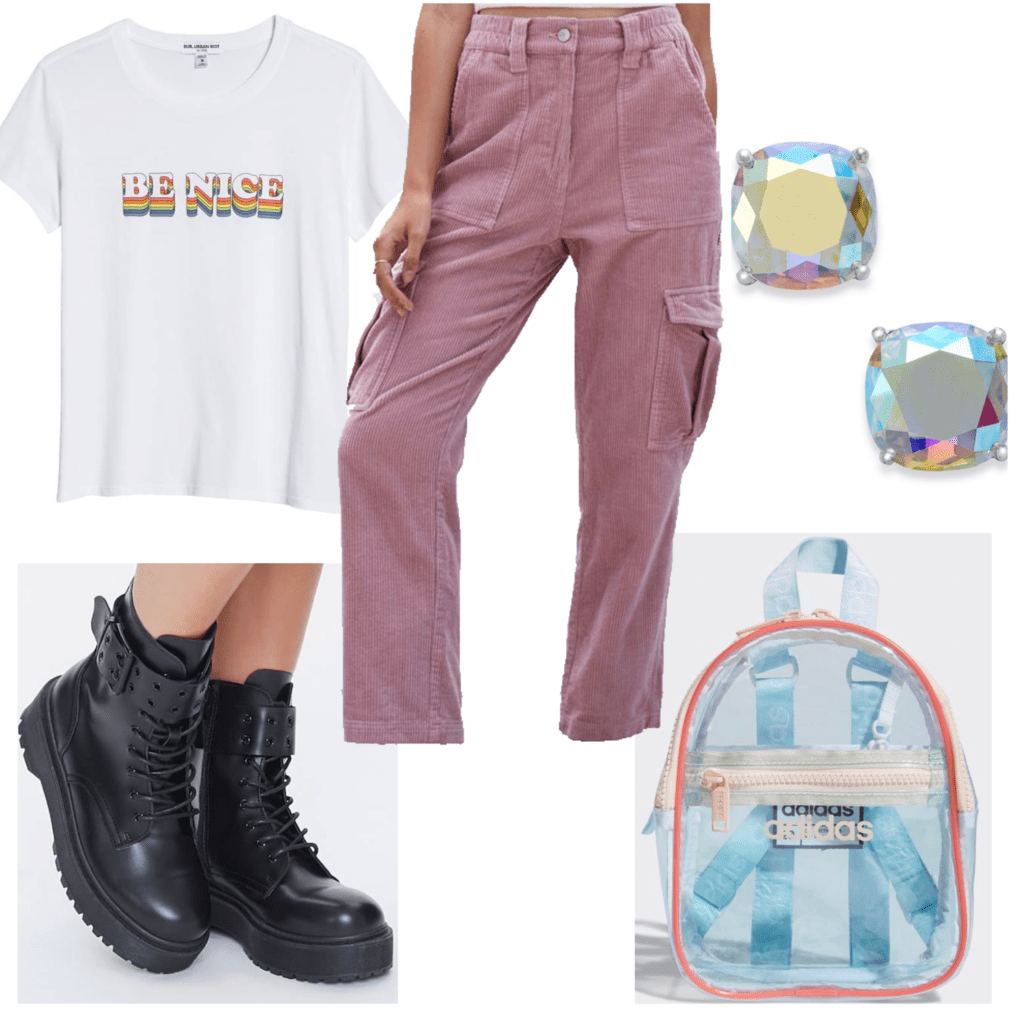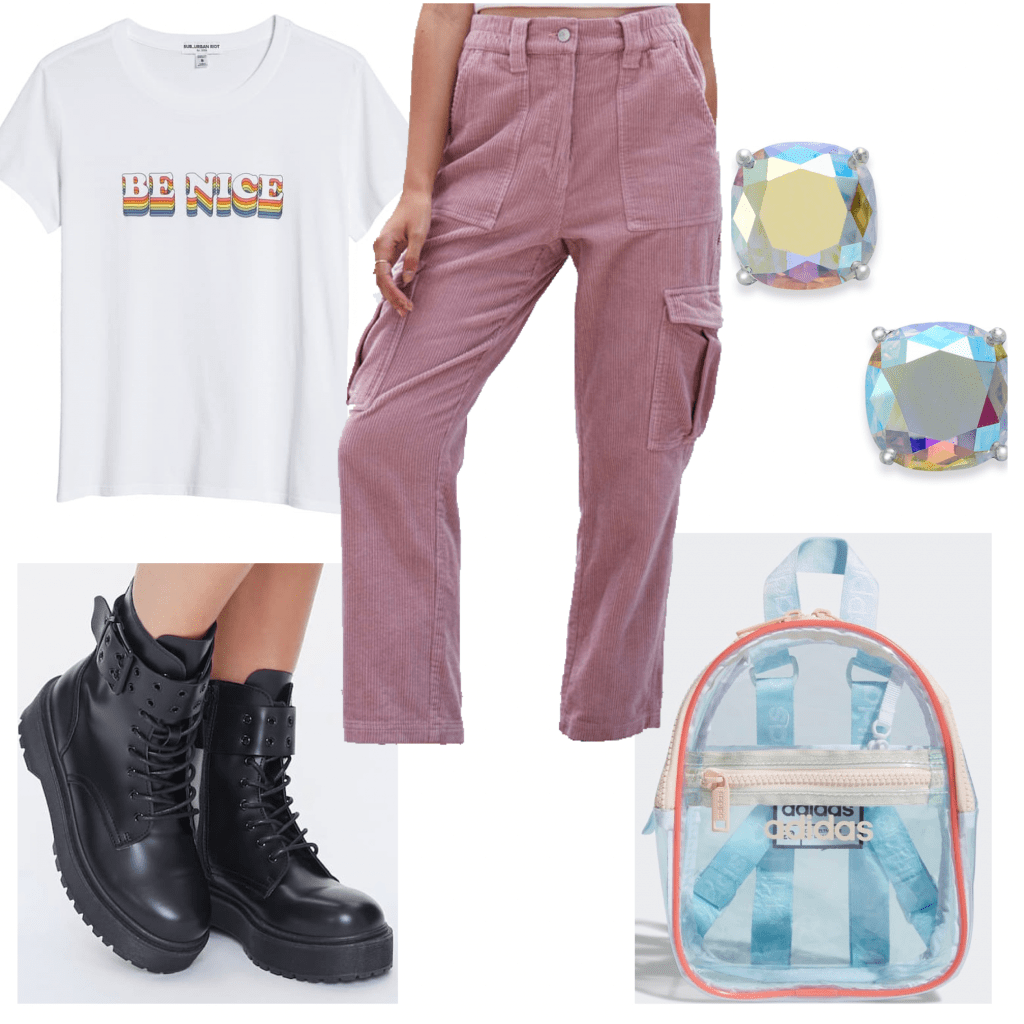 Products:
I love this look for a day out this fall, since it's utilitarian and cute at the very same time.
Wear the graphic tee with a pair of corduroy cargo pants in a fun color so you'll be sure to stay toasty this season. Black combat boots bring out the lettering in the t-shirt and will be super comfortable for a day spent on your feet!
Finally, what's more fun than some holographic accessories? This clear holographic mini backpack is perfect for storing your essentials, and these holographic earrings are sure to be an eye-catching finish for the look.
10. Sunday Brunch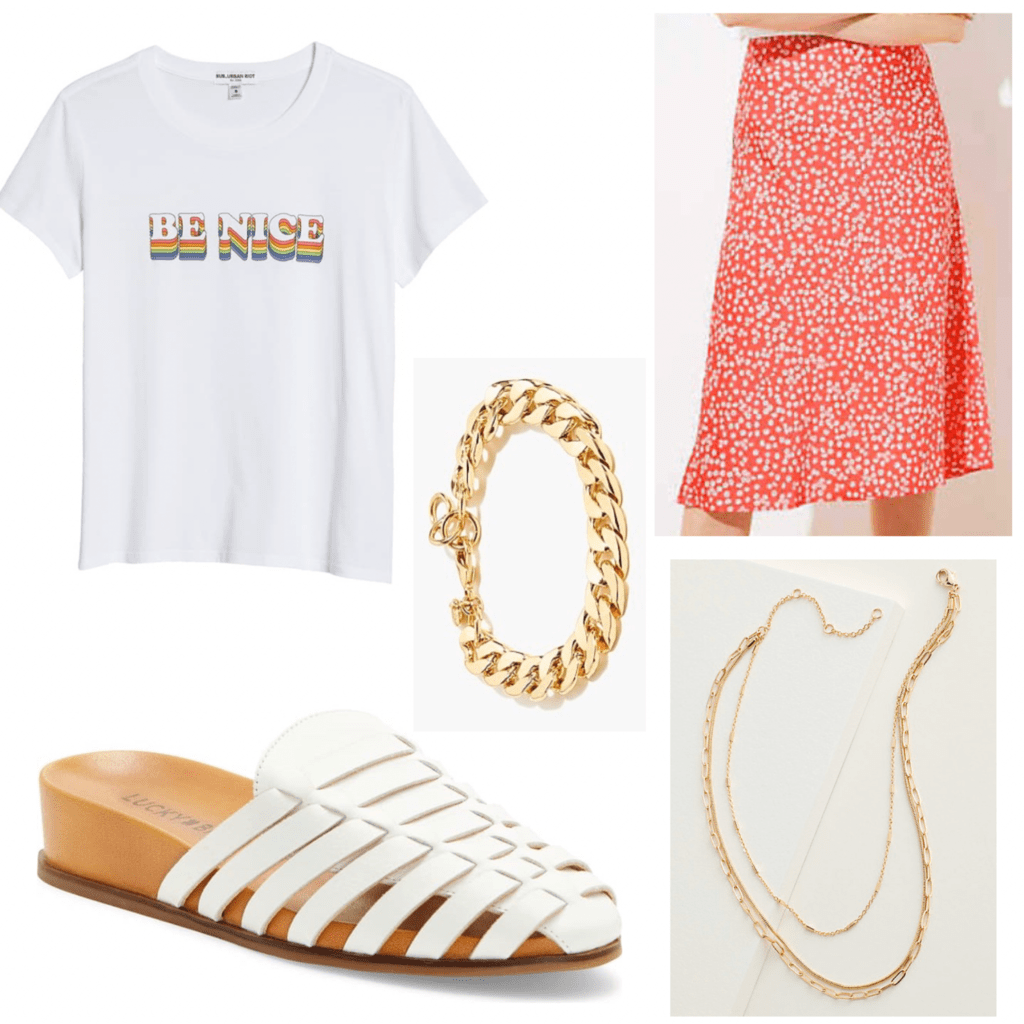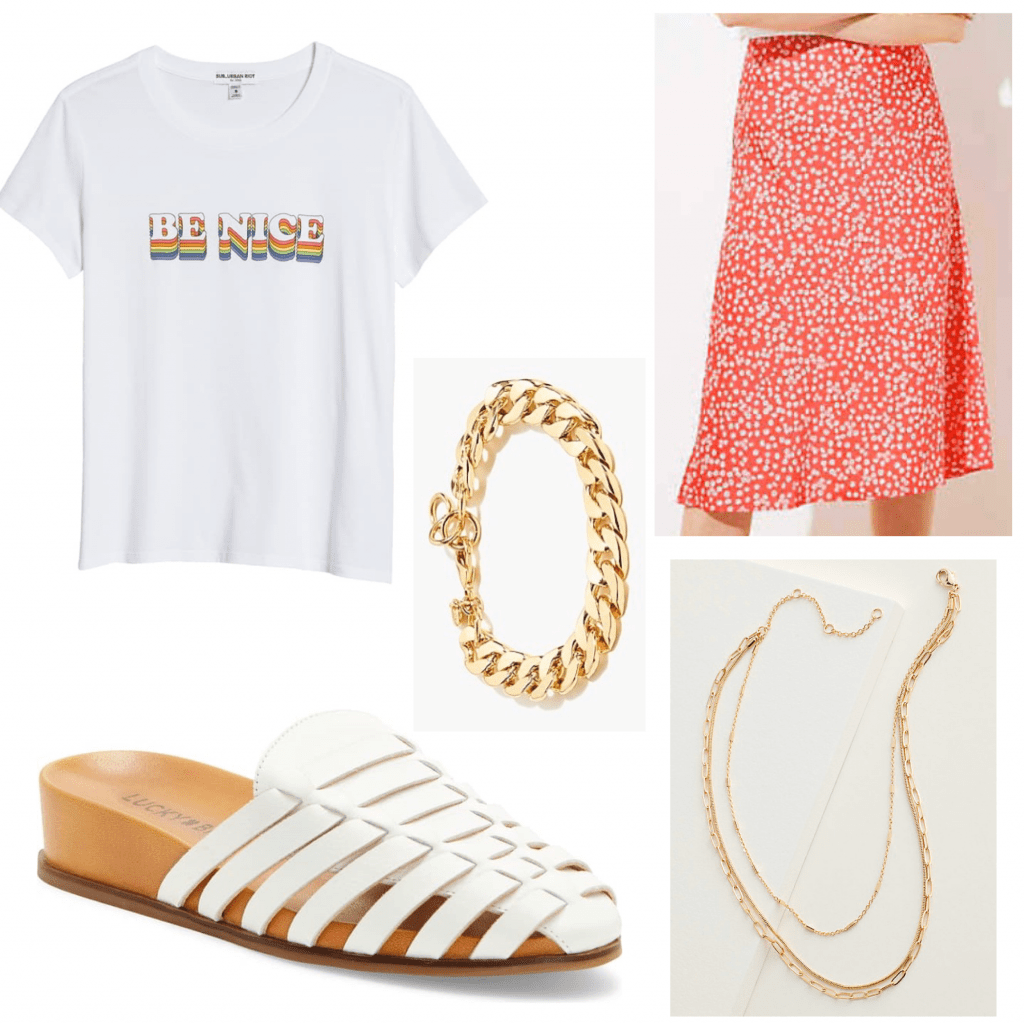 Products:
One of my favorite ways to wear graphic tees is to mix prints! The key to mixing prints is to keep the outfit simple, but elegant.
Here I pair the graphic tee with a red floral skirt that matches the color of the letters. These white mules are a perfect lightweight flat shoe that will be both pretty and comfortable for a girls' day out!
To finish the outfit, add some gold accessories like this gold layered chain necklace and chunky chain bracelet. This will bring the look together without overwhelming the outfit with flashy jewelry.
What do you think of our guide to how to wear a graphic tee?
How would you style a graphic tee? What's one piece from these outfits that you can't wait to try?
Let me know in the comments!
Related posts: