Brea's outfit is the perfect combination of laid-back and fierce.
Her booties initially caught my eye: Take a look at their bold embellishment and serious pop of color! Her overall style, however, resonated with me: She looks phenomenal while being casual and comfortable.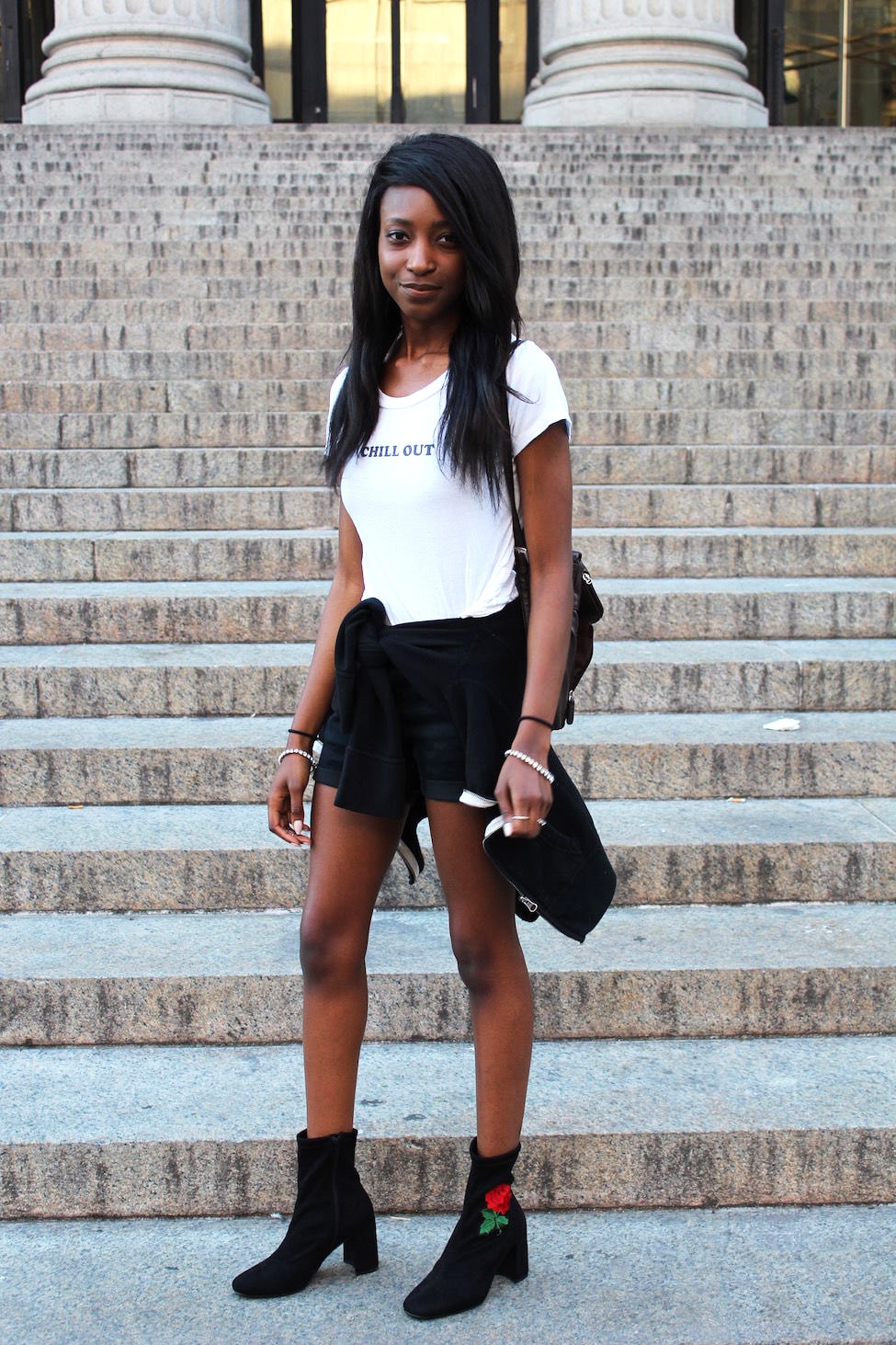 Brea 101
Name: Brea
Year: Senior
School: University of Missouri
Major: Journalism
Hometown: Moreno Valley, CA
Let's Talk Fashion
Who or what inspires your style? "I have a lot of different sources of inspiration. Fashion bloggers definitely give me some outfit ideas and then I just kind of put my own twist on things. I'm also really inspired by celebrities like Zendaya, Rihanna, Aleali May, Cara Santana, and Cara Delevingne. Their [senses] of style definitely align with mine."
Where do you like to shop? "Anywhere and everywhere that a college student can afford! But more specifically, I love going to places like Charlotte Russe, Forever 21, H&M – you know, the usual fashion spots for those on a budget. But one of my absolute favorite places to shop specifically where I go to college would definitely be Plato's Closet which is an amazing consignment shop. I find the best, trendiest clothing there mostly for under $10, but sometimes a little under $20. Also Topshop! Love, love, love Topshop."
How would you describe your sense of style? "To be honest I don't think I can really classify my sense of style. I kind of go through phases where I want to be edgy, or I want to be very girly and feminine, or just laid-back. It's constantly changing depending on my mood. But I would say for the most part, I try to stick with outfits that are very simple and comfortable but have a certain quality that makes [them] look chic."
Why did you choose this particular outfit? "I chose this because it's exactly the kind of outfit I described in the previous question. It's just a simple t-shirt from Charlotte Russe that says 'chill out' styled with a pair of black shorts, a jacket tied around my waist – because you just never know when it's going to start pouring down raining in New York – and a pair of black boots with embroidered roses on the sides. So in this case, I chose the shoes to add some extra pizzazz to make a simple outfit pop a little more."
What fashion advice would you give to other students looking to improve their style? "My mantra for fashion in recent years has become 'it's not what you wear, it's how you wear it,' and what I mean by that is you don't have to be decked out in top-of-the-line, flashy clothing to be fashionable. Oftentimes I get the most compliments on outfits that I put the least amount of effort into. I just wore what I liked, what looked good, and what I was the most confident in, and that confidence proved to be the best accessory. So, my advice to improve your style is to focus on what you like – just totally go for it."
What are your favorite trends right now? "Right now I'm very into plain t-shirts with little quips and sayings on them, palazzo pants, cropped wide-leg pants, and pleated fabrics because I just love that texture so much."
Do you have any favorite fashion designers? "My favorite fashion designers are definitely Olivier Rousteing [Balmain], Zendaya, Alexander Wang, Rihanna, Christian Siriano, and Zac Posen. Recently, I've also fallen in love with a Bohemian brand called We Are Kindred, which was started by Australian sisters Lizzie and Georgie Renkert."
What do you do for fun – do you have any unique hobbies or interests? "For fun, I binge watch a very unhealthy amount of television and YouTube videos – seriously. But other than that, I love sketching, blogging, dancing, and reading. I'm a nature-lover, so I feel the most at peace when I'm at a park or a lake. I'm also an extroverted introvert, so I really enjoy being around people, but I also like being in my own, quiet space. That's why chilling at a cafe by myself sipping on a latte and reading a magazine is an ideal way for me to spend my time when I'm not out with friends or when I just want to be alone while still being around some form of social interaction."
If you could raid anyone's closet, who would it be, and why? "I would raid Zendaya's closet because her style is so laid-back and chill whenever she's not on the red carpet and I love it."
Elements of Brea's Outfit
1. Graphic Tee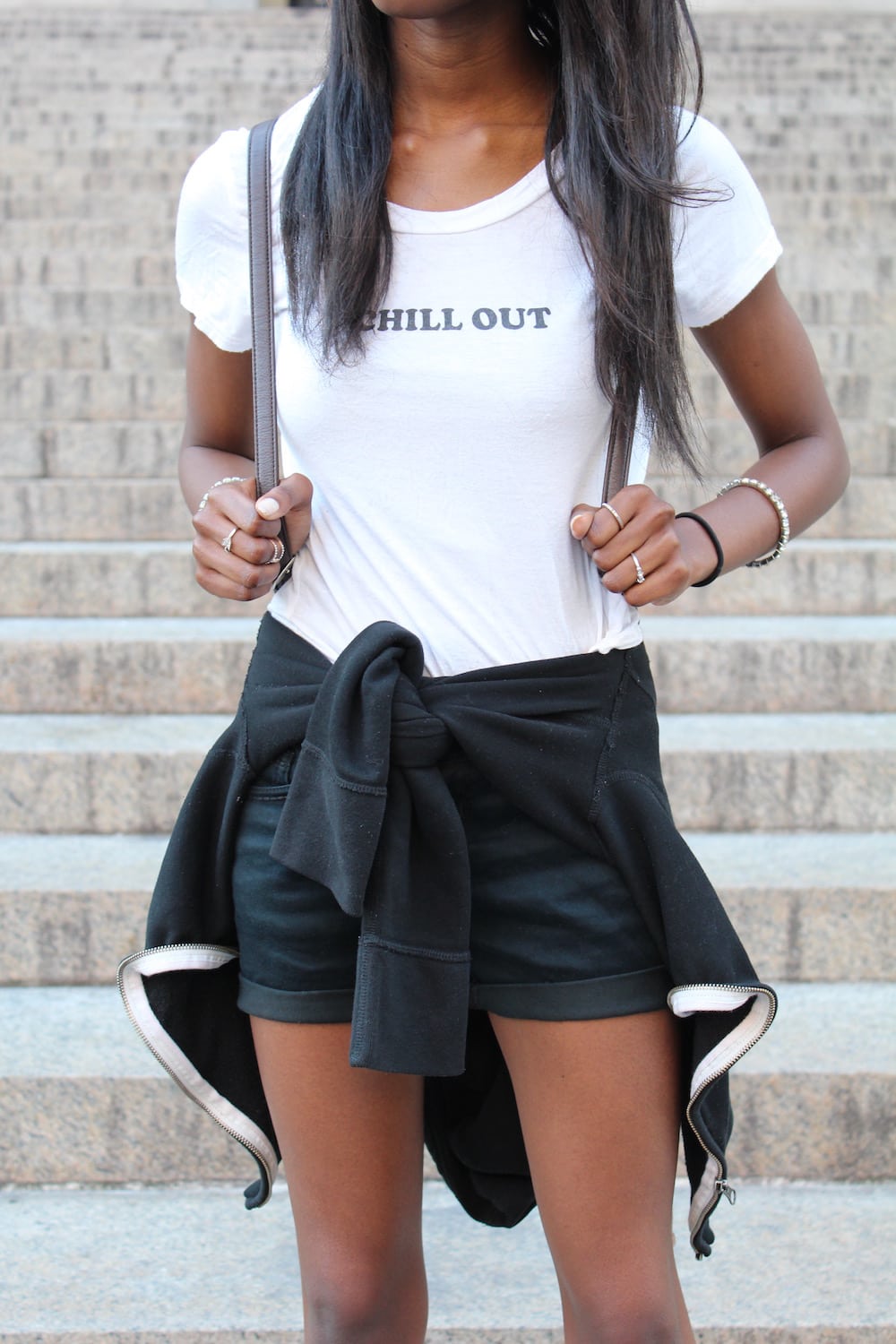 One of summer's must-have trends is the classic graphic word tee. Clever sayings, quippy notes, and funny tidbits can take a tee from basic to chic. Besides – who doesn't want to "chill out" like Brea?
2. Embroidered Booties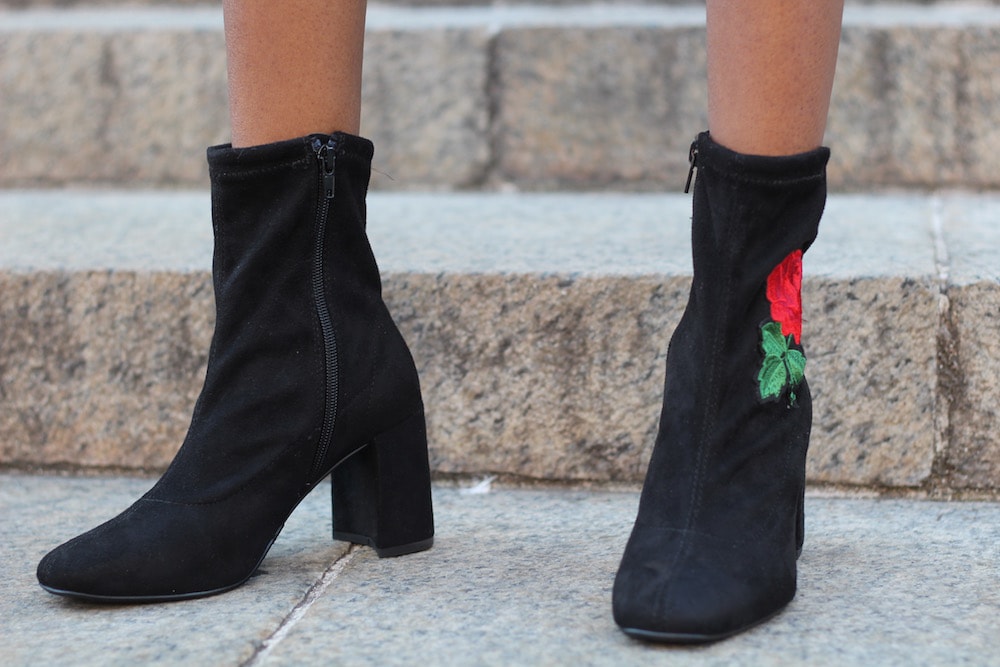 These bold embroidered booties stood out from a mile away. I've seen plenty of people wearing booties with shorts this season and I'm all for it! This pair almost has a retro vibe, perfect for adding a little sass to a summer look.
Now we need to know your thoughts!
Do you love Brea's look? Graphic word tees, yea or nay? Comment below and share your thoughts with us!