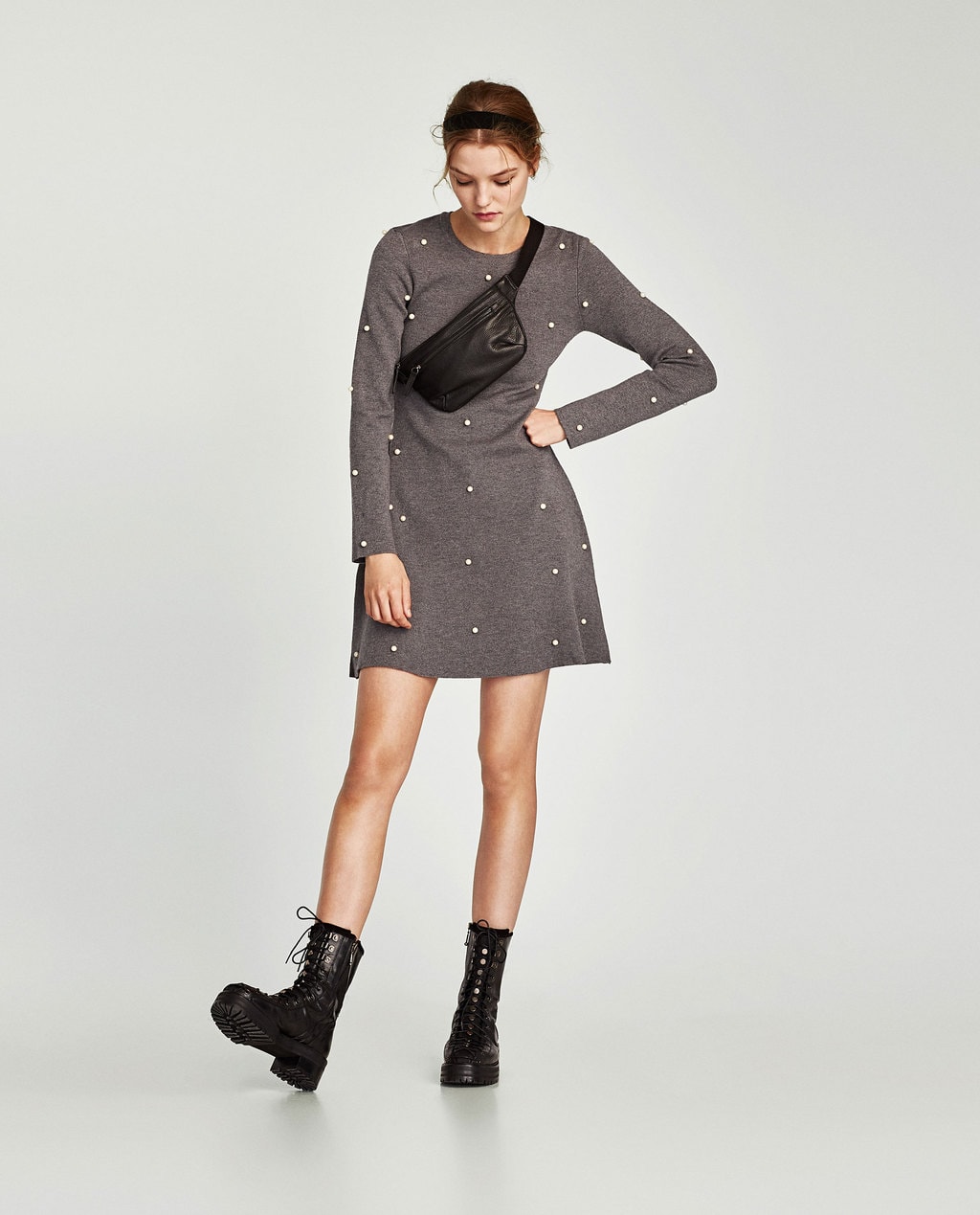 It's officially the middle of November, and, as far as fashion goes, that only means one thing: holiday outfit shopping! And, while some people might think that you should set aside a bunch of money to buy something that you'll only wear once (or maybe twice), as budget-conscious shoppers here at CF, we have to disagree with that mentality!
That's why I was so excited when I came across this pearl-embellished skater dress from Zara. Not only does it strike the perfect balance between casual and glam — making it the perfect piece to dress up or down — it also rings in at a budget-friendly $49.90, so you'll have money left over to spend on other holiday essentials, such as cards and gifts.
Keep scrolling to see how I'd style this chic piece for now and for the holidays.
Wear It Now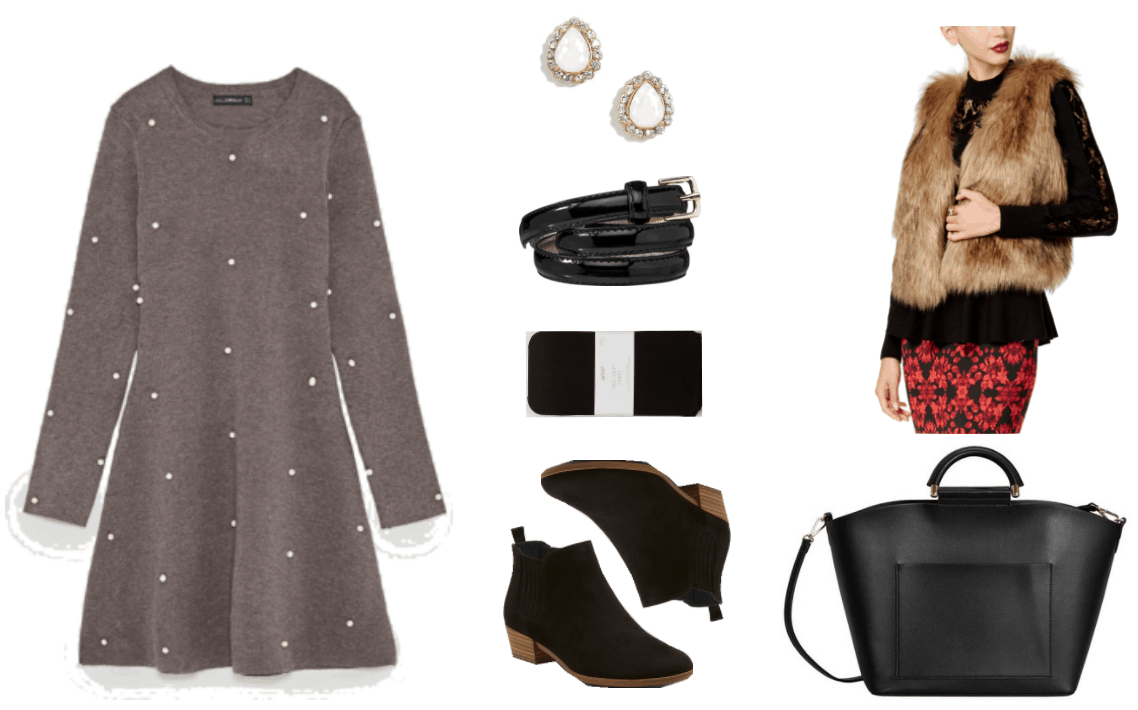 Products: Dress – Zara, Earrings – J.Crew Factory, Belt – Target, Tights – Aerie, Chelsea Boots – Target, Vest – Macy's, Tote – Mango
This outfit is a great option for when it's cold outside, but you also want to get a little bit dressed up.
This dress is pretty and easy to style. Since the dress already nips in at the waist, further emphasize its shape by adding a thin black belt. Opaque black tights not only look classy, but also keep your legs warm. They are also super-flattering on everyone and elongate the leg line when paired with black boots, like these heeled Chelsea ones.
A unique pair of iridescent teardrop-shaped stud earrings gives off some subtle sparkle, while a super-cozy faux fur vest adds a luxurious touch and will definitely keep you snug throughout the fall and winter seasons.
A black tote with a modern handle detail finishes off the look in a sleek and sophisticated way.
Wear It Later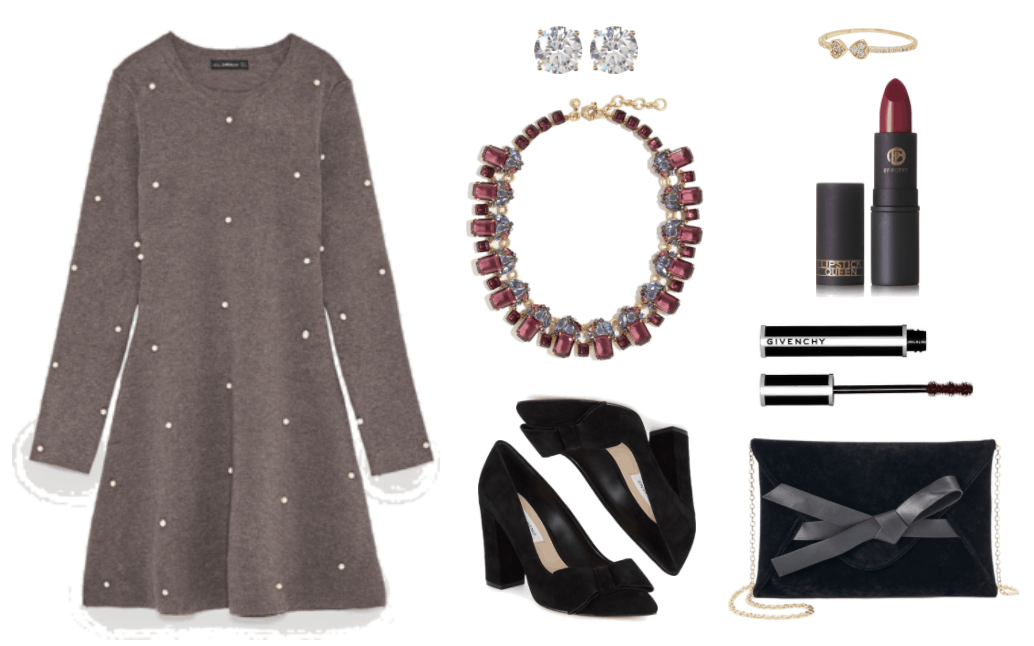 Products: Dress – Zara, Earrings – Nordstrom Rack, Necklace – J.Crew, Heels – Gilt, Ring – Nordstrom Rack, Lipstick – NET-A-PORTER, Mascara – Saks Fifth Avenue, Clutch – Kohl's
This glam look is sure to make a statement at semi-formal holiday parties!
To amp up the shine factor, pair the dress with a gorgeous investment-worthy statement necklace, classic faux diamond studs, and a sparkly arrow wrap ring. Cute bow embellishments add a little something special to a pair of classic block-heel pumps and make them worth a bit of a splurge.
A fun velvet bow clutch goes well with the pumps without being too matchy-matchy, and is also versatile enough to go with other holiday outfits.
Put on some wine-colored lipstick and a coat or two of black mascara to complete this holiday-perfect ensemble.
What Do You Think?
Do you own a dress that can be dressed up or down for different occasions? If so, how do you style it? What do you plan on wearing this holiday season?
Let me know in the comments!