Products L-R: ASOS, Pretty Little Thing, MissGuided, & WearAll.
Everyone loves a cute slogan tee. These graphic tees can almost speak for you and say exactly how you feel. I love them because they're fun, flirty, and oh-so chic. The best part is you don't have to do major research to find them; they're sold everywhere!
It can be hard styling a slogan tee with a formal outfit however I have examples on how you can style your slogan tee for class and for a girls night out:
How to Style a Slogan Tee – Outfit for Class: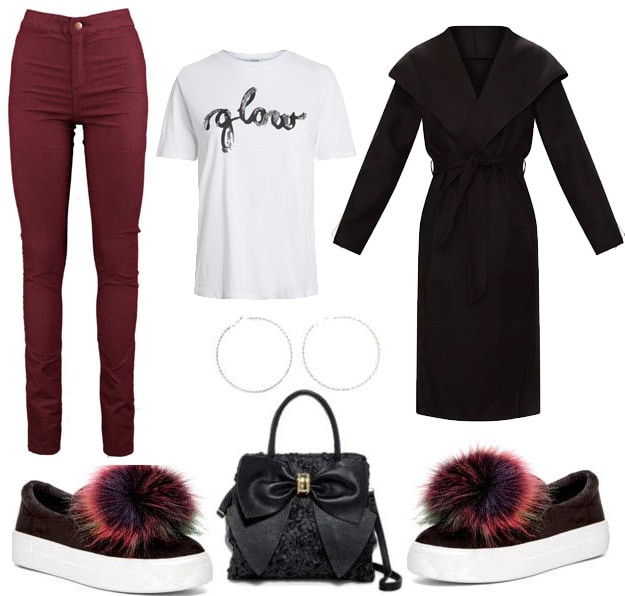 Products: Belt coat – Pretty Little Thing, Purse – Betsey Johnson, Sneakers – Steve Madden, Earrings – Forever 21, Glow t-shirt – M & Co., Jeans – Boohoo.
For this set, I choose a white "Glow" slogan tee from M & Co. The sequins of the letters on the shirt really stand out. 
I thought it'd be cool to pair the slogan t-shirt with some colored jeans. Colored jeans are definitely making a comeback! I didn't want to do bright skinny jeans because it's still winter so I opted for some deep burgundy jeans. The Steve Madden slip on sneakers coordinate with the jeans because the colors on the pom pom are a deep red/burgundy too.
Next, add a black Betsey Johnson bow purse. It goes exquisitely with the slogan tee and finishes the look.
How to Style a Slogan Tee – Outfit for Girl's Night Out: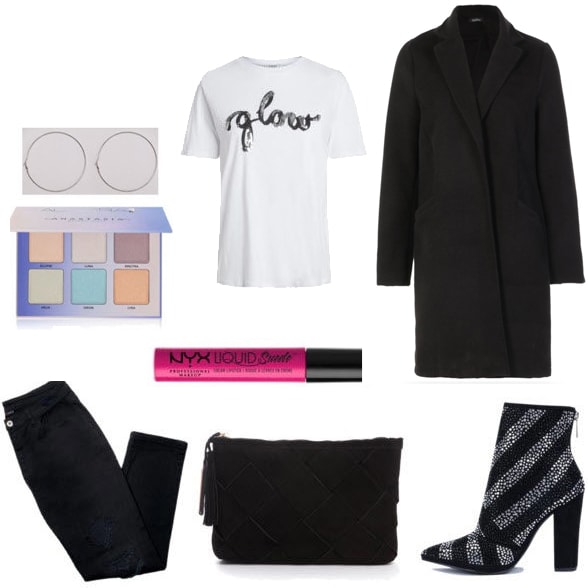 Products: Earrings – Pretty Little Thing, Liquid lipstick – NYX, "Glow" t-shirt – M & Co., Boots – ShopAkira, Jacket – Boohoo, Jeans – Avon, ABH glow kit – Macy's, Clutch – South Moon Under.
Every girl loves a girl's night out (GNO) and it's a great occasion to dress up. This outfit is a great choice. For this look, I paired the slogan tee with some dark wash destroyed jeans and matching black and silver ankle boots. The boots add extra sparkle to the look.
For makeup, be sure to highlight your skin with Anastasia Beverly Hills' glow kit. You can get the glow kit from almost anywhere that sells cosmetics. (Pro tip: Try your local TJ Maxx or Marshall's to get it for a more affordable price.)
Will slogan tees be your thing?
After reading this article, are you going to wear a slogan tee? How are you going to style it? What will it say? We'd love to hear from you so comment and let us know!