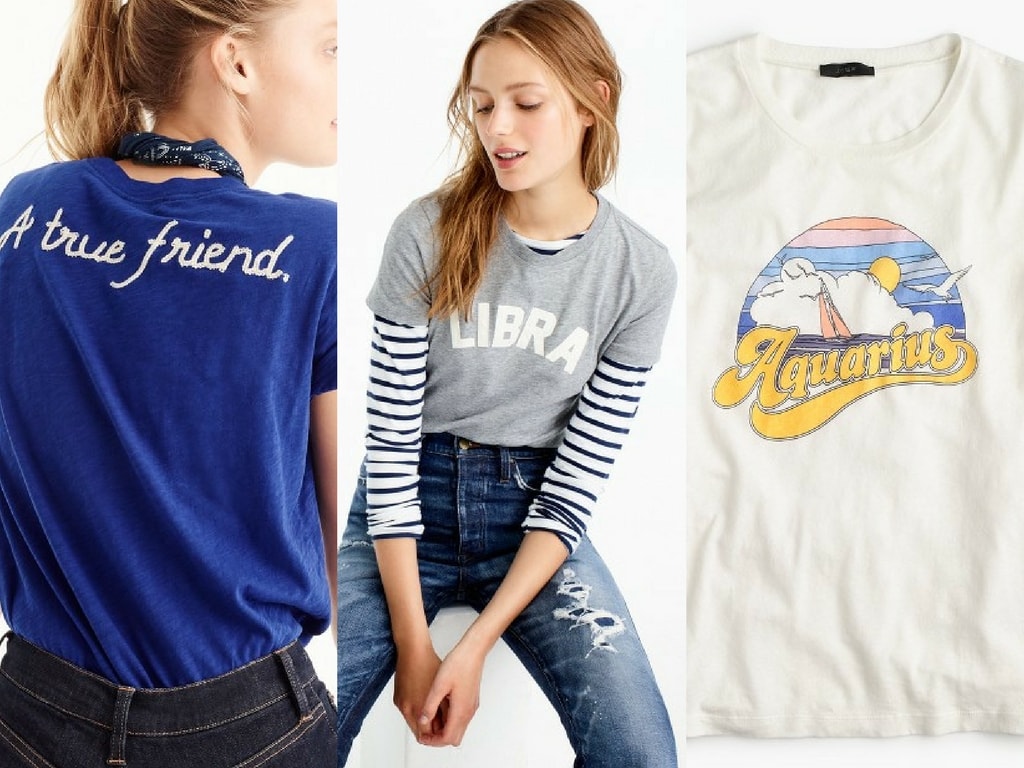 My sister loves reading her horoscope. She also loves reading my horoscope and giving me corresponding dating advice (did you know Geminis and Scorpios together are considered volatile?).
Sometimes it's true, most times it's not, but either way it's fun to read about what the stars say about your fate.
You don't have to look too hard to find your fortune being told à la horoscope, either. Check out your local newspaper, a daily horoscope reader, or websites like Astrology Zone (they give you your whole month), and you'll find more than enough information on, well, you.
This is why it's super exciting to hear about J.Crew's limited edition collection of horoscope t-shirts! J.Crew is typically known for its sleek and simple work favorites, basic wardrobe staples, and preppy looks. A little more laid back than J.Crew's average shirt, these horoscope t-shirts are the perfect mix of casual and fun.
That said, having a horoscope-inspired piece in your wardrobe is the perfect way to show off your sign — not to mention they're super cute too! CF loves these pieces as well. If you want to see a couple outfit ideas including these tees, check them out below.
P.S. If you don't know your sign (where have you been?), look at where your birthday falls:
Horoscope Tee Outfit 1: Black on Black
For those occasions when you want to be a *bit* more put together: looking nice for class, a sweet dinner with friends, a trip to the theatre with that special someone…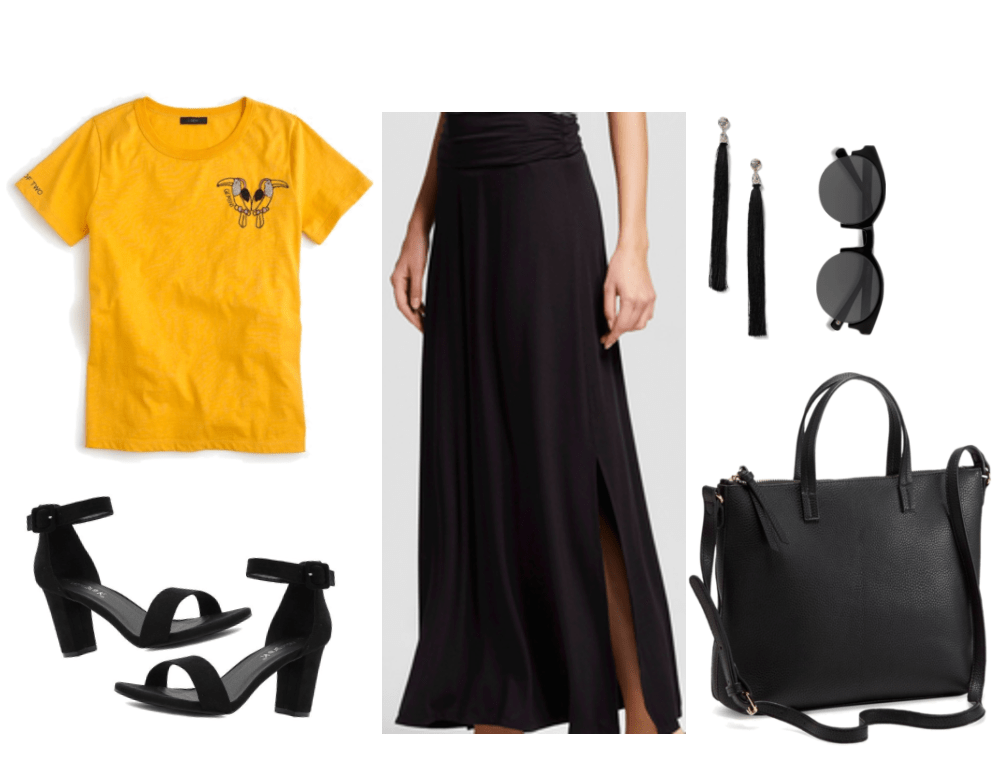 Products: Gemini Tee – J.Crew, Skirt – Target, Sandals – Walmart, Sunglasses – EyeBuyDirect, Earrings – WConcept, Bag – Old Navy
When I caught sight of J.Crew's marigold Gemini tee, I just about fell in love. It's even complete with embroidered toucans and a sleeve that says "Party of two". So cute!
To make this casual tee a little dressier, tuck it into a black maxi skirt and pair with block heel sandals. Accessorize with black tassel earrings and black sunnies for a sleek vibe. Straighten your hair and put into a high pony to flaunt this look.
Finally, carry all your goodies in a black faux leather tote, like this one from Old Navy. See what I mean about black on black?
Horoscope Tee Outfit 2: Casual Day Chic
For day-to-day activities/events: running errands, enjoying a fair or carnival, watching a sports game…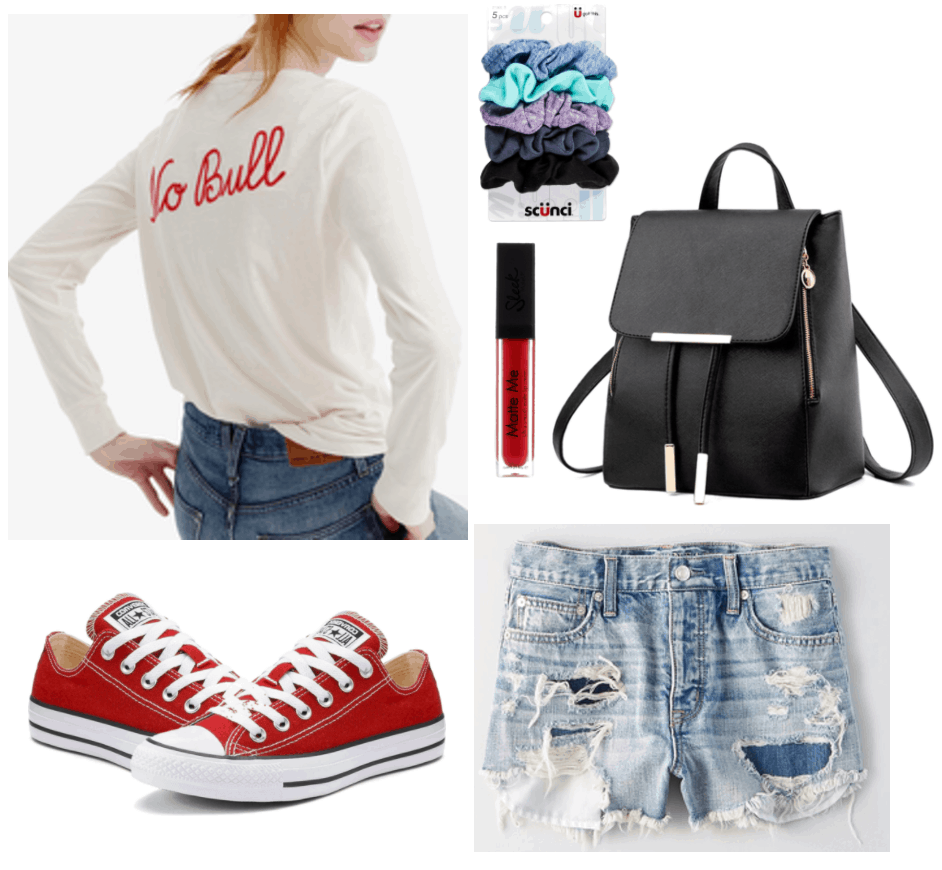 Products: Taurus Tee – J.Crew, Shorts – American Eagle, Sneakers – Amazon, Bag – Amazon, Lipstick – PrettyLittleThing, Scrunchies – Target
I was just at Minnesota's State Fair, and I know J.Crew's long sleeve Taurus tee would've been the *perfect* addition to my outfit. The super sassy "No Bull" slogan on the back is absolutely adorable! If you're headed somewhere casual, pull on your trusty distressed denim shorts with this tee.
Then, slide on a pair of red-hot Converse sneakers and vibrant red lipstick to match the font of the tee. Pull your hair into a messy ponytail or bun with a black scrunchie.
Finally, stuff your stuff into this faux leather backpack, and you're ready to take on the world (and this day!).
Horoscope Tee Outfit 3: Fun in the Sun
For a fun, warmer weather day: a coffee date, an outdoor concert with your roommates, a nice walk on the beach or in the park…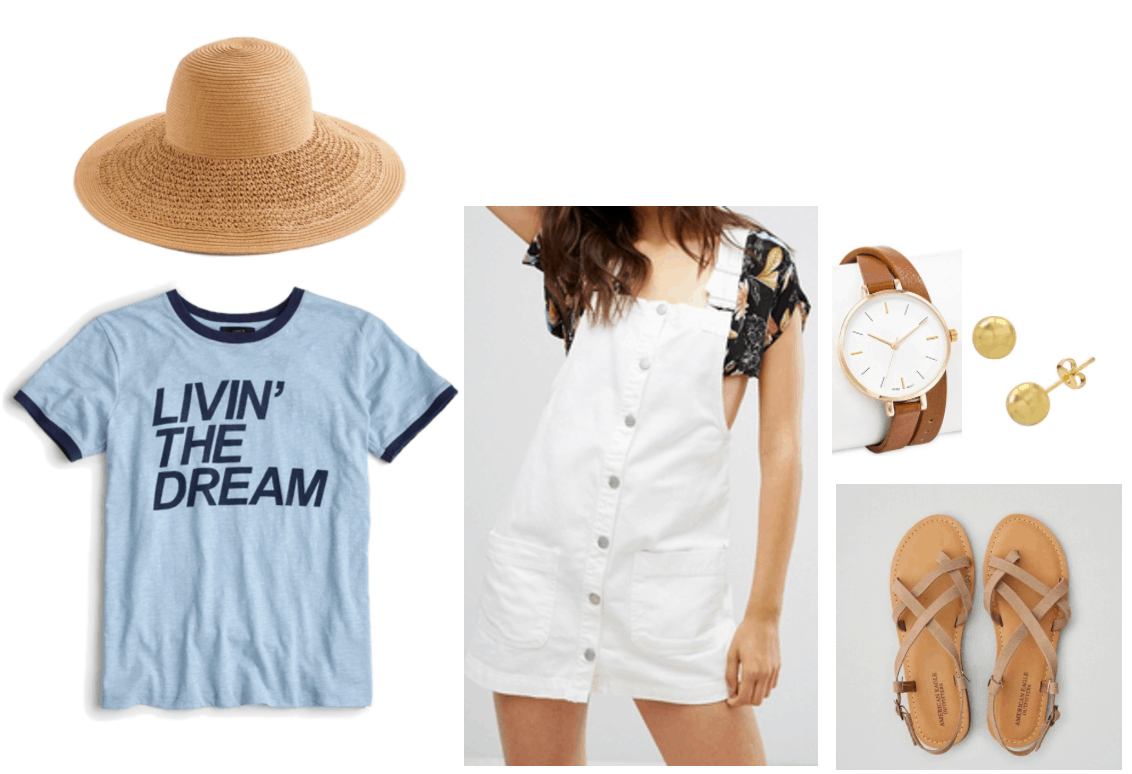 Products: Pisces Tee – J.Crew, Dress – ASOS, Sandals – American Eagle, Hat – J.Crew, Watch – Target, Earrings – Kohl's
Since it's still summer (for a little while longer!), get ready to look fresh and charming in J.Crew's Pisces tee with the slogan "Livin' the dream" donning the front ("Pisces" is on the back!). Slip this under a white dungaree dress for an easy and relaxed look.
Continue this comfy feel with tan strappy sandals and a straw hat to keep the sun off your face. Accessorize with an equally strappy watch and gold stud earrings. Keep your hair and makeup all natural for this look, babe! I'd give you a heart eye emoji for sure.
And there you have it!
What do you think about J.Crew's tees? What zodiac sign are you? Which look is your fave? Let me know in the comments below.