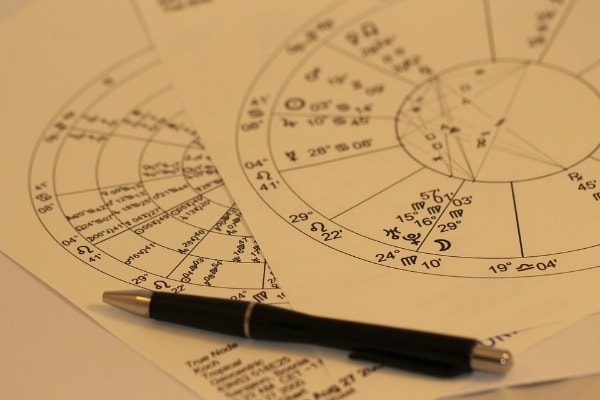 While I don't usually believe my monthly horoscope, I do connect strongly with my astrological sign. I mean, Sagittarians are known for being bold, optimistic romantics. For me, that's spot on.
For that reason, I really love rocking clothes and accessories featuring my astrological sign. It's a cute, personal touch not unlike an initial, a monogram, or even your school's logo. And luckily for me, astrological-sign-emblazoned goodies are really in right now.
So for your celestial shopping pleasure, I've rounded up seven of the cutest horoscope-inspired pieces, all under $50! Take it as a sign you need to snag one.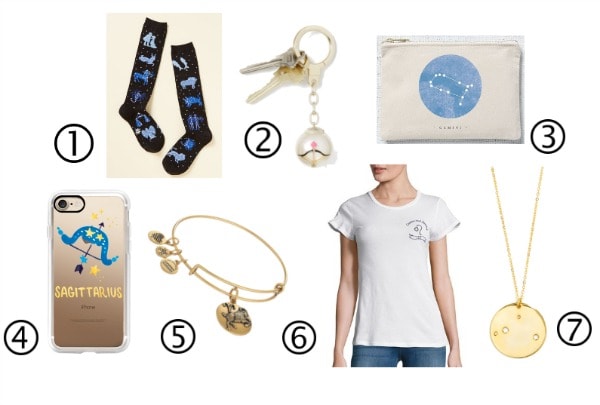 Products: Socks – Modcloth, Keyring – Kate Spade, Pouch – West Elm, Phone case – Casetify, Bracelet – Zappos, Tee – Lord & Taylor, Necklace – Baublebar.
1. Subtly dip your toes into this trend with these cute socks from Modcloth. They feature various astrological signs and are just the right height to wear under all your fave winter boots.
2. I'm so obsessed with Kate Spade's keyrings featuring zodiac symbols, because they're all adorably emblazoned on a pearl for a girly twist. You'll never lose your room key with this cute fob, but I think I'd love it even more rocked as a bag charm. Find other signs and Kate Spade's other cute horoscope stuff (watches and bangles) here.
3. This cute constellation pouch from West Elm is a perfect way to store all of your must-haves. And if the picture of your sign's constellation isn't enough of a personal touch for you, you can get this bag monogrammed for free.
4. What easier way is there to rock the horoscope trend than with a cute phone case that you'll use every single day? I love the simple-yet-pretty symbol on this one from Casetify. Find more signs and other astrological styles here.
5. I love Alex and Ani's super-personal bangles, worn alone or as a stack. They're the perfect simple-yet-sentimental pieces to wear every day. This horoscope one comes in gold or silver, and features both the image represented in your constellation and the symbol for your sign. Find more signs and all of the brand's horoscope stuff here.
6. These simple horoscope symbol tees by Project Social T are such a great upgraded basic. Rock yours like you would any classic white tee to give every outfit a more personal touch. My fave way to wear it? Tucked into a floral skirt with tights and boots. Find more signs here.
7. I got this gorgeous, minimalist Baublebar pendant in my sign for Christmas and I have worn it so much. It instantly adds a really chic, personal touch to a look. It simply depicts your sign's constellation, but is way more interesting than a typical gold necklace. Wear it with everything (find other signs here).
What do you think?
Are you interested in astrology? What's your sign? Which of these pieces is your fave? Let me know in the comments!