This post may contain affiliate links, which means we may receive a commission if you purchase through our links. Please
read our full disclosure here
.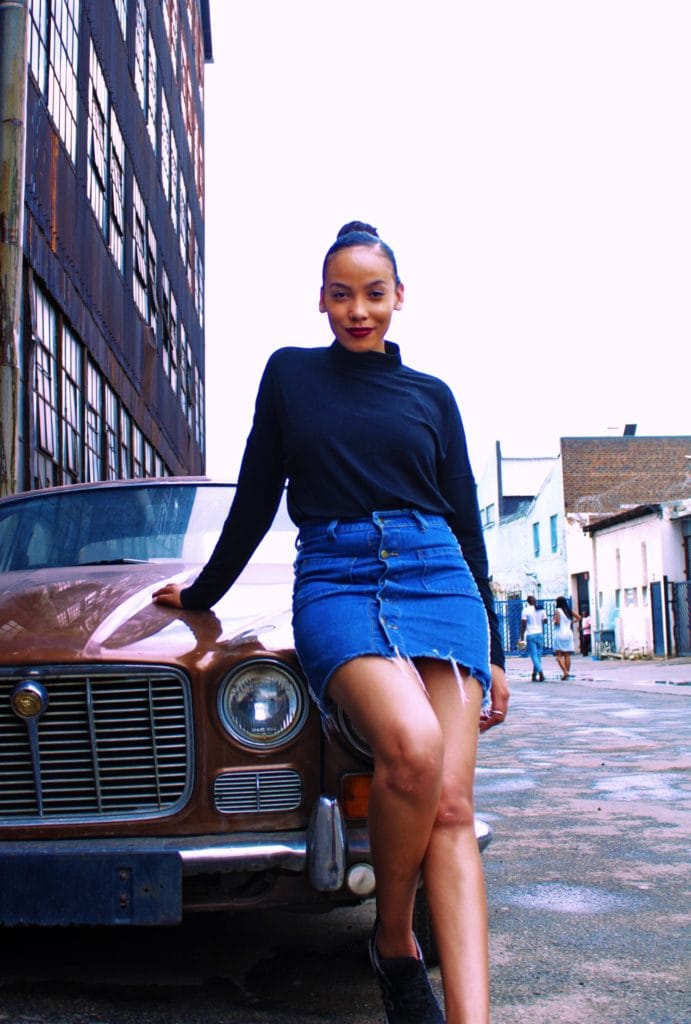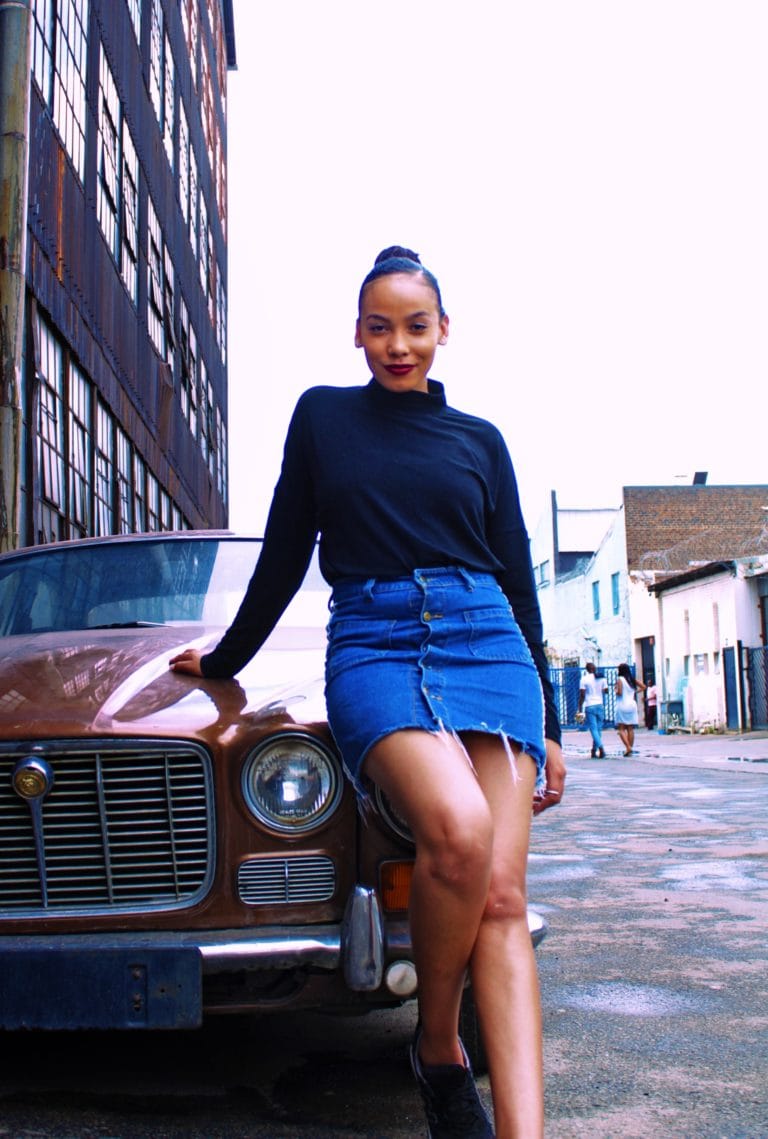 Out of the popular trends of 2019, mini skirts stuck out to me. They have been a classic staple for years and years, but this staple is not just a necessity this season; it is a fashion YES.
Mini skirts can come in a variety of prints, patterns, and colors, so there's a ton of variety within the category. One day, you could be strutting in a leather skirt for that edgy vibe, and the next you could be living life in your denim skirt. The options are endless. But how do you style them once you stock up?
Here are 5 mini skirt outfits for every type of fashionista, and for all different occasions.
Outfit 1: Edgy Skirt Outfit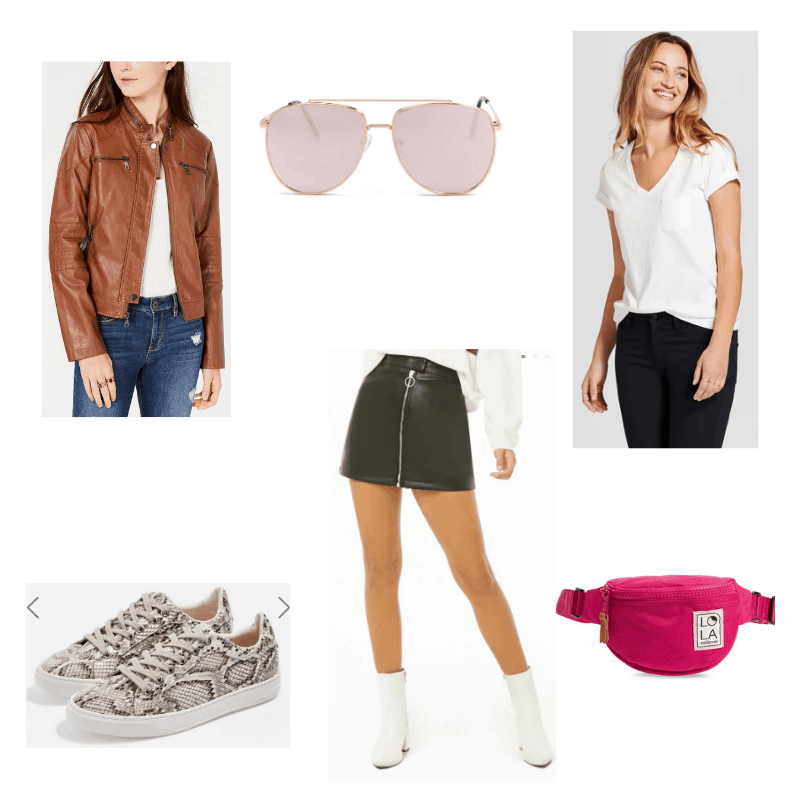 Products: Tee – Target, Skirt – Forever 21, Sneakers – Topshop USA, Jacket – Macy's, Sunglasses – Forever 21, Belt Bag – Nordstrom
Here, we have an edgy mini skirt outfit that you can wear to class and out and about. A leather mini skirt has a cool girl vibe. The zip-front closure makes the skirt (and the outfit) even more edgy. Add a brown moto jacket to contrast with the black skirt, and keep things balanced with a white v-neck tee.
Animal print shoes are trending right now, so snakeskin sneakers add a touch of casual to the look.
The accessories are a mix of three 2019 trends: mirrored sunglasses, neon, and belt bags. Add the sunglasses for some cool girl flair and the belt bag for a pop of color.
Outfit 2: Preppy/Sweet Skirt Outfit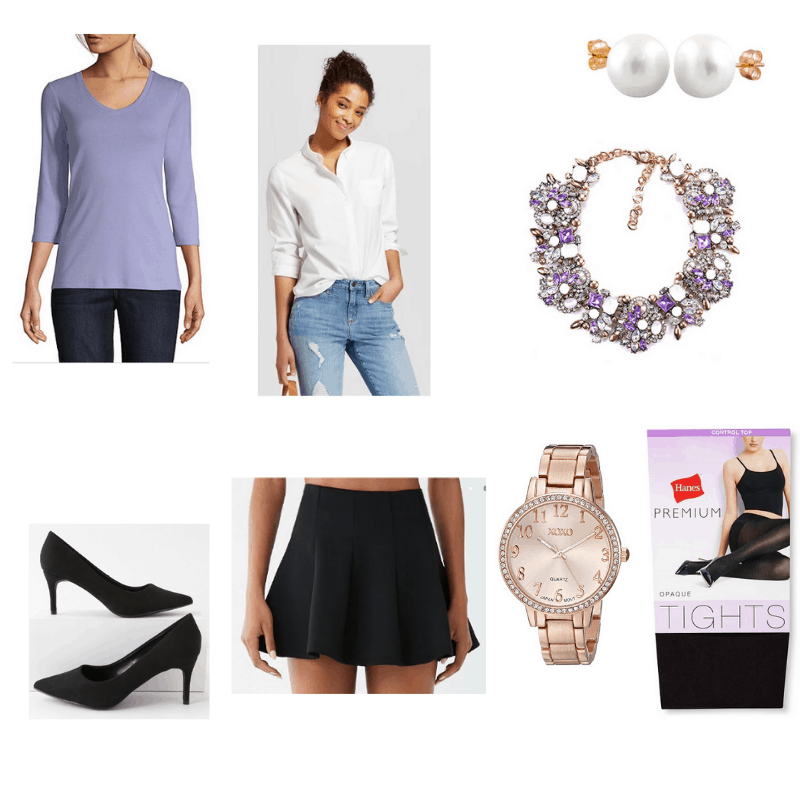 Products: Tee – JCPenney, Shirt – Target, Skirt – Forever 21, Tights – Target, Heels – Lulu's, Earrings – Nordstrom Rack, Watch – Amazon, Statement Necklace – Amazon
Mini skirts are often associated with sexiness, but this outfit proves a mini skirt can be preppy and sweet. Pair a black mini skirt with black tights and low-heeled black suede pumps to make the skirt classy (and elongate your legs).
Spring means pastel colors, so add a pastel purple t-shirt over a white button-down to break up the black in this look. Pearl earrings and a rose gold watch class up the outfit. A purple and white crystal statement necklace adds a bold, preppy pop to the look and ties in with the sweater-over-shirt look.
Outfit 3: Comfy Cute Day Date Outfit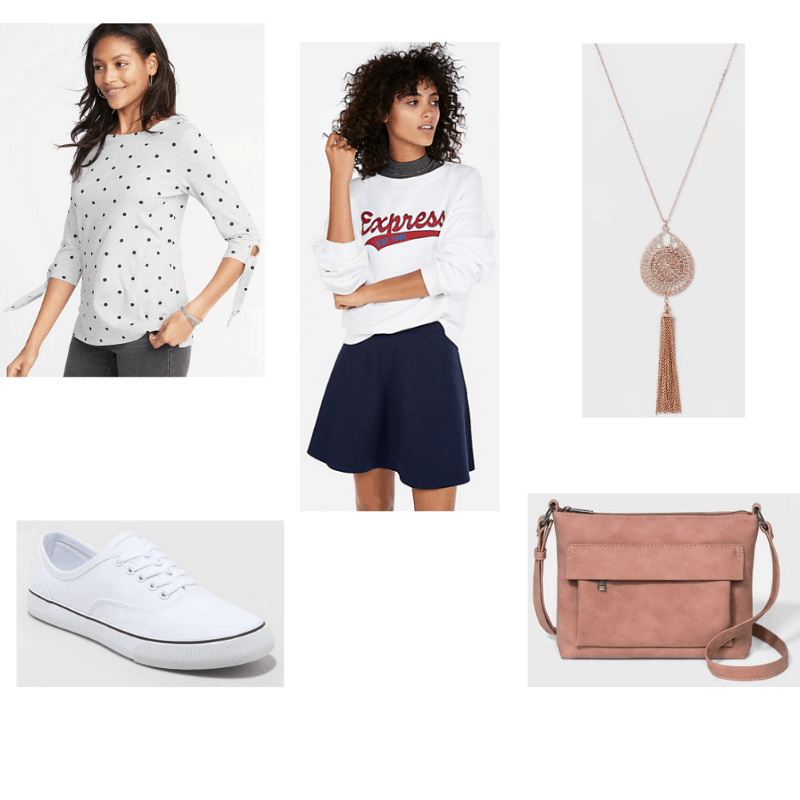 Products: Tee – Old Navy, Skirt – Express, Sneakers – Target, Necklace – Target, Crossbody Bag – Target

This comfy outfit is perfect for a casual date, whether it's a stroll to the park or out to lunch. Start off with a tie-sleeve polka dot tee and a navy mini skirt. Add a casual flair with white sneakers. A pendant tassel necklace adds some shine and a blush crossbody keeps your hands free.
Outfit 4: Night Out Outfit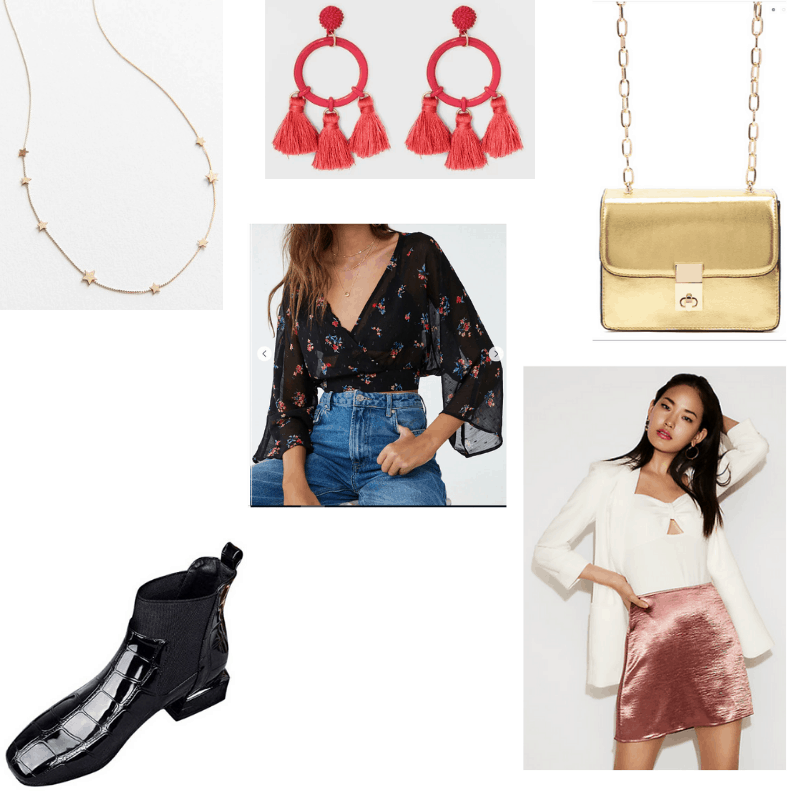 Products: Top – Forever 21, Skirt – Express, Boots – Amazon, Earrings – Target, Necklace – Urban Outfitters, Bag – Forever 21
Mini skirts are great for a night out as they're fun and flirty. Elegant and sophisticated styles are really trendy, so this satin mini skirt is perfect because it reflects light in the dark and it's bold.
A crop top and a high-waisted mini skirt is a chic night out formula and doesn't show a lot of skin. This floral print chiffon crop top from Forever 21 is versatile; it can be dressed down or up.
Square-toed shoes are trending, so add some patent leather Chelsea boots for style and comfort. A star necklace pairs great with the top while bright hoop earrings with tassels add a pop of color and tie in with one of the colors in the top. Add a metallic crossbody bag for practicality and shine.
Outfit 5: Bold and Trendy Skirt Outfit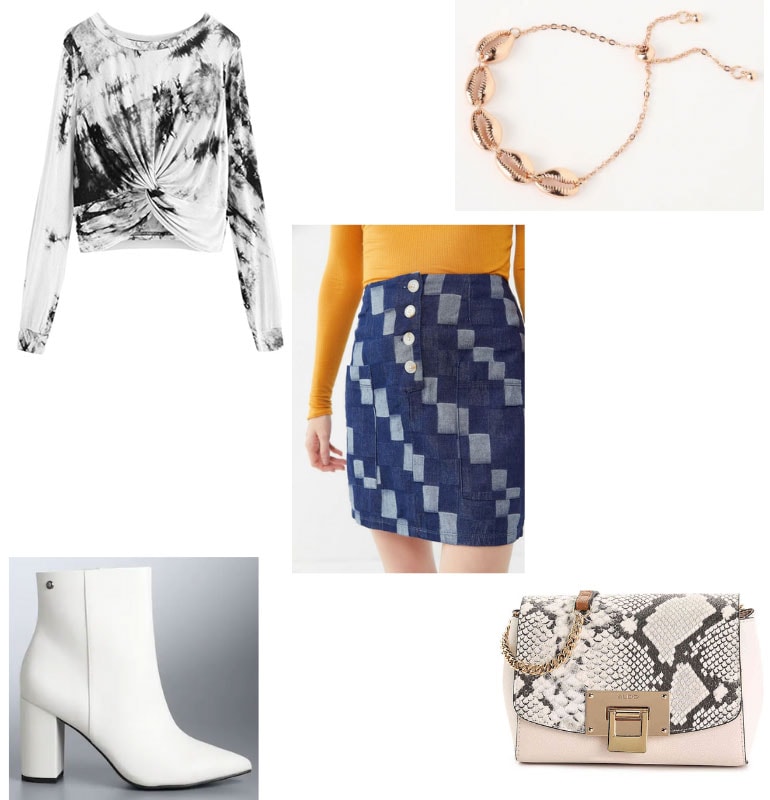 Products: Top – Amazon, Skirt – Urban Outfitters, Boots – Kohl's, Crossbody Purse – DSW, Bracelet – Lulu's
This outfit contains quite a few trends for 2019: tie-dye, snakeskin, patchwork, and cowrie shells. The tie-dye shirt and the denim patchwork skirt are a bold, trendy base. Keep things simple with an equally trendy pair of white boots and a dainty cowrie shell bracelet. Finish off the print-mixing action with a snake-print crossbody.
Are you mini skirt obsessed?
You can never go wrong with a skirt. A skirt is a classic. Edgy or classy, preppy or trendy, no matter what, a skirt is always in style. It can easily be one of your "go-to" staples and can be worn in all different ways, with a variety of options to choose from.