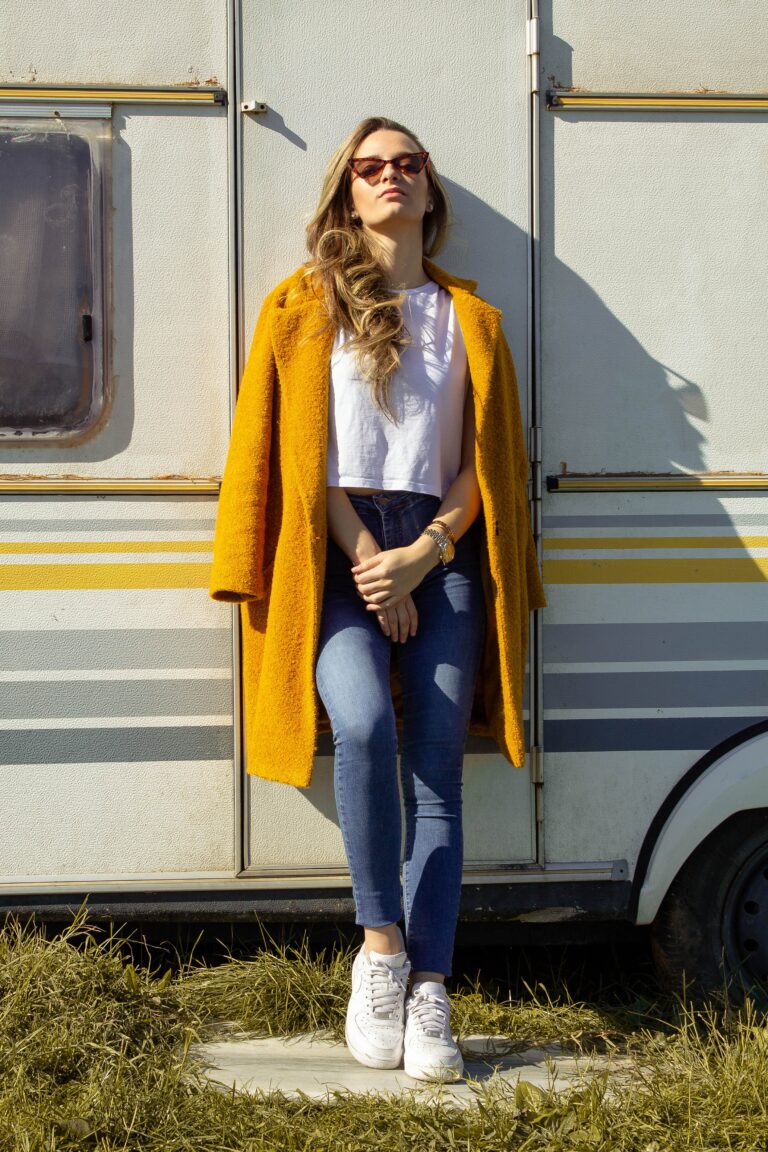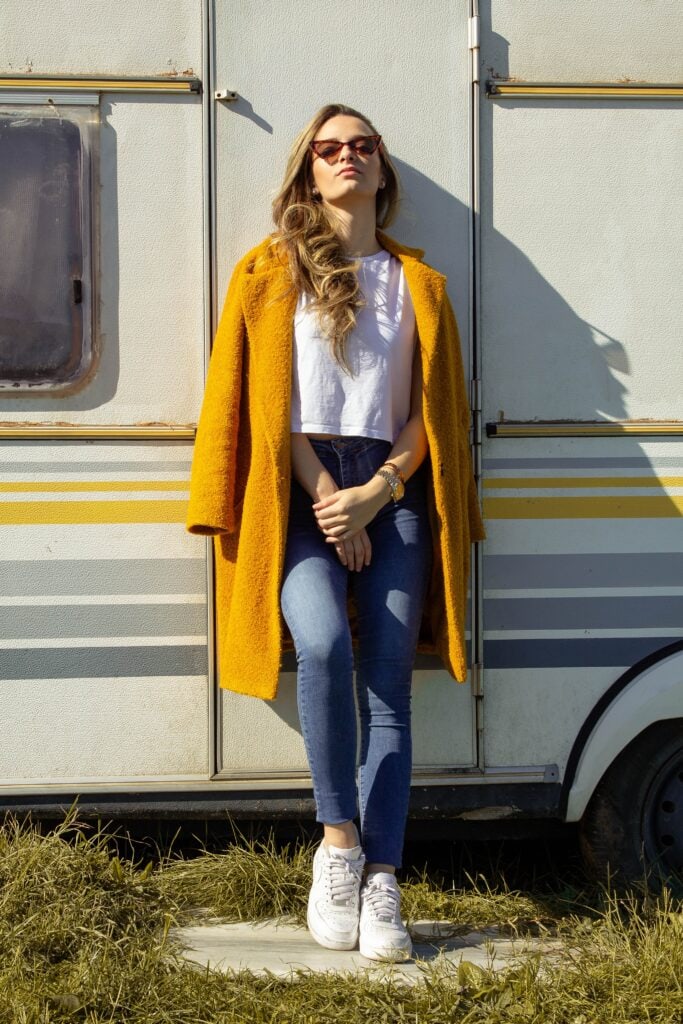 Every fashionista needs some reliable, good-quality wardrobe basics. From a fitted plain white tee to dark-wash skinny jeans to a timeless trench coat, you can't go wrong with these classic pieces no matter the occasion.
However, fashion is constantly changing, and with it, so does the idea of what constitutes a true "basic" piece. (For example, 20 years ago, skinny jeans were definitely not a big thing!)
So, with that in mind, I've decided to create a list of five "updated" fashion basics based on of-the-moment styles and trends. (See also: Our list of modern basics for Spring 2020!) These pieces are sure to add a little extra something to even your simplest ensembles! Not to mention, due to their versatility and ease of wear, they'll look chic and in-style both now and during the years to come!
So, without further ado, let's take a look at these new closet essentials!
Boxy Tops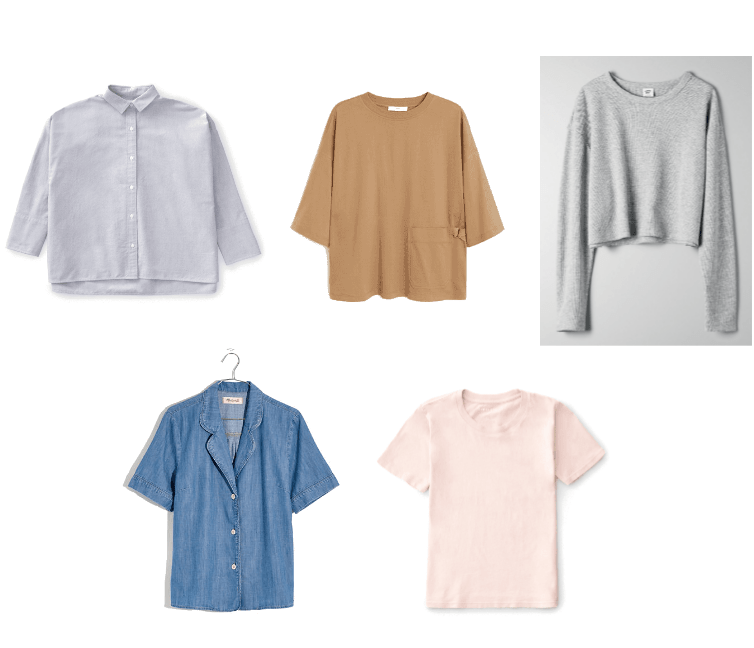 Products: (Top row, from left to right) Light Blue Oxford Shirt – Everlane, Beige Short-Sleeved T-Shirt – Mango, Gray Long-Sleeved T-Shirt – Aritzia (Bottom row, from left to right) Chambray Shirt – Madewell, Pale Pink Short-Sleeved T-Shirt – Everlane
Boxy tops come in pretty much any style you can think of. They're also perfect for pairing with your favorite high-waisted wide-leg jeans/pants and midi skirts for a trendy, fashionable silhouette.
Moreover, if looking taller is a goal you're trying to achieve through your clothes, boxy tops have a magical way of making your legs look miles long.
Whether you go for a simple t-shirt or a dressier button-up, you're sure to find a style that works for you! Alternately, if you're looking for something that falls between casual and dressy, you truly can't go wrong with a boxy top that boasts special details–like the beige tee above. Similarly, a button-up made from a more casual material–such as the cool chambray shirt–also work well.
(Style tip: If you're concerned about potentially showing your midriff area while wearing a boxy top, layer a fitted tank, camisole, or bodysuit underneath! Uniqlo's tanks and camis are great for layering under almost anything, while Everlane's sleeveless bodysuits are super comfortable!)
Silky Slip Skirts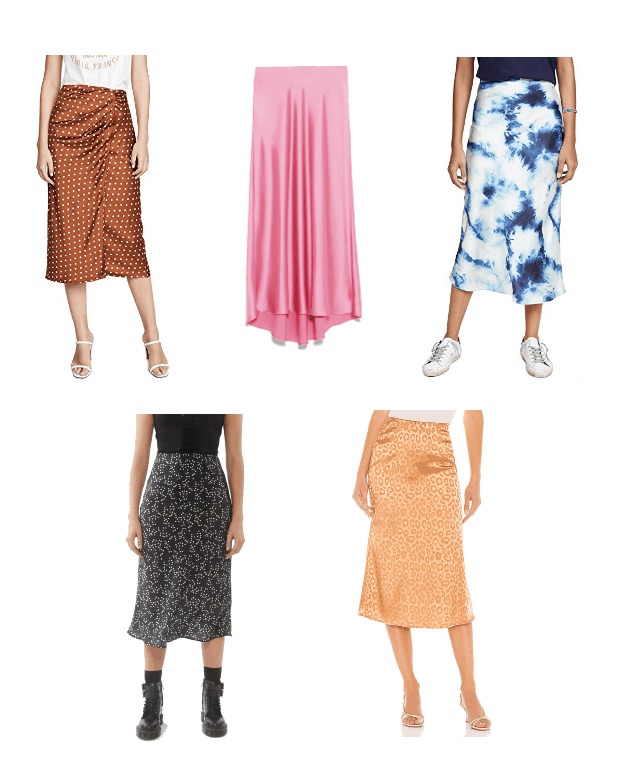 Products: (Top row, from left to right) Polka-Dot Slip Skirt – Shopbop, Pink Slip Skirt – Zara, Tie-Dye Slip Skirt – Shopbop (Bottom row, from left to right) Floral Slip Skirt – Urban Outfitters, Leopard-Print Slip Skirt – Revolve
Slip dresses have been having a moment for quite a while in fashion; however, recently, their equally cool and versatile cousins, silky slip skirts, have been taking over the spotlight!
Silky slip skirts look great for everyday occasions with baggier/menswear-inspired pieces that provide some contrast with their ultra-feminine aesthetic. Think baggy t-shirts, boyfriend-inspired denim or (faux) leather jackets, and combat boots. For a more dressed-up look, I like the idea of going a bit more girly and wearing them with a turtleneck t-shirt or sweater and knee-high boots.
Personally, I'm a fan of more unusual patterns (The tie-dye one featured here is my personal fave!). However, solid colors work wonderfully, too.
The only things I'd avoid wearing with silky slip skirts are other lingerie-inspired pieces or anything tight-fitting. Doing so makes you run the risk of looking costume-y, when the goal is a more timeless look.
Turtleneck Sweaters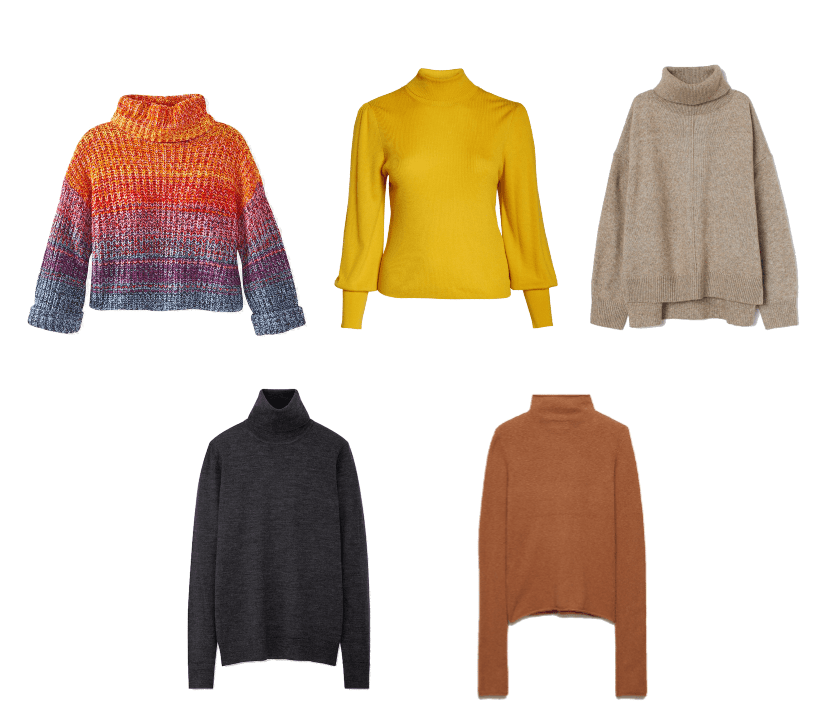 Products: (Top row, from left to right) Rainbow Turtleneck Sweater – 525 America, Yellow Turtleneck Sweater – Nordstrom, Beige Turtleneck Sweater – H&M (Bottom row, from left to right) Dark Gray Turtleneck Sweater – Uniqlo, Light Brown Turtleneck Sweater – Aritzia
If you love to be warm and cozy, then you need a couple of turtleneck sweaters in your closet ASAP! These are our favorite fall fashion basics of all time.
Whether you opt for a fitted or loose style, you really can't go wrong with this sweater style! You can even go for one in an of-the-moment silhouette, such as the mustard-yellow balloon-sleeve one shown here, if you love staying on trend just as much as you need to stay warm! And, because there are so many styles to choose from, you're sure to find one that looks amazing on you!
Personally, I love the idea of taking the coziness factor to the max and styling turtleneck sweaters with on-trend corduroy pants and a faux-fur vest. I also think there's something so chic about wearing a turtleneck sweater with a pleated midi skirt and riding boots. But really, the possibilities are endless!
Slouchy Coats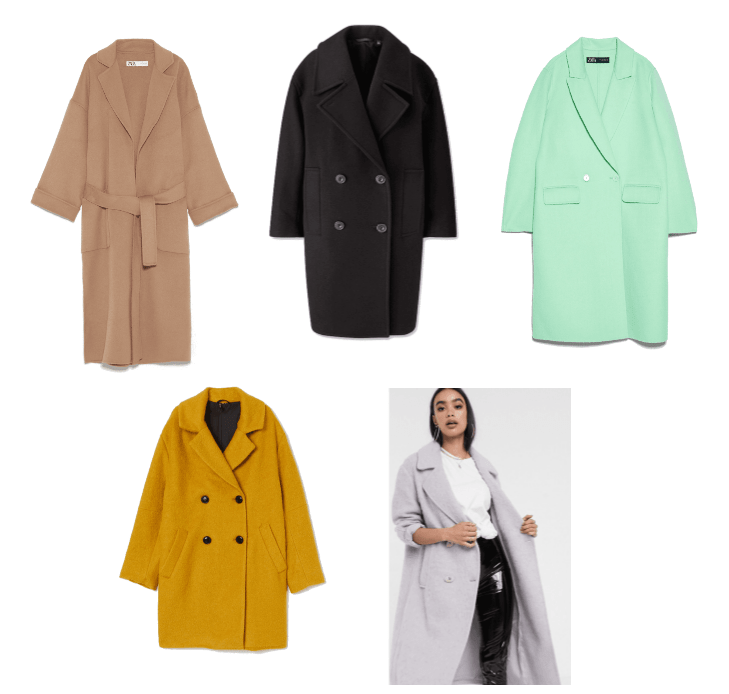 Products: (Top row, from left to right) Beige Coat – Zara, Black Coat – Uniqlo, Light Green Coat – Zara (Bottom row, from left to right) Yellow Coat – H&M, Lilac Coat – ASOS
The thing I love most about slouchy coats is that you can throw them on over just about anything and instantly look put-together. And, while they tend to be on the more expensive side (i.e., over $100), their timeless cool factor makes them an investment you won't regret!
If you wear lots of neutrals, try a slouchy coat in a color to make your look pop. If, however, your wardrobe is already colorful, you can't go wrong with a neutral shade to pull your look together.
In general, slouchy coats with a cocoon shape, such as the black one featured above, tend to camouflage the figure. This is great if you're after a more androgynous look. However, if you want to show off your shape, try a belted coat, like the beige one, to create an hourglass silhouette. Alternately, a coat that comes in a shorter length, like the mustard-yellow one, works well if you want to show off your legs.
Straight-Leg Jeans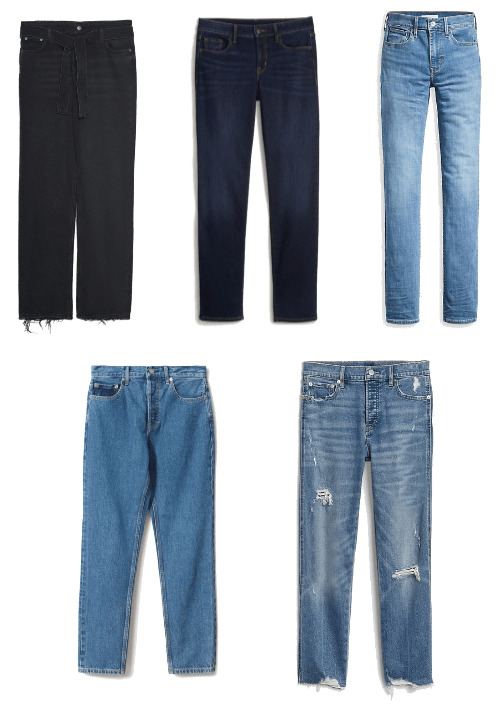 Products: (Top row, from left to right) Black Straight-Leg Jeans – Zara, Dark-Wash Straight-Leg Jeans – Old Navy, Light-Wash Straight-Leg Jeans – Levi's (Bottom row, from left to right) Medium-Wash Straight-Leg Jeans – Everlane, Distressed Straight-Leg Jeans – Gap
Straight-leg jeans are the perfect denim style for days when you're tired of skinny jeans, but don't want to go to the opposite extreme with wide-leg jeans, either. Moreover, because of their not-too-tight-but-not-too-loose fit, these simple-yet-flattering jeans look good with any style of top, whether oversized or fitted.
In terms of styling, I love the idea of pairing straight-leg jeans with preppy pieces, such as striped sweaters and colored ballet flats. As well, fun, of-the-moment accessories, such as croc-embossed bags and berets, bring straight-leg jeans into the present season.
As with other denim fits, straight-leg jeans come in all sorts of rises and lengths. However, for a trendier take on the style, I'd recommend going with a high rise and an ankle length. Or, if you're looking for something a bit different, go for a pair with a paper-bag tie-waist detail, like the black ones shown above.
What are your favorite fashion basics?
Are you looking to add any of these updated fashion basics to your wardrobe? Where do you like to shop for modern basics? Is there anything else you would add to this list?
Let me know in the comments!