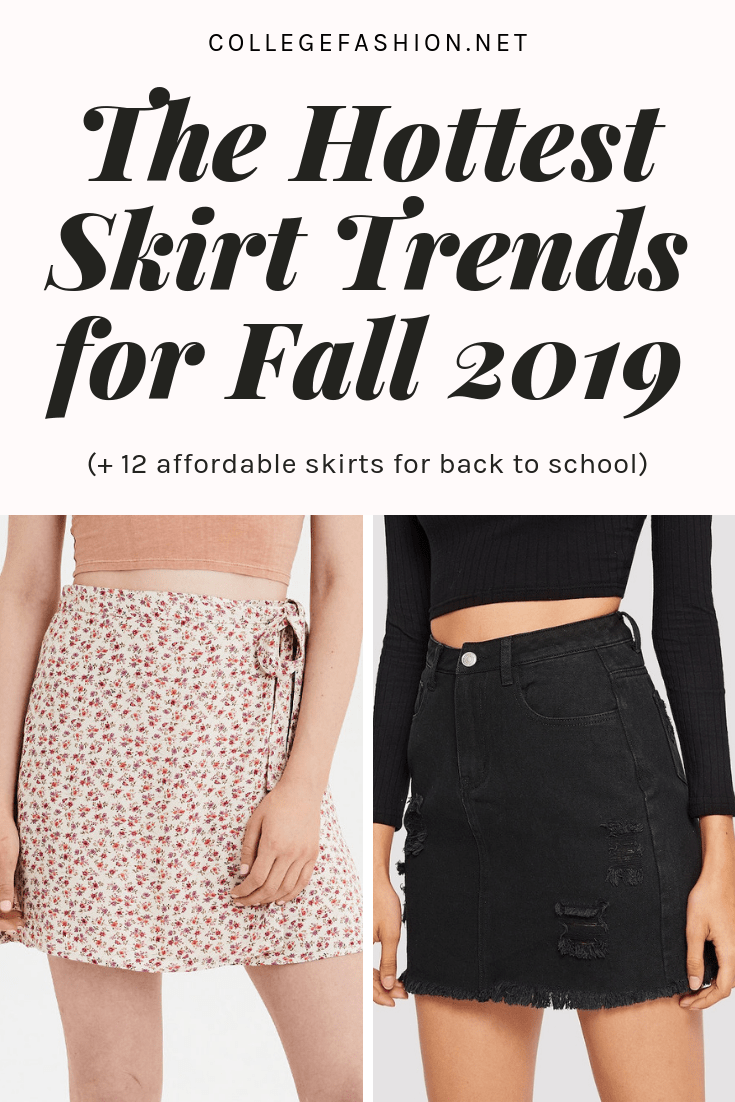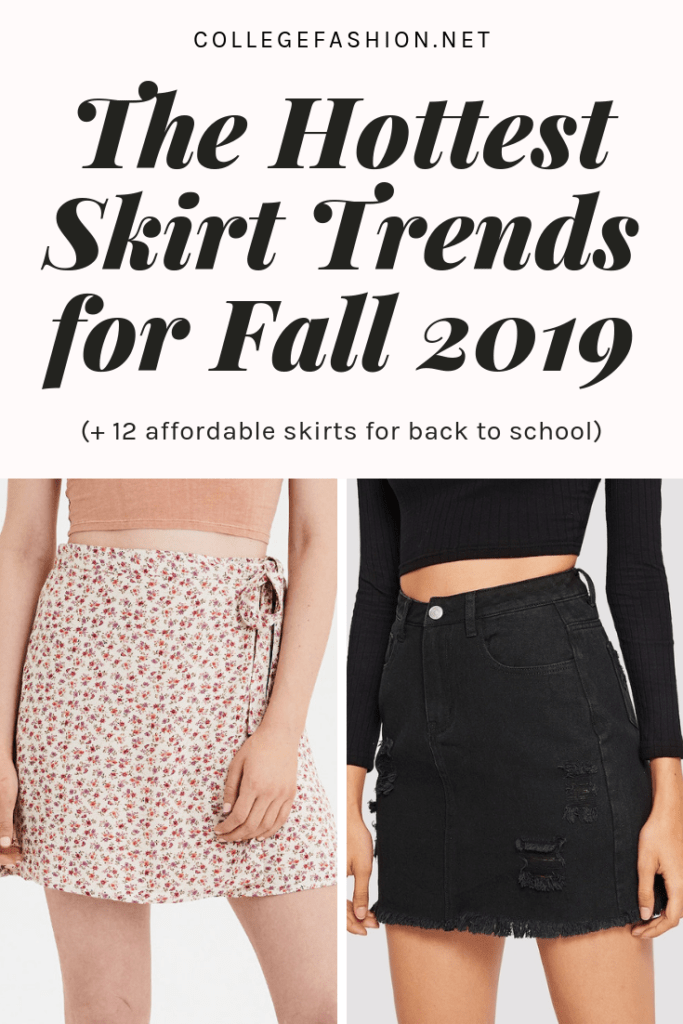 By now your back to school shopping is probably well under way. Here at CF, we're here to help you make the right choices to look your best on campus this fall.
We've talked about bags for college, fall denim trends, fall shoe trends, and even the school supplies you need for class. Today, we're breaking down the hottest fall skirts you need in your wardrobe. Plus, we're sharing 12 of our favorite skirts that are college girl-affordable.
Scroll on down to check them out!
1. The Denim Skirt
Denim skirts have become trendy again in the past few years, and as far as I'm concerned, they're closet staples.
A classy alternative to the uncomfortable skinny jeans, a denim skirt walks the line between casual and sophisticated. Plus, denim goes with everything!
Here are three takes on the classic denim skirt that won't have you matching every girl in your dorm this fall…
Two-Tone Denim Skirt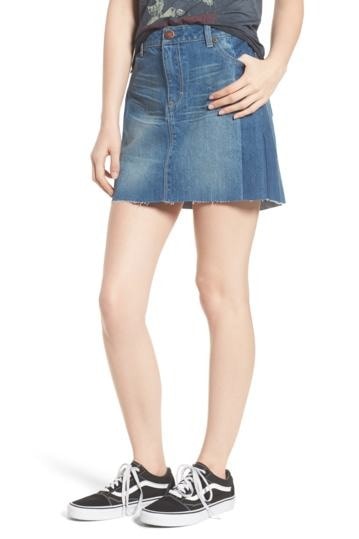 This two-tone denim skirt from Nordstrom Rack is a slightly different take on the classic jean skirt. It can be worn with pretty much everything, and the different shades of denim add a funky surprise to your fit!
Distressed Black Denim Skirt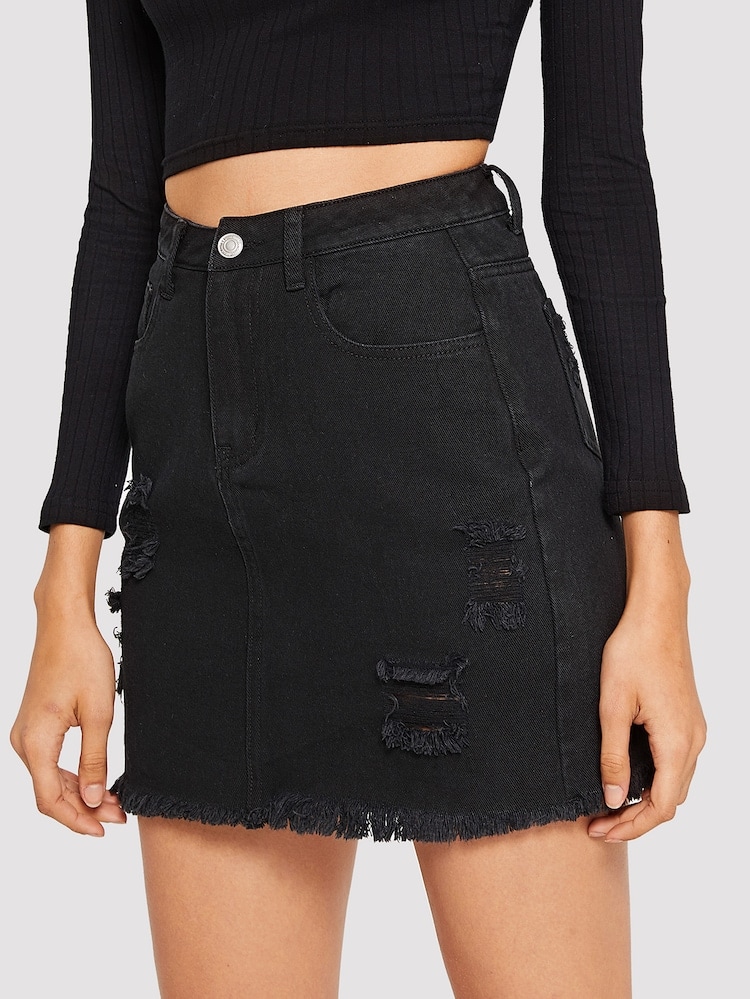 Here we have a distressed black jean skirt from Shein for a night out!
The frays in the skirt give you a major tough girl vibe, and the classic look of the black denim makes this skirt a piece you can rotate easily into your looks. A classic, timeless example of a college girl skirt…
Denim Maxi Skirt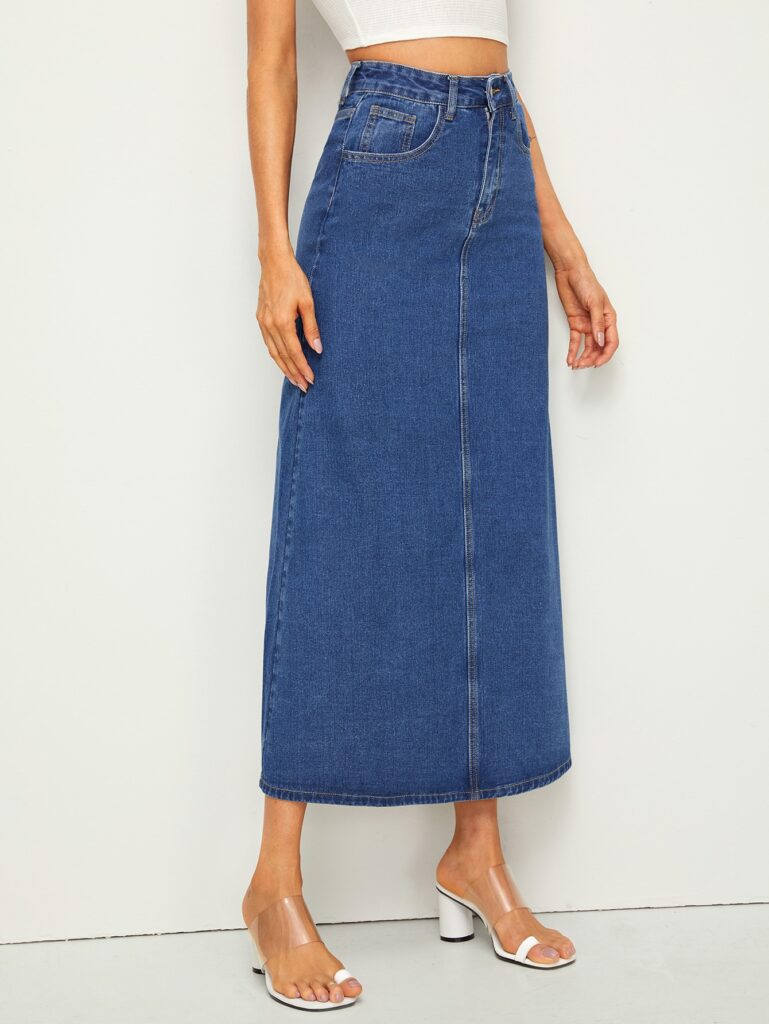 To round out our selection of skirts, here's one I ADORE from Romwe. It's built just like a classic blue denim skirt, but its length keeps you warm on a windy day and can bring a unique silhouette to your look!
This skirt is definitely an eye-catcher and a bit of a fashion risk. That said, if you're game, I can totally see it paired with a cute and neutral summery top like a white peasant blouse or a yellow tie-front shirt.
2. The Wrap Skirt
Wrap skirts have such an interesting look – you can never tell if they're a skirt or a skort! The perfect item to keep people guessing, wrap skirts come in all shapes, sizes, and colors.
They're like regular skirts, but with a lovely asymmetrical detail — so they're a no brainer to style. Swap your classic a-line for a wrap skirt to bring your look into 2019.
These three skirts are some of my fave wrap skirts this season!
Floral Wrap Skirt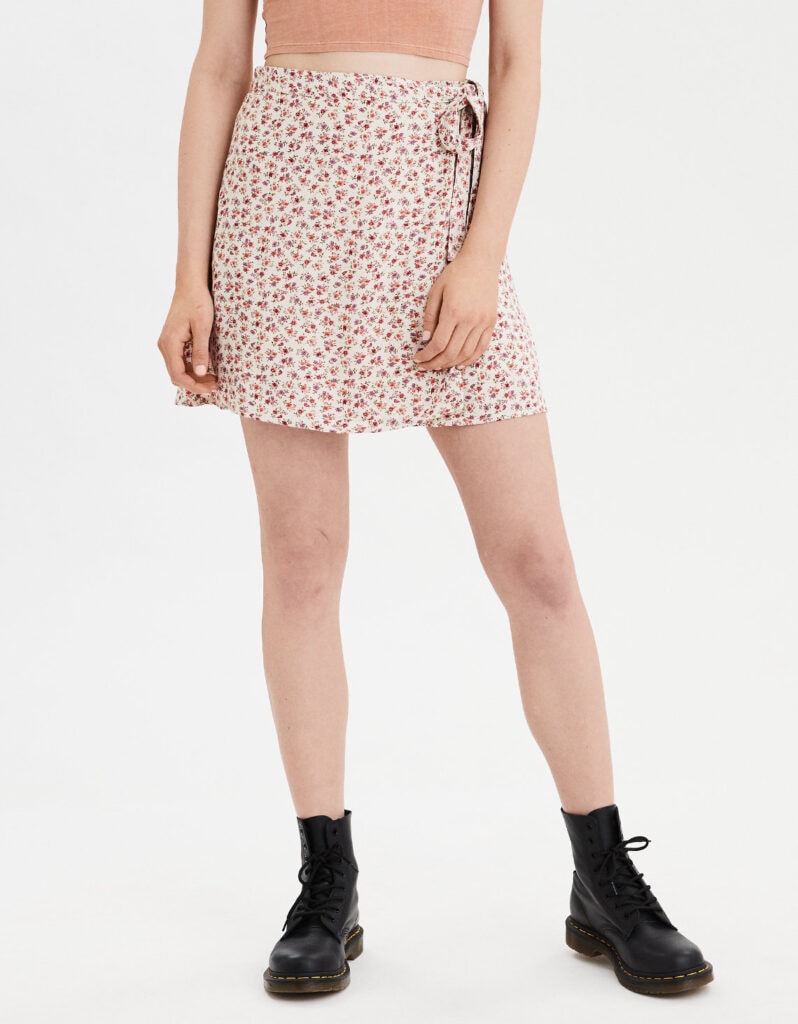 Here's a super cute fall skirt from American Eagle that's on sale. (Yay!) This skirt is PERFECT for a summery, romantic outfit — I can just picture it blowing in a cool summer breeze…
Some pop(pies) of color make this skirt the focal point of any outfit, and its simple pattern will look great on everyone!
Side Button Denim Wrap Skirt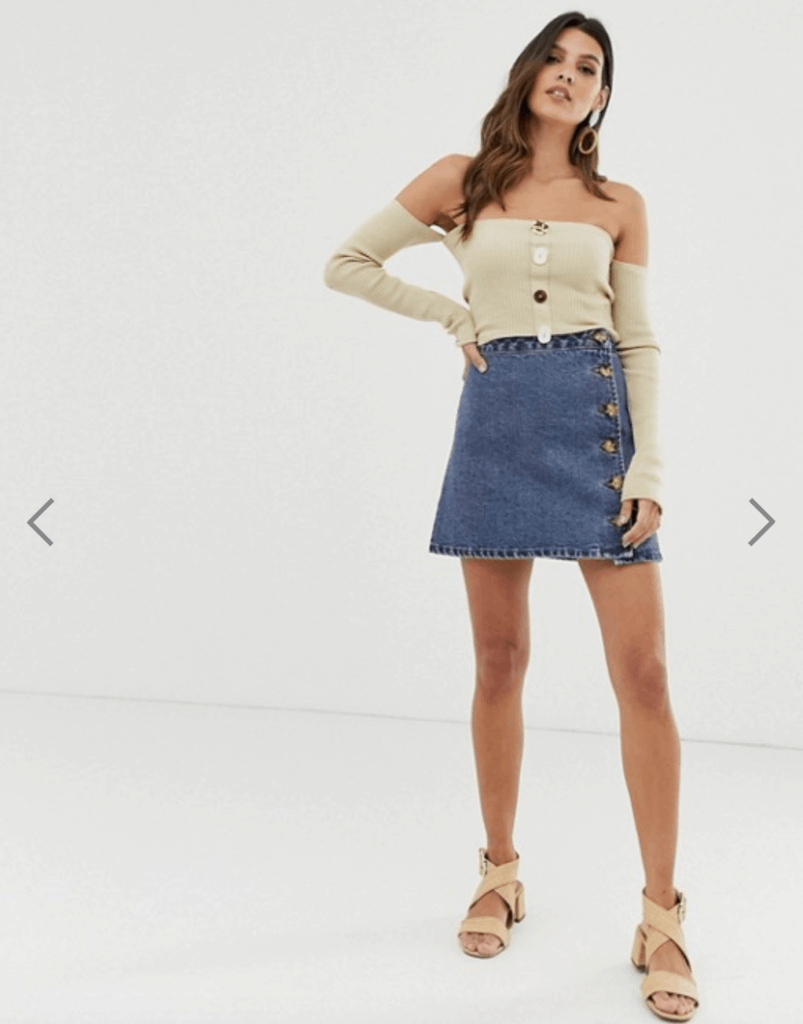 This button-front wrap skirt from ASOS is awesome because it's a simple jean skirt, but it has buttons and an asymmetrical front that makes it super cool to look at without taking over your 'fit. I love the classic retro vibes here!
Plus, with all those buttons this skirt is staying ON, no matter how windy it gets.
Plaid Wrap Skirt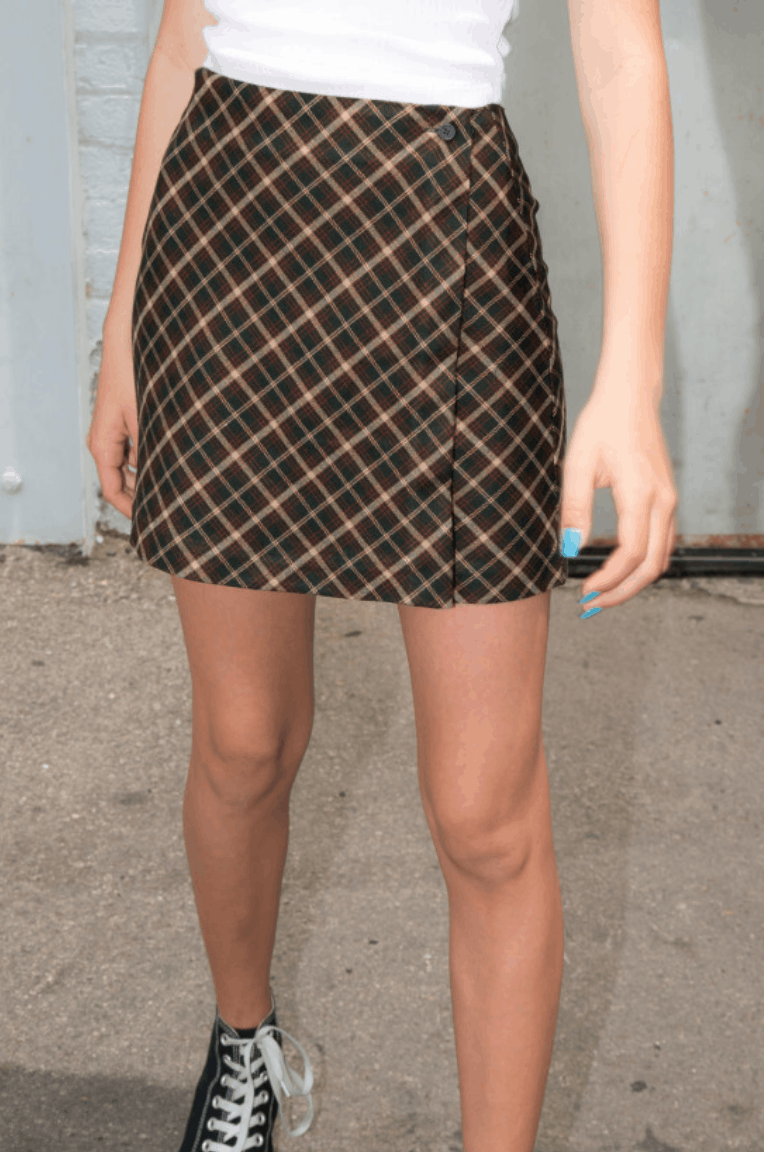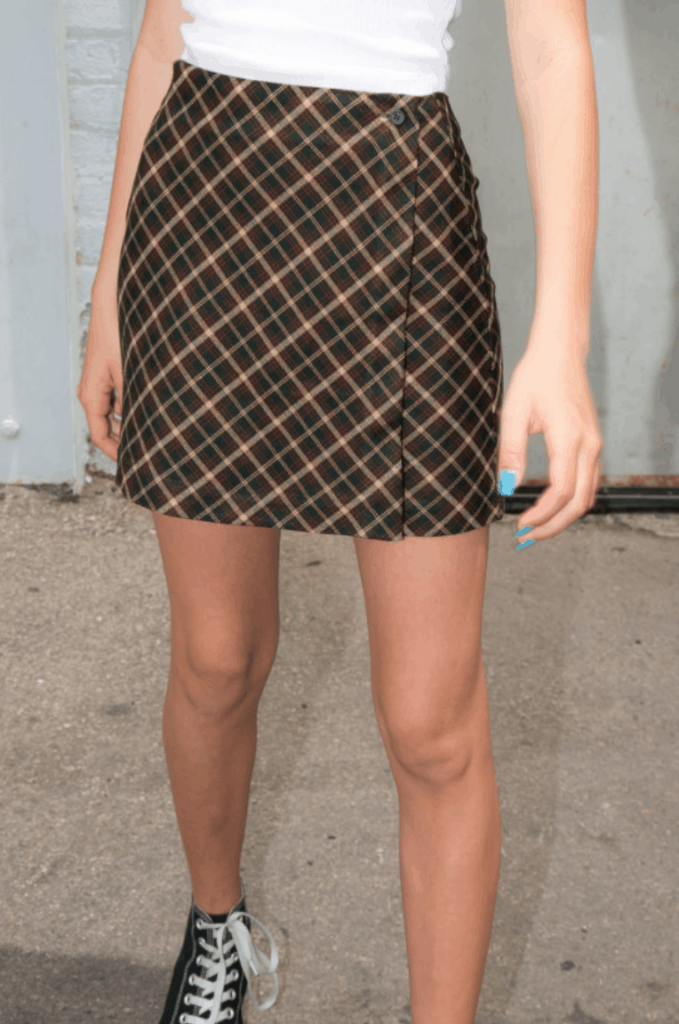 I am living for Brandy Melville's fall skirt line. Their skirts are so preppy, vintage, and chic — I can't get enough! This skirt is perfect for fall with its muted colors and fun wrap hemline.
Pair this skirt with a cute graphic tee and a jean or army jacket for a back to school outfit!
3. The Midi Skirt
The midi skirt has made an appearance on Instagram and in celeb street style recently, so I had to include some on this list! Especially as we make the transition from summer to fall, our hemlines should be doing the same.
These are my favorite funky-fresh picks for midi skirts!
Dot Print Midi Skirt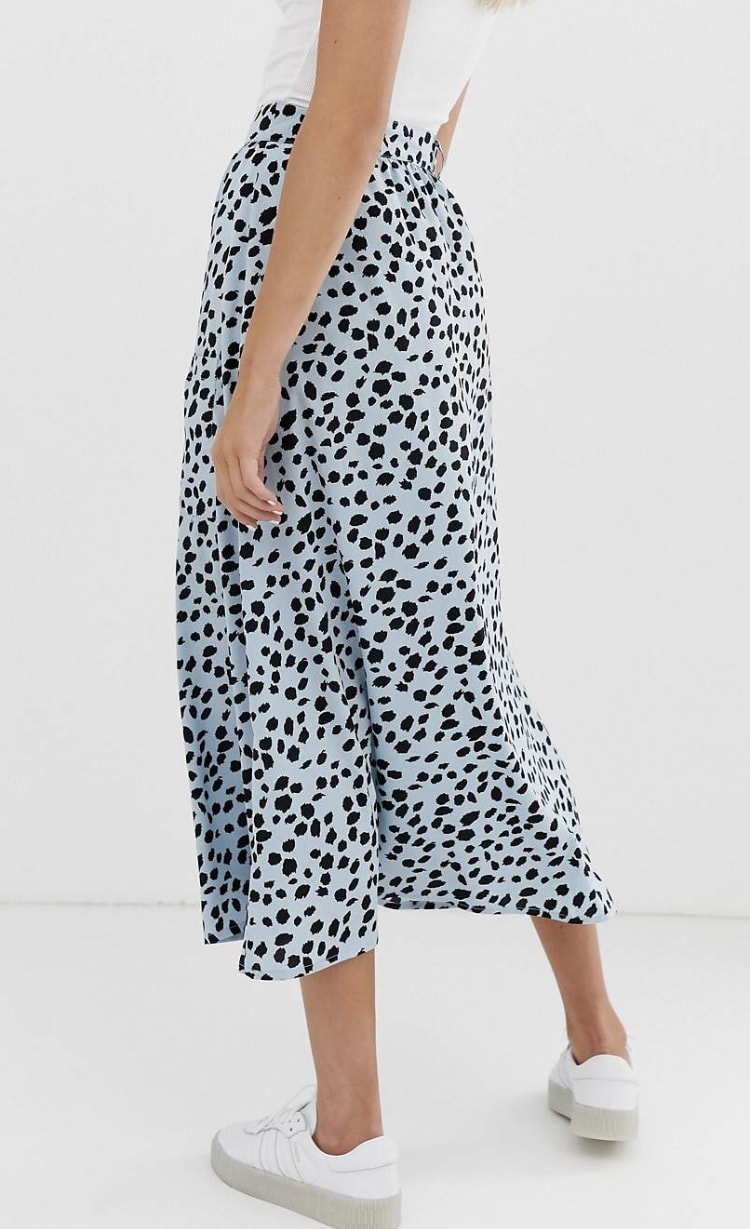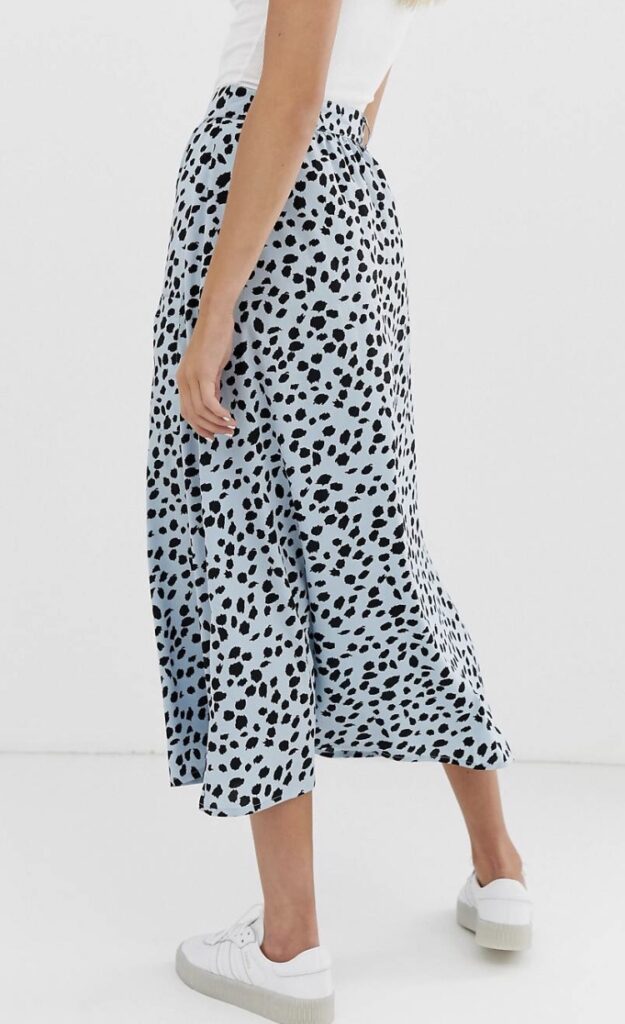 This blue patterned skirt from ASOS is the perfect statement piece for a casual, breezy outfit! Dress it down with some white tennis shoes (as shown), or up for a trendy night out with a leather jacket and some black heels.
Button Front Eyelet Midi Skirt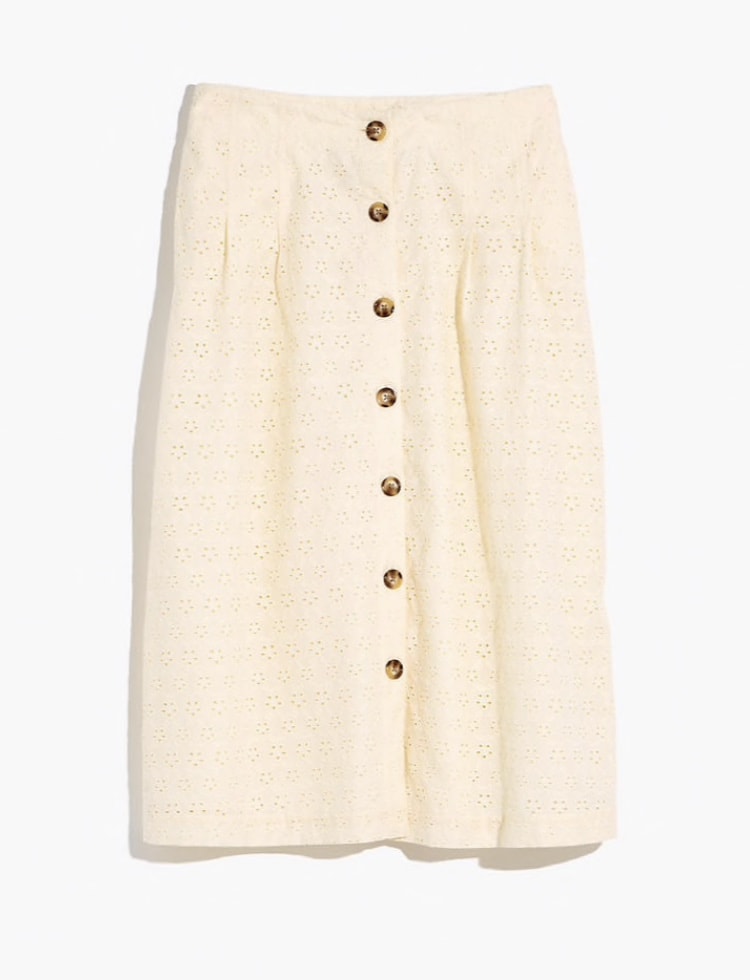 This eyelet button-up skirt takes "farmer's market chic" to the next level. It's light in color, shape, AND texture. Plus, it's on sale now from Madewell!
Skirts like this one are super versatile. You can pair this skirt with a tight crop top, or you can tuck a loose t-shirt in and you'll look amazing either way.
Pleated Midi Skirt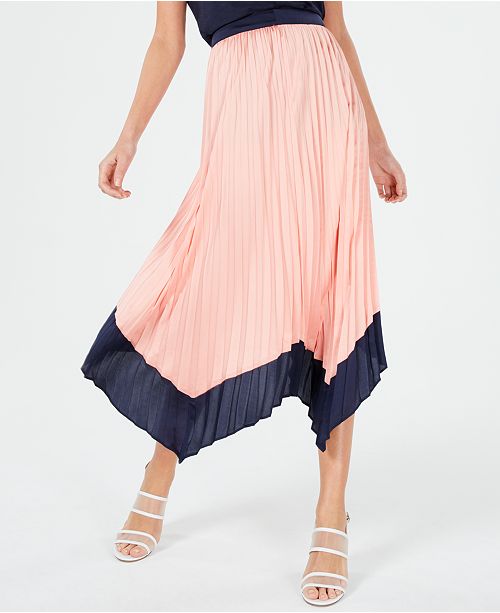 This list of fall skirts wouldn't be complete without some color-blocking! A pleated handkerchief hemline mini skirt from Macy's is the perfect choice to make you stand out this fall and give your wardrobe a refresh.
On top, wear a neutral white or — if you're feeling bold — add a third color into the mix! Anything goes with a statement skirt like this one.
4. The Plaid Skirt
The plaid skirt is another timeless piece that's gotten a reboot! What else says "back to school" like plaid and pleats?
Check out these skirts for modern takes on a classic pattern.
Pleated Plaid Mini Skirt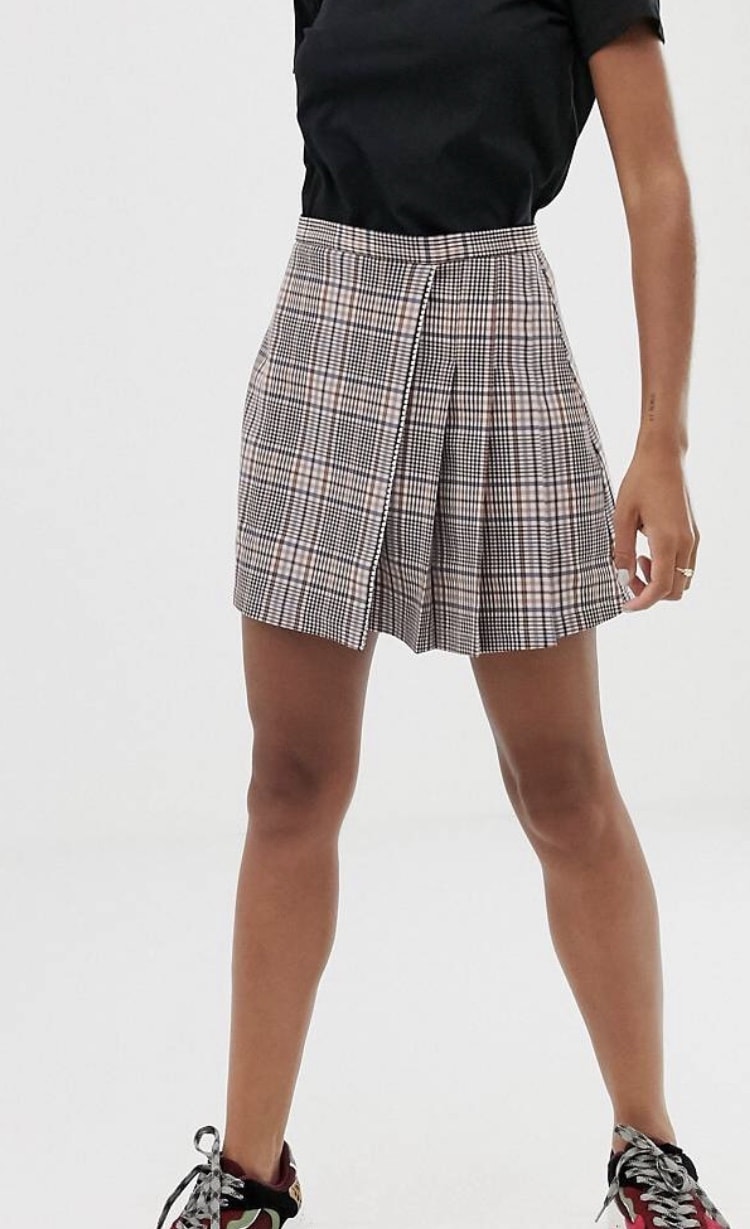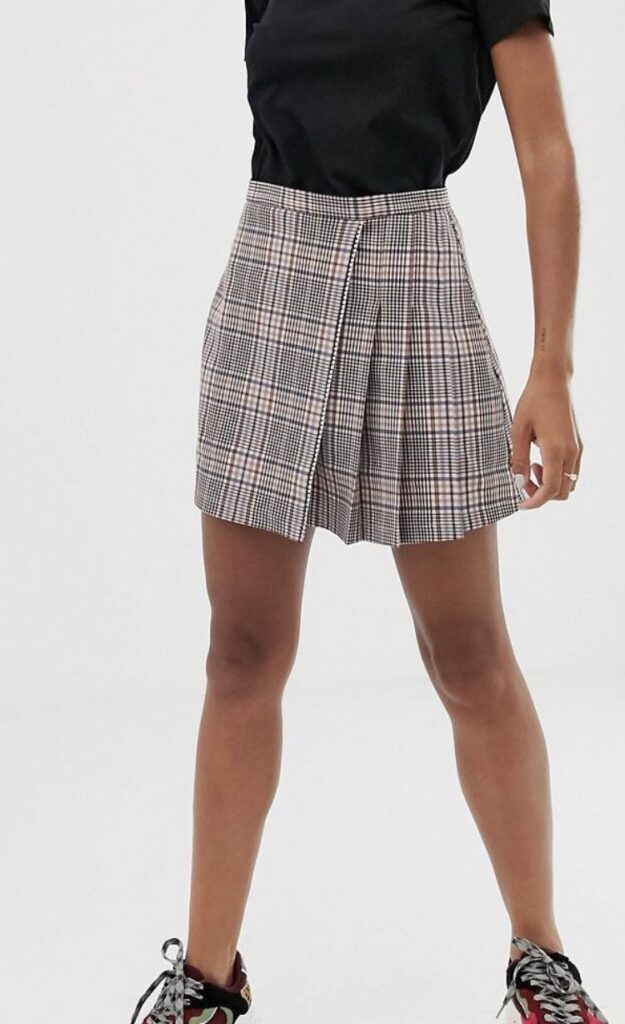 I love the combo of this gray asymmetrically pleated skirt with sneakers – it gives major cool-girl vibes.
A skirt like this keeps things interesting, but still acts as a neutral and can be paired with some bold colors! Get it from ASOS for the fall.
Blue Plaid Mini Skirt with Slit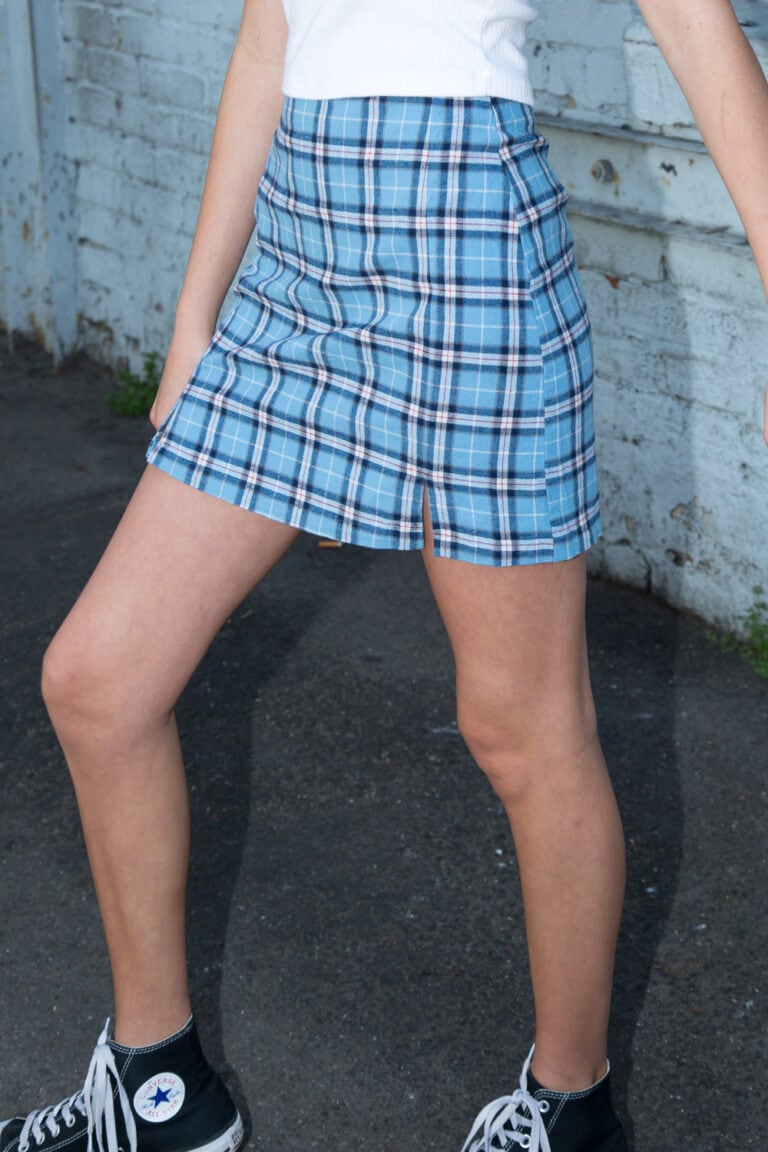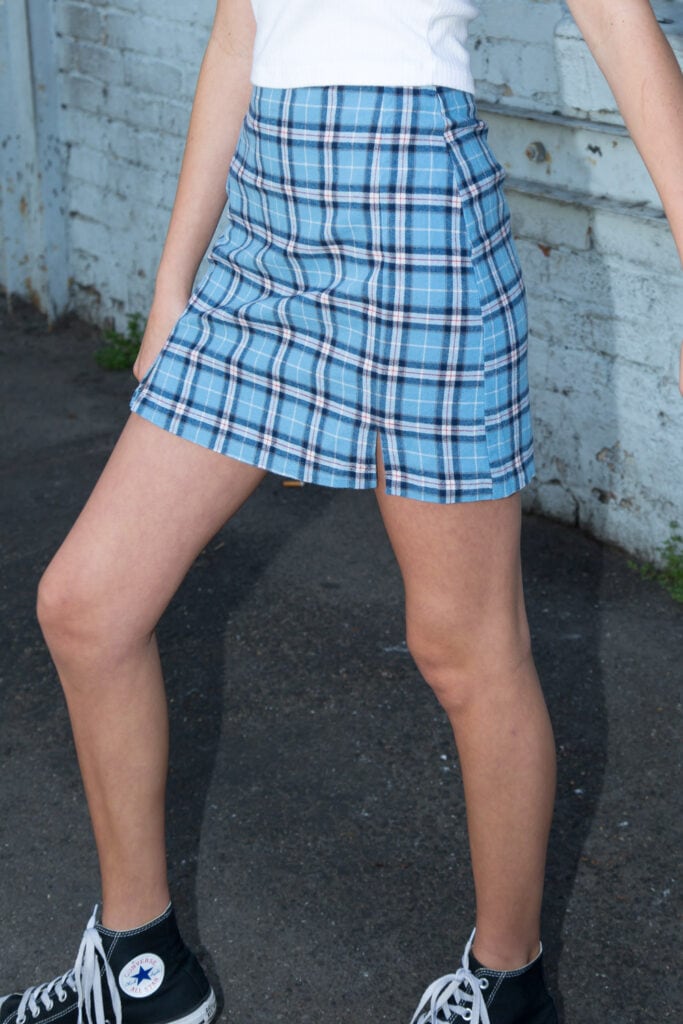 I HAD to include another skirt from Brandy Melville's selection; I couldn't help myself.
This skirt is a more modern take on the classic '90s plaid skirt. It features sky blue, an off-beat choice for a preppy piece. Also, the no-nonsense shape gives this skirt a super sleek look that can be dressed up for the office, or down for a day out.
Plaid Mini Skirt with Button & Belt Details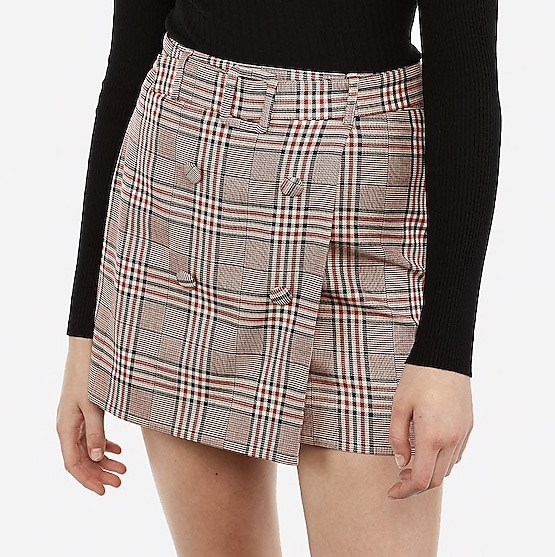 Finally, this skirt from Express is more of a classic look, and is oddly reminiscent of Gossip Girl. The pattern is a basic plaid, but the shape and button/belt details are what really makes this skirt pop!
Because the belt is the same color, the skirt doesn't look too busy, but still puts in the work in your fit. It pairs well with a solid color on top and is perfect for a business casual event.
What do you think of these fall skirts?
Did you enjoy my round up of back to school skirts? Any skirt trends you're loving this season? How would you style these skirts IRL?
Let me know what you think in the comments!