Editor's Note: While some of these trends are still hot today, be sure to see our updated guide to 2020 denim trends for the most up-to-date styles.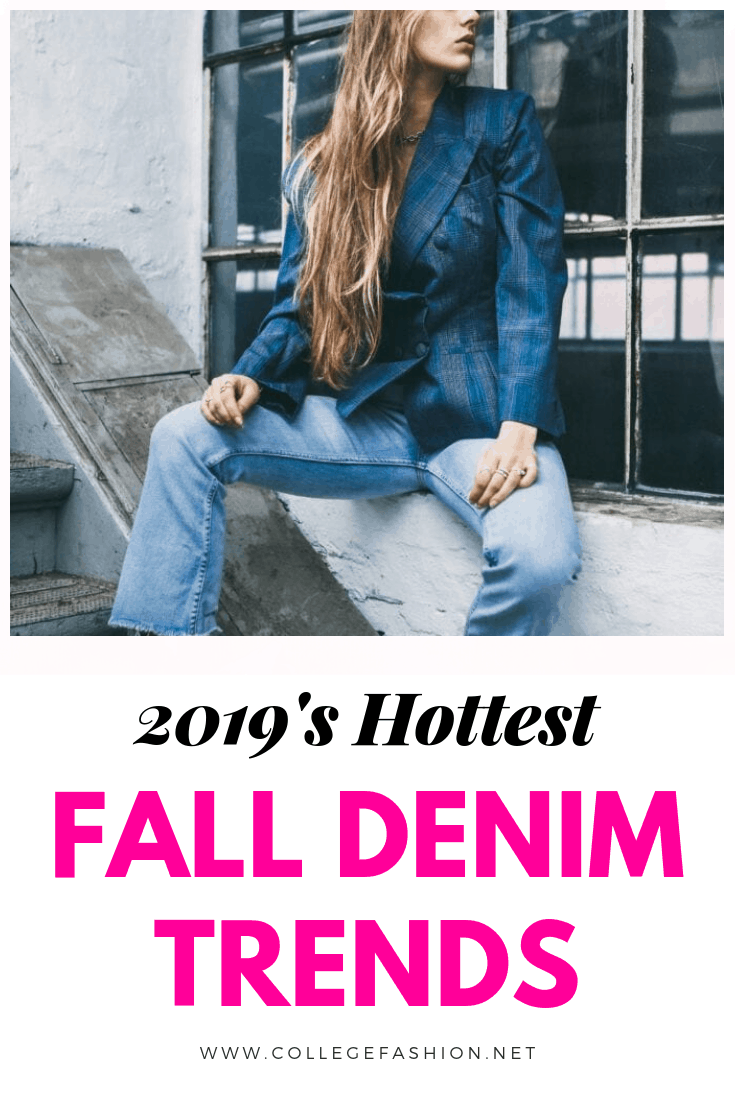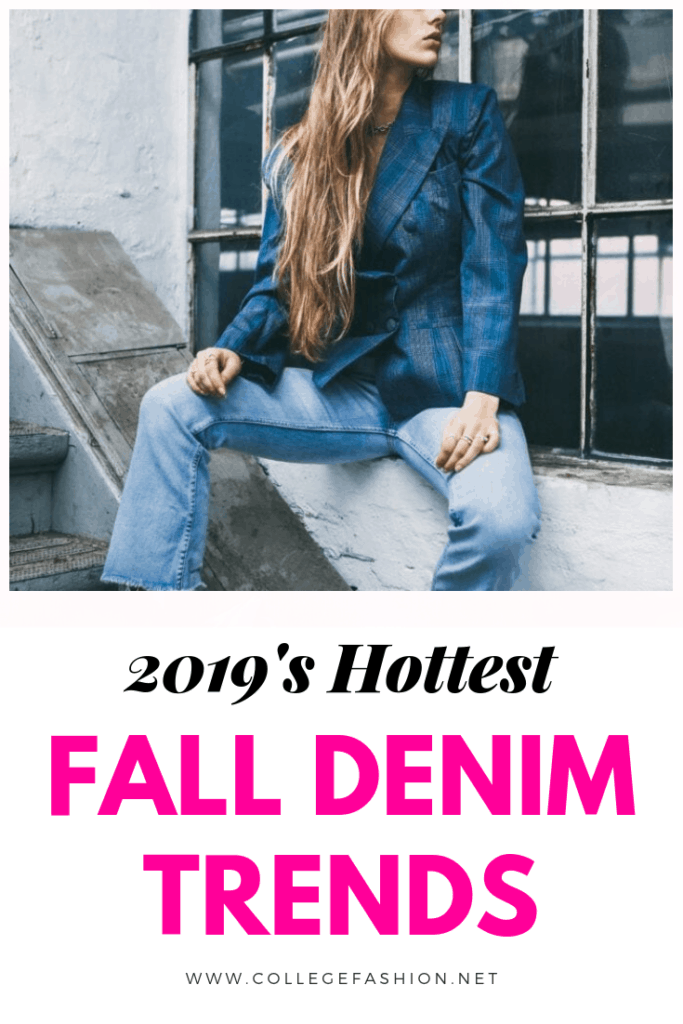 If you're like most college girls, then chances are that jeans play a pretty important role in your everyday wardrobe. From easy class outfits to dressier night-out looks, you probably have a go-to pair for every casual (or casual-ish) occasion.
Luckily, the fall denim trends for 2019 include a ton of innovative jean options to try, from the familiar (Wide-leg jeans! Straight-leg jeans!) to the more out-there (Different-colored pant legs! Asymmetrical hems!). This means that there's something out there for everyone, regardless of personal style.
That being said, I've combed through the coolest jean styles that the upcoming season has to offer, and picked out the four that are sure to be some of the most popular–and the most wearable–amongst the fashion crowd. I've also put together an outfit for each one to give you some inspo going forward.
Ready to learn more about the fall denim trends that every fashionista will have on heavy rotation this fall?
Just keep reading!
Fall Denim Trends 2019 #1: Wide-Leg Jeans
Products: Blouse – Zara, Bag – Mango, Ankle Boots – Zara, Jeans – Urban Outfitters, Earrings – Mango, Ring – Wanderlust + Co, Bracelet – Natalie B Jewelry
If you kept up with trends in the mid-2000s, then chances are you remember wide-leg jeans.
And, while this denim trend didn't last as long as others that were gaining traction around that time (skinny jeans, anyone?), they definitely made their mark on the fashion landscape.
This time around, the wide-leg trend is back with an easier-to-wear higher rise, which offers a more streamlined silhouette.
Here, I styled a sophisticated dark-wash pair of wide-leg jeans with some other key trends from Fall 2019.
First off, there's this beautiful Victorian-inspired ruffled blouse that'd look amazing tucked into the jeans. (Just be sure to layer a tank top or camisole underneath the blouse, as it is completely sheer.)
Next, we have some of-the-moment shoulder-grazing faux baroque pearl earrings, a fun signet ring, and a vintage-esque charm bracelet.
Finally, we've got a pair of trendy Western-inspired ankle boots, along with a croc-patterned bag that features a modern geometric top-handle.
Fall Denim Trends 2019 #2: Patchwork Jeans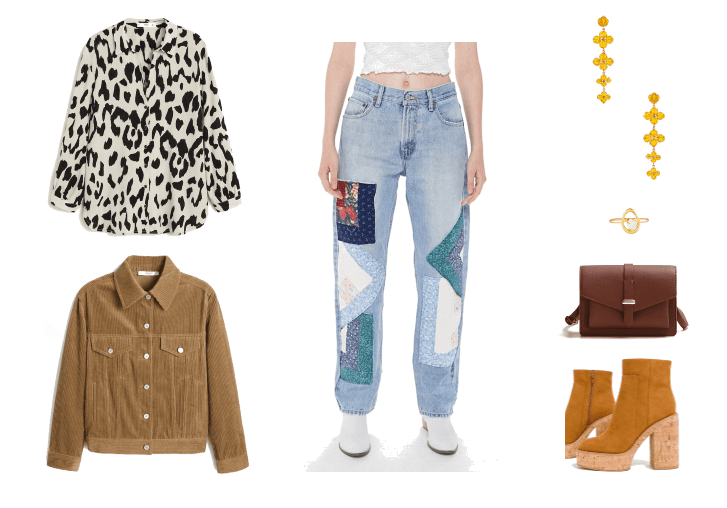 Products: Blouse – Mango, Jacket – Mango, Jeans – Urban Outfitters, Earrings – Revolve, Ring – Wanderlust + Co, Bag – Mango, Ankle Boots – ASOS
Patchwork jeans have been around for quite a while; in fact, the style dates all the way back to the 1960s! In the past few years, though, patchwork jeans have been laying low. Of course, they've popped up occasionally. But, they've never truly taken off as a major trend–that is, until now!
Although patchwork has been a big theme for clothing beyond denim on the fall 2019 runways (see: Michael Kors, Coach, and Oscar de la Renta), I find it to be the most wearable in denim form.
This is especially true of the jeans I've featured in this look, which have a cute '60s DIY feel to them. (PS: If you're into crafting, patchwork jeans would be such a fun DIY project!)
Here, I decided to take the jeans' crafty theme and run with it by putting together a quirky outfit that'd be perfect for wearing on a crisp fall day.
To begin, I picked out a chic leopard print blouse that'd look especially cool half-tucked into the jeans. Next, I added a cozy corduroy jacket which lends the look a menswear-inspired feel.
I chose these pretty, face-framing beaded earrings, in addition to an organically shaped faux-opal ring, to add just a touch of sparkle to the ensemble.
As for footwear, go bold with a pair of ankle boots with a super-chunky (and super-trendy) sole.
Finally, because this outfit is pretty busy, I thought that this classic and simple cross-body bag would be the ideal way to pull everything together.
Fall Denim Trends 2019 #3: Straight-Leg Jeans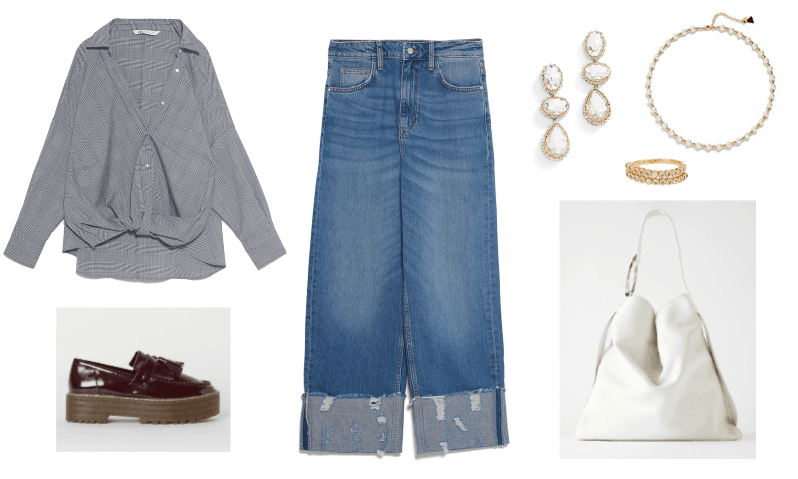 Products: Shirt – Zara, Loafers – H&M, Jeans – Zara (Same style here in black in more sizes), Earrings – Shopbop, Necklace – Shopbop, Ring – Revolve, Bag – Zara
Straight-leg jeans might seem basic at first, but this season's iterations are anything but!
Whether you prefer a streamlined and classic pair in a uniform dark wash or a more modern-looking cuffed pair with distressed details — like the jeans I chose here — you're sure to find straight-leg jeans that work for you this Fall!
I styled this transitional look with ease-of-wear in mind. (I.e., you can throw it on and go on days when you've slept through all seven of your alarms–again.) So, let's break it down, shall we?
A long-sleeved off-the-shoulder blouse–especially in a fall-ready plaid print–makes for the perfect summer-to-fall top. Moreover, its relaxed silhouette gives off some major street-style vibes, particularly when paired with the loose-fitting jeans in this look.
I continued with the slouchy look by adding an unstructured hobo bag.
However, because a good outfit is all about balance, I chose these patent burgundy flatform loafers to add a pop–both in terms of color and in terms of their more structured look.
For the finishing touches, you can't go wrong with Fall 2019's bold jewelry trend, so I picked out a pair of eye-catching drop earrings, a pearl choker necklace, and a bejeweled wrap-around ring.
Fall Denim Trends 2019 #4: Seamed Jeans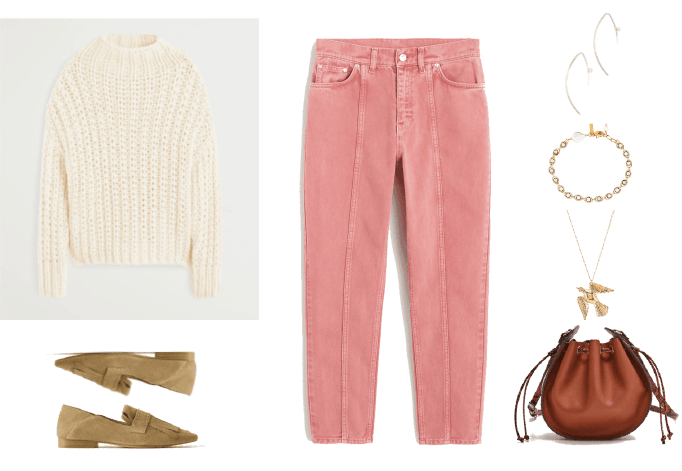 Products: Sweater – Mango, Loafers – Zara, Jeans – Mango, Earrings – Shopbop, Bracelet – Revolve, Necklace – Revolve, Bag – Mango
Seamed jeans are the fourth and final jeans trend that caught my eye for Fall 2019.
Though this vintage-inspired style is subtler than some of the others that we've seen for the upcoming season, it can still make a big impact if you choose the right pair! See for reference: the unusual faded red ones featured in this look. When paired with boho-inspired pieces in neutral tones, they truly become the star of the show.
A chunky-knit sweater is a must-have for any fashionista living in a colder climate, and the looser stitches on this ecru number give it a modern and free-spirited update–especially when contrasted against the jeans' dusty hue.
Fringed loafers with studded details contribute to the easy-going vibe that this outfit has going for it, as does a goes-with-everything, cognac-colored bucket bag.
To finish off this simple-yet-impactful look, delicate gold jewelry is the way to go! Here, we have a pair of minimal curved threader pearl earrings, a pretty opal bracelet (accented with a beautiful baroque pearl), and, finally, a lovely swallow pendant necklace.
What do you think?
Which fall denim trends are you most excited to try out? How would you style the jeans featured in this article? What are some other fall trends that you'd like to experiment with?
Let me know in the comments!