Sophisticated yet stylish, Elise excels at making business wear look fabulous. People often view fashion as an art form bound to the right brain, but talking to Elise, a math major, about fashion was a blast because of how well she's able to blend logic with creativity.
She spent the first half of our interview chatting about the great deals she's gotten on clothes, but she also talked about researching elements of style online. When I asked her what she liked about her outfit today, she responded with, "It's very symmetrical!" Elise rocks a mature style that's elegant yet on-trend.
Elise 101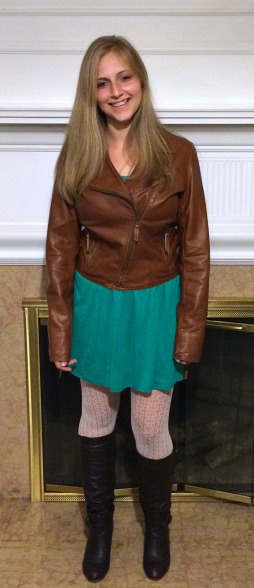 Name: Elise
School: DePauw University
Year: Senior
Major: Math, economics minor
What are your shopping secrets? "You always have to be on the lookout for good deals. I'm a college student just like any other, and because I'm an international student I'm extra poor. Over time I developed a sale radar. Finding deals is great because whatever you find, you can just stock up. It's a great strategy to have as a student because you can save up your new finds for any occasion."
So many people dislike shopping and have trouble figuring out what looks good on them. What's your advice? "I used to be really conservative about colors, but since coming to the U.S., I've been really inspired by the colors and the weather. The weather is so drab in the UK. Now I like to wear oranges, reds, and pinks in the summer. Royal purple is my favorite color for fall.
Shopping comes down to colors and shape. You can figure out what colors look good with your skin tone by just Googling a color palette. It's the same thing with shapes; once you figure out what shape your body is and what is flattering, shopping is really easy. Color and shape is all it is."
Business wear can sometimes get boring. How can women do business professional with a personal flair? "Accessories and color are a great way to show your personality. Be aware of skirt lengths and avoid extremes in style. If you're worried about something being too bright, you can balance it out with more neutral pieces, like a black jacket with a bright top. You can catch people's attention with accent pieces, like a red belt with a black dress."
Do you feel like your everyday style and your business style mirror each other in the story you're trying to tell with your clothes?"Yes, definitely. Now that I'm a senior, I'm thinking a lot about how I look and how I present myself. I'm trying to mentally prep myself for when I dress professional every day when I'm working. I'm just trying to make it a habit now and make sure I look appropriate and mature every day."
Where do you shop for business style clothes?"I love New York & Company; they have great deals. I also like The Limited and ASOS. For shoes, Aldo is great for sales. Nine West has good quality heels."
Elements of Elise's Style
1. Cutouts and Lines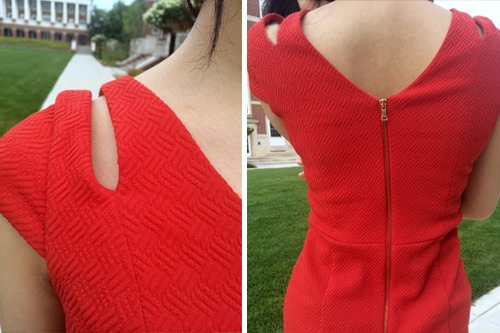 Dressing professionally doesn't have to mean dressing like a nun. Elise's dress, from The Limited, has a textured fabric with a subtle pattern, cutouts on the shoulders, a gold zipper, and a flattering cut on the back. This frock looks polished and professional, but also modern and youthful. The best part? She got it for $11.
2. Simple Shoes with a Girly Flair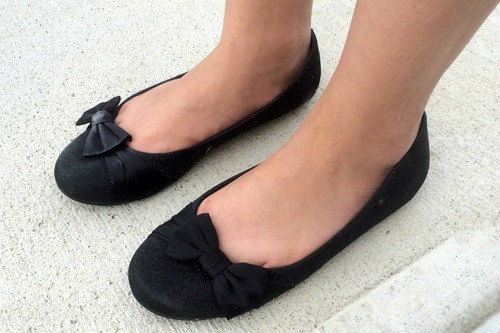 Elise's black, shimmery flats are comfy and stylish but still professional. Flats are perfect for a student like Elise who's always on the go, but wants to look sharp. She recommends 6PM for deals on shoes, and added that Jessica Simpson and Fergalicious make good quality, comfortable flats that are ideal for a business casual look.
3. Personalized Accessories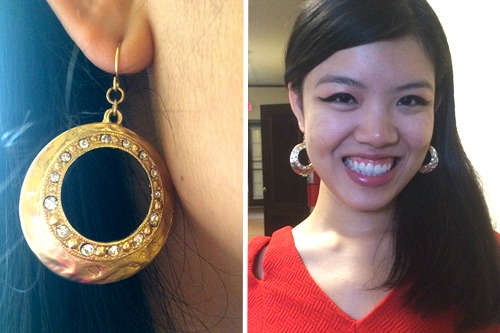 Elise already manages to look fun and bright with her red dress, but she adds more shine to the outfit with these gorgeous gold and diamond earrings. They were a $2 find from New York & Company, and are a no-brainer way to spice up a business casual look.
What do you think of Elise's professional look?
Do you love how Elise is trying to make a habit of business casual? Do you agree that shopping comes down to shape and color? Are you a smart shopper like Elise? Let us know what you think in the comments!