Summer is here and we could not be more thankful for the break. Freshly graduated from high school with the world at her fingertips, our next fashionista is eager to start school at the University of Charleston.
Kelsey is a girl-next-door with an aesthetic that features both boho and athleisure styles. Both vibes have put comfort first. Kelsey walks us through the science behind her outfit with tips on creating a balance within your summer wardrobe.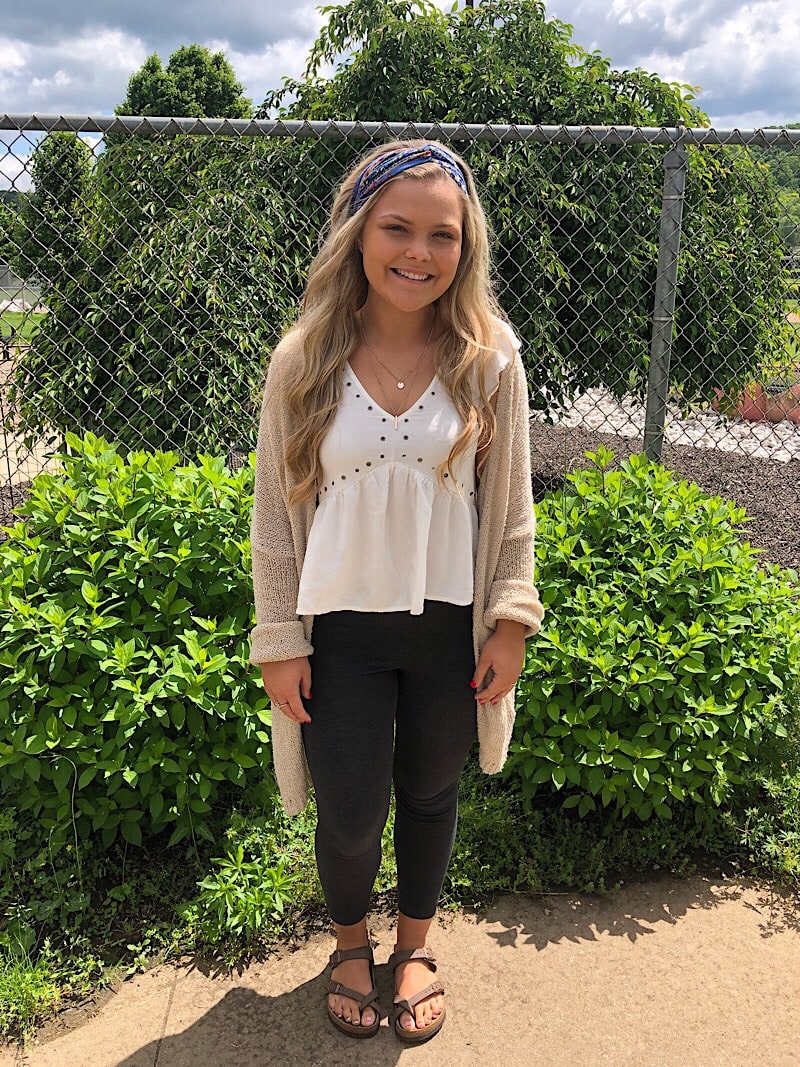 Kelsey 101
Name: Kelsey
School: University of Charleston
Year: Freshman
Major: Nursing
Hometown: Nitro, WV
Let's Talk Fashion
What made you want to pursue nursing? "I felt called to nursing by God. I really feel like I was given the gift of compassion and patience, and they're both necessary for nursing. I'm taking this journey one step at a time and doing my best to follow the will."
Who or what inspires your style? "My style is inspired by modesty and trendiness all in the same. I love to keep up with the latest trends but also throw a cardigan or jean jacket on if I feel [my outfit is] too revealing. I love a boho-chic look when picking out my everyday wear."
Where do you like to shop? "I'm big on budget so I love to shop at Target, Marshalls, T.J.Maxx, and sometimes even Walmart! When I have a little extra cash to spend, I'll splurge on stores like Anthropologie and my biggest weakness: American Eagle. All of my denim comes from American Eagle, and all of my cotton leggings – because a girl can never have too many pairs – are from Victoria's Secret."
Why did you choose this particular outfit? "This particular outfit is one of my favorites because it encompasses a lot of parts of me. I wear leggings nearly daily because… who doesn't?! I am an avid headband wearer. Like… seriously. I have a wall of headbands in my room. One for every outfit or occasion. No lie. And this cardigan is a staple in my closet, absolutely the best purchase of my life. I wear Birkenstocks with any outfit I can and [I] adore them."
What fashion advice would you give to other students looking to improve their style? "My biggest advice is to stop thinking you have to spend a lot to look good. This shirt I have on in this style [I purchased] secondhand for $3. Once you really start to let go of the stigma behind certain shopping choices you'll really see a new world opening up. Give everything a chance. Or three."
What are your favorite trends right now? "My favorite trend right now is the patterned headband trend that follows the boho look. I am living for it. The normalizing of the boho look with baggier tops with leggings is one of my favorites also."
Do you have any favorite fashion designers? If so, who? "Stevie Hender, the owner of Shop Stevie has a beautiful boho style."
What do you do for fun – do you have any unique hobbies or interests? "I do have a love for photography that I pursue in my free time, along with video production. I love to hike and run when I get the chance to, as well as take little day trips with my besties."
If you could raid anyone's closet, who would it be and why? "A famous YouTube influencer named Jess Conte! She's a Christian who still dresses trendy while remaining modest. [Her style has] a strong boho vibe."
What are your summer plans? "My summer plans include one beach trip with my girls in June, working two jobs, and going to Puerto Rico at the end of the summer with my mom, sister, and grandparents."
What are you most excited about college? "I'm so excited to meet all kinds of new people. It's definitely scary but I'm ready for the academic challenges. The idea of pursuing my career is so exciting."
Elements of Kelsey's Outfit
1. Ruffled Babydoll Blouse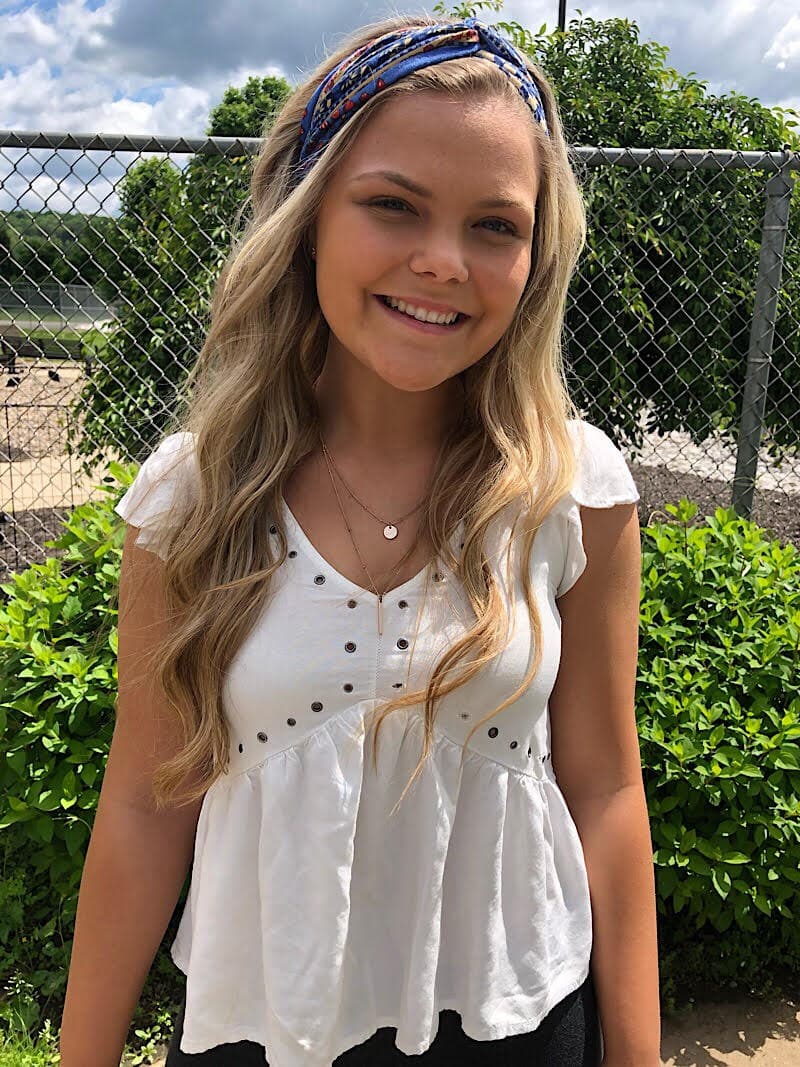 Kelsey knew what she was doing when she bought this top. The ruffled style makes it a lot more interesting than a basic white tee. It has several small details, like rivets and flowy cap sleeves, that set it apart from the rest.
Showing off your style during the summer (particularly in Charleston, SC) can present challenges due to heat and humidity, but Kelsey nailed it with this top. She looks effortless and put-together.
2. Layered Necklaces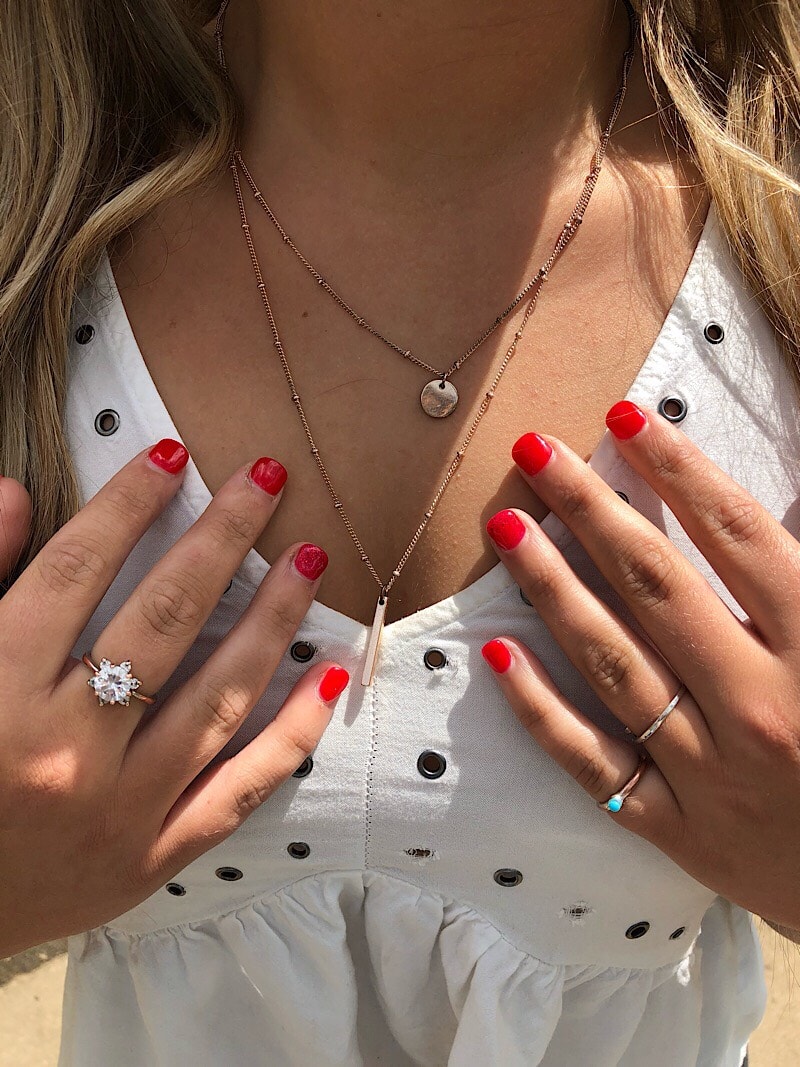 Another way to step up your summer attire is the addition of jewelry. Layered necklaces have been popular for good reason; they add so much to any look! The combination of various metals and finishes assist in Kelsey creating an eye-catching look.
What do you think of Kelsey's look?
Do you love her style? What advice would you give her for starting college? Comment below and share your thoughts with us!