Savannah is enjoying the beginning of summer by rocking her boho-chic aesthetic around Morgantown. She's thankful for the warm weather because it means more outdoor time with her dog and less stress now that the semester is officially over.
I had the opportunity to ask plenty of questions about her style, hobbies, and creative side hustles. At her core, Savannah is a relatable and real girl who is all about individuality. You will be obsessed with her paper bag denim shorts, layered necklaces, and her winning advice for anyone wanting to find their own style.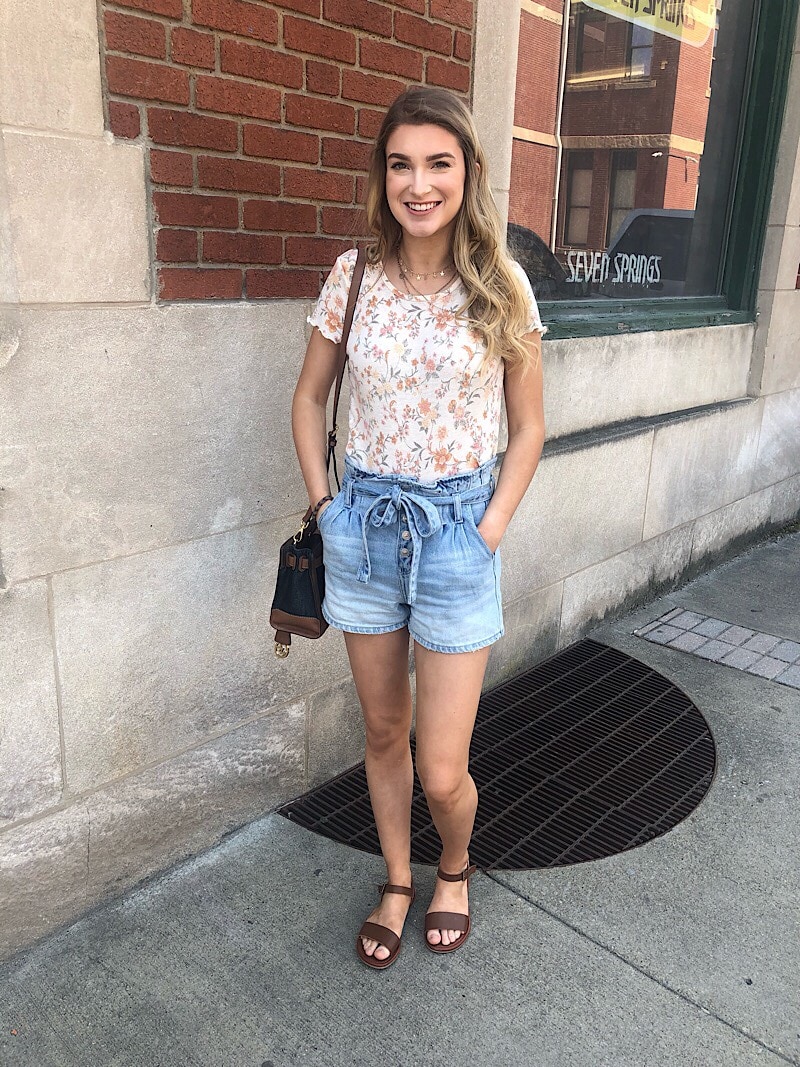 Savannah 101
Name: Savannah
School: West Virginia University
Year: Sophomore
Major: Art Education
Hometown: Scott Depot, WV
Let's Talk Fashion
Who or what inspires your style? "Probably social media. I follow specific people [on Instagram] who have styles that influence me. @dreaming_outloud tends to have very boho-chic outfits. @courtneysteeves has a free-flowing style… very unique and cozy. Those are two great examples off the top of my head."
Where do you like to shop? "I enjoy shopping at Goodwill and Altar'd State. I love the look of Urban Outfitters. It's out of budget, so I look for similar styles at other retailers."
How would describe your sense of style? "My style changes depending on the time of year. During the warmer months, I would say my style is more boho but also really causal. I tend to be very feminine but simple. During the colder months, my preferences become more androgynous. You'll see me bundled up in layers with more of a street style. When it comes down to it, I prefer the west coast aesthetics, wishing it was summer all year long."
Why did you choose this particular outfit? "These shorts are my favorite pair I own. They are versatile yet super comfy. This shirt is kind of 'my personality,' but on fabric. My sandals are just my go-to decent pair of shoes I wear when I'm not wearing Chacos or Converses.
Do you have any favorite trends? "The paper bag pants/shorts trend is one of my favorite trends. I think they're so flattering and can [work for] any body type. Also, anything denim. Oh… and layered jewelry [is] super important. Not to mention scrunchies! They are versatile and cute."
What fashion advice would you give to students looking to improve your style? "Find what you're comfortable in. Showing your personality through your outfits is very important."
Do you have any favorite fashion designers? "Stevie Hender has been a recent discovery and her style is very inspirational. I don't pay much attention to designers and names of brands; I just find pieces that I like."
What do you do for fun? Do you have any unique hobbies or interests? "I have a huge obsession with true crime. I spend most of my time watching crime documentaries and listening to murder podcasts. I also love to draw and paint which is why I am an art major. I also sing and play the piano."
How did you get interested in true crime? "I've just always been fascinated with psychology, [as well as] the mental aspects of criminals. So I started watching videos and listening to podcasts which inspired me to create my own YouTube channel where I sit down and discuss true crime cases."
With the semester being over, are there any art projects you are working on outside of your major? "Yes, I do a lot of commission artwork, like family/couple portraits, pet drawings, and calligraphy which I post on my art Instagram @scripts.by.sav!"
Speaking of summer, what are your plans? "I work at PetCo as a dog trainer in hopes to become a service dog trainer in the future. Also, I will be working on more art and creating more YouTube videos."
If you could raid anyone's closet, who would it be? "Sadie Robertson. She is a huge inspiration. I am obsessed with her style. Everything she wears, I want."
Elements of Savannah's Outfit
1. Paper Bag Denim Shorts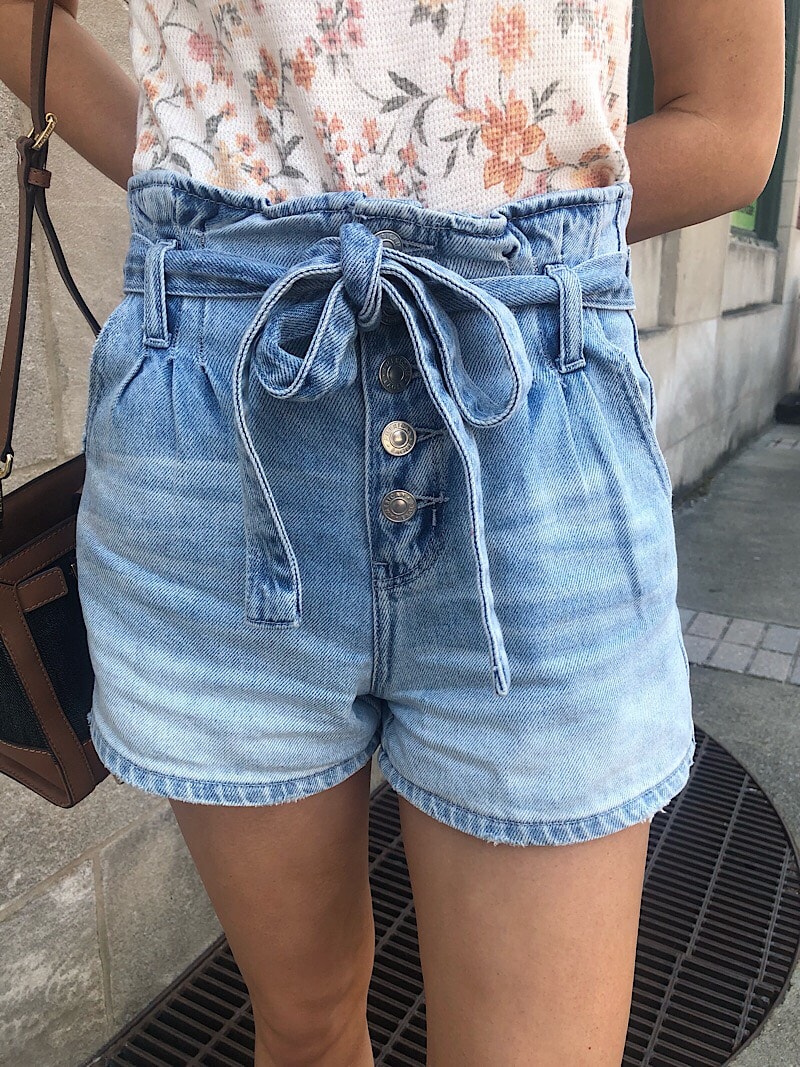 The paper bag style of shorts and pants are on fire this summer. Savannah's adorable style is a true conversation piece. These shorts have plenty of character, from an ombre wash to a button-up enclosure. With a pair like these, Savannah has endless options for dressing up any tank top or basic tee.
2. Layered Dainty Necklaces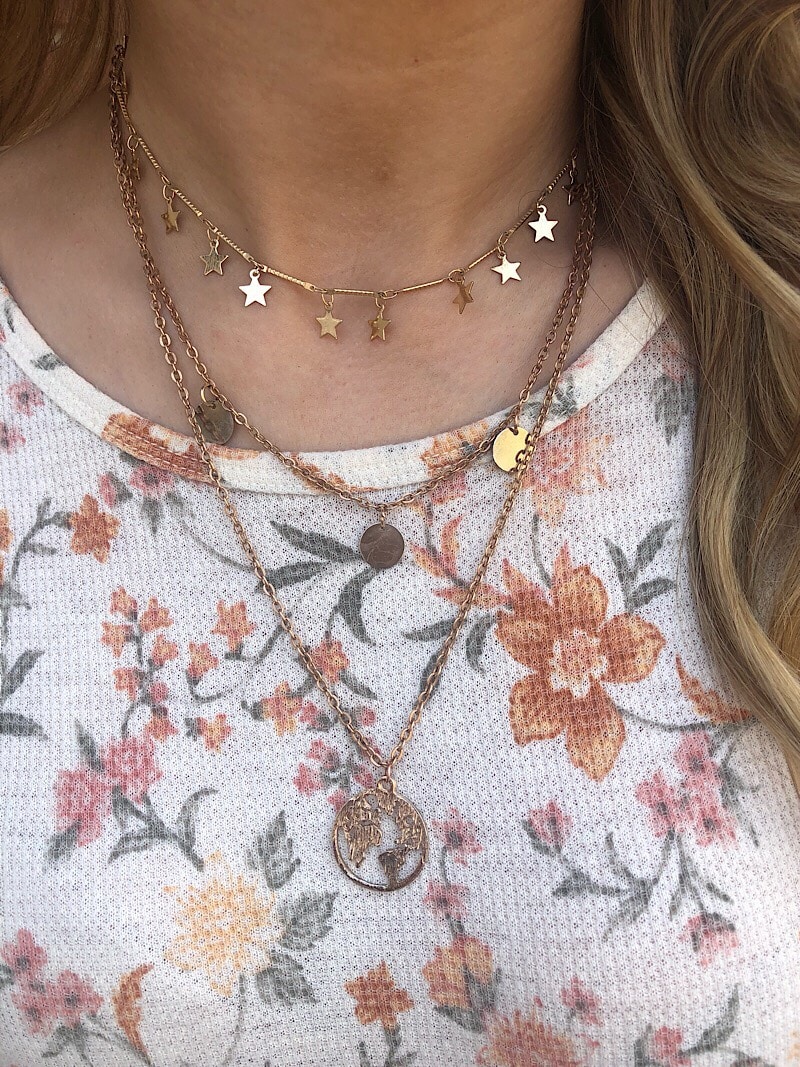 Savannah explained that when it comes to accessories, she tends to keep it simple and wears her everyday staple pieces. Layering accessories can make your outfit look put-together, a common obstacle when the heat is brutal and you find yourself wearing the same basic shirt and shorts combination every day.
Savannah went with a classic gold combination, but don't be afraid to mix it up with silver, rose-gold, or even a lightweight choker!
What do you think of Savannah's style?
Do you love her summertime look? This is a go-to outfit for her… what is your go-to style? Comment below and let us know!