I came across our latest stylish student working on her final project in the Evansdale Crossing. Ali is receiving her undergrad in Strategic Communications but she might as well have an advanced degree in style. She knows how to mix practicality and professionalism like a true fashion pro.
Ali's ensemble allows for her to focus on her advocacy project — more details on that below — while feeling cute and confident! Her dainty, gold jewelry and red, patterned ascot add a slight pop color to her look. There's no doubt about it; Ali is unafraid to have A-plus style.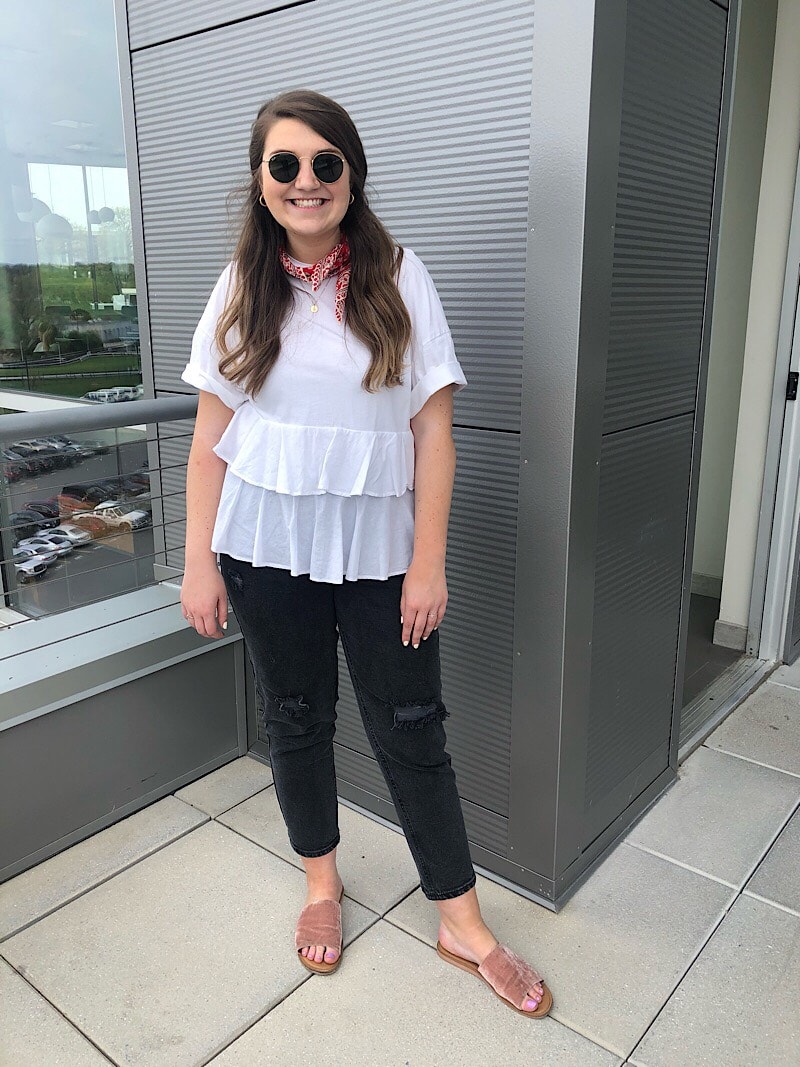 Ali 101

Name: Ali
School: West Virginia University
Year: Senior
Major: Strategic Communications – Public Relations
Hometown: Teays Valley, WV
Let's Talk Fashion
Can you tell more about your advocacy project? "Women are the primary caregivers for children and have a harder time finding jobs than men do after being released from prison, mostly because they apply for construction jobs. So with our project, we want women to feel more confident and prepared for interviews. By doing so they can make money, take care of their families, and [will be] less likely to go back [to prison]. We are putting together care packages with donated professional clothing, face masks, nail polish, and resume tips so they feel loved and prepared for future job interviews."
How did your group come up with this idea? "We bought professional clothing from Goodwill! We were able to find good brands [LOFT and Target, to name a few]. Our whole class is actually based on advocating for women who were formerly incarcerated because our professor chose this as a passion project."
Who or what inspires your style? "I get most of my style inspiration from Pinterest and Instagram. Also, I would say my best friends all dress really cute and we inspire each other."
Where do you like to shop? "I love stores like Anthropologie and Madewell, but they're expensive so I look for similar pieces at boutiques or other places. I've recently been shopping at the boutique @Roolee that I found on Instagram. They have the cutest dresses for all of the events I will be attending soon."
How would describe your sense of style? "I asked my roommate to describe my sense of style and she said 'quirky!' I would say I'm not afraid to play around with patterns and wear statement pieces like big earrings or ascots. I like to be bold and try different trends that might seem weird."
Why did you choose this particular outfit? "I chose this outfit because it's easy with basic pieces and fun accessories. It's finally spring and I'm really enjoying getting to dress for the warm weather."
Do you have any favorite trends? "I love gingham! It's the cutest pattern for spring. And I also love the fun tassel earrings; they brighten up any outfit. I've been wearing mom jeans all winter too and I love how the '90s trends are in style."
What fashion advice would you give to other students looking to improve their style? "Some great fashion advice is to have plenty of basic pieces that you can mix and match with accessories. You don't have to spend a lot of money either; the clothing that I get the most compliments for are often from thrift stores."
As a senior in college, how do you think being at WVU has changed your style over the past four years? "My style has evolved so much since I was a freshman. I've been able to learn what's practical for walking around campus and still look cute. I've figured out how to layer and accessorize over the years. It's important to dress well and feel confident in class."
Do you have any favorite fashion designers? "I don't really follow any big name designers, but I do love Kate Spade bags. I think her bags are classy and timeless."
What do you do for fun? Do you have any unique hobbies or interests? "I really enjoy hiking and photography. I spend most of my time as a volunteer Young Life leader, which is an outreach ministry for high schoolers. It's the most rewarding way I could spend my time."
If you could raid anyone's closet, who would it be? "I think if I could raid anyone's closet, it would be Kacey Musgraves's. She has the cutest pieces that are so unique. I just think she is fabulous."
Elements of Ali's Outfit
1. Not-So-Basic White Tee
Ali's white H&M blouse blends movement and style with its simple layered ruffles. The cuffed sleeves are simply adorable. Ali has dozens of options for layering her blouse with long necklaces, jackets, and bandanas (like she did on this particular day!).

2. Jewelry + Accessories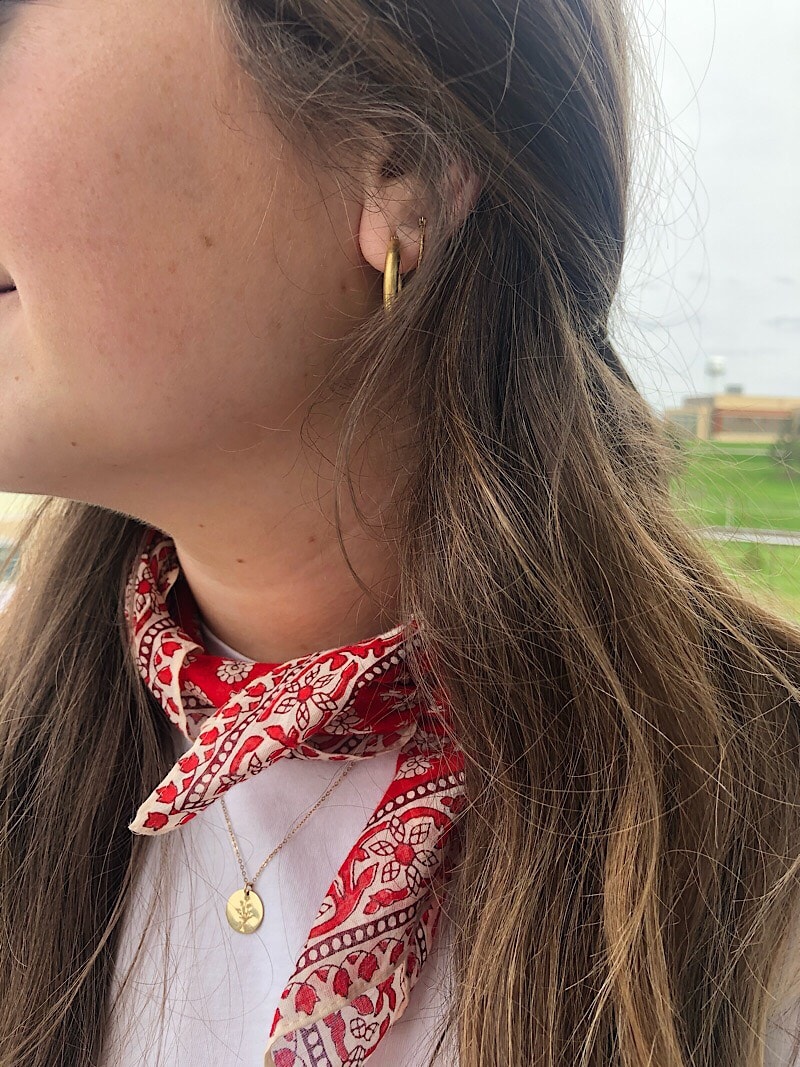 If you've ever had doubts about rocking a bandana around your neck, let Ali be the confidence boost you need. Just go for it! This fashionista can rock it as a fun twist in place of or in addition to a necklace.
Ali's gold earrings are from Madewell, a store that, though pricier than a fast fashion retailer, makes quality jewelry that will be made to last. Ali mentioned that her necklace from GLDN, an online boutique, is a must-have staple that she wears every day. Again, quality over quantity is key.
The simplicity of Ali's outfit allows the jewelry and bandana to stand out.

3. Velvet Blush Slide Sandals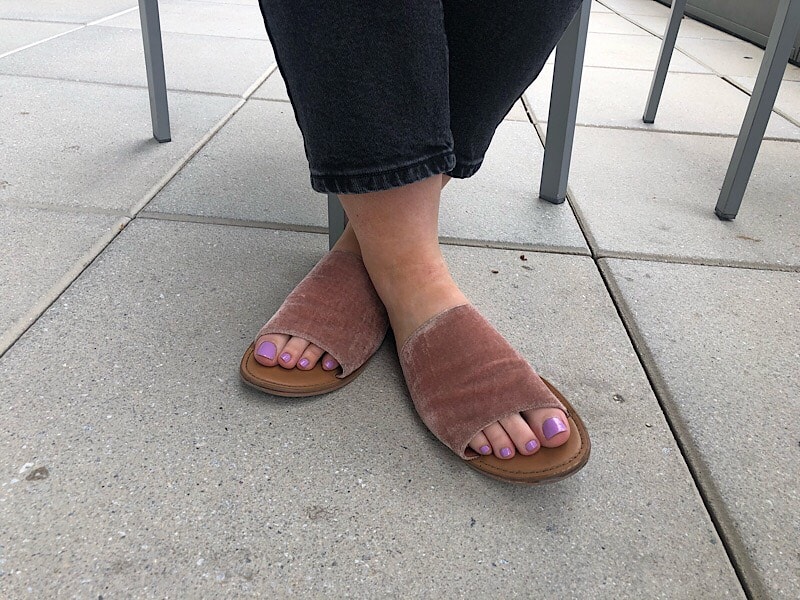 Ali is sporting velvet slide sandals from Target. Slide sandals are super popular this spring and pretty much anywhere you look, you will be able to find a chic pair. These velvet ones add a funky texture to her look and we are here for it.
Now that you've seen her look, it's time to tell us your thoughts!
What do you think of Ali's outfit? Do you love her bandana and cool slides? Comment below and share your thoughts with us!