With newfound freedom, eager to start a new chapter, our next featured fashionista is ready to tell us all about her trendy ensemble. Logan is a recent high school graduate who is continuing her education this fall at West Virginia University.
Up-and-coming college students: take note! Logan's style is comfortable, chic, and looks great. Logan may seem like the girl-next-door, but she follows the in's and out's of fashion while marching to the beat of her own drum, creating a style that is one-of-a-kind (just like her!).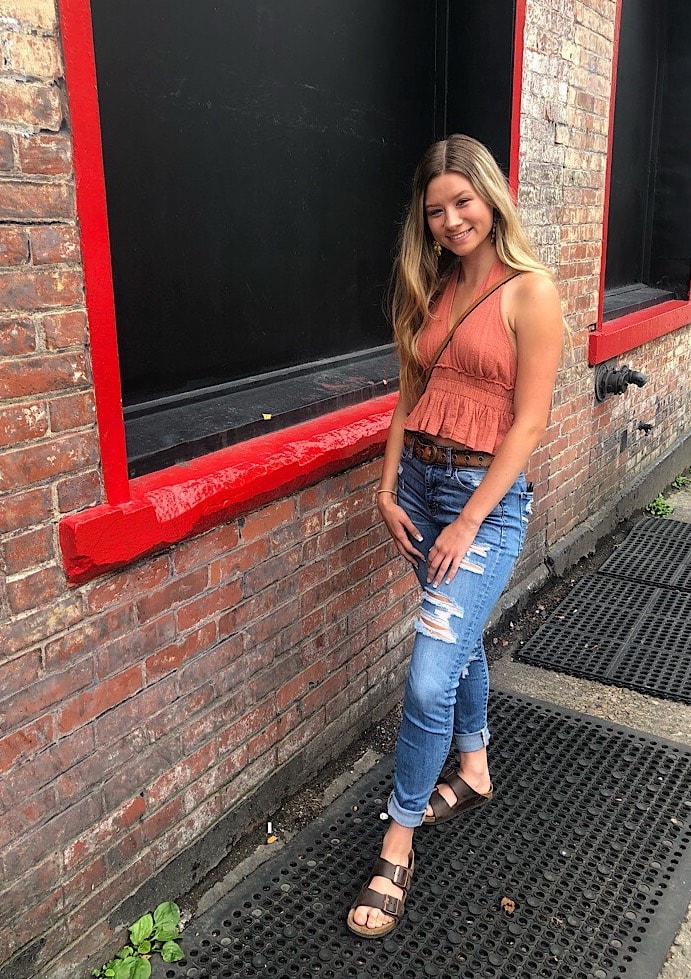 Logan 101
Name: Logan
School: West Virginia University
Year: Freshman
Major: Criminology
Hometown: Morgantown, WV
Let's Talk Fashion
Who or what inspires your style? "I look to my friends for inspiration for my outfits. Pinterest and Instagram are great for looking for inspiration, too. I really try to look at trends and follow the ones that I like best."
Where do you like to shop? "I tend to shop at Forever 21, American Eagle, and sometimes Buckle. Those are probably my main stores but I'll go to department stores like JCPenney that have a wide range of selections [as well]. I also enjoy thrift shopping which is really sustainable."
How do you describe your sense of style? "Well, it really depends. I feel like during the summer I am more likely to look cute. When it's warm, I tend to dress up with a nice pair of shorts or even a skirt. But if it's during winter or there is colder weather, I am more likely in jeans [or] something much more casual. As a whole, I tend to strive for outfits that are somewhat casual but very cute. I like to layer, so no matter the season I think I tend to organize my outfits in a way that I appear put-together but also am comfortable in what I am wearing."
Why did you choose this particular outfit? "It's kind of hot out, so that's why I threw my Birks on this morning. I like to match colors, so with my [burnt orange] top, I paired [my brown belt with it]. It's pretty normal to see me in a tank top and jeans combination. I don't like to mix and match my metals when it comes to accessories, so I chose my earrings that are bit of a statement piece. The gold and brown tones go together really nicely. Depending if I have time when I am getting ready, I love to throw on accessories that really add to my outfit."
What fashion advice would you give to other students looking to improve their style? "Definitely always incorporate your style into everything that you wear. If you are looking to improve your style or make it more trendy, use social media platforms to find what is really big as far as trends. I used to search 'what would look good with _____' to figure out what little things [I could] add to make [my] ensemble more chic. I think fashion is a learning process."
What are your favorite trends right now? "I love to layer. I went away one summer to work at a Young Life camp [where] my friends there taught me how to layer my clothes. After I learned how to do it for my outfits, I realized it was super cute! I also really like jumpsuits and the utility pants that have made a recent comeback."
What is one trend that you wish would go away? "I feel like every time I find a cute shirt that I really like, it has a tie in the front. I am ready for that trend to go away."
Do you have any favorite fashion designers? If so, who? "Definitely when it comes accessories one of my favorite designers is Michael Kors. Brandy Melville has a ton of clothing that seems to match my style pretty well. I think overall I tend to follow fashion based on what I like rather than who made the clothes."
What do you do for fun – do you have any unique hobbies or interests? "I am a shopalcoholic. I love to go and see what's new! I am actually going right after this. Thrift shopping is a lot of fun, [you] never know what you are going to find. [I am a] huge fan of Netflix. I am currently watching How to Get Away With Murder."
What do you recommend on Netflix right now? "They just took it off Netflix but I love One Tree Hill. As far as Netflix goes, [I] definitely recommend Jane the Virgin and Gossip Girl."
If you could raid anyone's closet, who would it be and why? "Honestly, if I could raid someone's closet, I would choose one of the Kardashians. I mean, think about it… they have access to so many talented designers and tend to have great style themselves. I would probably choose Kim Kardashian. Can you imagine what you would find?"
What are you looking forward the most with starting college this fall? "I think I am most excited to have more freedom than I did in high school, as well as getting to meet new people and opportunities. It will be cool to have a change of pace. I am pretty excited!"
Elements of Logan's Outfit
1. Halter Top + Gold Jewelry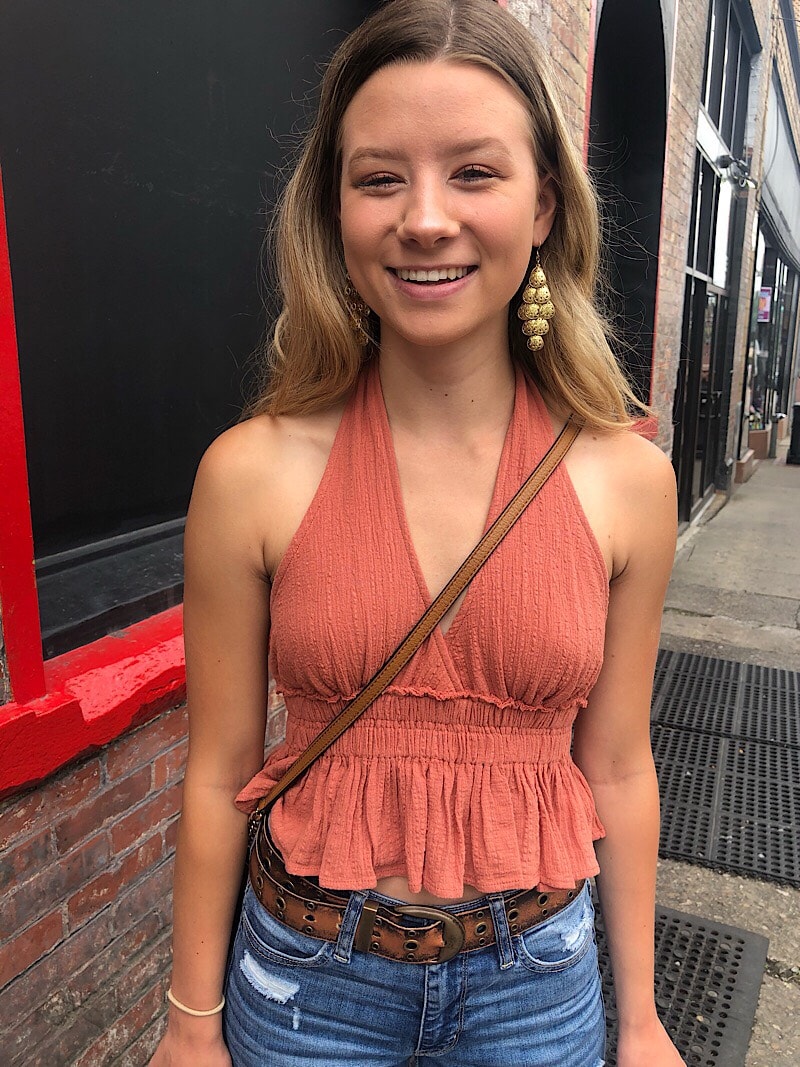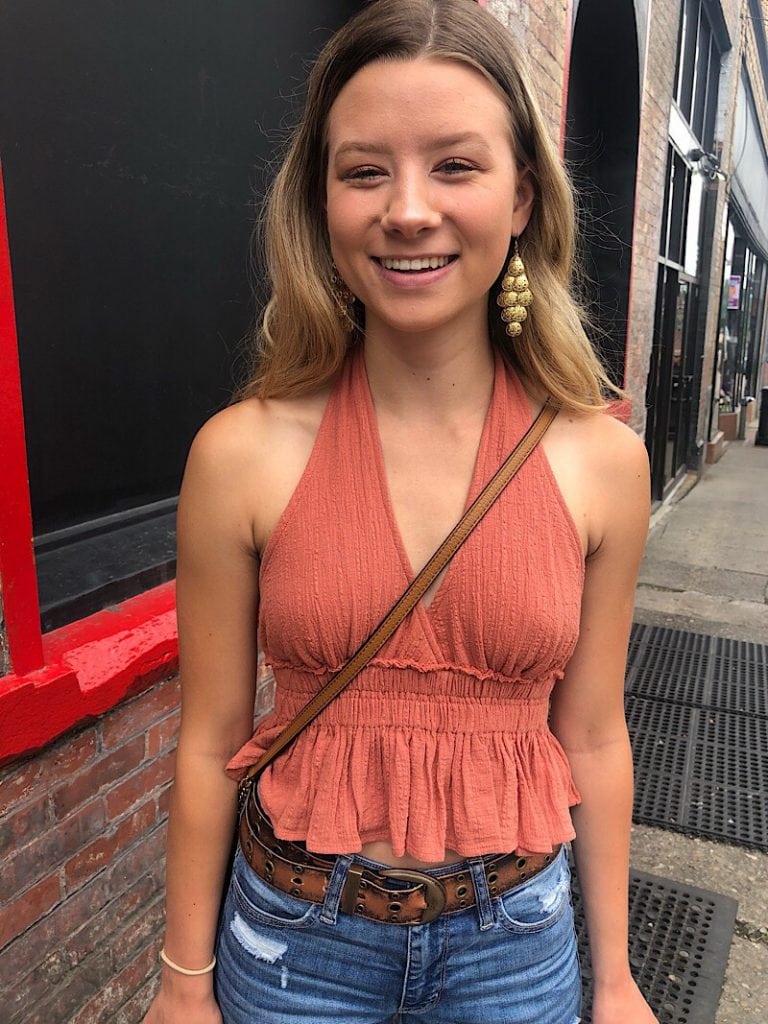 Logan may be pursing her undergrad this fall, but she has mastered casual and stylish fashion! Using gold chandelier earrings to dress up her ensemble, Logan manages to look put-together although her look is inherently casual.
The color of her halter top is unique and fantastic on her skin tone. It's perfect for any summer adventure.
2. Waist to Feet… Her Outfit is Complete!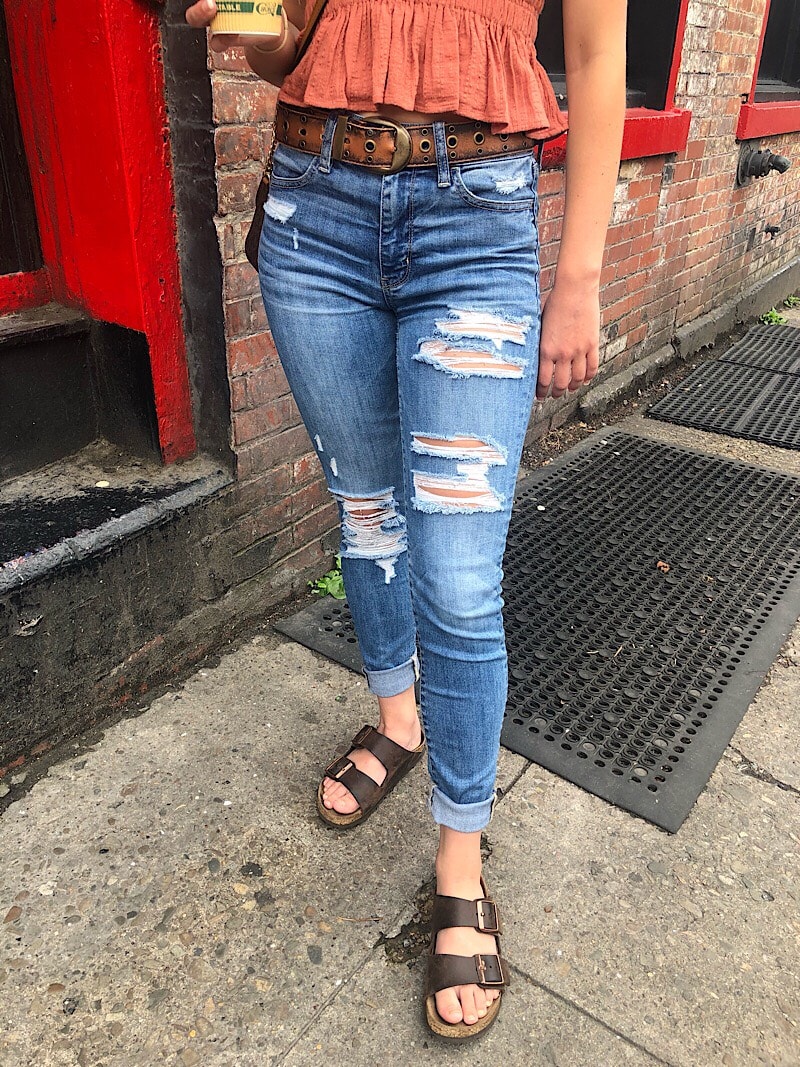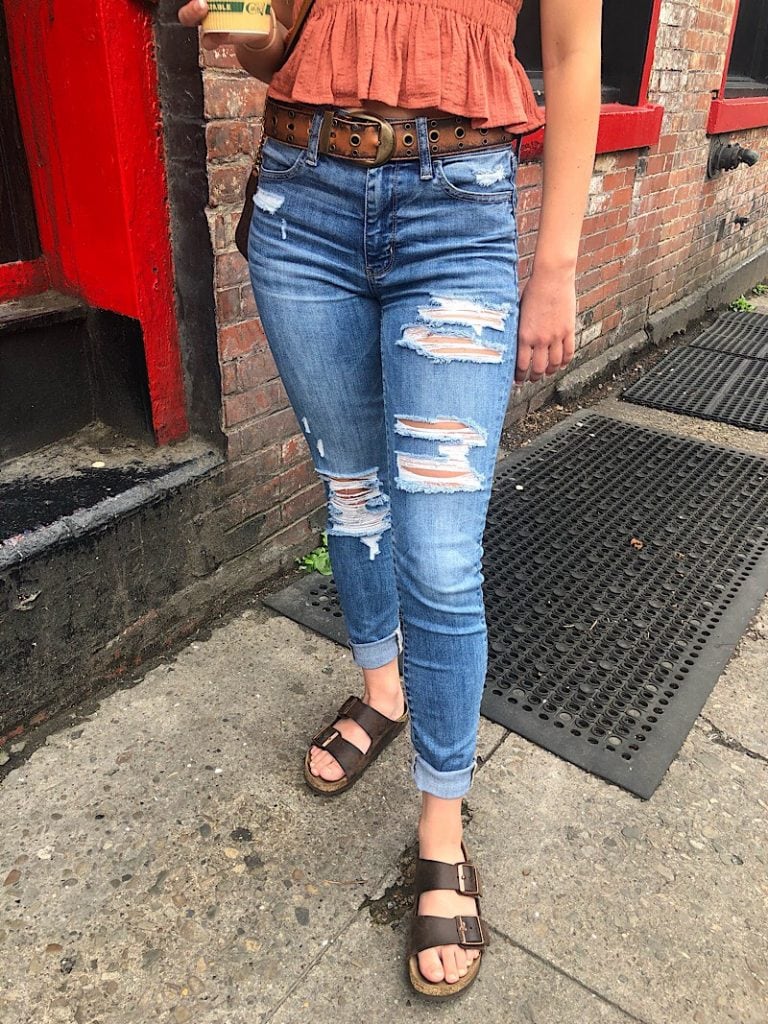 Logan and I talked about how layering and adding accessories can really transform an outfit. She informed me that she never leaves the house without a belt and considers it to be a true staple of her entire ensemble. Her brown belt not only provides a nice transition between her cropped halter top and distressed jeans, but also complements her Birkenstocks quite well.
3. Two-Tone Crossbody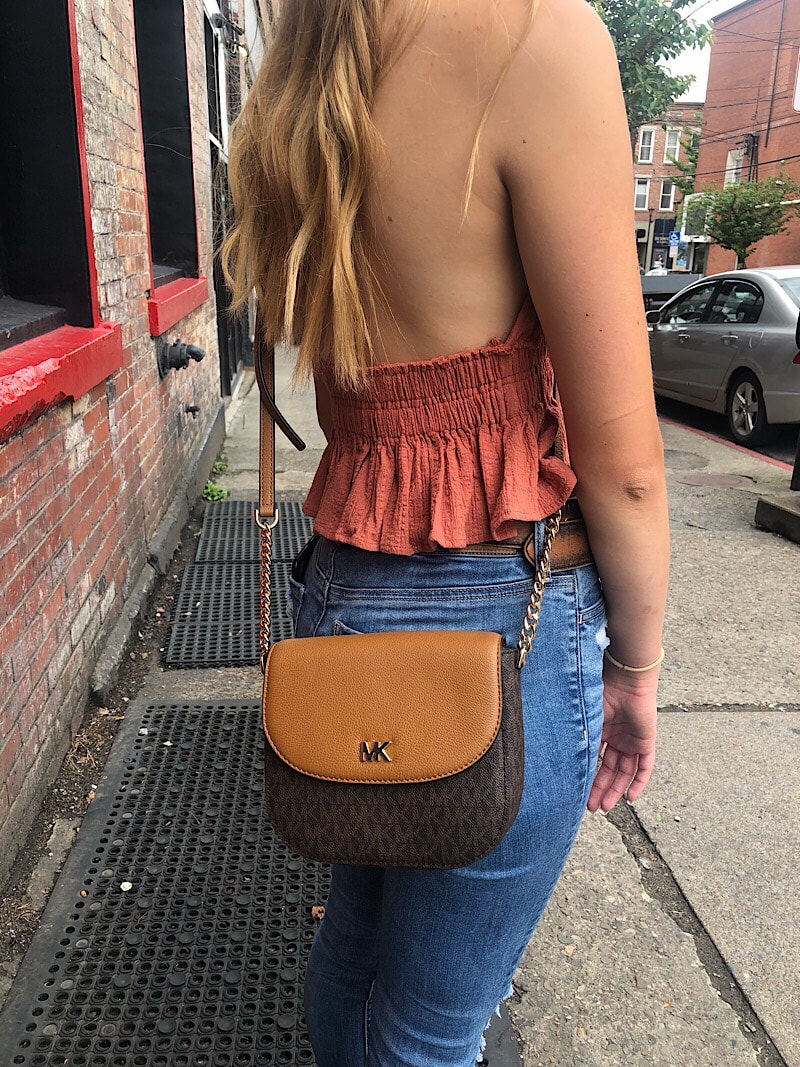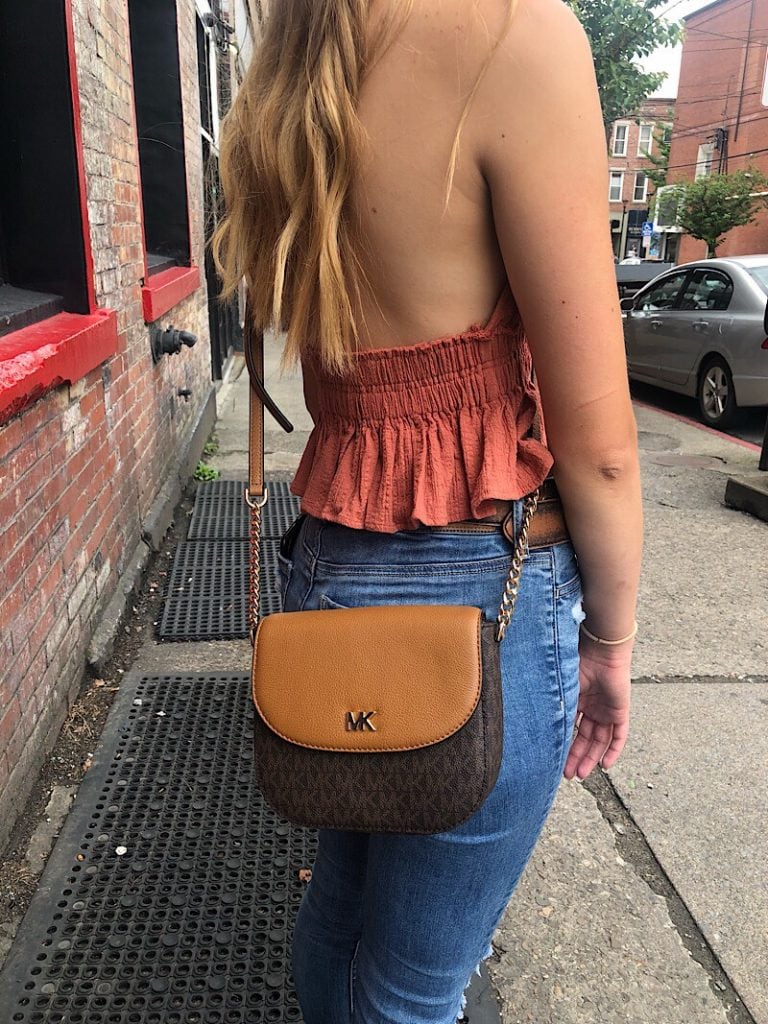 During summer, it is refreshing to put away the big backpack. Smaller purses and crossbody bags are a go-to during the warmer months when you don't have to carry boatloads of books.
This particular bag has simple chain accents which pair nicely with the dark brown and tan body.
What do you think of Logan's style?
Would you wear her shredded denim? Are you as big of fan of simple sandals as she is? Comment below and share your thoughts with us!