Liv's number one clothing inspiration is music. It's easy to tell, as when I spotted her today, she looked like an off-duty rockstar. Liv loves to wear rompers, dresses, high-waisted jeans, and chunky boots; all staples for the stage when she's performing or attending local music gigs!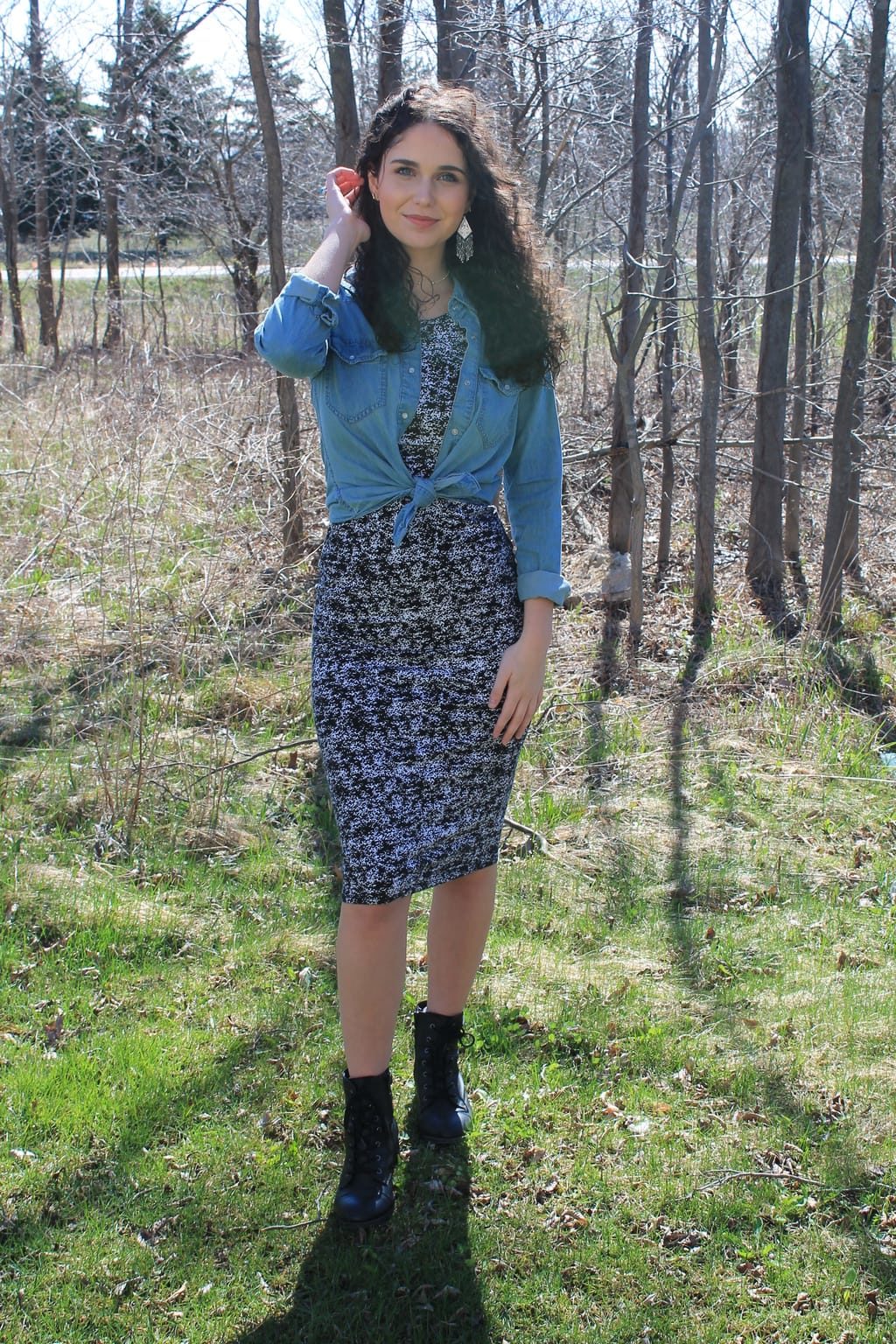 Liv 101
Name: Liv
Major: Multi-Media Journalism

School: Grand Valley State University

Year: Junior
Hometown: Grand Ledge, MI
Let's Talk Fashion
Who or what inspires your style? "Kacey Musgraves! She is my number one icon. I sing at gigs a lot and most of my songs are country-popish like hers. I feel like she and I are just so similar… it's really cool!"
Where do you like to shop? "Funny enough I shop at places like Aeropostale, Kohl's, and a lot of thrift stores. I really like good finds for less money."
How would you describe your sense of style? "'80s, '90s, [and] very retro. I have thick curly hair that matches crazy good with clothing from that time."
Why did you choose this particular outfit? "Since it just started to feel like spring recently, I really wanted to start wearing dresses again but with a twist. That's why I added the grunge boots and denim shirt over the dress."
What fashion advice would you give to other students looking to improve their style? "Wear what you like! Find yourself in your clothing, because if you try to copycat others' looks, you'll never really be satisfied with your own wardrobe."
What are your favorite trends right now? "I know I just said something about spring, but I am also obsessed with big fuzzy jackets. I have a cheetah print one from literally 6th grade that I almost threw out but thankfully didn't. Oh, also denim! I wear denim with almost every outfit possible. Denim rompers, dresses, shirts, pants… anything."
Do you have any favorite fashion designers and if so who? "To be honest I don't. I grew up in a household where brand names weren't a thing. You bought what you could, and you loved what you had, so you wore it."
What do you do for fun? "I sing! So I am almost always in downtown Grand Rapids at shows for either myself or my boyfriend who is a drummer in a band. I also am doing an internship with a media outlet called Local Spins and I get to cover music shows with that as well."
If you could raid anyone's closet who would it be and why? "Kacey Musgraves. Like I said, she is such an inspiration to me, not only with clothing but in life and music as well. I aspire to dress and be like her."
Elements of Liv's Outfit
1. Patterned Dress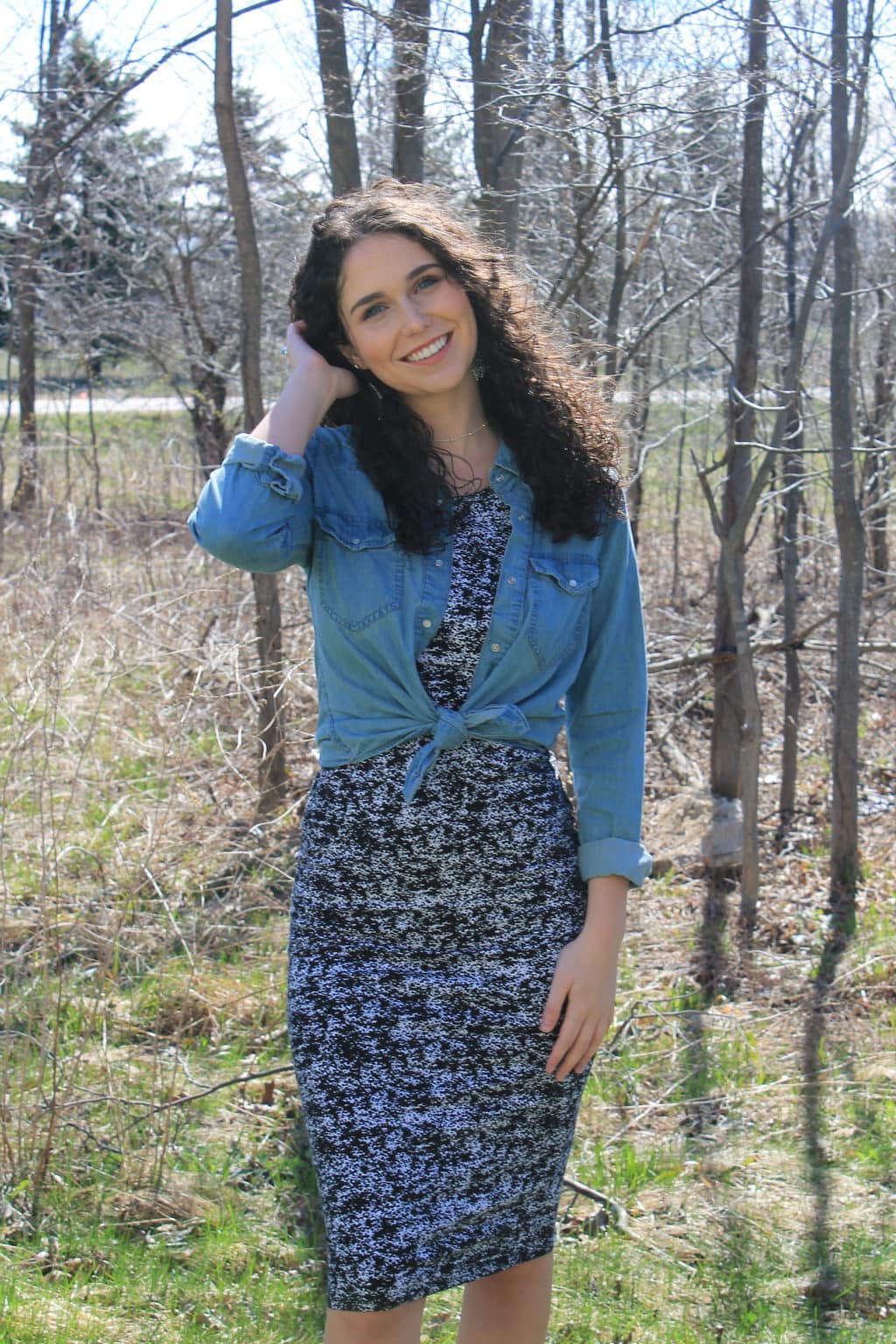 Boldly patterned pieces like this dress are easy to find and can make an entire outfit. This simple, floral print dress steals the show. Liv paired it with a tied up denim shirt for a unique twist.
2. Denim Shirt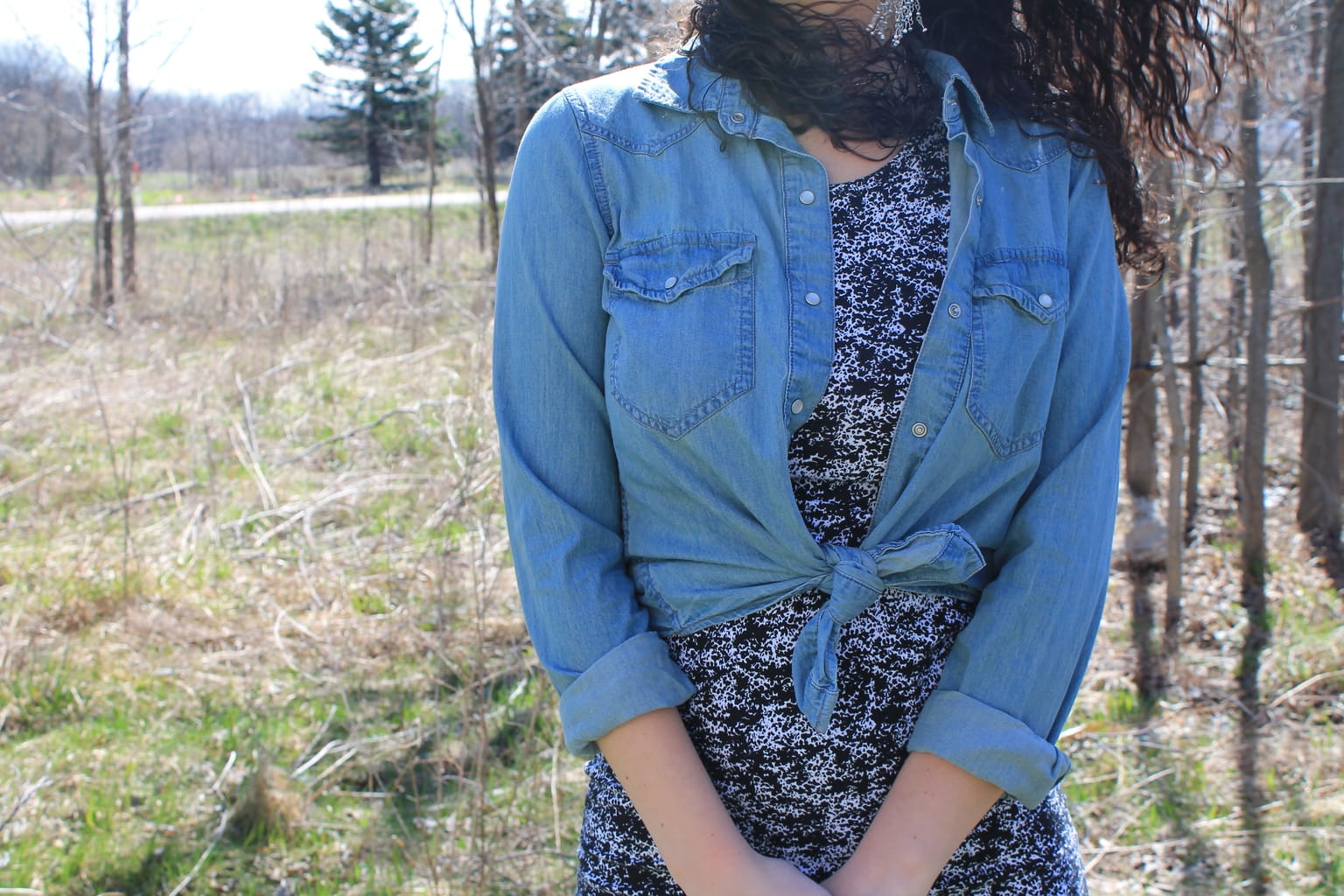 The addition of a denim shirt gives any outfit a little hint of a casual, country feel. Liv chose to wear this denim top as a jacket for a cool twist and an easy accent to her waist.
3. Necklace and Earrings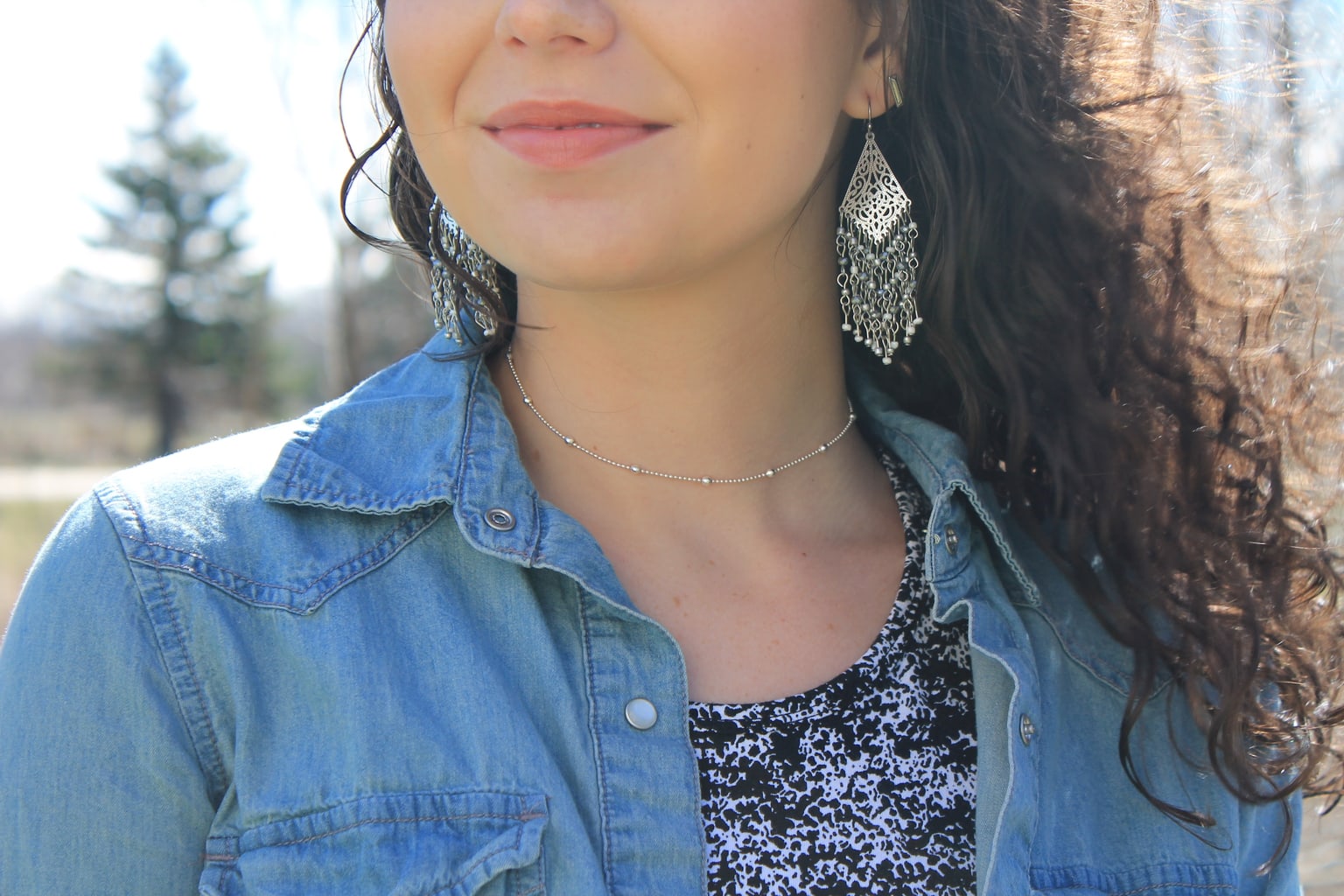 The right jewelry can make a look go from good to great in a flash! These fun chandelier earrings and simple necklace give this look the extra spice it needed.
4. Black Boots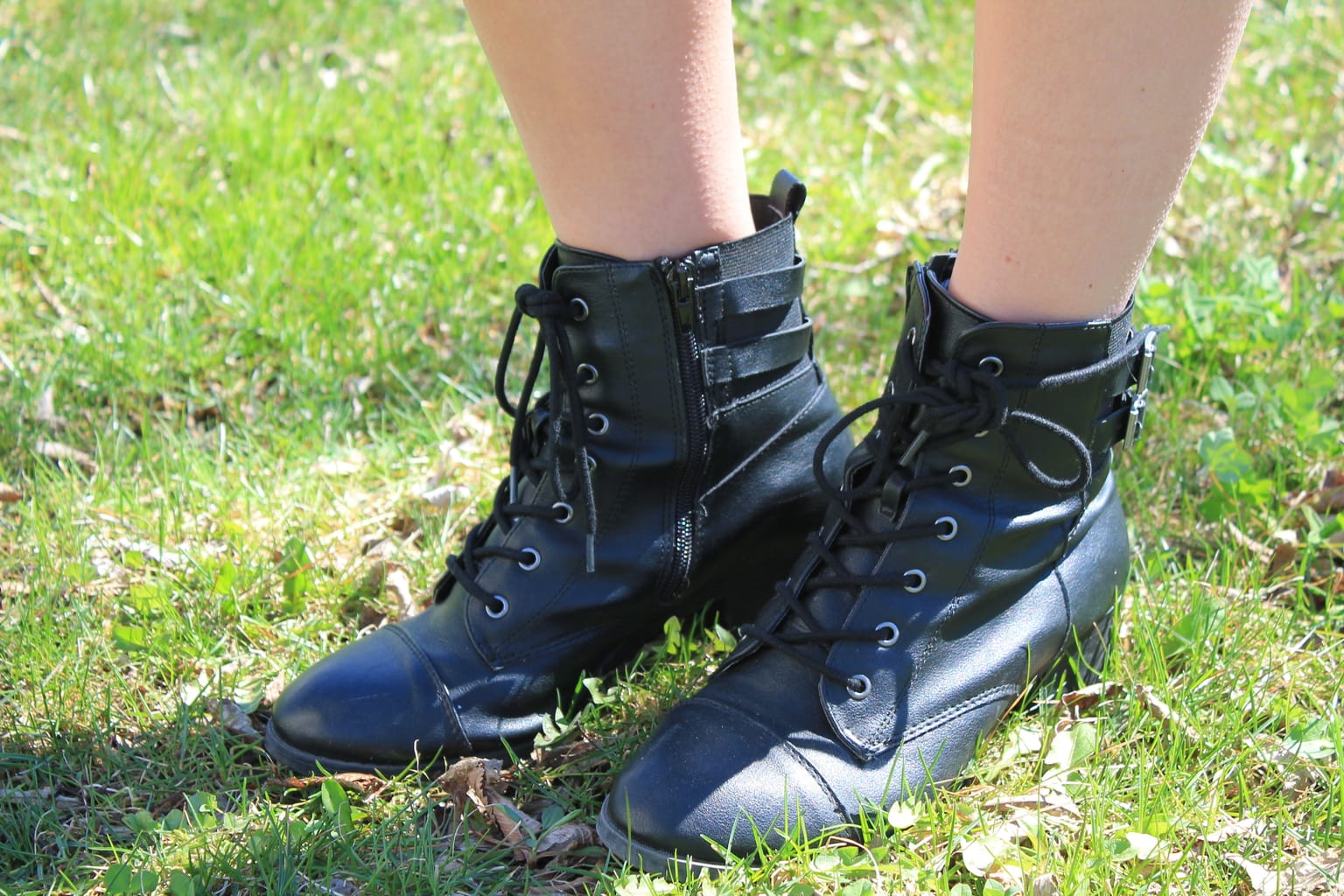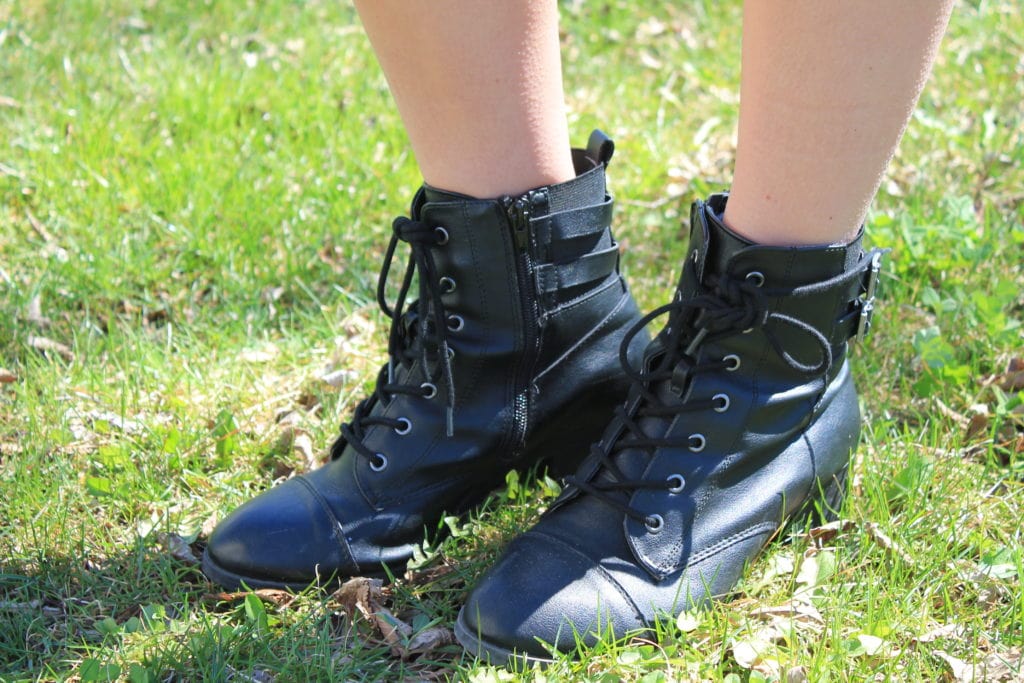 Chunky boots are all the rage right now, from college campuses to Coachella. They make outfits feel more vintage and retro with every step… and Liv is here for it!
Now we want to know what you think!
Do you love Liv's country vibe? Do you wear floral print dresses? Let us know what you think below!