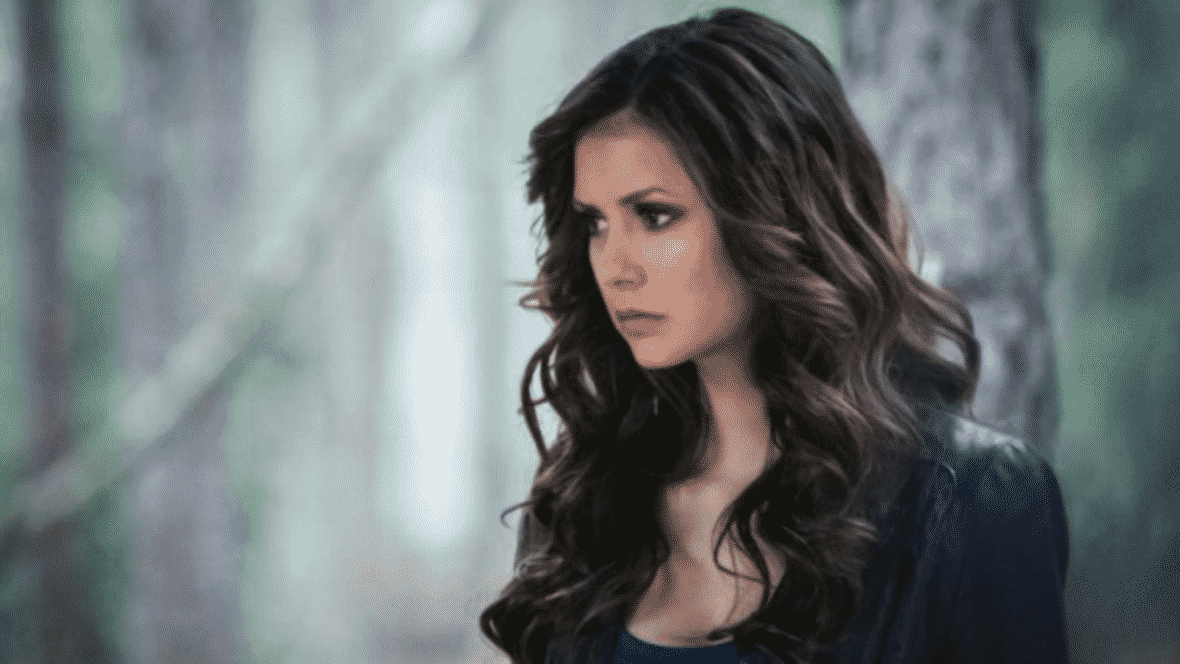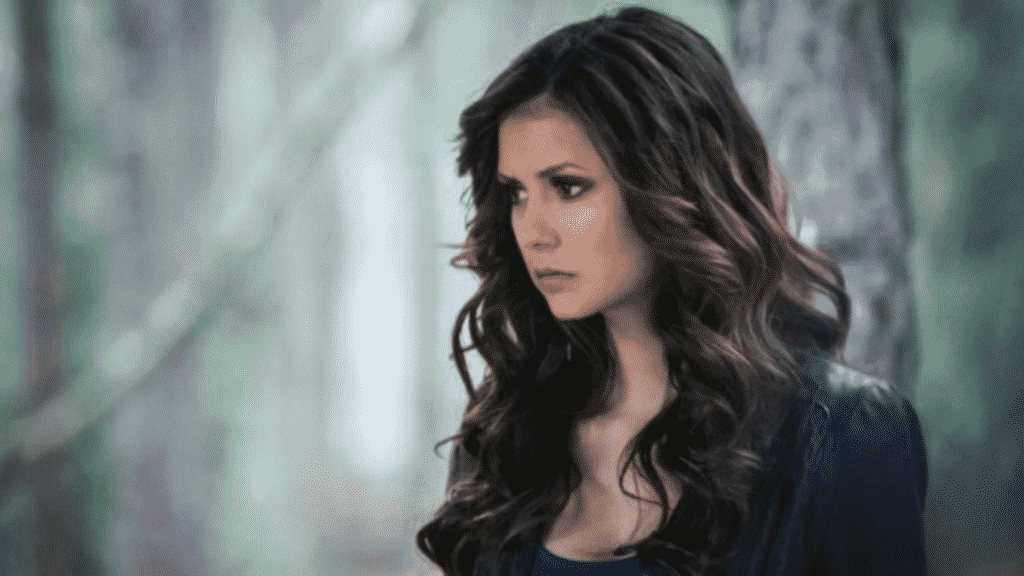 We've covered witches, Queen Bees, and Queen Bee witches in our Bad Girl Inspiration series, but we have not yet seen a Queen Bee vampire. Today, we have one in the cruel and dramatic Katherine Pierce.
Katherine, played by Nina Dobrev, is one of the many memorable villains of the hit teen drama, "The Vampire Diaries."
In case you haven't seen it, the show follows a teenage girl, Elena Gilbert, whose life gets turned upside down when two vampire brothers enter her life.
Katherine is the doppelgänger of Elena, and former lover of both the vampire brothers, Damon and Stefan Salvator. Her primary purpose on the show is to wreak havoc and ruin the lives of Elena and her friends.
Katherine Pierce Style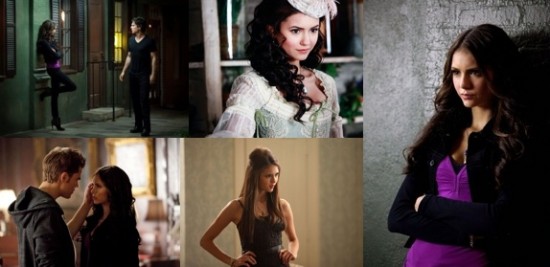 Katherine Pierce is known for her brutal honesty, her scheming, and her impeccable sexy style.
Although she has a striking resemblance to Elena, Katherine definitely has her own style. Katherine opts for looks that reflect her personality – meaning she chooses pieces that are bold, chic and oozing confidence. Her style is definitely a little bit over-the-top sometimes, but you have to hand it to her – she knows how to command attention.
Katherine is often seen sporting tight pants, tops with plunging necklines, leather jackets, and sky high heels.
We also get to see her fashion throughout history in the show's flashbacks, as she is a nearly 600 year old vampire. We see her during the dark ages of the 1400s, the civil war in 1864, and in the roaring '20s.
To capture that Katherine Pierce style, turn to these three looks for inspiration, so that you too can be a foxy vampire.
Outfit #1: Southern Belle Gone Bad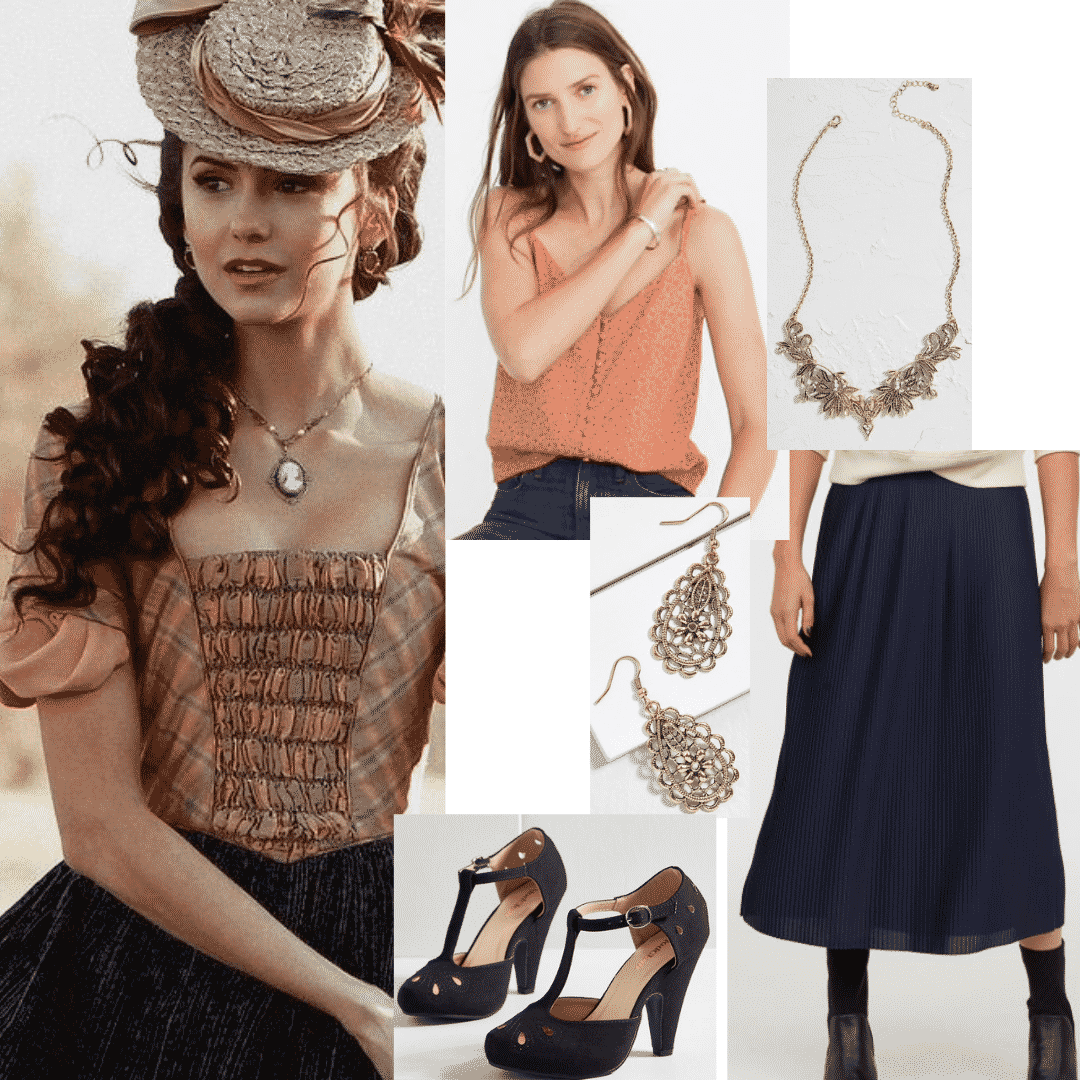 Products:
Some of the most interesting outfits on Vampire Diaries come from the historical flashbacks. Lacy dresses and lush fabrics are often seen in these flashbacks, and they represent the epitome of Victorian elegance.
We first meet Katherine Pierce through flashbacks to the Civil War. There, the Salvatore brothers meet the beautiful Katherine, who seems like your typical Southern Belle. But, what they don't know is that she is a centuries-old vampire willing to sacrifice and manipulate anyone to keep herself safe.
During these flashbacks, Katherine wears classic southern styles that are reminiscent of Gone with the Wind. Think full, billowing skirts and corset tops. She also has her cameo necklace, which protects her from the sunlight.
To get Katherine's Civil War-era look, go for pieces that have a vintage touch to them, such as a long flowing midi or maxi skirt, a top with a vintage floral print, and delicate matching jewelry.
Outfit #2 Queen of Mean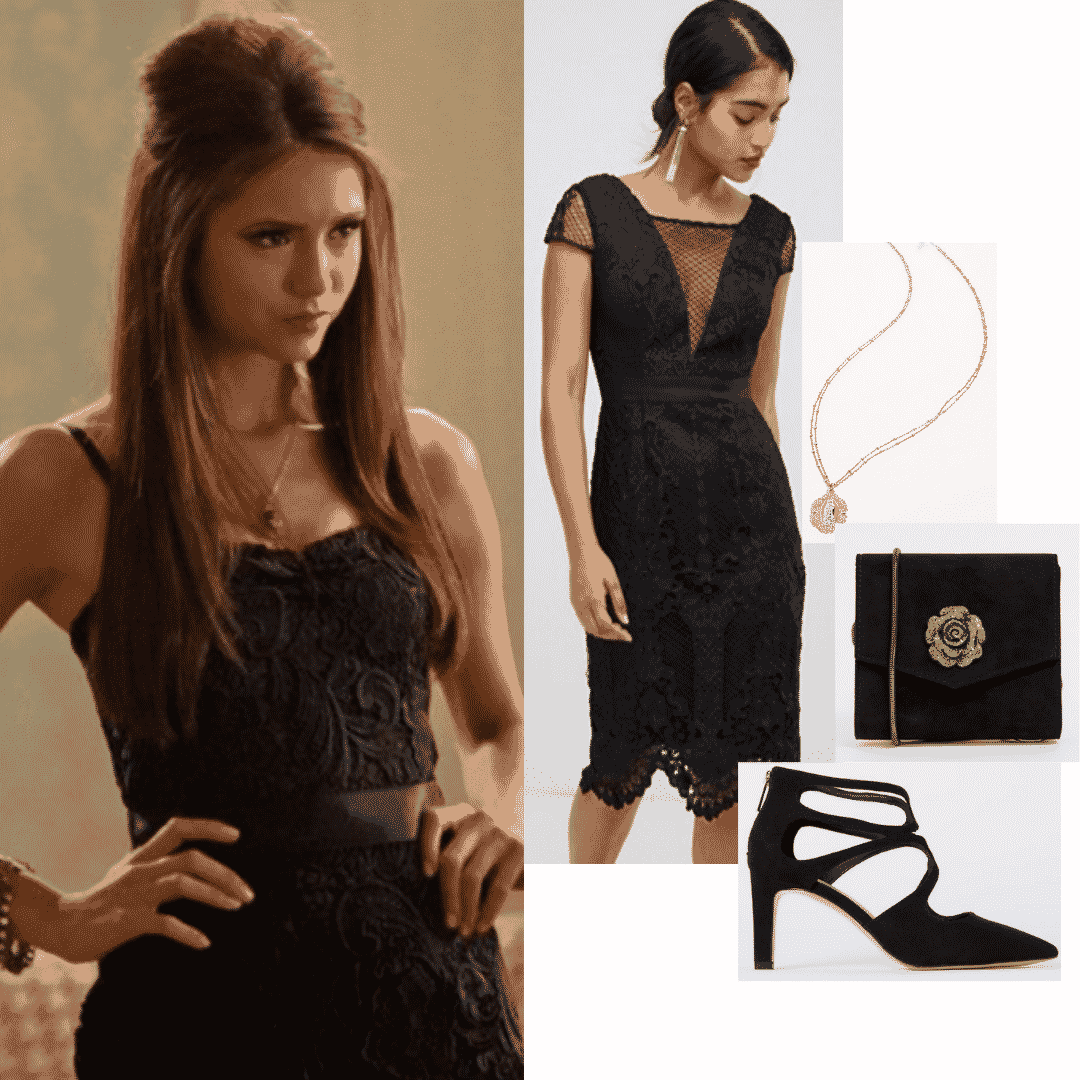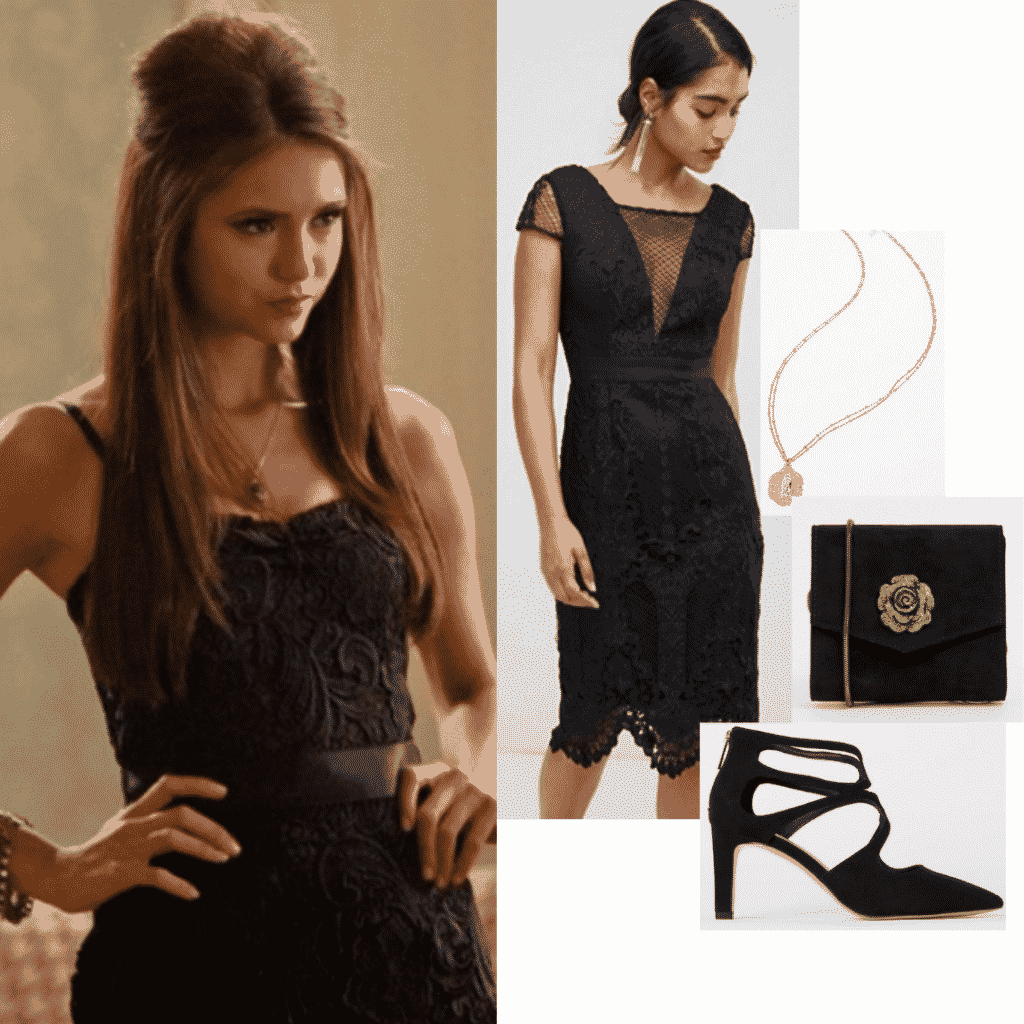 Products:
One of Katherine's most iconic looks is from the masquerade episode in season two. In it, Katherine poses as her doppelgänger, Elena, so that she can cause trouble.
Though Katherine is trying to appear as her girl-next-door lookalike, she is obviously herself in an outfit that's vampy, dark, and seductive. She sports a fitted black lace dress that is sensual without revealing too much. Her accessories are simple and black, as the dress is meant to be the standout piece.
This look would be a perfect outfit for a party or a girls night out. To get it, find the perfect little black dress and then add black accessories to match. Don't forget the black stiletto heels!
Outfit #3: Katherine Freakin Pierce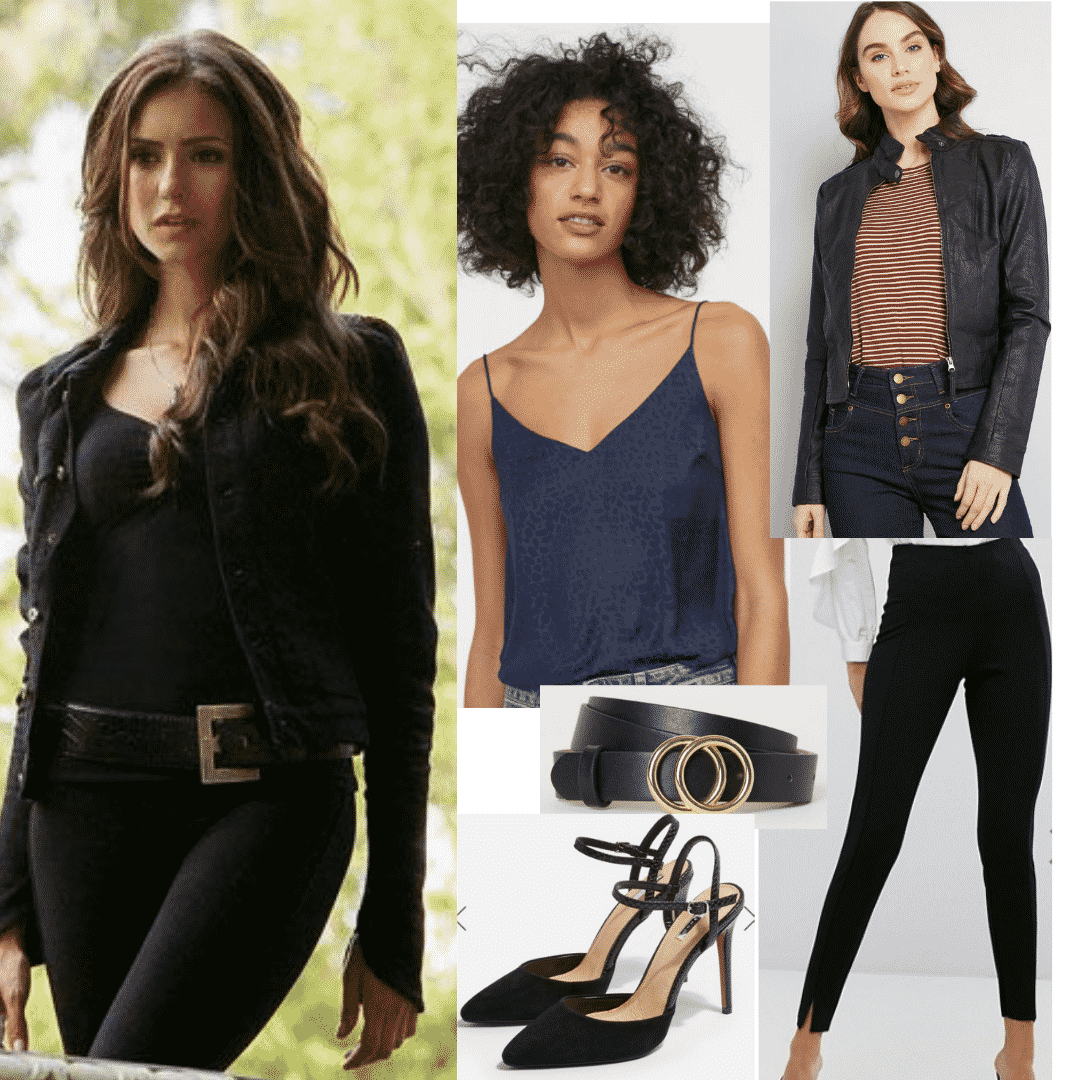 Products:
Katherine's signature look consists of tight black pants, a tank top with a plunging neckline, and leather or black denim jacket.
Katherine's outfit is simple, but it shows that she means business and is ready for action at any time. It's a great inspiration for our wardrobes, as well.
When recreating Katherine's classic outfit, go for clothes in dark colors, such as black, navy blue, and royal purple, and make sure they're tight in fit. Pair any type of black pants with a cami top or tank, and then add heels and a jacket to finish it off.
This look gives off a sense of power, and would be a perfect transitional outfit from work to a night out.
More Vampire Diaries Fashion
If you want more Vampire Diaries style, check out our articles on how to dress like Elena Gilbert, Caroline Forbes, and Bonnie Bennet, to learn how to recreate their styles on a college budget.
What do you think of Katherine Pierce's style?
Katherine's style is all about confidence. Heels, skinny jeans and form-fitting dresses are her go-to pieces for day and night. If those over-the-top looks aren't quite your speed, you can always take some inspiration from her period costumes. Either way, you can't go wrong!
Did you enjoy getting a glimpse at how you could appear vampy and sexy like Katherine Pierce? Which outfit was your favorite? What do you think of Katherine Pierce's style?
If these Katherine Pierce costume ideas inspire you to recreate her style on a college budget, you might want to consider the related posts below –