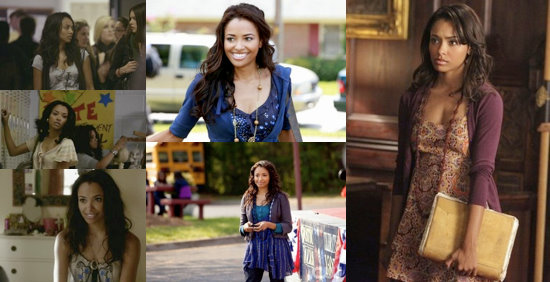 Back by popular demand, another installment of the Vampire Dairies fashion inspiration series. Last month, both Elena Gilbert and Caroline Forbes' styles were spotlighted and recreated on a college budget. You guys really seemed to like the series, so I'm back this week with Bonnie Bennet's style as the focal point!
Bonnie's Style
Played by Katerina Graham, Bonnie Bennet is a young witch on The CW's Vampire Diaries. As opposed to Caroline's trendy outfits and Elena's basic pieces, Bonnie's style is much more organic. Described as "that of a modern flower child" by the show's costume designer, Bonnie's style is bohemian, pretty and natural.
When trying to emulate her style, think '70s hippie-chic and neutral colors. Her outfits are especially perfect for outdoor events and music festivals as the weather gets warmer!
Floral Dresses
Whether it's worn on its own, or with a soft cardigan, a floral dress is a must-have for any flower child's wardrobe. The trick to pulling off Bonnie's style is to look for fits and fabrics that flatter, but aren't super fitted. Her looks are always understated, in contrast to Caroline's more attention-grabbing outfits.
Dresses like the ones below are also great investment pieces. Pair a light cotton dress with tights and a cardigan for the chilly weather, or just throw one on with a great pair of sandals for hotter weather. Be sure to nip in the waist with a belt or ribbon to keep looser styles figure-flattering.
Product Information:
Pretty Tops
In a town with vampires, dark woods and cemeteries, a dress isn't always the most practical outfit choice – no matter how comfortable it may be. So the other huge staple of Bonnie's wardrobe is her collection of tops, but she's not just wearing any plain old t-shirt. Tunics, tanks and blouses with lace and knit embellishments are a go-to for the burgeoning witch.
As with the frocks above, it's important to opt for tops in natural fabrics and colors to really capture Bonnie's spirit. Look for vintage details, ties around the neckline and nature-inspired patterns. Forever 21, Urban Outfitters and Free People all have great options!
Product Information:
Unique Jewelry
Hands down, my favorite aspect of Bonnie's style is her delicate jewelry. Most of her outfits are topped with a long necklace or unique rings and bracelets. In keeping with her relationship with the spirit and natural world, jewelry of organic materials and whimsical designs are the perfect accessories.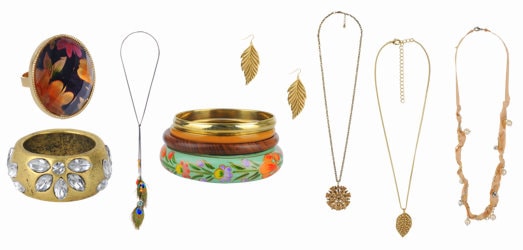 Product Information:
Tying it all Together
Bonnie's style is all about natural colors, fabrics and textures. She really is a "modern day flower child", as the costume designer described her. Her style is a perfect inspiration for how to balance the '70s hippie look with present-day trends.
What do you think of Bonnie's style? Do you prefer her neutral colors or Elena's dark jewel tones? I love to hear your feedback, comments and advice. Be sure to leave a comment!
If you find these Bonnie Bennet outfits inspiring for your Outfit Of The Day (OOTD), you might want to consider the related posts below –