Oh goody, it's almost spring, which means we'll get to pull out the bright colors and wear our favorite dresses! However, unpredictable weather will be here until at least mid-April. So we're here to help you transition your wardrobe from winter into spring. Would you like some inspiration?
Let's use the style vibes of two chic vampires, Marceline the Vampire Queen from Adventure Time and Caroline Forbes from The Vampire Diaries, to guide us with transitioning into spring.
Caroline's style is feminine, and she tends to wear jackets, prints, bright colors, and feminine details, such as lace and peplum hems. She also likes to accessorize with necklaces, scarves, and bags. She also wears boots, as they're a common staple in her wardrobe.
Marceline's vibe is casual and rocker-chic. While her usual outfit consists of a grey tank top, blue jeans, and red boots, she has worn a number of outfits in Adventure Time. Jeans, dark colors, boots, and casual pieces are very big in Marceline's wardrobe.
Let's take a look at four casual, feminine outfits that have a bit of edge.
Marceline x Caroline Style Inspiration 1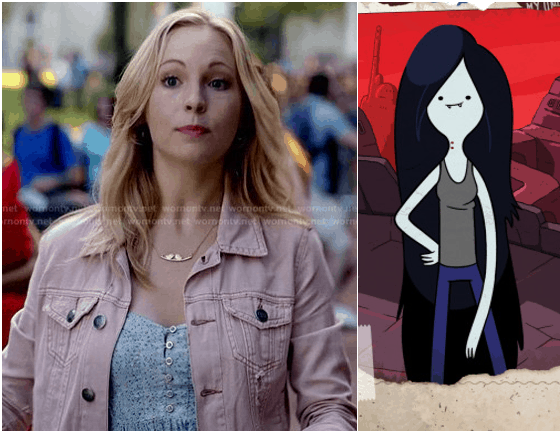 It's very common for Caroline to wear a girly top with a jacket, as shown in the picture where she wears a pretty pink denim jacket with a sweet blue top with buttons. In fact, it's one of the most common outfits that she wears.
While Marceline has so many unique outfits, she is seen above wearing her outfit that fans know her by — jeans and a gray tank.
Little Bit Boho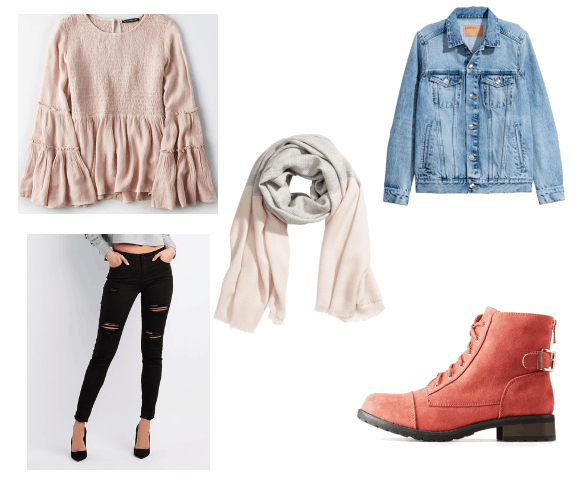 Products: Top – American Eagle Outfitters, Jeans – Charlotte Russe, Jacket – H&M, Boots – Charlotte Russe, Scarf – H&M
Here's an outfit that slowly transitions from winter to spring.
A feminine, blush pink tunic with tiered bell sleeves is very Caroline and very trendy. It also offers a bit of bohemian flair. Distressed black jeans scream Marceline and contrast with the top. The top and jeans transition your wardrobe from winter into spring. You can wear a Caroline-approved denim jacket and roll up the sleeves to show off the tunic's bell sleeves.
Red ankle boots are so Marceline and help with the spring transition. A sweet scarf with subtle fringe adds another dash of Caroline.
Marceline x Caroline Style Inspiration 2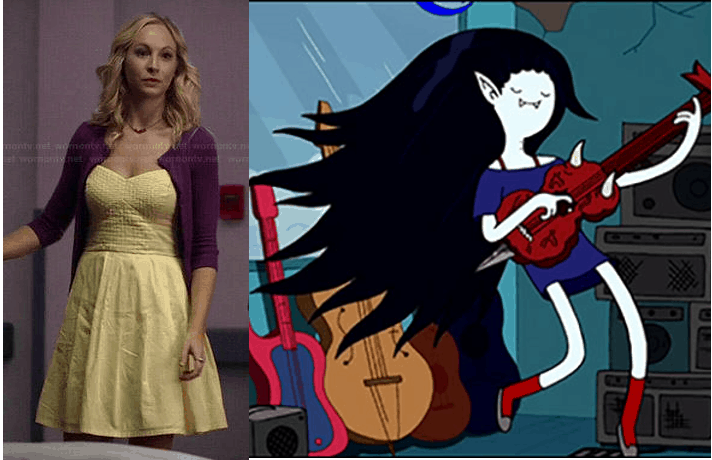 Another common outfit that Caroline wears consists of a dress and cardigan. She likes to wear jewelry, especially necklaces, with this combo. The colors of her dress and cardigan make an interesting combo for the winter to spring wardrobe transition.
Marceline sure loves to rock out playing the guitar, doesn't she? Above, you see her playing a red guitar in a guitar shop while wearing bold red boots.
La La Lavender
Products: Dress – Forever 21, Cardigan – Nordstrom, Boots – Nasty Gal, Necklace – Etsy, Bag – JCPenney
Here's another winter-to-spring outfit. It centers on a lavender maxi dress; its ruffles and dainty button make it very Caroline. Lavender is a trending color for the spring. A cozy drape front cardigan matches Marceline's look above and looks like it could be from Caroline's wardrobe. The color combination of lavender and dark blue copies what Caroline did with her outfit above, but with different colors.
Strappy red boots add a pop of Marceline to the look and mix with the blue and lavender without being too overwhelming. A delicate rose necklace is Caroline-approved and oh-so springy. Finally, a red tote bag with a guitar references the guitar Marceline plays and makes the look a little more casual.
Marceline x Caroline Style Inspiration 3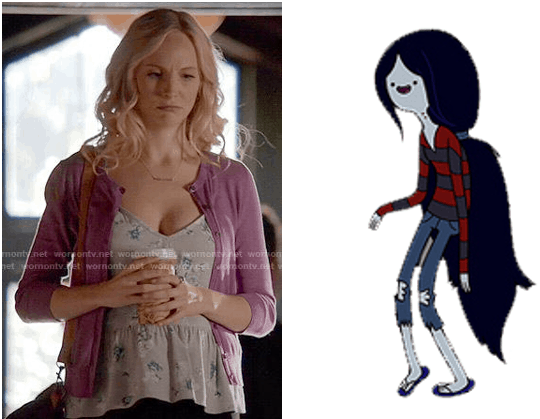 Caroline's floral peplum top and purple cardigan make her outfit look spring-ready. Another notable outfit of Marceline's, which consists of a striped tee, distressed jeans, flip flops, and a low ponytail, looks like a very easy, laid-back outfit.
What will we get when we combine these two cool looks?
Feminine and Edgy for Springtime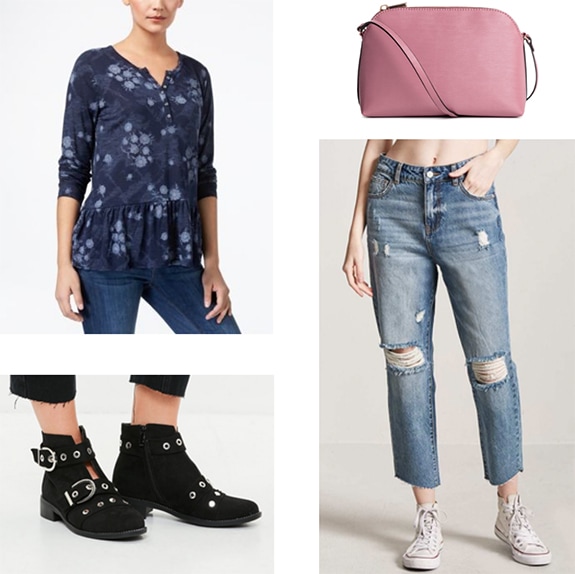 Products: Top – Macy's, Jeans – Forever 21, Boots – Missguided, Bag – H&M
Here, we have a feminine, edgy outfit that is great for when spring starts to arrive. A floral peplum henley top is very Caroline, but Marceline would like the dark color. Distressed boyfriend jeans and studded booties are so Marceline and edge up the look. A chic shoulder bag adds a pop of both springtime color and Caroline's style.
Rocker Femme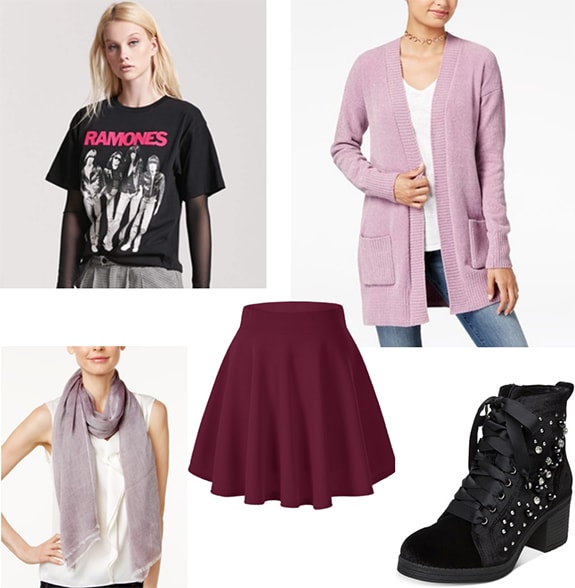 Products: Tee – Forever 21, Cardigan – Macy's, Skirt – Amazon, Boots – Macy's, Scarf – Macy's
While this looks like a fall outfit, this ensemble can be worn in both fall and spring. Wearing a band tee with a feminine skirt is always a cute, unexpected combo. The band tee screams Marceline because she has a rocker girl style. The silhouette of the skirt is Caroline-approved, but the red color is very Marcy. A cardigan puts in a pop of the Spring 2018 trend, lavender.
Marceline-esque booties toughen up the outfit while a scarf keeps your neck warm and adds a dash of the blonde beauty. You can also wear tights or leggings if you choose; you can add brightly colored tights or leggings for a pop of Caroline, or fishnet tights for a dash of Marceline.
Did you enjoy the crossover?
Did you like seeing the contrasting styles of two fictional vampires mixed together? Do you like my example outfits? Would you wear any of them? Are there any crossovers you want to see next? I'd like to hear what you think in the comments.