April 2019 has quickly become "Avengers Month" and it will culminate on April 26th with the premiere of Avengers: Endgame. Therefore, for the rest of the month we're dedicating our Heroic Styles posts to core members of the Avengers.
Last week, we covered Scarlet Witch's style. Today we're taking on the God of Thunder himself, Thor.
About Thor
Thor was created by Stan Lee, Jack Kirby, and Larry Lieber and first appeared in the summer of 1962. He is based on the Norse deity of the same name.
Thor is a founding member of the Avengers in the comics and has appeared in every single volume of the series.
In film he has been portrayed by two actors: Eric Allen Kramer in 1988 in The Incredible Hulk Returns and Australian actor Chris Hemsworth in the Marvel Cinematic Universe.
Thor in the MCU
Thor's story in the MCU began in the film Thor (2011). Since then, he has appeared in five other MCU projects. This includes two more solo movies, Thor: The Dark World (2013) and Thor: Ragnarok (2017), and three team-up movies, Avengers, Avengers: Age of Ultron, and Avengers: Infinity War.
Chris Hemsworth has been widely praised for his portrayal of Thor, with his chemistry with on-screen brother Tom Hiddleston being a highlight.
Chris had a chance to play around with his character's humor during a parody video called Team Thor — if you're a fan, you should really check it out.
Thor's Style in the MCU
Hemsworth's character doesn't have a lot of chances to show off cool clothes. Thor is mostly seen with his armor and hammer in hand. It's a battle armor with a red cape and, sometimes, a helmet.
His rare civilian outfits are really casual: he rocks t-shirts, jeans, and plaid shirts with boots and, occasionally, a blazer.
Thor's Style: Outfit #1 "I like it! (…) ANOTHER!"
Products: Dress – ASOS, Shirt – Express, Shoes – Nordstrom, Backpack – JC Penney, Thermos – Amazon
Thor's first outfit is extremely casual and is one of his first human ensembles. He's wearing a plaid shirt, a T-shirt, jeans, and boots.
To get this look without looking like your brother or dad, mix a grey T-shirt dress with an oversized light blue plaid shirt. This combo is perfect for spring: the dress is breezy enough for warm weather and if it gets chilly you can just throw on the shirt.
Switch Thor's boots for a pair of heeled mules in camel and accessorize with a backpack of the same color. When Thor first tried coffee, he loved it: make a nod to this with a metallic thermos — bonus, it'll keep you awake for an early class.
Thor's Style: Outfit #2 "It's not meant for mortal men"
Products: Blazer – Express, Joggers – Nordstrom, Bodysuit – Express, Boots – Shopbop, Bag – Nordstrom
This outfit is Thor's idea of a formal look on Earth. He just threw a blazer over his usual T-shirt and jeans combo.
To emulate his laid-back vibes, go for a pair of black joggers instead of black jeans. Rock a dark grey camisole and a dark red structured blazer. For shoes, I opted for a pair of black Chelsea boots. Accessorize with a crossbody bag in the same material as the boots.
This outfit could be dressed up with a pair of heels for a night out or dressed down even more with a pair of sneakers.
Thor's Style: Outfit #3 "The God of Thunder"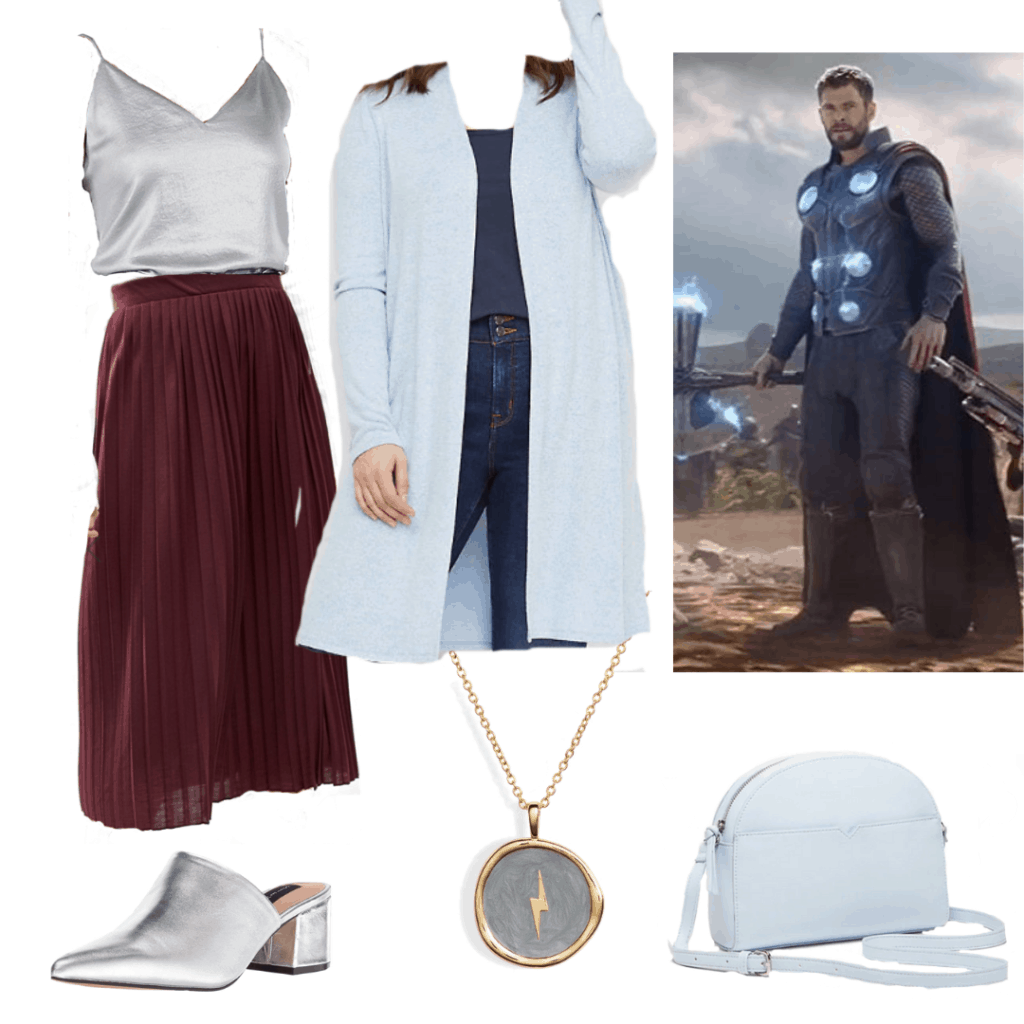 Products: Skirt – ASOS, Top – Express, Shoes – Steve Madden, Purse – Old Navy, Duster – Lane Bryant, Necklace – Nordstrom
Thor's armor has changed a lot through the years, but this last outfit is based on the most recent version we saw in Infinity War.
The base of the outfit is a silver silk camisole, to emulate the armor, and a dark red pleated midi skirt, to mimic his cape. For shoes, I chose silver mules to keep with the armor theme.
Lightning and thunder are a big part of Thor's character, so I picked a light blue duster and blue handbag to emulate the bolts he creates. I accessorized with a necklace with a lightning bolt motif.
What do you think?
Do you like Thor? Which Thor movie is your favorite? Who's your favorite Avenger? Which outfit would you wear?