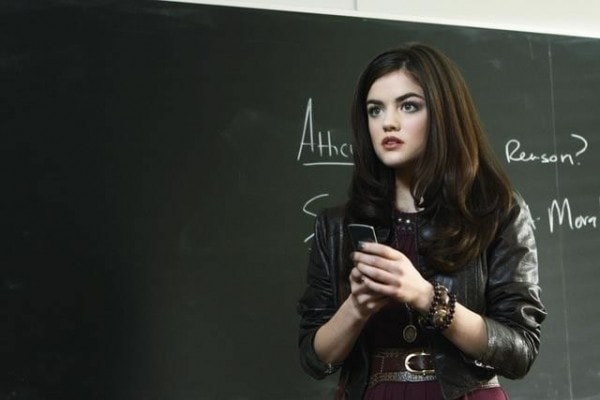 As I've been writing this series on Pretty Little Liars fashion, one thing has been constant: week after week, commenters have begged, "Do one on Aria Montgomery's outfits next!"
Finally, the time has come. The truth is, I wanted to save the best for last. Sure, I love Spencer's modern prep style, Hanna's fem glam looks, and Emily's tomboy-cool fashion sense, but I get most excited (and sometimes perplexed) by what Aria wears each week on the show.
This post is all about her unique, edgy bohemian style.
Who is Aria Montgomery?
Aria Montgomery has just returned home after a year spent living abroad with her father, a college professor; her mother, an artist; and her adorable younger brother. Though she looks more put-together than ever and seems to have matured and become more confident while away, things are not what they seem (a common theme among all the Liars).
Aria's family is imploding due to her father's infidelity: Her brother is getting into trouble at school, her mom has moved out, and her relationship with her dad is strained. Meanwhile, her love life is just as complicated.
Turns out the college guy she met and hooked up with in a bar bathroom over the weekend was her new English teacher come Monday morning. Oops!
Despite her good-natured instincts to do the right thing and keep those she cares about happy, trouble seems to follow Aria Montgomery. Lucky for us, she has no trouble in the wardrobe department.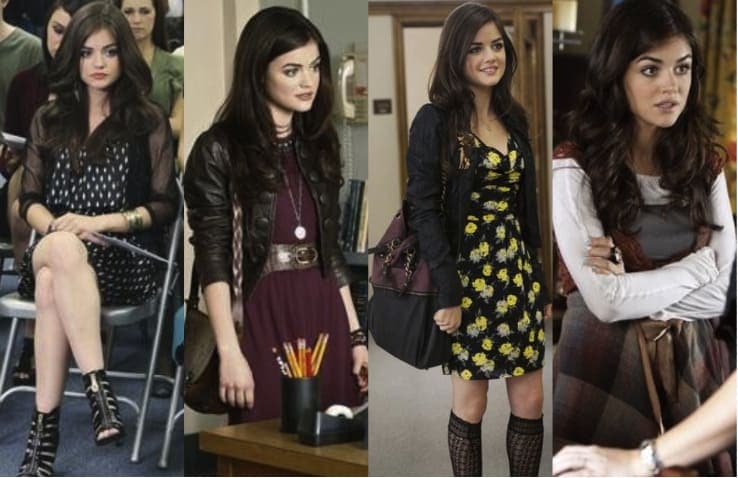 How to Dress Like Aria Montgomery
For Aria, experimenting with style is nothing new — it was hard to miss her Avril-Esque duds and pink streaks in PLL flashbacks — but since spending a year living in Iceland, she's returned to the small town of Rosewood with a big city aesthetic.
The Aria Montgomery style is a sophisticated balance of luxe materials (well-worn leather, velvet, and chiffon) with urban-chic accents (zippered heels, chain-handle bags, patterned knee-highs, and chunky motorcycle boots). There's always a softness to Aria's look — she wears skirts and dresses frequently — but she also has a rebellious streak that pushes the envelope.
Aria Montgomery Style 101:
Here's how you can take inspiration from Aria's fashion sense:
1. Embrace the dark side
Aria Montgomery's Outfits are a combination of lots of layers, different textures, and interesting patterns, but bright colors. Never. She favors the dark side; her closet is loaded with black, brown, burgundy, gray, plum, and aubergine (some of which are hot colors for fall).
2. Dare to do the unexpected
To dress like Aria, you need a sense of adventure when it comes to clothes: Think outside the box about combinations and play around with new styles.
Don't worry about what "everyone else" is wearing; set your own trends. Want to wear sheer fishnet knee-highs? Go for it. As Aria shows us, you should dress for yourself.
3. Look for items with unique touches
A sequin and lace party dress with embellished chain shoulders? Aria's been there, done that. To channel her, invest in pieces that have interesting details that set them apart from the rest. You'll stand out in the crowd.
4. Embrace legwear
Tights, thigh-highs, knee socks, and ankle socks are must-haves for fall and some of Aria's favorite pieces. They keep your legs toasty (key when transitioning your summery dresses into fall) and they work with a plethora of shoes. Extend the life of your favorite strappy sandals past summer by wearing them with socks.
5. Mix it up
Combine different textures, fabrics, colors, and patterns. Mix a cotton dress with a leather jacket, try wearing a plaid dress with a crochet shrug, or top off a silk dress with a sheer chiffon top. Those are just some examples of how Aria layers and shakes things up in her wardrobe, as seen in the above pictures.
6. Find your signature look
Ever notice that Aria wears skirts and leather jackets a lot? Find what you like and what flatters your body, then embrace it as a signature style in your wardrobe.
7. Bet on boots
Boots, the quintessential fall footwear of choice, can instantly transform an outfit. A floral sundress has a totally different look when paired with motorcycle boots, and jeans and a t-shirt get amplified when you add stiletto booties. Your Aria Montgomery's outfits wouldn't be complete without boots.
Aria prefers tougher breeds of boots, like motorcycle and combat styles. A good compromise between utilitarian and feminine is the desert boot — the style is sure to be big this fall.
3 Aria-Inspired Outfits
Edgy Romantic Style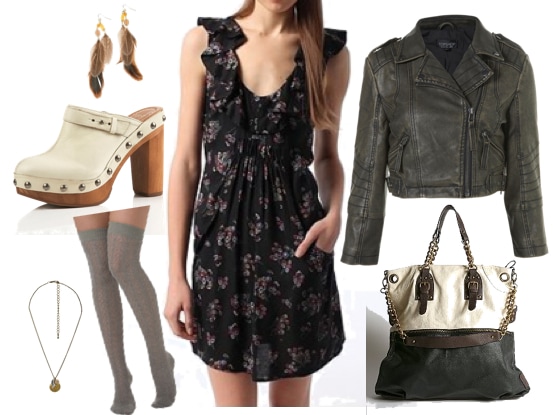 Products
Casual Yet Trendy Look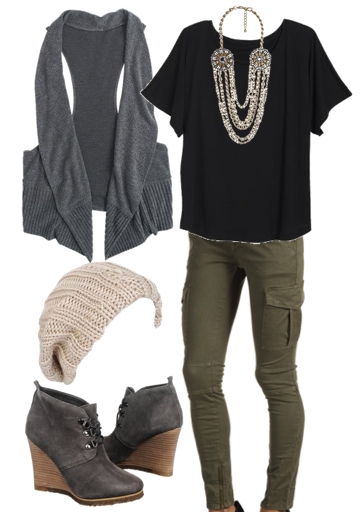 Products
Layered and Eclectic Style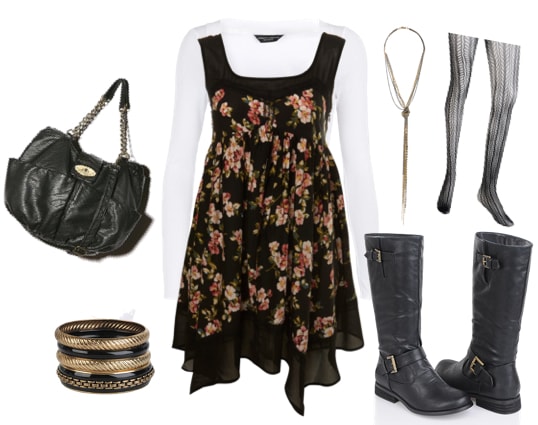 Products
Get Aria's 'Pretty' Beauty
Aria, despite being absolutely gorgeous courtesy of Mother Nature, doesn't skimp on the makeup. She wears full eye makeup to school, always has extra-thick lashes, and plays up her plump lips with deep-toned stains and tinted balms.
Aria is also blessed in the hair department: her locks are super shiny and flow in big waves. Aria is, in a word, striking.
Here are some tips and products to help you recreate Aria Montgomery's outfits with a 'Pretty' look:
Make eyeliner your best friend
When it comes to making your eyes pop, eyeliner needs to be your go-to beauty tool. Rimming your eyes in black (or black-brown) like Aria does will instantly enhance your look.
Try using gel eyeliner for bold impact and longevity. To apply, close your eye and pull your lid taut towards your ear (gently, of course). This creates a flat surface for the liner. Begin lining at the inner corner of your eye, working your way to the outer corner. At first, stick as close to the lash line as you can.
Then slowly make the line thicker for added drama. You want the line to get thicker gradually as you work toward the outer corner of your eye. When you line your lower lids, stick just to the lash line at first. Some people don't like lining their "water line" (the wet part just above your lower lashes) but it's a personal preference.
Bat those lashes
Aria's eyelashes are dark, thick, and sexy. Copy her look with a plumping mascara, an eyelash curler, an eyelash comb, and if you're feeling daring, falsies. Start by curling your lashes.
Then apply the mascara from the base of your lashes to the end; wiggle the wand back and forth as you go for extra volume. Finish by separating any clumps with the lash comb (typically found on the opposite end of a brow brush).
Use eye shadows in dark and matte — but natural — shades
Aria wears a lot of eyeshadow, but it never looks trampy or flashy because she uses matte and nature-based colors (like brown and gray). Take the guesswork out of shading by finding a shadow palette in coordinating tones.
Then start with the medium-range color in the palette and apply shadow to your entire lid from lash line to brow bone.
Next, use a crease brush in the next darkest shade or the darkest color in the palette and color along your lid crease from the outer corner to the center of the lid. Blend with your finger.
Finally, use the lightest color to highlight the inner corner of your eye and just above the brow bone under your arch.
Intensify your brows
Noticed Aria's brows? They're fierce. To get her to look, start by tweezing stray hairs while keeping your shape thick with an arch. Then fill in your brows using a brow brush or a shadow brush with short, firm bristles and an eyeshadow that matches their color.
Paint your pout
Stain your lips in a dark, rich color that flatters your complexion. Keep the finish matte, or if you need some moisture, go for a tinted balm instead of a high-shine gloss.
Rock neutral but noticeable nails
Aria's nails are always neutral and dark — what a surprise! — but she doesn't just stick to black. Try out a dark gray, deep plum, rich burgundy, or taupe like Aria has on Pretty Little Liars.
Do a shiny 'do with wavy ends. Aria's hair has a luscious sheen and falls into gorgeous big waves. To emulate her look, try a thickening shampoo, or a shine product, and finish by wrapping ends around a large curling iron.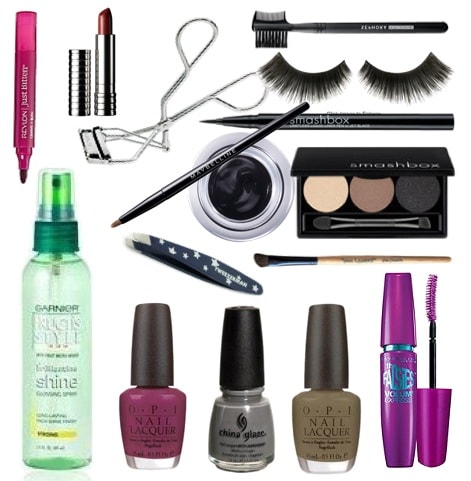 Products
What do you think?
Did you enjoy this series on Pretty Little Liars fashion? Do you like Aria's style? Will you be watching the next season? What other fashion inspiration series would you like to see here? Please leave a comment and thanks for reading.
For more fashion inspiration outfits like this list of Aria Montgomery's outfits, check out the related posts below –